The Buffs are
taking the week
to regroup, leaving Western hoops junkies to look elsewhere for their fix. Over the next couple of nights there's a five-pack of Pac-12 games to consume, a few of which might actually worth watching. After the jump, I'll do a quick run-through of the slate, priming you for the bye-week action.
Click below for the preview...
Wednesday Night
The first game-night of the week is also the most interesting. With four of the top six teams in the conference playing each other, we'll all have a greater idea about the direction of the four bye-seeds after Wednesday night. From CU's perspective, a top-four seed is still within reach, given a win Saturday over Utah and at least a split series from both Cal and Stanford this weekend. So, as much as we may not like it, BuffNation would best be served by a pair of wins from the Arizonas this evening.
Cal @ Arizona - 7pm, ESPN2
What happened to Cal? Since starting Pac-12 play 5-0, they've gone 4-5, lurching between acceptable outings and ugly ones. Over that stretch they lost three home games, which is doubly crippling. They're still in
good position
to grab a Tournament bid, but a win this weekend would solidify things. I wouldn't expect that win tonight, however. Yes, they did beat Arizona a month ago, riding a last-second fall-away from Justin Cobbs to victory, but does anyone really think they can duplicate the feat in Tucson tonight? I don't -put me down for an easy Wildcat win.
Don't expect a repeat performance from the Golden Bears. From: Yahoo Sports
Stanford @ Arizona St - 9pm, ESPNU
As opposed to their Bay Area brothers, Stanford certainly seems like they're headed in the right direction. They've won five of their last six, including wins over fellow top-half squads Cal, ASU, and UCLA. The key has been the play of Chasson Randle, who has been posting some huge numbers, including 26 points on 7-10 shooting from behind the arc in
last Saturday's win
over UCLA. Since no one seems likely to push Arizona right now, their matchup Wednesday with the Sun Devils could be their last regular season opportunity to build their resume. I expect them to come out and earn the upset win on the road.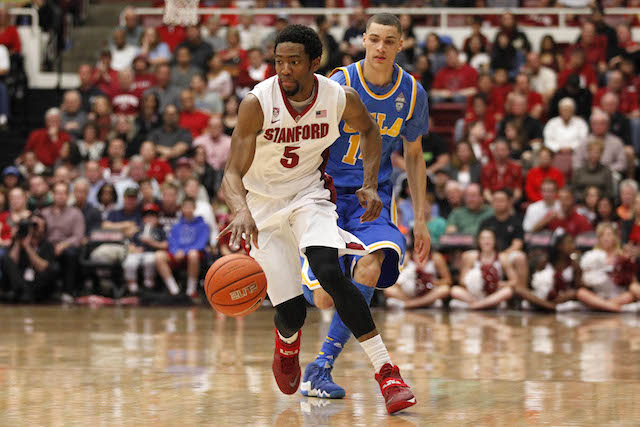 Randle looks to continue his offensive brilliance this evening.
Thursday Night
Woof, what a dog of a night. Only one team (UCLA) is of any larger interest, and the Oregon St/USC game is, by far, the ugliest matchup of the weekend. Watch at your own risk.
Oregon @ UCLA - 9pm, ESPN2
If you do plan on consuming Pac-12 hoops Thursday night, UCLA/Oregon is your best bet. UCLA's hopes of a league title have faded to all but nothing, but they're still, technically, in the hunt. More than that, however, they're positioning for the Tournament, and Oregon is still, despite their play in conference, an RPI prize worth taking. For the Ducks, the Good Ship Schadenfreude may finally be righting itself after their season-altering run in January. They've won three in a row, and a win over UCLA could keep them in shape to salvage a Tournament bid. I'm not ready to buy them, yet, so give me the Bruins at home.
Anderson and the Bruins look to be in great position for a run in the Tournament.
Oregon St @ USC - 9pm, Fox Sports 1
If you're masochistic, and absolutely must take in the OSU/USC tilt, and least do it for the right reasons, and keep an eye on DJ Mal-Ski for me. He may get crazy if USC can find a way to sneak in their 2nd Pac-12 win of the season. Oregon St? They've surprised this season by being half-decent. Still, after losing four of their last five, the Beavers look to have their work cut out for them against the lowly Trojans. I'll take Southern Cal in a minor upset.
Mal-Ski in the house! From: Yahoo Sports
Friday Night
The week concludes win an Apple Cup battle. Not nearly as exciting as the Valentine's Day tilt between Arizona and Arizona St, the Washingtons still look to put on a good show for those with no Friday plans.
Washington St @ Washington - 8:30pm, Pac-12 Network
No, neither of these teams is going to make any post-season waves... hell, Washington will be lucky to even
qualify
for NIT consideration. But there's something about an inter-state rivalry game that gets the juices flowing.
Earlier this month
the two played to a pretty watchable finish, as the Cougars came from behind in the final minutes to steal the victory. Since it doesn't matter in the slightest who wins this from a CU perspective, I'm just hoping for a repeat close finish. Give me the Huskies in a close one.
GO BUFFS! PRACTICE MAKES PERFECT!