Lost amongst the chaos of the last few days was the news that
Cliff Meely
, possibly the greatest basketball player in this history of the University of Colorado,
died Tuesday evening
. The 65 year old
legend
, a continuous fixture at games and practices long after his graduation, developed a blood infection, and died unexpectedly.
From: the BDC
Despite playing in an era where freshmen were ineligible to play, he put up three-year numbers that no one before or since has been able to match. Through three years of play in Black and Gold, he
averaged
a knee-buckling 24/12 (both CU records).
In his sophomore year (1968-69), his first in Boulder, he burst onto the scene, helping to lead the team to the program's last outright league title.
By his senior year, 1970-71, he was shattering scoring records, averaging 28/12 per game. In Big-8 play alone that season, Meely dropped an astonishing 30.5 points per conference contest, including 47 against Oklahoma on Feb 13th - still the all-time, single game scoring record for a Buffalo.
"I did not really come to Colorado to score points: I came to win games. In the midst of doing that, I did not really think about it breaking records. Now that I look back on it, I think to myself 'Wow. Look what I accomplished during my career.' I just did what the team needed me to do to give us the best chance of winning." (-link)
He was named to the All-Big-8 First Team in each year on campus, with his triumphant senior campaign earning him First Team All-America honors. Meely's coach, Sox Walseth (a legend in his own right), once
said
fondly of Cliff:
"He is the most complete player I have ever coached."
Accordingly, his number #20 hangs in the rafters of the CEC.
"Whatever I did, I did it so our team could win. They retired my uniform, and that was a great honor. I don't decide how good I was compared to others. Somebody else will have to decide that." (-link)
Even to this day his accomplishments resonate with the fans, and it was no surprise that he was
named
as one of only five members of the AllBuffs.com All-Time Basketball Team last summer.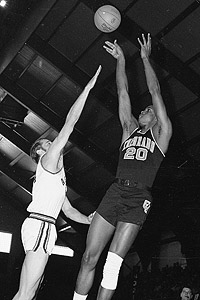 From: CUBuffs.com
The crime of it all comes in the form of an oft repeated line from the past few hours: "I didn't see him play." It seems that far too many passed through Boulder without seeing Mr Meely ply his trade on the hardwood, a gift reserved for those lucky thousands who filled Balch Fieldhouse during the late 60s and early 70s. I only wish I could've joined them.
I think Coach Boyle said it best:
"I thought he was a true gentleman, and you look at the numbers and he was arguably the best player ever to play here . . . what I love is that he came to Boulder from Chicago and stayed there, made this his home. He loved the university; he was a special guy. This is a sad day. He went too early." - link
Games this winter just wont be the same without his court-side presence.