It's the end of an era in Denver: Troy Tulowitzki has been
traded
. Now a Toronto Blue Jay (of all things), the one-time cornerstone of the franchise was
shipped
off late last night for Jose Reyes and a few pitching prospects. It's not your traditional deadline deal in advance of free agency, as Tulo would've remained under contract into the next decade -- look at it as more of a salary dump/retooling in advance of a full-blown remodel of the team.
Tulo heads north of the border, and the Rox waive the white flag.
A long time coming, this move effectively closes the book on the 2007 Rockies squad that so captured the town's imagination. The fire sale probably won't stop with the dynamic shortstop, either. As third baseman Nolan Arenado
fears
, Carlos Gonzalez is probably next as the LoDo franchise hammers down on the reset button. Get ready, Rox fans, it's about to get bumpy...
--
Today in the bag, I'm talking the release of CU's non-conference schedule, an injury on the recruiting trail, and the 2015 Gold Cup.
Click below for the bag...
The non-conference slate is set -
Late last week, CU
made known
that they had completed the 2015 men's basketball
non-conference schedule
. The
full
schedule won't be 100% finalized until the Pac-12 gets around to marking up its half of the slate, but that's more of a formality at this point -- we know the travel pairings already, so this is it. Arriving a little earlier than expected (last year's didn't come out until well into August), the schedule dropped on a Friday afternoon (
The West Wing's
'
take out the trash day
'), I think, so that it would take a while before anyone noticed how... underwhelming it is. Don't believe me? Take a look and see for yourself:
11/13 - vs Iowa State - Sioux Falls, SD
11/18 - @ Auburn - Auburn, AL
11/20 - vs Portland - Boulder, CO
11/22 - vs Nebraska-Omaha - Boulder, CO
11/25 - vs Air Force - Boulder, CO
11/29 - vs Northern Colorado - Boulder, CO
12/2 - vs Ft Lewis College - Boulder, CO
12/6 - @ CSU - Ft Collins, CO
12/12 - vs BYU - Boulder, CO
12/18 - vs Nicholls State - Boulder, CO
12/19 - vs Hampton - Boulder, CO
12/22-23 - Las Vegas Classic - Las Vegas, NV
It starts out fine enough. The Iowa State game, featuring a Cyclones team learning under a new head coach, is a lovely showcase game, and the sure-to-be nationally televised trip to the plains of Eastern Alabama will be tough follow-up challenge. After that, however, there's little to no meat on the bone among the games to be played in the Centennial State. A few of those games are contractual -
i.e.
tied to the Las Vegas Classic - but the remaining 'marquee' games against BYU and Air Force aren't nearly enough to get me excited in late July.
Not a lot of heavyweights coming to the CEC this winter.
This is to be expected. The program has regressed a bit over the last 18 months, so a brutally difficult schedule - like we saw in 2012-13 - would be uncalled for. Additionally, it's got to be damn tough for Coach Boyle to convince other Power Five schools to schedule a trip to the Foot of the Flatirons. As removed as the team is from their recent peak of December of 2013, the prospect of facing them in Boulder is still nightmarish. A soft-
er
schedule is just the natural reaction to these factors.
Still, as 'soft' as the schedule looks to be at first glance, I am able to find four losses without much difficulty. I fully expect the squad to start out 0-2; a random home loss in December is never out of the question; and a trip up in the Fort or in Vegas would be far from surprising. Maybe, given that view, the easy wins against the UNO Mavericks and fucking Ft Lewis are necessary.
More on this when my season preview drops in early November. I should get started on that...
Cam Satterwhite injured -
The summer of ill-humor continues for the Colorado Basketball program. Following loosely on the heels of Xavier Johnson's torn Achilles, the future of the roster took a knock this past week as 2016 commitment Cameron Satterwhite
went down
with an
as-of-yet undisclosed
knee injury. At the time, Satterwhite was playing in Las Vegas as part of a summer AAU tournament, and came down awkwardly off of a dunk. The initial
fears
were of an ACL tear, but Cameron won't know for sure until the results of a forthcoming MRI are made known.
The timing is a dirty rotten shame, as Cam - the recruit with the best name since Spencer Dinwiddie - had been catching his groove on the AAU circuit.
Throwing down wicked dunks
and generally showing improved play, the lanky 6-3 guard prospect had been proving doubters wrong. See, back in February, Satterwhite's commitment came as a surprise to many. The word 'reach' was tossed around as a number of recruiting insiders scratched their heads at the move. Slowly, but surely, that narrative had been turning around. While nothing earth-shattering, analysts were passing along that they were now seeing some of the promise that Coach Boyle had seized upon.
Satterwhite has been sidelined with a knee injury.
The injury, whatever it ends up being, certainly sets that progression back. It hasn't seemed to dull CU's plans for him, however. A recent
article
(h/t @RyanKoenigsberg) out of Arizona quoted Cameron's mother as saying, "Coach Tad Boyle called Cameron last night and let him know that Colorado is 100% behind him for him to listen to the doctor, take it easy, do what he needs to do to get better."
To his end, Satterwhite
promises
to "...come back stronger than ever.' I certainly hope so, and continue to look forward to his days in Black and Gold.
Get well soon, Cameron!
Gold Cup implodes around CONCACAF -
Where was Carli Lloyd when you need her?
The USMNT was a heavy favorite headed into the semi finals of the 2015 Gold Cup. Unfortunately, unlike their sisters on the World Cup stage, the men proved far less capable of reeling in the ultimate prize, twice stumbling on home soil. First, the stunner
against Jamaica
. Then, a follow through
against Panama
in the third place game. In both, the US struggled with the back line (big shock), and found themselves culpable of muting their own offensive attack. All-in-all, uncomfortable, questions-raising results; ones that allowed rival Mexico to steal through to the trophy, and force a play-in tilt for the right to appear in the 2017 Confederations Cup. *Blech*!
Wha... wha happened?
The losses were so unexpected, so separated from what has come to be expected from the program, that there were some who
reflexively
started
calling
for manager Jurgen Klinsmann to be fired. While I'm as frustrated as any, I think that's beyond rash. Certainly, you should take last week's results far more seriously than the rather meaningless recent string of successful friendlies in Europe, but they shouldn't be the final word on the situation. I've never been overjoyed with the methods and madness of 'Klinsy,' but, considering the time and money invested, any decision ahead of the Confederations Cup play-in against Mexico would be insane.
As it is, the Americans need to turn the ship around quickly, as the extended road to the 2018 World Cup starts this fall. There will be no excuses accepted for a failed qualifying campaign, so the summer hiccups better find their way into the rearview before then.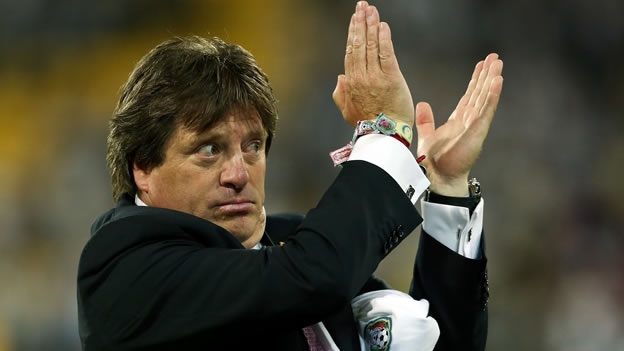 Despite winning the Gold Cup, Herrera had a much worse week than Klinsmann.
While the US is reeling, they are only a small chunk of the roaring dumpster fire that currently is CONCACAF. Mexico's run to the title was marred by a number of
highly
suspect
penalty decisions in the quarters and semis, but that's just run-of-the-mill mishegas from the North American federation. (Complaning about CONCACAF officials is like complaining about Pac-12 officials - sure, they're garbage, and some may be skirting ethical lines, but whining about it gets you no where.) The real spice came after the tournament, when it was alleged that Mexico's Miguel Herrera
punched
a reporter on his way out of Philadelphia. The response from the Mexican Soccer Federation was swift; the joyous Herrera
is out
. Think on that for a second - the US in embarrassed on home soil, but the manager is 100% safe; Mexico wins the damn thing, but are now in search of a new head. Couldn't have predicted that...
There's plenty you can say about CONCACAF. It's ass-backwards, corrupt, and a poor steward of the sport in a burgeoning region, etc. You can't say, however, that it's not entertaining. While the past few weeks weren't a particularly strong example of attractive
futbol
, it was sure-as-shit an engrossing display. So... kudos, I guess?
Happy Tuesday!