It's finally here! Basketball. Real damn basketball. The summer's been so long, and the fall so very, very dull. The glories of the hoops season have come none too soon. Thank you, basketball gods, for these gifts we are about to receive.
The Buffs, in all their wisdom, have decided to begin the 2015-16 campaign tomorrow afternoon at the luxurious (?)
Sanford Pentagon
in beautiful (?) Sioux Falls, SD. Why? Because that's where the Iowa State Cyclones will be. The things you do for an RPI boost... It's going to be a hostile environment, too, with most of the 3,250 seats taken up by those clad in ketchup red and mustard yellow. One thing's for sure: this is going to be a tough one.
Well, the team has played in weirder venues...
The old Big 8/Big XII rivals last met on the hardwood in Kansas City at the 2011 Big XII tournament. At the time, it was a game the Buffs needed to have, as they looked to solidify what appeared at the time to be an NCAA Tournament-caliber profile. While that Selection Sunday call never did come in March of 2011, the Buffs at least took care of business against the Cyclones, mounting a desperate comeback in the final few minutes to escape with a
77-75 win
.
It's real fun to look back at this box score and see names like Alec Burks, Cory Higgins, and Levi Knutson leading the way for the Black and Gold. Alec, for his part, did as he was always wont to do and put up ridiculous numbers. His 29/15/6/3 line made me break out in giddy laughter when I peered at it for the first time in years, one of a number of games from his sophomore campaign where he proved he was far too good for college basketball. Burks played all but two minutes of the action, got to the line 14 times, and was the driving force behind every one of CU's mounted comeback attempts. Simply incredible! As a side note, he combined with another future NBA star - then-freshman Andre Roberson - to haul in 30 rebounds, just six less than ISU's total for the game. Damn, that team was stacked. How did they not get selected for the Dance, again?
Burks could not be stopped that day in Kansas City. From: CUBuffs.com
Of course, those squads that met in KC four and a half years ago will bear little resemblance to the teams that will take the court on Friday. Not a single player on either roster remains, and there's even been a coaching change on the Iowa State bench (more on that later). The real shift in narrative, though, is the massive up-swing in fortunes for the Cyclones. Since losing that game to CU they've gone 99-40, slingshotting into the regional hierarchy. Just a season ago they were 25-9, stayed in the top-25 all season, finished second in their league, and won the Big XII tournament. They were a fantastic offensive club, scoring 77.8 points per game at about an adjusted 1.16 ppp clip - a midweek must-watch every time they were in the Big XII game of the week. By all rights, it was a tremendously strong season, and one that hinted at great things to come for the program as a whole.
But, the 'Clones were
stunned
in the opening round of the NCAA Tournament by the UAB Blazers (thanks for ruining my bracket, dudes), and lost their coach, native son Fred Hoiberg,
to the Chicago Bulls
later in the summer. Suddenly, what seemed like such a sure thing - the Cyclones in '15-'16 - began to look like a surprisingly open-ended question.
Hometown hero Hoiberg's return to the NBA threw the Cyclones for a loop. From: Bleacher Report
ISU responded quickly, though, to the departure of their 'Mayor,'
inking
Murray State's Steve Prohm just a week later. Yep, that's the same Steve Prohm that went 104-29 in four years with the Racers, including that magical 31-2 run his first year in southwestern Kentucky. They also return four starters from a year ago, including elite stretch-four
Georges Niang
, meaning the cupboard is far from bare. As a result, the pollsters have been kind, voting them #7 in the preseason AP top-25 poll. It's legit, too; the ISU will be damn good again this winter.
Georges, who could've turned pro after averaging 15/5 last season, made the interesting choice to stay for his senior year,
rather than leave
Ames with the stain of that loss to UAB. The Cyclones are lucky he did, because I don't think the prognosticators would be nearly as kind to the team with him already in the professional ranks. The 6-8 senior forward from Massachusetts is, simply, the real deal on the offensive end. He can play pretty much every position (yes, even
point forward
), and can beat you in a number of ways. He is a difference maker, posting a 106 offensive rating, 56% true shooting rate, and 40% three point percentage in '14-'15. He's not a selfish player, either, with his 21.9% assist rate. He simply makes everyone around him more dangerous; a true weapon that ISU can exploit, and a leader that
even his coach listens to
.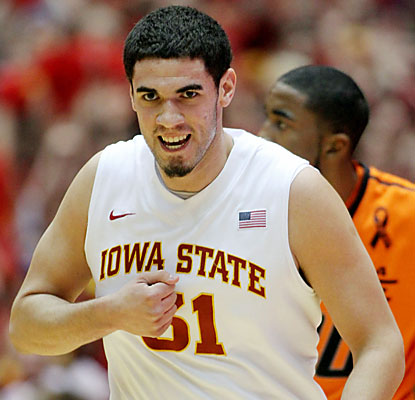 Niang is an elite talent. From: CBS Sports
But, while Niang is a fantastic player (preseason all-American, in fact), he's not a one-man team. Frontcourt mate
Jameel McKay
is a major double-double threat, leading the team in rebounds and blocks a year ago, despite missing the entire month of November with
eligibility issues
. He posted a top-60 block rate, and proved adept at getting whistles in the paint with the ball. Between the two, McKay and Niang, they should average near 30 and 15 this season. The backcourt is also strong, with the duo of junior point guard
Monte Morris
and senior wing
Naz Long
leading the way. They both shot over 39% from deep last year, and will test CU's newfound dedication to running shooters off the perimeter.
Primarily, at least under Hoiberg, this had been a 'score first, ask defensive questions later' kind of program. Recently, however, Coach Prohm has started to sound a little like Coach Boyle when it comes to the way he wants defense to lead into that offense in this, his first season in Ames. From their Blue Ribbon preview:
"We want to play half-court, tough, hard-nosed man-to-man. Get in the passing lanes, good ball pressure. We want to be really tough-minded in the halfcourt. The best way to run is to defend and rebound. Get the ball to your point guard and go."
How well that change goes over with a team of offensive stars will go a long way to determining the timbre of their season.
The defense is lead by McKay, who is a load in the paint. From: Grantland (moment of silence...)
For our purposes here, please note that the 'Clones have already seen the court this season: a breezy
106-60
exhibition stomping of Grand Valley State last Friday. Unsurprisingly, against an ill-suited D-II opponent, a total of seven Cyclones finished in double-figures, including all five of their starters. Niang and McKay combined for 24/20, and seem to be primed for the season. It is just an exhibition, however (CU has been in two of their own; the closed-door variety), so take it all with a grain of salt.
Still, I have no reason to believe that anything the Cyclones have shown the last few years is going to dramatically down-shift under the new coaching regime. They still have talent, the institutional memory of winning, and a hell of a fanbase at their back. Not only will they continue to roll in 2015-16, they should also roll Friday afternoon. Josh Scott and the Cyclone forwards will get into it a little bit early, and the teams will trade baskets for a few possessions, but I see ISU racing out of the halftime lockerroom to wrap up the win before the second to last media timeout. ISU 76 - CU 63.
Please don't let that dire prediction ward you off from either the game on Friday or this season, however. There's a lot of basketball to be played, and just one game - on the semi-neutral road against a top-10 opponent, no less - does not a year of basketball make. Stick with this team, they should get fun when they finally come back to Colorado for the home opener next Friday.
--
Tip-off between the Buffs and the Cyclones is set for 3pm MT tomorrow afternoon. Not making the trek out to the Mount Rushmore State, and worried about where to watch? Well, if you're already going to Friday's football game, the Athletic Department
has you covered
. They're going to open the doors to Balch Fieldhouse a little early to allow for a little watch party, football tickets required. Doors open at 2:45, and the concession stands will be open. If I could get out of work, that'd be where I'd be...
For those without football tickets, televised coverage will be found on ESPN2, with the radio call on AM 760.
GO BUFFS! PROVE ME WRONG, AND BEAT THE CYCLONES!