I'm trying, guys. I'm really trying to keep myself from turning this space into non-stop White Sox talk, since I realize the vast majority of you don't give a shit. The boys from the South Side are not making it easy, however. Off to a 14-6 start (big come from behind win last night, btw), they are actually...
kind of good
? Shocking the hell out of me, they've turned a magical combination of lights-out pitching and defensive improvement into something that doesn't suck. Sure, they still can't hit for crap, and regression to the mean is going to rake the pitching staff over the coals, but I can't help but think at least
some
of this is not fleeting.
So, allow me a brief, self-satisfied 'WHOOP' as I note the hot start of My Sox. I promise it won't keep me from talking about... whatever it is that I normally talk about over the summer months.
--
Today in the bag, I'm talking some recruiting news in both basketball and football, some random notes from the basketball program, and talking up the lacrosse team.
Click below for the bag...
Basketball and Football each making recruiting waves -
If you follow recruiting, either on the hardwood or the gridiron, it was a good week for the Buffs. Both the basketball and football programs made headlines, earning the pledge of some high-profile talent. While nothing is ever a given when it comes to recruits, Colorado Athletics, at least on paper, hit some home runs in the pages of Scout and Rivals.
Starting in hoops, Coach Boyle followed up on my post from last week by
earning the signature
of coveted top-150 target Lucas Siewert. A forward with some expanding notions on the wing, Siewert projects to
play right away
this coming season, filling in the second-tier of the depth chart up front. The freshman-to-be has got a sizeable 6-10, 230 lbs frame, some international experience (plays in the Brazilian national system), and can
hit jumpers
like it ain't no thang. More of a non-traditional stretch-four than something UCLA-ish like Thomas Welsh or a Wear twin, he could form a scary combination with Tory Miller in future Colorado front courts. While he's only been playing the domestic game for four years, he's got a lot of talent and a high ceiling, seemingly a perfect late addition to the program.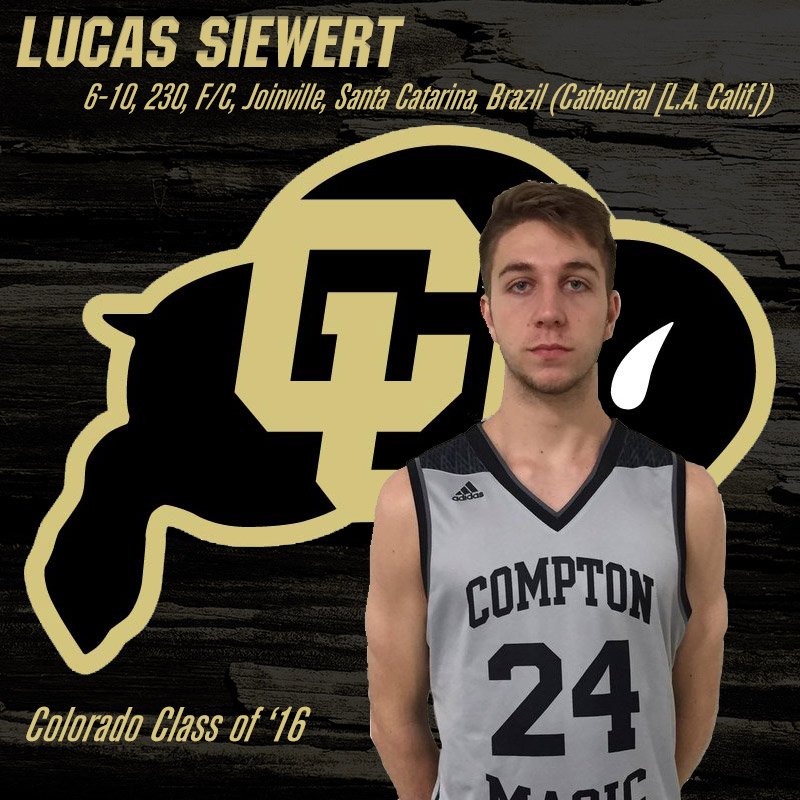 Siewert is a big late add for the program. From: @CUBuffsMBB
The key here is that Siewert, who was originally an ASU commit before they fired Herb Sendek, is actually signed to CU, making his presence on the active roster, if not his performance, a relatively sure prospect this winter. This is a very good thing. While the Buffs had been in on a number of other forwards this recruiting cycle, including a number of traditional transfers, it was important that Coach Boyle and crew could come through with a big man talent who could fill in some minutes this season. Dallas Walton still projects to be a core contributor in Black and Gold some day, but it would be foolish not to guard against his injury concerns with some additional depth up front. If he were to get injured, or struggle with his continuing recovery from multiple knee injuries, and CU not have an additional forward able to play this season, the lone remaining posts of Wes Gordon and Miller would have gotten worn out pretty quickly. Siewert can not only play right away, but should be able to do so competently, quickly.
Siewert's signature leaves the Buffs with one remaining scholarship to fill. As I said last week, Tad Boyle has proven averse to banking open slots on his roster, so I still expect this to be filled this summer. With the forward situation cleared up, and going by the plan he announced at his end of season press conference, this means Boyle's going after 'best available.' In my mind, that remains guard Jimmy Whitt, who was
on campus last week
. While I have no inside information here, I would expect the full court press from Boyle and crew to make that possibility a reality.
Flipping gears to football, outside of the Davis Webb fiasco (still not resolved, btw), the program has been quietly building a solid offseason. They came through with a nice, improving Signing Day haul (if still behind their Pac-12 peers), reveled in the opening of the new indoor practice facility, made some headlines with the hiring of familiar legend Darrin Chiaverini, and, more recently, have been making some big plays on the recruiting trail. Behind the efforts of Chiverini, who, in addition to his duties as co-offensive coordinator, is heading the recruiting push out of Dal Ward, they've been in pursuit of some true whales in the fertile waters of Texas. More importantly, however, they've even been landing some of those whales.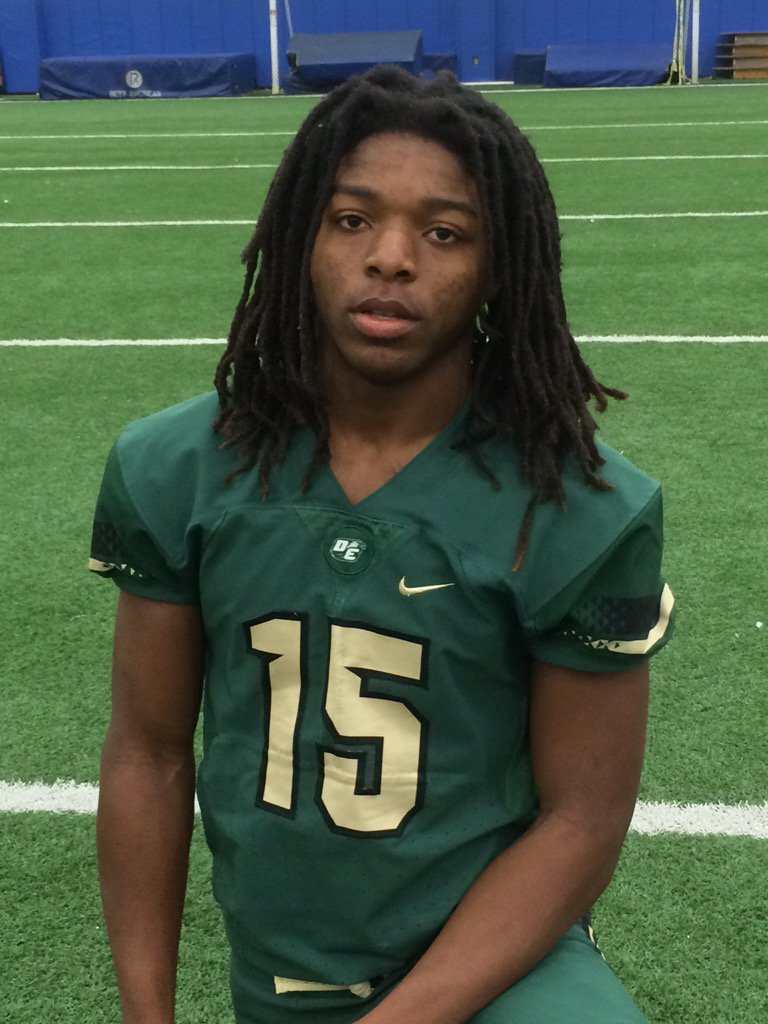 Shenault is a big early pledge for the football class of 2017. From: Allbuffs.
The latest, and most eye-opening news, was the
commitment
of flashy four-star receiver
Laviska Shenault
. A highly-sought talent from DeSoto, TX, who held other offers from such luminaries as Alabama and LSU, the 6-2, 205 lbs high school star projects to be an enticing target for whatever quarterbacks of the future line up under center at the Foot of the Flatirons. Combined with the Buffs' other four-star commitment, Texas wide receiver
Jaylon Jackson
, Colorado now boasts a pair of top-250, blue-chip commitments on the edge who could help entice additional offensive studs to Boulder. While you should always take 'commitments' in the football world with a grain of salt, there's no denying that this is an exciting time for a program seemingly on the rise up from obscurity. Indeed, the Rise is apparently very Real.
Basketball ephemera -
Cleaning up some other basketball stories...
Non-conference schedule nearly complete:
As was
leaked
last week, a home date with Wofford has been added to the non-conference schedule, almost bringing to completion the wayward process of building a suitable slate for the Buffaloes. The Terriers, who last hit Boulder in November of 2012, will be coming off a disappointing 15-17 run last season, but boast Colorado high school product Eric Garcia in their starting five. Not a terrible entrant on the fixtures list, all-in-all, and potentially a decent RPI scalp if Wofford can make some noise in the SoCon.
Bring on the Terriers! From: FoxSports
With the Terriers in the fold, along with visits from Xavier and CSU, the Legends Classic in Brooklyn, and trips to Portland, Air Force and BYU, this is not an easy schedule Coach Boyle is putting together. Assuming a full four games as part of the Classic, there's even three more to officially schedule (for a total of 31, including 18 conference games). I wouldn't expect them to be too sexy, though. This is mean enough as it is.
The Basketball Tournament is back:
For the second-straight year, Forever Buff Beau Gamble is helping to put together a
CU-centric team
for The Basketball Tournament, that summer 5-on-5 tournament that's been growing the last few years. While they may have faltered last year (losing to the eventual runners-up in the opening round), they're no less excited for the opportunity to hit the hardwood in pursuit of the grand prize of $2 million. The roster will, once again, be littered with familiar names from the recent past, including Richard Roby, Marcus Hall, Marcus Relphorde, Dominique Coleman, Austin Dufault, among others. You can follow their progress on their team site, and even help them gain entrance to the tourney by voting for them. More news to follow on their progress...
The Tad Boyle era All-Stars:
Over at the Ralphie Report, Sam Metiver had an interesting article up about 'the
Tad Boyle All Stars
.' Essentially, his picks for the best group of players from the last six years of basketball excellence on the Front Range. I highly suggest you give it a read and some consideration. He's got an interesting perspective, and doesn't just fall for the trap of finding the best guys and throwing them on the roster.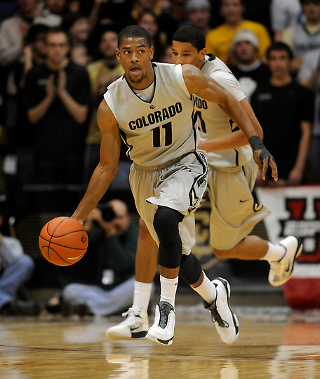 Don't forget Cory, the dude was legit.
One bone to pick, though, is the exclusion of Cory Higgins. The oft-forgotten scoring guard from the dying days of the Bzdelik era may not have been at the head of a lot of wins over his four year career, but the versatile talent from Danville, CA was one of the best all-around players to ever put on the Black and Gold. Scoring, passing, defense, and rebounding, Cory could do it all, and just so happens to be tied for the most points ever scored as a Buff. To put together a team of the best Buffs in recent memory, and not include Cory, is a mistake. Go back and watch the film, he's better than you remember...
Lacrosse team stays scorching hot on the field -
I've steered clear of lacrosse analysis this year, mostly because I just don't get the sport. However, I can't ignore it any longer, as the Colorado Women's Lacrosse Team has been playing some truly sensational
ball (?)
the last few months. Since starting the season 6-1, they've only continued to impress, becoming a factor in MPSF play (the Pac-12 doesn't sponsor the sport... yet).
Most recently, they finished their regular season slate a perfect 4-0, running past conference foes like
San Diego State
,
St Mary's
,
Cal
, and
Oregon
. The blitz has allowed them to set a program record for wins (12), making this the best team in the albeit brief history of the sport at CU. Head coach Ann Elliott has the crew rolling, with no signs of slowing down as we hit the end of the month.
Rain or shine, the Buffs have been rolling of late. From: CUBuffs.com
It's a good time for the Buffs to be going on a tear, too. Their four-game winning streak comes on the eve of the MPSF conference tournament, being played this week at Stanford. With a strong showing there, the ladies could be primed for their first ever trip to the NCAA Tournament. That would be quite an accomplishment for a program that didn't exist prior to a few years ago.
Happy Tuesday!