This is not a drill, people of Boulder. The students are back in town as of tomorrow, as student move-in begins in earnest. Prepare for traffic, loud parties, and extended wait times for delivery pizza. Of course, while the start of the fall academic calendar comes with its share of downsides, it also comes some decided positives... like the accompanying start of the fall sports calendar. In fact, it will all get started this weekend, with women's soccer's kickoff in the Springs against Air Force (Friday @ 6pm). Before you know it, we'll all be treated to the start of football season, the even more exciting start of basketball season, and the throes of a winter of competition across all fronts. With the Buffs back in town, its finally time to bid summer an adieu, and welcome in the 2016-17 season. Let's get it on!
--
Quickly, a big shout-out to ForeverBuff Emma Coburn for her
bronze medal
performance in the 3000m steeple chase. Her American-record run did all of BuffNation proud. Way to go, Emma!
--
Only two topics this afternoon as we inch closer to fall. Today in the bag, I'm talking Saturday's football scrimmage and the pratfalls of closed door practices, before closing with the Olympics.
Click below for the bag...
On the open scrimmage and the closed practices -
With just three weeks to go prior to the start of the 2016 season, the Buffs held an
early-morning scrimmage
on Saturday. It was hit-or-miss,
largely vanilla
, and essentially what was to be expected. We in BuffNation did get to see some flashes of two-way
star-in-the-making
Anthony Julmisse, but it came with the sour note that this brief glimpse in Folsom was also the last outsiders will get prior to the RMS. In fact, all it did was reinforce a growing sense that I've been chewing on since the start of fall practices:
I'm simply not sold on Coach MacIntyre's
closed camp
policy.
The Buffs scrimmaged Saturday before bounding back behind closed doors. From: CUBuffs.com
The BSN crew
talked
about this issue last week on their podcast, and, while much of it came off as a media/insider whinge, they still raised a good point. Outside of a few open practices to start camp, and that open scrimmage over the weekend, the opportunities for independent observers to put their eyes on the team are essentially nil prior to the RMS. It's reductive, close-minded, and wrong.
I get the concept. You don't want any potential negative coverage to spike the rosy message that the Buffs are pushing for a bowl game, and every coach in the nation blanches at the thought of opponents getting a peek behind the curtain, but, each of those ideas is wrong-track thinking. By closing the doors, it makes it look like you're hiding something, making laymen, like myself, concerned that something is wrong. By being paranoid about what early opponents, like CSU, could get from having the random eye or two at practice, it makes it seem as if you're worried about playing
little brother
in the first place. It's not a good look for a program that, in year four of a coaching staff, should be exuding confidence at every step of the way.
Real looks at Colorado have been few and far between this fall. From: the BDC
Hey, this isn't a charity, and, in the zero sum world of college football, you have to be doing everything possible to find an edge, but Colorado Football is also a public trust, and, damnit, the doors should be open. I respect the hell out of Neill Woelk, BG Brooks, and the rest of the CUBuffs.com crew, but I have a healthy skepticism of any writing produced by the entity being covered. Not that they can't release insightful, relevant content, just that the mask of objectivity is a vital component in the team/fan relationship.
It's come to the point that I'm starting to see blood in the water, when there probably isn't any to be found. My instinctual reaction to a
harmless and otherwise positive
quote from Tedric Thompson, that the Buffs 'deserve' to break the painful bowl-less streak, was to snap back that 'other teams (are) working their tails off, too,' and remonstrate against the evidence of things not seen. We're supposed to be consuming kool-aid-soaked missives about how some third-string sophomore linebacker is the next Ted Johnson, thanks to a few snaps at the close of a random Tuesday practice. Instead, I'm jumping at phantom negativity, and seeing holes in the foundation that may or may not exist. The larger point is this: really, the only way to build and capitalize on the annual parade of hope in fall camp is to actually let people
see
fall camp. Mac and the Buffs missed the mark on this one.
Olympics basketball about to hit the knockout stages -
So, the Olympics. While you've been watching tape-delayed packages of teens tumbling and Americans owning the pool, I'm been watching pretty much everything else. Basketball (of course), handball, rugby, field hockey, fencing (with its annoying share of privileged dandies playing to the judges), badminton, and, oddly enough, weightlifting. The basketball, which I will get to in a second, has been, by far, my favorite event of the summer. But a close, sneaky second has been frickin' weightlifting.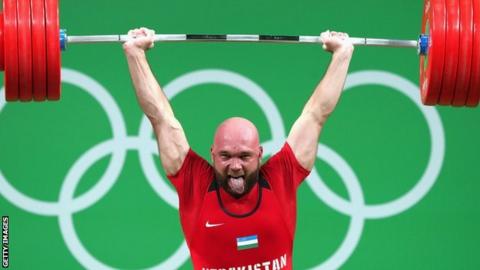 Weightlifting, seriously? From: the BBC
Yep, people grunting and straining while lifting stuff has grabbed my attention. I've been enthralled. I've gotten to know the strategy behind what weights you sign up for, the drama of contestants challenging their personal bests, and the psychological warfare waged across the magical six inches between the ears. If you caught any of the competition, which wrapped up today, I bet you'll agree that it was some of the best Olympic action available this summer.
But, enough of that, onto the hoops. After the opening week of the international tournament, it seemed like the US Men's National Team would be walking to yet another gold medal. Team USA has dominated the sport at this stage since its inclusion back in the 30s, and early blowouts against China (
119-62
) and Venezuela (
113-69
) seemed to hint that the 2016 team was headed in that direction, as well. However, a series of three tight games since - against Australia (
98-88
), Serbia (
94-91
), and France (
100-97
) - have a lot of people, myself included, nervous.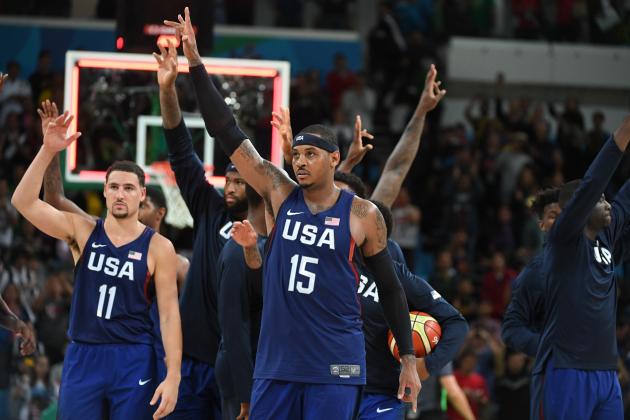 Team USA has been struggling, while still winning, this past week. From: BleacherReport
The issues have been familiar to those who have watched international basketball since the first two Dream Teams of the early '90s -- Team USA, while talented, doesn't have anywhere near the experience playing together that their opponents do. Combined with a lack of practices (Head Coach Mike Krzyzewsk is trying to keep players injury free by limiting court time as much as possible), the absence of an organized offense, and a paucity of consistent defensive effort, they're
vulnerable
to experienced, cohesive units from other countries. That this isn't
the best
group the country can put together isn't helping either, with boundless talents like LeBron James and Steph Curry left sitting at home.
None of this is new, however. The team built around individual dynamos like Carmelo Anthony and Kyrie Irving, while struggling a bit this week, is still better than the shit show we sent to Athens in 2004, and should still be considered a gold medal favorite. (To give you a sense of how bad that team was, consider that the the US has lost just five games at the Olympics, all time. Three of them came in '04. Dark days, indeed.) The problem is that the price of poker has gone up, as Coach Boyle would say. Starting tomorrow, the tournament is into single-elimination mode, and performances like those from this past weekend are liable to now end in ignominious defeat. Any of Argentina (their quarterfinal opponent), Spain (the probable semifinal matchup), or Lithuania/Croatia/Serbia (potential gold medal entrants) can and will smack them around if they come out like a disorganized mess. There is a danger here, and the US Men better be ready to rise above it, or forever be remembered as the worst team since Athens.
Happy Tuesday!