I'm quick to tell the story of my freshman year, when a determined CU squad nipped the #6 Kansas Jayhawks at the CEC
60-59
(somewhere, Kirk Hinrich is still missing layups). The quote from Stephane Pelle was apt, "We hadn't beaten Kansas in something like 11 years and 11 months. To do what people say is impossible is great." The fans rushed, the Jayhawk horde that had invaded the CEC filed out in silence, and I cried while playing the
alma mater
. It was a good night.
Michel Morandais and the '02-'03 did what was long-thought impossible. From: ESPN
Of course, the sad continuation of that story is that CU has yet to duplicate that feat in the subsequent near-decade. By tip off Saturday, it will have been nine years, 10 1/2 months since that win, with CU going 0-18 against Kansas over that period. Bagging Kansas has become the unobtainable, the picture of Big Foot, the winning lottery combination. The impossible.
I would never go so far as to say that CU and KU are rivals. For almost the entirety of their existence they've excelled at different things. But, just like how CU looked to Nebraska in the '80s for their pursuit of respectability, I've always looked at KU as the gold standard for where I'd
like
to see CU hoops end up. From that perspective, there's nothing I want more than a win over those guys. It keeps me awake at night, it's what drove me to
start writing
this blog in the first place.
And that's why I was so excited when this home-and-home series was announced. I just want one more win over the Jayhawks. Just one more. I don't care if it comes this year in Lawrence, or next year in Boulder. I just can't stand that series to end on a 0-18 note.
Pretty please, with gumdrops and sugar?
--
That place... is strong with the dark side of the Force. A domain of evil it is. In you must go.
After all those years seething at the numbers of KU fans invading the CEC each winter, I'm finally able to return the favor. That's right, this afternoon I'm hopping in the car, and high-tailing it eastwards. I'm chasing the dragon of a CU win over Kansas all the way to Lawrence.
I must have lost my mind, because the Buffs haven't pulled the road shocker in the Sunflower State since 1983, over a year before I was born. That win is so ancient and forgotten that CUBuffs.com doesn't even have it on the
'83 schedule
. (BTW, the Buffs also beat Duke that year. The '80s were weird). Yet, here I go, ready to drive into the home of the invader.
Making history won't be easy. Kansas doesn't get their reputation for nothing, afterall. KU hasn't lost a true home game since UT cruised past them in 2010, and hasn't lost to a visiting non-conference opponent since Oral Roberts, of all schools, shocked them in 2006.
So, I guess what I'm saying is that they're due for a shakeup...
Tip-off from historic Phog Allen Fieldhouse is set for high noon MT. Coverage is set for ESPN2, with Mark Johnson and the radio broadcast set for 850 KOA.
Click below for the preview...
When last we met -
By the time the Buffs and Jayhawks met for the third time in the winter of 2010, nearly everyone thought that both teams were headed for the NCAA Tournament. CU had beaten Iowa State and Kansas State (for the third time in 2010, *ahem*) in the Big XII tournament to seemingly punch their Dance ticket. The Jayhawks were their normal fantastic selves, and were zeroing in on a #1 seed. I saw the game as a bonus: unnecessary for the Tournament resume, simply an extra chance to steal a game from KU.
Essentially, I figured the Buffs had nothing to lose.
Rising to the occasion, CU came out of the gate playing that way, and raced out to an 11-2 lead before the Jayhawks could settle in. The Buffs managed to milk that lead for over 13 minutes, before star Kansas forward Markieff Morris decided to go off. Taking over the game, he scored 10-straight points to claim KU's first lead, which got the partisan Kansas City crowd into the action. The teams would fight over the lead for the rest of the half, but KU closed on a 12-3 run to open up a six-point halftime advantage.
The Morris twins were far too much for CU to contend with.
CU, playing their third knock-out, drag-out fight in three days, was exhausted, and struggled to their feet out of the locker room. KU started the second frame on a 16-5 run which all but sealed the affair. CU would crawl back to within six points with 40 seconds to go, but that's far to late to effectively challenge for the win. The
final score
score read
90-83
.
The culprits were the Morris twins - Markieff and Marcus - who combined for 40/21. CU just didn't have an answer for them inside, and they propelled KU to a +15 rebounding edge. For the Buffs, the incredible Alec Burks dropped 23 points in his final Big XII game. A few weeks later he
declared
for the NBA draft, and has since been stuck on the Utah bench (
#FreeAlec
).
Not only was CU denied entry into their first ever Big XII title game, but they were left out of the Tournament field, announced the following day, in favor of teams with much more suspect resumes. In retrospect, an upset of Kansas in the Big XII tournament may have been the team's only chance to sneak into the Dance.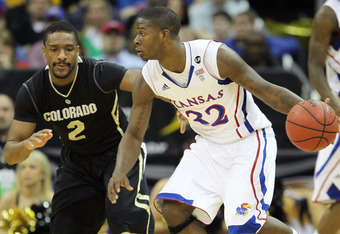 Falling short in the pursuit of the upset cost CU a trip to the Dance.
The Jayhawks would go on to win the Big XII tournament before being
upset
by the VCU Rams in the Southwest regional final. The Buffs would, of course, go on to New York with the NIT's Final Four, before leavin the Big XII for the friendlier - and more lucrative - confines of the Pac-12.
Opponent's season so far -
Their KenPom profile can be found here.
The 2012-13 Jayhawks have been playing as well as you would expect with a near perfect 6-1 record, a #9 ranking, and an aura of pseudo-invincibility. With all due apologies to Arizona, this is the best team that the Buffs will face all season. Expect KU to have a very low seed come March, and a chance to make a deep run in the Tournament. The Buffs will get an RPI boost just by playing these guys.
Their lone loss came in Atlanta at the hands of a very strong Michigan St squad, and, while technically an upset, wasn't all that surprising. The opening game of the Champions Classic lived up to its name, as the Spartans and Jayhawks played back and forth basketball from the opening tip-off. A total of 12 ties and 11 lead changes lead to the
67-64 MSU win
, and it was as close as that sounds. It was a game that belonged in March, yet took place in November.
Kansas' lone loss is very excusable.
The home portion of their schedule has been a cake walk. Three games against teams in KenPom's 200+, equaling three easy wins by an average of 15.3 points. As of yet, no opponent has scored more than 57 points in the Phog this season. They also possess two neutral court wins over Pac-12 squads Washington St (
78-41
) and Oregon St (
84-78
).
Statistically, KU is one of the best defensive teams in the country. They've held opponents to .87 points per possession, while boasting the best two-point defense and block percentages in the country. Not to be outdone, their offense is also very strong, scoring nearly 1.1 points per, with a team eFG just shy of 51%. They do struggle a bit on the perimeter, shooting less than 30% from beyond the arc, while allowing opponents to creep up near 36%, but those numbers are still fluid considering that we're yet to get into the meat of December. Feel free to toss in a grain of salt.
Coaching -
Much like CU's own coaching maestro, Kansas' head man
Bill Self
comes from the Larry Brown coaching tree. Enjoying the prime of his career, he's on the fast track to legend status.
Coach Self is one of the best leaders in the sport.
After finishing second in his first campaign in Lawrence, he has guided the Jayhawks to eight straight regular season Big XII titles. All told, he's 482-159 in his four-stop career, with 12 league titles, 13 total trips to the Dance, seven trips to the Elite Eight, and one sparking NCAA title to his name. That's the foundation of a hall-of-fame career. 20 years from now, we may be talking about him the way we do Mike Krzyzewski, Dean Smith, and others.
For my sake, I hope he never leaves KU, as Lawrence is the most logical destination for Coach Boyle, should he ever decide to leave Boulder. So, please, build your statues. Become the lasting face of that storied program. You won't hear me complain.
Star Players -
The premier star amongst stars on the KU bench is 7-0 senior center
Jeff Withey
. The
preseason All-America honoree
is one of the best defensive players in the nation, and is almost impossible to get a clean shot off against (20% block percentage). He set a NCAA Tournament record last year for most blocks in a single tournament with 31, and seems capable of even more this season, as he's averaging a ridiculous 5.7 blocks per contest in '12-'13 (including
12
against San Jose St as part of a
triple-double
). I expect that Josh Scott will get slaughtered by this guy inside; hang in there, kid!
A rejected shot is a common sight with Withey on the court.
Prowling on the perimeter is blue-chip guard prospect
Ben McLemore
. The 6-5 freshman is ticketed for lottery status next summer, as this should be his only season in Lawrence. He's been living up the hype, averaging 15/6 in the early going. One weakness: he can sometimes fall in love with his 3-point shot, which has shown to be a tad inconsistent.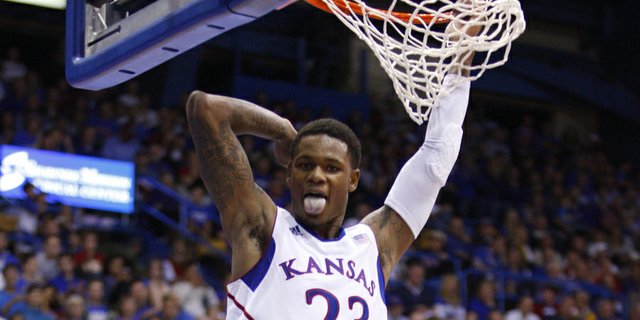 McLemore certainly doesn't lack confidence.
Senior point guard
Elijah Johnson
chips in nearly five assists per game to go along with his 10 points per, and 36% outside shooting. 6-6 senior
Travis Releford
is the ultimate role contributor, leading the team in minutes from the wing. He also shoots lights-out from the charity stripe, making over 91% of his free throws.
Johnson plays the conductor role in Lawrence.
The starting lineup is rounded out by a fourth senior, 6-8 forward
Kevin Young
.
Prediction -
There are only two players on the whole CU roster who saw the court the
last time
the Buffs walked into Allen Fieldhouse. 'Dre went for 5/7 in 25 minutes, and, get this, Ben frickin' Mills saw six minutes of garbage time (recording a rebound, two turnovers, and a foul for his efforts). That is to say all but one of the current Buffs lacks any meaningful experience with the Phog. The backbone of this team has handled the glare of the Tournament, but they're all about to get a lesson in what top-flight basketball
really
looks like.
KU, outside of McLemore, is veteran and tough, and they'll defend their home court with a vengeance. Considering that and last weekend's lousy performance in Wyoming, I have absolutely no faith in CU being able to stun Kansas tomorrow afternoon. That doesn't mean that I think my trip will be a waste; I particularly look forward to soaking up the atmosphere in one of the nation's best college arenas. It's just that the young Buffs aren't yet prepared for this kind of challenge.
Unfortunately, that long-lost victory over KU that I've been searching for will have to wait another year. Those seniors will graduate, however, and the vaunted Jayhawks will have to make that return leg in 2013. The CEC waits in anticipation...
KU 76 - CU 67
GO BUFFS! PLEASE, PROVE ME WRONG, AND MAKE HISTORY!