It was a bad weekend of hoops for everyone wearing a CU uniform. Both the men's and women's teams suffered early defeats in the Tournament, making for an abrupt shift to the offseason. However, if it's any consolation, we're only 220 days away from November, so it's not all bad!
Today in the bag, I'm recapping the early exits, discussing a weekend full of upsets, talking Ben Howland's exit from UCLA, and touching on soccer's snow bowl.
Click below for the bag...
Buffs ride rollercoaster off the Dance floor -
In retrospect, Friday's CU/Illinois game shouldn't have come as a surprise. Both teams had spent the majority of 2013 playing streaky, inconsistent ball, which is exactly what defined their second round Tournament game. In the end, it was Illinois who hit the game's final minutes on the front foot, and escaped into the third round with a
57-49 win
.
D.J. Richardson and the Illini squeezed past the Buffs in an inconsistent game.
It was a game built on runs, with both teams going extended stretches without scoring. CU started out the game hot, holding a lead for most of the opening minutes prior to the second media timeout. Then, unfortunately, Coach Boyle dove headlong into his
under-performing bench
, ceding momentum to the Illini for the rest of the opening half. As a result, Illinois would head into the break on a 26-6 run, with CU playing the final 7:26 of the 1st without scoring a point.
Guess when the subs hit the floor... From: CBS
Not content to leave the Dance without a fight, CU would storm out of the locker room, guns blazing. They would go on a 23-2 run, mostly on the back of Askia Booker, to re-capture a 44-39 lead with just over nine minutes to go. Once the run sputtered, however, the Illini were ready to pounce. With fatigue setting in, the Buffs would only score five points the rest of the way, and Illinois rode a deciding 18-5 run to victory.
For a while, Ski was DGAF hot. But it wasn't enough.
The halves are eerily similar. The Buffs would look better than their counterparts for the opening part of each half, only to scorelessly falter down the stretch. Defensively, CU played well enough to win, holding the Illini to 31% shooting on the afternoon (8-31 from deep), with only three made field goals in the second half. The problem was that the Buffs simply couldn't score with tired legs, and never got to the line enough to make up for it. Hopefully, next year's incoming class will combine with the returners to fill out the bench enough to avoid such droughts.
Women suffer embarrassing defeat -
While the men couldn't pull the upset in Austin, the women were upended by former Big XII rival Kansas Saturday afternoon at the CEC. Their
67-52
defeat at the hands of the 12-seed Jayhawks was both stunning and humbling, halting a presumed Sweet Sixteen run before it could even materialize.
Kate Fagan
was right
, CU wanted nothing to do with the battle-tested Jayhawks, who held CU to only 25% shooting from the floor. Said CU guard Brittany Wilson "I don't really know what happened.[...] I don't know if it was nervousness, I don't know what it was, but after a while we just couldn't hit anything."
The Jayhawks hounded Arielle Roberson and the Buffs.
The Buffs managed to roar out to a 14-4 lead in the opening minutes, but a quick 9-2 KU run starting with just over six minutes to play in the opening frame put Kansas ahead for good. CU could never find traction in the second half, and shockingly bowed out in the Tournament's opening round.
This wasn't the way it was supposed to go. Gifted a home regional, most assumed that CU would easily win their first round game, before playing a tough South Carolina squad for the right to advance.
While most of the improving roster will be back, for seniors Chucky Jeffrey and the Malcom-Peck twins it was a horrifying crash out of their only Tournament appearance. Said Jeffrey "It's very disappointing. We didn't want it to end this early. It's kind of sad being my last game, but I wouldn't have gone through the season with any other team."
The ladies had a great season, and, much like the men, the program is on the rise. Hopefully, Boulder will be granted another regional in the future, and the team will get a chance to avenge Saturday's result.
Upsets soaring into Sweet Sixteen -
It's March, so I theoretically should be prepared for chaos to reign, but a total of five underdogs have slipped into the Sweet Sixteen, making my bracket look like swiss cheese.
The big story has been the run of Florida-Gulf Coast, who used a fast, high-flying style of crowd-pleasing play to rush past more measured squads from Georgetown and San Diego State. The 15-seed Eagles, lead by the guard tandem of silky-smooth point Brett Comer and wing Sherwood Brown, can seemingly do no wrong, and are the first 15 to ever survive the opening weekend. All this from a school that is barely old enough to drink (founded in 1991)! When you talk about Cinderella crashing the ball, you're talking about FGCU.
It has been more than just the Eagles, however. High-seeds Oregon, Arizona, Wichita State, and LaSalle have also Danced their way into the second weekend. Oregon and Arizona aren't exactly a surprise (the Ducks were painfully under-seeded, and the Wildcats under-played their talent into a 6-seed), but mid-majors Wichita State and LaSalle beat high-profile juggernauts to advance.
The result off all this underdog chaos is that the West region is a disaster of epic proportions, and only the East saw all their chalk survive. If even one of the five sleepers can make it to Atlanta for the Final Four, it'd make for a fitting conclusion to a college basketball season that has been anything but ordinary.
Howland Fired -
Despite seven trips to the Dance, four league titles, and three trips to the Final Four, UCLA decided that they'd had enough of head coach Ben Howland, and
kicked him out
of Westwood after 10 mostly successful seasons.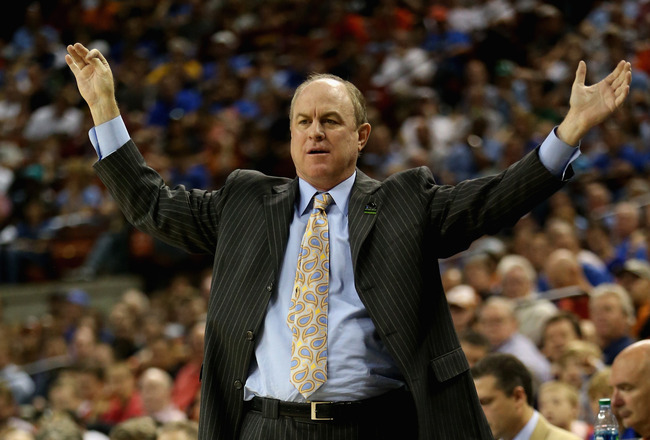 HE GONE!
The rumor is that AD Dan Guerrero is planning on making a run at sexy mid-major names like Shaka Smart and Brad Stevens. My guess is that both will rebuff UCLA's advances. In fact, I don't know why any college coach currently in a comfortable situation would take that job, short of for ego or check-cashing reasons.
Even if you win, the fanbase will resent you for it, and generally shrug their shoulders at your efforts until they get frustrated enough to fire you. They've become so jaded, so spoiled, that even three-straight Final Fours and a quartet of league titles isn't enough to satiate. More likely, they'll have to go after an NBA 'name,' as those coaches wouldn't be as bothered by the riotous, entitled fanbase.
Don't get me wrong, it's a a great job. It comes with great money, great history, great location, and a staff made up entirely of lemurs could recruit there. It just wouldn't be my choice, and I pray for the hairline of whoever goes there.
Soccer's version of the snow bowl -
Denver experienced a little blizzard Friday night, and the US Soccer World Cup qualifier against Costa Rica was nearly called off mid-stream. The
snow
was falling so thick, and the accumulation was so deep, that conditions were nearly impossible to work through. But, to the players credit, they buckled down, and played something closely resembling soccer in spite of the conditions. The game ended in a
1-0 win
for the US, a win they sorely needed after a disastrous
loss to Honduras
kicked off their hexagonal qualification slog last month.
Let it snow, let it snow, let it snow!
Afterwards, the Costa Ricans were incensed that they had to play through some snow, and
lodged an official complaint
, hoping to get the game replayed. Coincidentally, a European qualifier in Northern Ireland was
rescheduled
because of snow on the same day, but that game was called-off before it had been kicked-off.
I'd be much more sympathetic to the Costa Rican complaint if they hadn't played so well in the snow. For almost the entirety of the second half, it was Costa Rica who had the better run of play, with the US often scrambling to keep out a back-breaking equalizer. Were the conditions ideal? Of course not, but I'd still consider them
playable
. Hell, a few flakes are probably better than the combination of heat, humidity, smog, and altitude that teams face when playing at the Azteca in Mexico City.
What's more, the whole situation made for great television, and on a weekend dominated by basketball, soccer somehow managed to capture everyone's imagination. It's ultimately good for the sport.
Happy Monday!