Folsom Field. Night kickoff. There isn't a better set-piece in all of sports. Doesn't matter the opponent.
I think we in BuffNation sometimes take for granted how truly amazing football in Folsom is. I've been to plenty of stadiums across the country, and I've yet to find a venue that can compete with the intimate feeling of a fall Saturday at the corner of Folsom and Colorado. There may be larger venues, gaudier venues, venues that play host to better teams (venues with better bathrooms), but there is no college stadium on this continent with more soul.
CU could've lost by 50 last week, and I'd still be excited about the game this weekend, if only because of the opportunity to get back into Folsom, and soak up the atmosphere.
--
Kickoff from beautiful Folsom Field is set for 6pm MT. If you aren't able to make it up to Boulder, I hope you don't have DirecTV, because televised coverage can only be found on Pac-12 Networks. For those so inclined, Mark Johnson will have the radio call, as always, on 850 KOA.
Click below for the preview...
It's no secret that CU has struggled with the FCS (formerly D-1AA). The program sits a humiliating 1-2 against lower-division foes over the last decade. What is typically a body-bag proposition for other institutions is a struggle with inner demons for Colorado. I'd honestly rather see a small-conference FBS school on the schedule at this point.
The scars run deep in BuffNation, with memories of humiliating losses to
Montana State
and
Sacramento State
as fresh as those of famous victories from decades past. Even the lone win,
over Eastern Washington in 2008
, sits less than savory on the palate, as it took 14 points (including a heroic pick-six from Cha'pelle Brown) in the final 2:05 to avoid defeat.
Last season's loss to Sacramento State was only the latest humbling experience with an FCS team. From: the BDC.
These are the kind of performances that ruin coaching careers, and cripple progress. When a program from a BCS conference continues to struggle against teams from the second-tier Big Sky, it exposes a fragility that simply cannot be ignored. As a result, regardless of appearances, I can't help but be nervous about this game.
It certainly doesn't calm my anxiety to note that a record
eight FCS schools
pulled upsets over FBS opponents last week. Highlighted by Eastern Washington becoming only the third FCS school to ever beat a team in the AP Top-25 (poor, poor Oregon State), it was a weekend full of ill omens.
It shouldn't be this way. Sure, the gap between the lower rungs of FBS football and the FCS has never been smaller, but no program should be this consistent with stumbles against inferior talent. The Buffs need a statement win Sautrday, a win that erases any doubt that this is a new era.
The Bears in 2013 -
The problem is, this Central Arkansas squad is easily the best FCS team CU has ever faced. The defending champions of the Southland Conference, they're used to winning, and boast more than their fair share of athletic talent. Currently
ranked #5
by the AP, they're a legitimate NCAA title contender in 2013.
So far this year, they've lived up to that reputation, calmly rolling the University of the Incarnate Word in week one,
58-7
While the UIW Cardinals are new to D-1, the stat sheet reeks of a competent, explosive performance from the UCA Bears. In the win, they racked up 537 yards of offense, while the defense only allowed 231 (86 in the first half first). Even noting the opponent, that's solid.
The Bears didn't have to break a sweat to roll bast UIW. From: UCASports.com
The biggest story from the opening week victory was the
emergence
of a number of new contributors in Conway, AR. Headlined by speedy freshman wideout
Jatavious Wilson
, they added a sorely needed infusion of talent to a roster saddled with
five suspensions
to start the year. Combined with a veteran defense that placed six members on the
2013 preseason All-Southland Conference Team
, it's a balanced roster, capable on both sides of the ball.
Star Players -
That roster is highlighted by star dual-threat QB
Wynrick Smothers
.
The 2012 Southland Conference Player of the Year - and unanimous pick to do it again in '13 - spent most of last week in cruise control against Incarnate Word. Don't let his pedestrian 287 yards of total offense fool you, however, as he's a master at running the Bears' spread offense, and could explode for much more.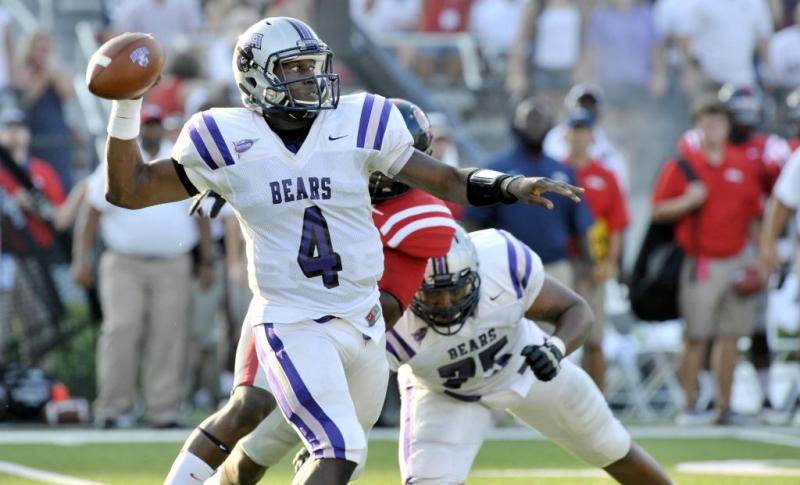 Smothers is a very efficient QB.
Efficiency is the
buzzword
with this kid. The 6-1 senior does a good job playing within the offense, and completed a fantastic 65% of his passing attempts compared with only nine interceptions last season. Behind that accuracy, he produced 3,550 yards of total offense and 34 scores. That's good enough for anybody.
His primary receiver is junior
Dezmin Lewis
. A big target at 6-4, Lewis is a preseason All-Conference selection, and could cause coverage problems for Colorado's defensive backfield. He only saw two touches last week, but I would expect Smothers to turn to him in times of need Saturday.
The true freshmen Wilson adds an interesting dimension to the 4-wide look the Bears bring to the field. He's a 5-9 burner that
accounted
for three touchdowns in his first collegiate action last Thursday, including a night-capping 93-yard kickoff return. I hope the Buffs worked on the special teams issues from week one, because Wilson will put them to the test from the opening kickoff.
Wilson hasn't been on campus long, but is already turning heads.
Starting running back
Willie Matthews
will be returning from suspension Saturday. The 5-9 junior from Texas served as a back-up in 2012, only totaling 221 yards on 31 carries.
Blake Veasley
and
Danzel Williams
will spell Matthews in the backfield as needed.
The defense is headlined by defensive end
Jonathan Woodard
. The 6-6 sophomore stole the show last season by collecting 36 tackles (11 for loss) and forcing two fumbles as a freshman. He's got great size, and there's some speculation that he could end up being an NFL prospect when all is said and done. Already back into the swing of things, he collected a sack and a forced fumble against UIW.
Woodard isn't your typical FCS DE.
Senior linebacker
Justin Heard
is a tackling machine, accumulating a clean total of 100 last season. Behind him and the linebacking corps are a pair of aggressive defensive backs in seniors
Jestin Love
and
Radarius Winston
.
Coaching -
Head coach
Clint Conque
already enters his 14th season at UCA as the winningest coach in program history. He has lead the Bears to the NCAA playoffs each of the last two years, and looks to be on his way to a third consecutive in 2013.
Not the best look, but the man looks mighty happy in victory.
Under his watch, the Bears have climbed from Division-II status to the heights of FCS football over the last few years. Through it all, the program has seen increased attendance, improved facilities, and heightened academic performance (best APR in the conference), all while winning games, and putting kids in the NFL (12). His success is what you would hope to see from the coach at a small program.
Prediction -
(My record on the season: 1-0. Against the spread: 1-0. Optimistic/pessimistic: CU +9.0 pts/gm)
Well, at least they aren't from the Big Sky. Does that curb anyone's unease headed into Saturday? Yeah, I didn't think so...
Buoyed by the opening performance in the Rocky Mountain Showdown, CU opened as a
16-point favorites
over the Bears - a feat that is unlikely to be repeated in 2013, regardless of how the rest of the season goes. I guess Vegas isn't buying into the 'surging FCS' storyline.
At least there won't be any surprises. Between the rocky past in these games and the previous week of FCS upsets, the Buffs are
keenly aware
of how important and difficult this game will be. UCA head coach Clint Conque realizes as much,
saying
this week that ""I don't think there's any more sneaking up on anybody. The only advantage is Colorado played Sunday and we played Thursday. We got a couple extra days of rest." I hope that's the only advantage they enjoy Saturday night.
I really liked what I saw last Sunday, and, while I have a sneaking suspicion that UCA is a 'better' team than CSU, a CU squad capable of that solid performance at a neutral site should be able to hold serve at home against a lower division foe. Albeit through only one week, the new coaching staff hasn't wasted the benefit-of-the-doubt, so I'm going to go out on a limb to the Buffs to win and cover.
I expect all Bears, whether from
Boulder
or Conway, AR, will be safely shown out of town by Sunday morning, with little damage done.
CU 39 - UCA 21
GO BUFFS! BEAT THE BEARS!