For the second straight week, the Buffs will be spending their Saturday away from the gridiron. That means there's no game to preview, no opponent to obsess over. Those of us in BuffNation will have to turn elsewhere for our sports fix.
While there is a full slate of games to consume from around the country, it's actually a pretty soft week. Only one top-25 tilt and a lot of early-season fluff. Hell, the schedule is so light that ESPN's College GameDay is at the home of FCS behemoth
North Dakota State
this week. Fucking Fargo, dude.
Shrugging off the milquetoast schedule, I've selected the seven most... interesting games from the weekend for a quick teaser. Seriously, though, consider taking a hike or something, because Week 1 had more juice than this bunch.
(Lines presented are from Bovada via ESPN as of 2:30, 9/17/2013)
Pac-12 -
Arizona St @ Stanford - Saturday, 5MT, FOX - Stanford -9, O/U 48.5
This is it, the only top-25 matchup of the weekend. I mean, "Pac-12!" and all, but that's weak.
The Sun Devils come in off of a highly suspect win over Wisconsin. No other team in the rankings was as unconvincing last week, and not many are giving them much of a chance Saturday. Stanford has yet to play anyone of importance, but they should have no trouble with the win and the cover.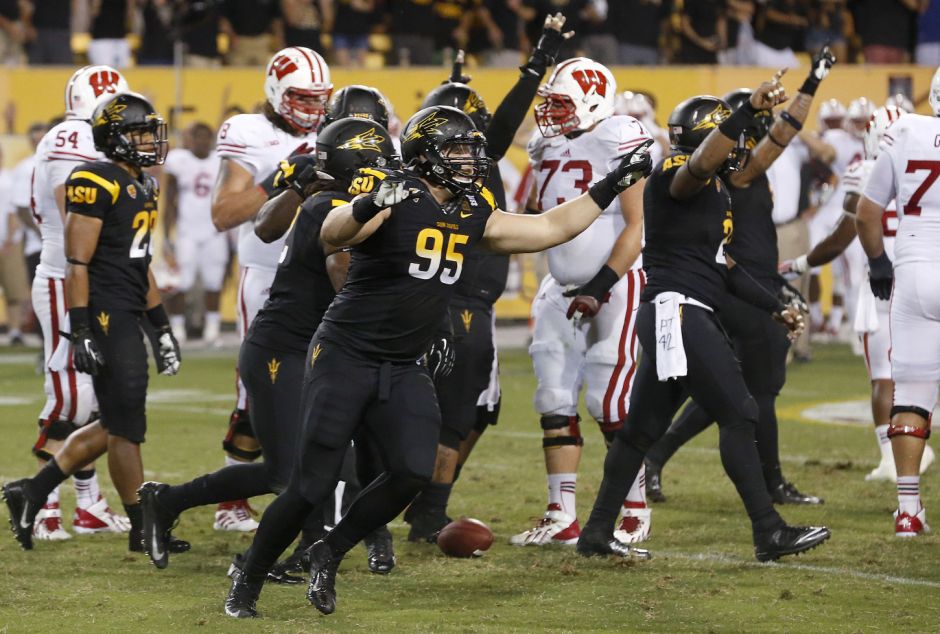 A win's a win, right?
As a side note: the Sun Devils have selected the Oct 12th game vs CU as their 'fan's choice game' They're leaving their uniform choice for the clash up to the internet, which is
always
a good idea. If you care, you can take a look at the options and vote
here
. Basically, you're picking a pant/helmet color. Somewhere, Oregon is laughing.
Utah St @ USC - Saturday, 1:30MT, ABC - USC -7, O/U 50.5
I believe in Chuckie Keeton. I don't believe in Lane Kiffin. It's that simple - Utah State should cover with a solid chance to win outright.
Oregon St @ San Diego St - 5:30MT, CBS Sports Network - OSU -11, O/U 55
This is interesting only from the perspective that Buffs play OSU next Saturday, and SDSU might wind up on the schedule at the last minute. On paper, the Beavers should roll, since the Aztecs have looked awful through two season-opening losses.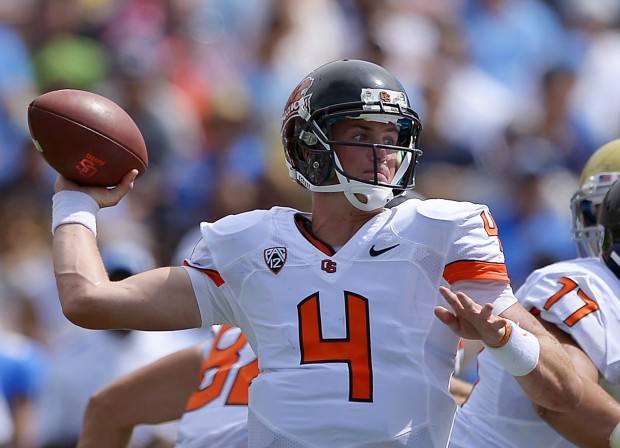 Mannion should have a field day in San Diego.
Utah @ BYU - Saturday, 8:15MT, ESPN2 - BYU -7, O/U 61.5
Ah, the Holy War. One thing's for certain - it'll make for one
hell
of a nightcap. *chortle*
GET OFF THE FIELD, MUSS!
Cheap puns aside, this should be a good game. Neither team is perfect, but this is, annually, one of the most interesting matchups in the region.
Other games of interest -
Boise St @ Fresno St - Friday, 7MT, ESPN - Fresno -3, O/U 68
Even though the Broncos haven't been their usual barn-storming selves this season, this is the marquee game of the season in the Mountain West. Presumptively a conference title game preview, BSU and FSU will show off two of the best offenses in the West under the Friday Night Lights. I'll take the over - there's no reason that those two teams can't crack 70.
Derek Carr and BSU QB Joe Southwick should put up buckets of points tomorrow.
Of course, I'll be rooting for Fresno this week. How can you turn your back on a team willing to
help out
in a time of need. Thank you
@FSAthletics
, and go Bulldogs!
Tennessee @ Florida - Saturday, 1:30MT, CBS -Florida -17.5, O/U 47.5
I only find this game interesting because I'm following missed connection Butch Jones. Watching Florida chalk up points against 'Food Cart' should be fun.
Ah, memories.
Outside of that, however, I have no interest. What was once one of the best rivalries in the South just doesn't rate in 2013.
Colorado St @ Alabama -
Saturday, 5MT, ESPN2 - Alabama -41, O/U 51
For your amusement, feel free to check in on the lambs being lead to slaughter Saturday afternoon. I normally don't bet on spreads that large, but that over/under may have some potential. Alabama put up 49 on A&M last week, and there's no reason they can't match that against the Rams, even if they spend three quarters trying not to embarrass the competition.
Yeah, good luck with that little bro.
If CSU can somehow manage a field goal, you're in the money.
GO BUFFS! CRUSH THE RECRUITING TRAIL!