Well, this is it. The season finale. What a long strange trip it has been, but CU still controls their destiny in the pursuit of a bye in next week's Pac-12 tournament, and
could finish
as high as third with a win tomorrow evening. If you would've told me that back on January 12, back in the depths of post-injury despair, I'd have taken it in a heart beat. To be sure, the Buffs have grown up a lot in recent weeks, and should be commended for even being in such a position.
Now comes the point when the team needs to reach up and grab the brass ring they've climbed within reach of. There's no longer any danger - they're nominally 'in' the Tournament now, barring a spectacular run of bubble-busting performances. Just go out, play free-and-easy basketball, and rip that bye-seed down off the pole!
--
Tip-off from Haas Pavilion in Berkeley, CA is set for 4:30pm on Saturday. Coverage can be found on Pac-12 Network, with Mark Johnson and the radio call coming on 850 KOA.
Click below for the preview...
When last we met -
Riding high off of a nail-biting win in Palo Alto, CU headed to Berkeley last year looking for a statement-making sweep in the Bay Area. Sound familiar? Yes, in a duplicate scenario to this season, the Buffs last played Cal hoping to capitalize on a crucial win over Stanford. Instead, behind one of the worst offensive performances of the Tad Boyle era, they got embarrassed by the Golden Bears. It was a
62-46
blowout, which wasn't nearly as close as the lopsided score would indicate.
It was like shooting into a brick wall. From: the Daily Californian
In a sputter of offensive inefficiency, CU was held to just 23% shooting from the floor on only 15 made baskets. Further, CU stars Spencer Dinwiddie, Askia Booker and Josh Scott were held to a combined 6-36 from the floor. Cal did everything right on defense, clogging the lane to hold Colorado to only 12 points in the paint and two on the break. The Buffs did their best to help them, laying bricks from 8-foot bunnies to contested threes, but it would be criminal to downplay how good the Bears were.
Defensively, it was the story of a key tactical error. Defensive specialist Andre Roberson was tasked with guarding Allen Crabbe, Cal's do-it-all offensive threat. While Crabbe was muted, only scoring eight points on 4-10 shooting, Roberson was pulled far from the basket by his assignment, leaving the gates open underneath for lesser-known players like David Kravish and Tyrone Wallace. The unheralded pair made the Buffs pay for over-thinking the situation, and owned the paint to the tune of a combined 30/22.
Kravish and Wallace were just too much when allowed unfettered access to the paint. From: the AP
All-in-all, nothing went right last season in Berkeley. Cal was on their game, CU over-played their hand while underplaying their talent, and the Buffs earned every bit of their 16-point loss. With plenty on the line, the Buffs will look to avoid a repeat result in 2014.
The Golden Bears in '13-'14 -
While much of the setup to this year's game is reminiscent of the 2013 fixture, one thing that isn't similar is the Bears' recent run of play. Last season, the win over CU was Cal's seventh in a row - a streak that propelled them into the NCAA Tournament and a second round win over UNLV. This season, it has been a reversal of fortune over the final stretch of regular season play, with Cal dropping eight of their last 12 contests (including four at home) after opening Pac-12 play 5-0. Sure, one of the four wins was
against the #1 Arizona Wildcats
, but it's hard to overlook the unmitigated disaster that has been the back-end of their schedule.
Said
head coach Mike Montgomery, "Emotionally, we're really spent."
The win over Arizona was a singular moment of joy lost amidst a sea of struggle for Cal.
In reality, the string of losses hasn't exactly been surprising. Outside of the
train-wreck loss at the Fight'n' DJ Mal-Ski's
, they've been dropping games to teams that you can easily claim are better than them on paper. No one should bat an eye at the Bears getting swept by the UCLA's and ASU's of the world. I think the simple explanation is that the front-end of their conference slate was easy, and it set them up for a painful fall that doesn't tell the true story of this team.
Caveat acknowledged, the breakdowns since they beat WSU on January 18th to move to 5-0 are disturbing. Only four times since, against
UW
,
WSU
, and
USC
twice
, have they finished a game north of 1.0 ppp. Against any team worth their salt, Cal has struggled offensively, and is only 1-7 in recent games when scoring fewer than 70 points. They need another scorer, and help simply seems to have eluded them.
Seriously, how did they lose to USC?
They had been hoping to get that second-level scoring support from super-frosh Jabari Bird. A
top-35
prospect from the class of 2013, Bird was expected to come in right away as a solidified piece of the rotation. As is often the case, however, he wasn't necessarily ready for the burden placed on his young shoulders. After
spraining an ankle
towards the tail-end of non-con play, he just
hasn't been the same
('tentative'... that's not good). Prior to the injury he was averaging over 11 points per game; since, he's been averaging less than five - a stretch that coincides with Cal's drop from Pac-12 contender to bust. No one else has stepped up to fill the void, and the Bears have slumped.
Still, this is a dangerous, capable team. If they can just get their heads in order, and find a fifth piece to the puzzle to compliment cemented starters Justin Cobbs, David Kravish, Richard Solomon, and Tyrone Wallace, they'll be deadly in whatever tournament they end up in. To that end, I expect the recent slide has them on the outside of the the Dance looking in, but it's not definitive. A win tomorrow over CU and a deep run in Vegas
could
be enough to stave off their NIT fate. I would expect Cal to come out hungry, as a result. They still have tons to play for, especially on Senior Night.
Star Players -
The Golden Bears are lead by senior
Justin Cobbs
, who had his moment in the sun earlier this season when his fall-away 17-footer
sunk
Arizona at Haas. The putative point guard, Cobbs is more of a two trapped in a point's role, but there's little doubt that Cal should be putting the ball in his hands as much as possible, and he excels (top-40 assist rate), regardless. Cobbs is on the floor more than any other player on the roster, and rewards that faith with 15/3/6 averages that stand up with most other floor generals around the country. His three point shooting could be better (29% this season), but I think that may be a product of his role as the team's fall-back offensive piece when and if plays break down. At the end of the the day, he can and will hit from the outside.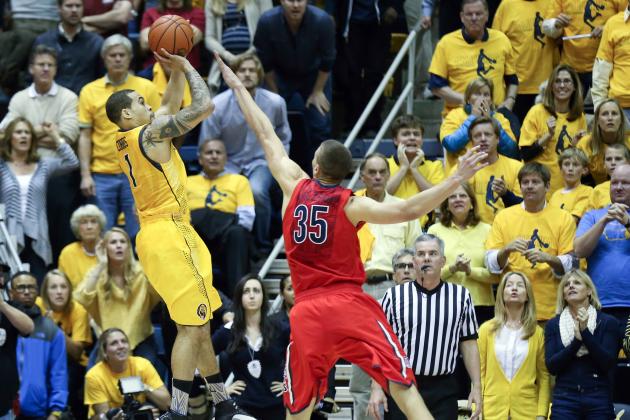 When Cobbs is on, giants are felled.
There may be no player in the conference who has
improved
as much from last season as senior forward
Richard Solomon
. A player I once looked at as soft has morphed into an interior force that had me completely re-thinking the team earlier this season. He's averaging an 11/10 double-double, with a top-10 national defensive rebounding rate that screams to be noticed. Having given up on a three-point shot that was never going to scare anybody, his game is now entirely inside, and the Bears are better for it. If he could hit his free throws even a little (53%), he'd be battling Josh Scott for the title of best forward in the league. As it is, he's All-Pac-12 in my book, and a piece that should give CU fits this evening.
Solomon is massively improved over his former form.
Onetime CU recruiting targets
Tyrone Wallace
and
David Kravish
are the next generation of stars in Berkeley, supporting the seniors as best they can. The junior Kravish is still taking less than 30% of his shots at the rim, a shame for a 6-9 power forward with some nice post moves, but adds a nice 11/8 punch to the roster. Wallace continues to grow, with his lanky 6-6 frame that can cause matchup problems from the second he steps on the court. He has improved his three point shooting into his sophomore year, now hitting from range about a third of the time. Combined, the pair will determine Cal's fate next season.
Wallace is a dangerous matchup challenge.
Ricky Kreklow
and
Jordan Matthews
join
Jabari Bird
in the bench mob, with Kreklow getting the majority of minutes in recent weeks after recovering from a
hand injury
. A junior, originally a Missouri commit, Ricky takes over 70% of his shots from deep, hitting about 38% of the time; CU would be wise to watch him off of screens on the perimeter. Matthews has been having a better all-around season than fellow freshman Bird, and has posted one of the nation's best turnover rates in spite of his youth.
Coaching -
Regional coaching legend
Mike Montgomery
continues to prowl the sidelines in Berkeley. Now in his 32nd year as a D-1 head coach, he's starting to pile up historic numbers of victories, even
passing
the great John Wooden earlier this season for 27th on the all-time wins list. Possessor of one of the most impressive coaching resume's in the country, only once has he coached a team to a losing record. Yeah, that's pretty good.
Monty is one of the best coaches in the history of basketball in the West.
Credence to his success aside, his last few years in Cal haven't been as rosy as maybe they could've been. Much like his coaching colleague across the Bay, Johnny Dawkins, 'Monty' has been doing less with more at a time when the Pac-12 has been ripe for the picking. The Bears have had league-title-level talent in recent years, but have continually come up short, dropping confusing games at confusing times, almost like their heads aren't in the right place. This year's team is a perfect case-in-point; they've been losing focus, playing scatter-shot, sloppy basketball in recent weeks, throwing away a solid start in the process. It's not a good trajectory for the program; a blip on the radar, or a sign of closing of a brilliant coaching career?
Prediction -
(My record on the season: 15-5. Against the spread: 11-9. Optimistic/pessimistic: CU +1.2 pts/gm)

Lines as of Friday @ 6pm - CU +4 1/2
The Bears are, admittedly, 'emotionally spent' at the worst possible time. Meanwhile, CU is coming off of a gritty, emotional win over Stanford, and playing better basketball now than they were a month ago. The trend-lines would certainly seem to be leaning towards the Buffs... which is exactly why I'm going to pick Cal to win. I've found that, when everything seems to be going one way in college sports, it's usually a good time to go in the opposite direction.
In that vein, I suspect CU might be overly satisfied with their Tournament 'clinching' victory the other night, while California will be playing for their post-season lives. Further, I think Solomon is about to re-ignite the interior defensive issues of recent weeks. Cal may be lost, and their home court advantage may be worth less than ever with the stands looking bare in recent weeks, but I'm still taking them to win at home, along with the cover. Basketball is weird like that.
Cal 61 - CU 54
GO BUFFS! PROVE ME WRONG, AND TAME THE BEARS!