I don't know if you noticed, but this has been a huge week for sports. We saw champions crowned in college basketball, the wrapping up of the regular season in hockey (
congrats to the Avs
), ramping up of baseball action across MLB, a little thing called the Masters, and spring games throughout the college football landscape. Not too shabby for a random week in April. Oh, and I turned 30 on Friday. Yeah, I'd say there's a little bit going on.
Today in the bag, I've managed to condense all that action into a few quick blurbs on UConn's double, CU's Spring Game and stadium expansion, and the Masters.
Click below for the bag...
UConn owns the basketball world -
Going all the way back to last Monday night, the UConn Huskies and the Kentucky Wildcats played in an NCAA Final that carried with it the highest combined seed total ever (15). While normative basketball powers, the two schools had been tabbed as underdogs after inconsistent regular season efforts, earning a 7- and 8-seed, respectively. Your seed doesn't determine your fate, however, and the two squads defied the Committee by skirting into Championship Monday.
Whereas Kentucky had continually been getting by via late-game heroics from freshman wing Aaron Harrison, UConn was, once again, riding an all-encompassing performance from one of their guards. This year, it was Shabazz Napier, and with him in top form, Harrison never had a chance to put his stamp on proceedings. Dropping 22/6/3/3 on the college game's greatest stage, the senior point guard claimed his throne, pulling his Huskies into a
60-54 win
for the program's fourth title in the last 15 years.
Napier leads the charge for the Huskies. From: USA Today
Much of the attention after the game was pulled in the direction of Napier's
anti-NCAA comments
related to the post-season ban that UConn was saddled with last season. I certainly sympathize with Napier and his teammate's frustrations (especially in light of their competition in the title game), but his off-the-cuff dig at the easy target of the NCAA is not what I'm taking away from last Monday's efforts. As always, the drama on the court takes precedence for me, and I can't get over the monster month of basketball that 'Bazz produced. For the Tournament, the dude averaged 21/6/5/3, all while hitting all but two of his 33 free throw attempts. He was fantastic; out-of-this-world. A testament to the quality that the crucible of brackets can produce. I had a blast watching him compete.
Of course, for Connecticut, the celebrations would continue, as their women's team was steamrolling towards their ninth national title in the last 20 years. Completing the hardwood double, and notching a perfect 40-win season, they predictably
rolled
Notre Dame the night after the men claimed their title. While no where near as dramatic, combining the championship stories does make for an interesting tale.
A familiar sight.
Winning both the men's and women's titles in the same season has only happened once before, when UConn also accomplished the feat in 2004. Many schools lay claim to being a 'basketball school,' but there can be no doubt which institution really owns the hardwood. In the modern era of hoops excellence, there is only one gold standard, and it is the University of Connecticut. From Calhoun to Auriemma to, now, Ollie, their programs have owned the last two decades across the gender lines in a way that the Duke's and Stanford's of the world could only dream about. I don't know what's in the water out in the pastures of Central Connecticut, but it seems to only help get buckets... or, at least, attract dominating basketball talent.
Wrapping the Spring Game and the expansion announcement -
No, I didn't go to the
Spring Game
on Saturday. Exhibition football is enough to numb the mind, and I will have nothing to do with it, certainly when there are other things to do with a beautiful spring day. Catching the action via replay on Pac-12 Network, I can report that QB Sefo Liufau will have a lot of fun throwing it up to freshman wide receiver Bryce Bobo this season. The redshirt wideout took his first chance on Folsom's turf, and turned it into five catches and 132 yards, including a 67-yard scoring strike from backup QB Jordan Gehrke. I can also report that CU's first meaningful
junior college acquisition
in years, Ahkello Witherspoon, looks like a solid pickup after a four break-up, one interception day against Liufau. Still it's April, and it was Buff on Buff action today, so take all the results with a massive grain of salt.
Bobo turned some heads on Saturday. From: The BDC
What I was excited to see, however, was a 'shovels and dirt' date set for the expansion and upgrades project to Folsom Field. According to CU, physical progress will commence a little under a month from now on
May 12th
, essentially a month after they had hoped to. Better late than never, I guess. The athletic department is watching their words very carefully, using couched phrases like 'completion of the majority,' and 'confident they will achieve their fundraising goals,' but it's at least a positive sign of the intention of the athletic department to make good on their bluster.
I don't for a second, however, buy the idea that CU is all that close to the money required, yet. The target set was about $48 million in order to start construction, and nothing I've heard from the athletic department leads me to believe that sum is anything other than hoped for at this point. We can argue about the definition of close, but it's not there. In that light, I look at Saturday's announcement as another effort from Rick George and crew to push potential high-value donors into action, as many have been staying away, waiting for others to make the first move. It's George putting his nuts on the line, and, honestly, his job on the line in an attempt to push CU into the end zone. Some strong poker from the man, if you ask me.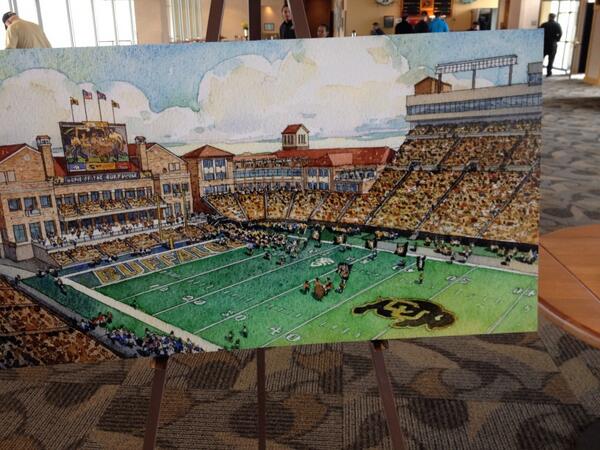 A look at the NE end of new Folsom. From @TMurray22
This is what we brought Rick George to town to do: get Folsom renovated. If he can't get this done, his legacy is ruined before it even has a chance to develop. It's no wonder he's pulling out all the stops to get the project off the ground. If a fancy shovel and date on the calendar even moves the meter a little, it's worth the effort. But the risk remains high, and if CU has to push back date even one day, support is going to waver. They'd better hit their mark.
I will say though, the renderings of the renovations publicized over the weekend look fantastic. It's a vision Mike MacIntyre and crew can sell to recruits, and one Rick George should be able to sell to donors. When these guys use the word 'transformative,' they mean it.
The Masters -
Without Tiger, the Masters was already facing an uphill battle for the national consciousness. When Phil Mickelson and a host of other big names
missed the cut
on Friday, it was looking like a quiet weekend from the world's most interesting tournament. Then, a new face and an old familiar took charge over the weekend, and the notable absences were quickly forgotten.
Enter: Jordan Speith and Bubba Watson. The pair opened Championship Sunday tied for the lead. Most headlines were going to Speith, as the 20-year old was in position to become the youngest Masters champion ever. Almost heeding the calls, he started the final round out red-hot, taking a two-shot lead over Watson after the third hole. That lead would carry through 7th hole, and many were starting to believe that the youngster might have what it takes. A three-putt on eight, combined with a surge from Bubba, however, flipped that lead on it's head, and all of a sudden the dream was dead. Watson would roll from there on out, riding a surge from the adoring southern crowd to his
second title in three years
.
He's back. From: CNN.com
Against an Augusta National course that seemed more difficult than usual, Watson's accomplishment probably shouldn't be so quickly undersold. Via advanced metrics, there's the argument to be made that Bubba put down the
11th-best
Masters performance ever, after all. I'm not sold, however, as the field seemed to lack the heft of a typical year. Still, winning the Masters is a mighty accomplishment, no matter the circumstances, and Bubba Watson, in three short years, has turned himself into a household name.
Happy Monday!