Not for nothing, but why do the NBA Playoffs have to take up two entire months? Series are dragged out as long as possible, depriving them of any rhythm and energy. For example, My Bulls played their first game against Washington yesterday afternoon, but wouldn't play a potential game seven until May 3rd. Some series could potentially be even longer, with the Nets and Raptors starting Saturday the 19th, and potentially going until May 4th. That's over a fortnight! To play an opening round series!
It happens every year. Right around the time I forget which teams are even playing, the NBA sticks them back up on the calendar, leaving me to ask, 'wait, what game is it, again?' The end result is that the entirety of an NBA Season takes up nine months. NINE! And you though baseball was needlessly verbose...
Of course, the answer is money. The Association and their television partners figure the best way to squeeze as much water from this stone as possible is to drag the proceedings out, giving the consumer a slow-drip of games each night. But this artificially-lengthened schedule does a disservice to the game, the fans, and the players. We really couldn't get this thing done in a month and a half? Get serious.
--
Today in the bag, I'm talking decision week for the Mayor before taking a look at select series from the NBA and NHL playoffs.
Click below for the bag...
Decision week for the Mayor -
We've come down to it, the final week for Spencer Dinwiddie to make his decision on whether or not to enter the 2014 NBA Draft. April 27th in the
final day
that the NBA will allow an early entrant to become eligible, giving the Buffs' talismanic point guard six days to decide where he'll hoop this fall. While I hear we might get the word as soon as today, CU's only legitimate entrant is, once again, going down to the wire with his decision.
Will the Mayor stick around for one more term?
I've been pretty quiet on this matter, for the simple fact that I don't really have an opinion. Really, I'm just in wait-and-see mode. It's not that I don't care (in fact, I very much do care), it's just, much like with 'Dre, I acknowledge that strong arguments can be made either way, and understand my voice won't bring any more clarity or depth to the discussion. Best to just save some virtual ink, and prepare for either eventuality.
While almost
every
pundit
in the area has come in on the 'stay' side of the argument, I still fully expect that Dinwiddie will be turning pro this week. Remember, he was probably
one conversation with his father
away from jumping last year, and his entire offseason was built to lead up to a final collegiate season - playing at Adidas Nations, joining Team USA at the World University Games in Russia, etc. The underdog choice continues to be returning, regardless of what the media and anonymous executives may be saying.
My guess is Spencer is gone, but we'll find out soon.
The ACL tear was a setback, and his recovery is a major question mark, but, as we saw last year, it only takes one team to fall in love with you. There are a few organizations with multiple first round picks (*cough* Phoenix Suns *cough* ) who just might be inclined to take a unique point guard with a late first rounder, even with a few years of behind-the-scenes development in mind. This would give Dinwiddie all the reason he needs to skip his final year of collegiate eligibility. As we've known since October, if Spencer gets the good word from an NBA franchise, he's gone.
Whatever his decision is this week, I'll be happy with it. Yes, a returning Spencer puts CU into Elite-Eight-level conversations, and as a fan I selfishly want that, but going to the NBA is just as valid an option for a player as uniquely talented as Dinwiddie is. I will never begrudge a kid for reaching for his dreams. What kind of asshole would do a thing like that?
Around the NBA Playoffs -
Indiana Pacers vs Atlanta Hawks -
Something is rotten at the core of the Indiana Pacers. The East's #1 seed has been playing some truly bad basketball over the last two months. In fact, they lost 13 of their last 23 regular season games, leading many pundits to
freak the fuck out
. Whatever the reason (looking at you, Evan Turner), panic is at hand with their playoff opening
loss to the lowly Atlanta Hawks
. I still think Indy will survive a seven game series with the Hawks, who finished six games under .500 this season, but the winner of Chicago and Washington will be licking their chops. Speaking of...
Chicago Bulls vs Washington Wizards -
The Wiz got a big leg-up on facing the winner of that Atlanta/Indiana slog when they stole home court advantage from My Bulls in Game 1. Washington dominated down the stretch, playing +12 basketball in the 4th quarter to walk away with a
102-93 win
. Chicago had been up by as many as 13 in the second, and there are more questions than answers in the wake of the collapse. To my eye, the Bulls seemed to lose focus in the 3rd, allowing the tempo and their tempers to get away from them, which allowed Washington to steal the momentum, and eventually the lead. Hopefully, My Bulls will be better next month when Game 2 tips (I kid, it's tomorrow night).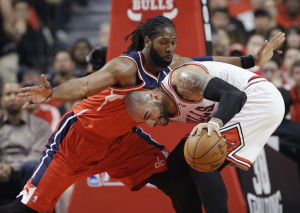 Nene and the Wiz stunned the Bulls with their 4th quarter charge.
Portland Trail Blazers vs Houston Rockets -
The award for game of the weekend got to Portland and Houston. Behind 77 combined points from LaMarcus Aldridge and Damian Lillard, the Blazers stunned the home-standing Rockets in
122-120
in OT. Aldridge was especially huge, dropping 46/18/2/2 against Houston's interior defense that seemed to have little answer for him. If you needed an excuse to stay up into the wee hours of the morning, this very interesting West Coast series should fit your bill.
Around the NHL Playoffs -
Colorado Avalanche vs Minnesota Wild -
Damn, the Avs looked good over the weekend, earning a come-from-behind OT win in Game 1, before
storming past
the Wild in Game 2. The big star has been teenager Nathan MacKinnon, who notched points on all four goals scored in Saturday's
4-2 win
, scoring once, and dishing out three assists. In total, the budding superstar has seven points in two games, leaving Avs fans giddy over his already bright future.
Chicago Blackhawks vs St Louis Blues -
*sigh* The defending champs dug themselves a big-ass hole in St Louis, playing stupid, reactionary hockey throughout two overtime losses. Saturday was the most frustrating, as the Blackhawks were the engineers of their own demise, committing two bone-headed penalties to give the Blues a two-man advantage down the stretch. Still, My 'Hawks had been playing a brilliant penalty kill from the second period on, and seemed to be in a position to survive, despite playing five-on-three and six-on-four hockey for multiple minutes. Unfortunately, with only six seconds remaining on the clock, St Louis forward Vladimir Tarasenko slotted home the game-tying goal. The Blues would, of course, go on to win in OT, leaving the 'Hawks with a 2-0 hole headed into Game 3 this evening.
Stupid penalties, like this one from Brent Seabrook, left the 'Hawks winless in STL.
Boston Bruins vs Detroit Red Wings -
I am beyond uncomfortable with the Red Wings being in the East. Detroit/Boston should be the kind of matchup you see in the Final, not the first round. While I like much of the re-alignment unveiled for this season, the extradition of those hated red monsters from the Western Conference sucks. Yes it's Original Six, and all, but I need to see those guys on the left side of the bracket.
As to the series, the Wings stole Game 1 in Beantown, but got boat-raced in Game 2, giving up two early goals in a
4-1 loss
. This one could go the distance.
Happy Monday!