A hearty congratulations goes out to the CU men's lacrosse club team, who
took down
the previously undefeated Arizona State Sun Devils 13-12 to win the MCLA national championship Saturday afternoon!
Trophies are always welcome in BuffNation, regardless of sport and circumstance. From MCLA.us
It's been a pretty damn good year for the sport of lacrosse in Boulder, with the women's varsity squad finishing third in their inaugural campaign, and the men's club squad taking home a trophy. I still don't understand this sport, but, at this rate, I'd better learn quick.
--
Today in the bag, I'm talking NBA and NHL playoffs.
Click below for the bag...
Around the NBA Playoffs
Indiana Pacers vs Miami Heat
-
They've looked like garbage since February, and could've easily dropped either of their first two series, but the Indiana Pacers are still alive, and take on the vaunted Heat with the one thing they didn't have last season - home court advantage. In a league dominated by teams playing in front of friendly faces, that advantage is worth its weight in gold. Accordingly, the Pacers took Game 1
107-96
Sunday afternoon.
Hey, look, the Pacers decided to show up!
Maybe all the Pacers needed was to play their hated rival with something on the line. The lethargic, inconsistent squad of the three months has been suddenly, miraculously replaced by the resurrected juggernaut that had rule the East prior to the Evan Turner trade. They never trailed Sunday, and held a comfortable lead throughout. Further, all five starters finished in double figure scoring, lead by Paul George, who went for 24/4/7. It was a total team effort, and the Heat had no answer for it.
Of course, Indiana might have been helped by a return to their pre-Turner chemistry, as the lamented forward
sat out
Game 1 with strep throat. Whatever the cause, they certainly seemed like the Pacers of old. Your move, Miami.
San Antonio Spurs vs Oklahoma City Thunder
-
This is the lone series of the four remaining in basketball and hockey that has yet to start. Game 1 is this evening, tipping off in San Antonio at 7pm MT.
For as much as everyone complains about them, I find the San Antonio Spurs fascinating. Based around the best post presence of his generation, an underrated point guard (yes, Tony Parker is underrated), and a cavalcade of supporting parts that all play their role to a 'T,' they are, in a sense, the team we all
say
we want to root for. They're no non-sense, they're good at what they do, and, above all else, they
win
. What more can you really ask for?
With Ibaka out, I have a hard time seeing the Thunder past San Antonio.
Furthering the Spurs' cause, the Thunder will be shorthanded this series, as the powerful Serge Ibaka is
out for the remainder of the playoffs
with a calf injury. I'm not going to say OKC has no chance ('cause, you know, Kevin Durant, and all), but I'd be putting big money on San Antonio advancing,
Around the NHL Playoffs
New York Rangers vs Montreal Canadiens
-
What happened to the Canadiens on Saturday? Riding the high of an emotional series win over the Boston Bruins, they skated on home ice against the New York Rangers in Game 1 of the Eastern Conference Finals. I say skated, rather than played, because this was a game in name only. New York bull rushed the hapless Habs from the opening drop, en route to a shocking
7-2 series opener
. MAH GAWD, I did not see that coming.
Uh oh, Price is out.
To make matters worse, Montreal's star goalie Carey Price
suffered
a 'lower body injury,' and will miss the rest of the series, if not more. Breaking the news, Canadiens head coach Michel Therrien bluntly said, "We've lost our best player." No kidding. Price had been a dominant force in net throughout the playoffs, and I don't know how Montreal will be able recover in his absence. Certainly not behind the likes of Avalanche castoff Peter Budaj. Looks like The Rangers have this one sewed up before it ever really got started.
Chicago Blackhawks vs Los Angeles Kings
-
In a rematch of last summer's Western Conference Final, the Kings and Blackhawks make for a high powered matchup of the last two Stanley Cup champions. My 'Hawks drew first blood Sunday afternoon, leveraging home ice advantage throughout a
3-1 win
.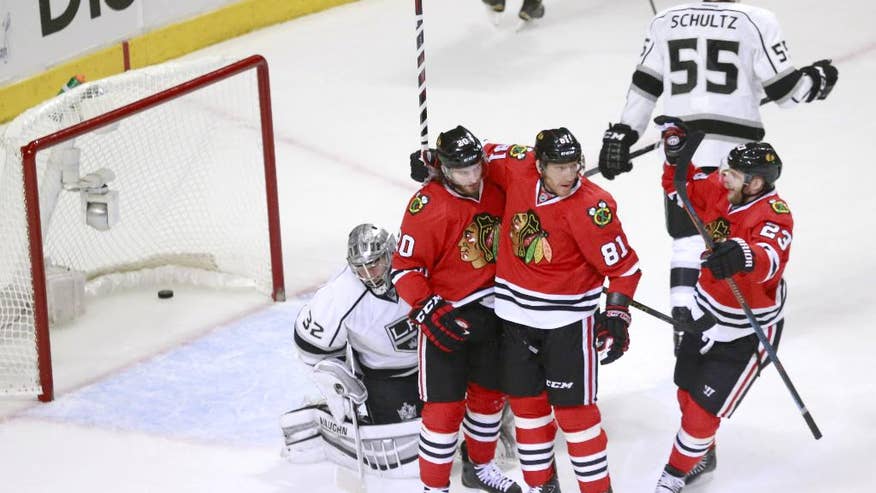 Business as usual.
It seemed like a repeat of last year's playoffs, as Kings goal tender Johnathan Quick was not as good as his counterpart in red. At this point, I've come to terms with the fact that Blackhawk goalie Corey Crawford simply doesn't get nearly the credit he deserves. He stopped 25 of 26 shots on Sunday, improving his playoffs-leading GAA to 1.90. As Chicago has now won seven consecutive home playoff games - a new franchise record, according to NBC - I can't help but look to Crawford as the reason. If he keeps this up, they'll raise another banner at the Madhouse this fall.
Happy Monday!