I hope everyone had a happy and safe Memorial Day weekend. No time for idle chit-chat, it's straight on to this post-holiday edition of the grab bag.
Today in the bag, I'm taking hockey, basketball, and, for the first time since April, a little baseball
Click below for the bag...
Around the NHL Playoffs -
Chicago Blackhawks vs Los Angeles Kings
Just a week ago, My 'Hawks were swimming along nicely, up 1-0 in their conference final matchup with the Kings, and holding a 2-0 lead deep into the second period of
Game 2
. Then, the damn chuck wagon flipped over, and all hell broke loose. A late second period goal from LA's Justin Williams was the start of a six-goal onslaught that evened up the series in declarative fashion. It was as surprising as it was demoralizing.
Heading to LA, it was thought (hoped) that the six-goal reversal was a hiccup, rather than a harbinger of doom. Indeed, as the Blackhawks played to a 2-1 lead through the first quarter of
Game 3
, it looked as if all sins would be forgiven. However, LA would dominate the second period en route to a 4-3 win, and yesterday's
Game 4
was a disaster that saw the 'Hawks surrender three first period goals on their way to a 5-2 beating.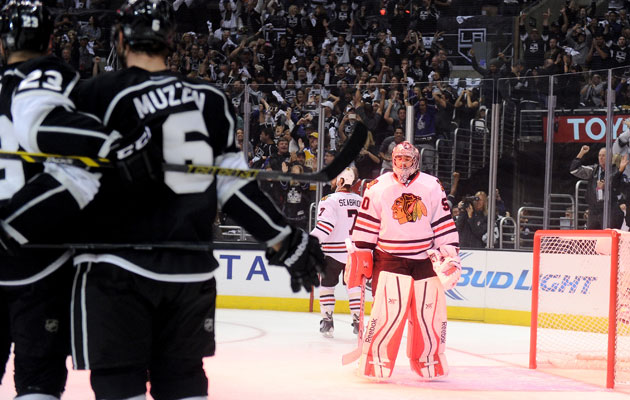 Corey Crawford has imploded over the last two and a half hours of hockey.
Suddenly doubt has been thrown into the equation, as the defending champs have been forced to look deep within themselves to see if they really want that third ring in five seasons. After their performance in Game 4, I'm starting to think that desire just isn't there, as they've allowed the kings to control the puck, own the ice in front of the net, and generally dominate play. Since Chicago took that 2-0 lead in Game 2, they've been outscored 15-5, and have looked exhausted and disinterested to my untrained eye. In the world of hockey, a multiple game comeback in a best-of-seven series isn't unheard of, I just don't see it coming in this series.
New York Rangers vs Montreal Canadiens
It's a similar story in the Eastern Conference final, but for completely different reasons. Still deprived of star goalie Carey Price, the Canadiens have been forced to turn to third-string net-minder Dustin Tokarski. While he hasn't been the sieve most expected, the Rangers have been able to take advantage, and now hold a 3-1 lead headed back to Montreal.
Tokarski is doing his best, but it won't be enough to hold back the fired-up Rangers.
Price has been seen
skating in full pads
, but the Habs have been quick to quiet rumors of his imminent return. Barring a Willis-Reed-in-skates moment, with Price skating out of the tunnel to the roar of the fans and the relief of his teammates, I'm convinced that this series is over. It's not that the separation between the two teams is that big on paper, it's just that Montreal seems to be on tilt, and I just can't see the great Henrik Lundqvist losing three-in-a-row to something called Dustin Tokarski. A shame, really, as this series should've been better than it has been.
Around the NBA Playoffs -
Miami Heat vs Indiana Pacers
I mockingly prodded Miami for a response to Indiana's shocking Game 1 victory, and the Heat have, of course, responded like champions. They've won three straight by a combined total of 28 points, and look to be on the verge of closing this series out in five, regardless of whether or not Paul George thinks that his Paces have been
getting the better
of the matchups.
George is seriously mistaken if he thinks the Pacers outplayed Miami in Game 4. From: USA Today
The trick in the NBA playoffs is to wait until a team wins on the road. Miami did just that in
Game 2
, and have simply held serve - albeit comfortably - at home over the last two games. Everything after that Game 2 victory has been academic - yes, even LeBron's
monster 35/10/5 yesterday
- and the entirety of the series has been boiled down to whether or not Indiana can even force a Game 6. I wouldn't bet on it; look for this series to end tomorrow night in Indianapolis.
San Antonio Spurs vs Oklahoma City Thunder
This series got a little of its spice back after the shocking
return
of OKC's Serge Ibaka helped propel the Thunder to a
106-97 win
in Game 3. It had been though that Ibaka was done for the season, but apparently 'God and ice' was all that was needed to turn that diagnosis on its head. Yep, God and ice, nothing else needed... *cough*
Well, look who's back... From: USA Today
Ibaka's return closes the gaping hole left in the paint that San Antonio had been jabbing at repeatedly through the first two games in Texas. I'm still not buying OKC as a serious threat, especially as we've yet to see how Serge will hold up going forward, but I would anticipate at least a sixth game between these two teams.
Baseball a third of the way through the season -
I always take the opportunity presented by the Memorial Day weekend to check in, for the first time on the season, with the MLB standings, specifically in relation to my favorite teams. I don't like to look before now because I feel that anything less than two months of baseball results is too small of a sample size to form a coherent opinion. Given that we've now crossed my ceremonial threshold, here are where both the Rox and Sox stand:
Colorado Rockies - 27-24, 3rd place in the NL West, 5 games back of the San Francisco Giants
Chicago White Sox - 26-27, 2nd place in the AL Central, 5 games back of the Colorado Rockies
What happened to the Rockies? Just weeks ago they were riding high and challenging for first place. A recent swoon that saw them lose four of their last five has kicked back into third place. The resulting reaction that I've observed from the fanbase - 'Same old Rox, when do the Broncos start camp?' - is both a testament to the mental conditioning of the fans and the consistency with which the Rockies have squandered strong starts. I still believe that Colorado can contend in the NL West, however. The pitching is a massive concern, but that offense should be enough to sustain them over 162 games, if only for an eventually failed bid at a wild card berth. Stick with this team, I bet they will surprise you.
As for my Sox, I couldn't be happier with 26-27. The 2013 White Sox were so terrible that they made me question my very love of the sport. While the team this year is no where near perfect, at least in 2014 they're trying every game. Gone it seems are the days of surrendering efforts after only a few innings, as the boys lead the world in 9th inning runs. They don't quit, they play a fun, aesthetically pleasing style, and have, at the very least, reaffirmed my faith in the greatest game ever invented. That's damn good value for a team that has struggled with the .500 line since opening day.
There's still a long way to go for both teams (four months, in fact), so anything is still possible. All I know is that both the Rox and Sox have exceeded my expectations to date, and I look forward to what they have in store as the summer develops.
Happy Tuesday!