Honolulu, HI, the Diamond Head Classic, Dec 22nd --
Aloha! This post comes to you from the island of O'ahu in the great state of Hawai'i. Mele Kalikimaka, BuffNation!
Of course, I'm here for the Diamond Head Classic (well, not
just
the Classic, but you get the point). Three days of basketball spread out over four days of Christmas vacation sounded like a hell of a deal to me, so off I went. Regardless of how the on-court action goes, at least I'm in paradise, relaxing in the Pacific breeze. It sure beats working.
I'm very interested to see how the Buffs take to this tournament. The season hasn't gone as planned, but there's a prime
opportunity
here to right the sinking ship. In Honolulu this week there are a host of RPI prizes waiting to beef up the resume, if only the team can just get their shit together. To my mind, this can only go one of two ways. The team is going to be forced to share the same space for the better part of a week, which adds a certain dynamism to recent rumors of a discordant locker room and various levels of in-fighting amongst roster and staff. That close proximity can either cause a blow up, leading to three straight games of horrific basketball, or force the team to look within, possibly helping them to refocus on playing their best basketball. ... and, no, I have no inkling of which one will be the result; your guess is a good as mine.
The field for the 2014 Diamond Head Classic is littered with strong basketball programs. There aren't any national title contenders in this group, but there are at least three Tournament teams, and another couple who should challenge for titles in their smaller leagues. In the end, I see the field split into three groups - the proverbial favorite, the flawed second tier, and the also-rans.
The favorite -
The best on the island are, of course, the WSU Shockers. A Final Four participant from just a few short years ago, they remain a strong program, one of the best mid-major names around. Head Coach
Gregg Marshall
, the Shocker successor to Coach Boyle's mentor, Mark Turgeon, is the goods, legitimately one of the best coaches in the country. He's lead them through a progression of NIT champion in 2011, to conference champion in 2012, to the pinnacle of the sport in 2013, and a #1 seed in 2014. For the record, KenPom has them as the #11 team in the land this season, and only an overtime loss @ Utah has kept their record from perfection.
Marshall is going to make a ton of money in this game.
WSU plays a little slow, savoring possessions (almost 19 seconds per). Don't let that fool you, though, as they are deadly efficient with the ball. Lead by All-American candidate
Fred Van Vleet
, their top three in the backcourt can rival any Power 5 trio, and can beat you in a number of ways with their fluid sets. Off-guard
Ron Baker
is a deadly outside shooter, combining well with Van Vleet and
Tekele Cotton
. All told, they average about 40 per game. About the only thing I don't like about them is their inability to get to the line enough, but that can be addressed in the future.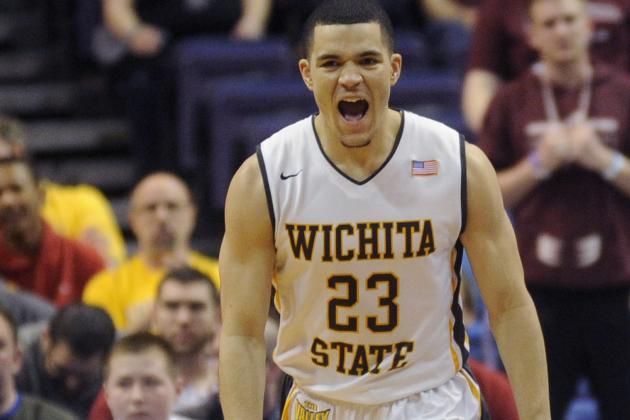 Van Vleet may be the best player in the State of Kansas.
Van Vleet has been struggling a bit this year, possibly in reaction to a mountain of pre-season hype. His ability to fill-up the stat sheet has a direct correlative effect on how far the Shockers can go this winter. Even without him playing his best ball, however, Wichita State looks to be the prohibitive favorite to earn the Classic's trophy on Christmas Day.
The second tier -
One of the reasons the Shockers seem to have such an easy path in front of them this week is that each of the teams in the second tier is flawed.
Take for instance BufNation's old 'friends,' the Nebraska Cornhuskers. They were solidly in the preseason top-25, expected to push for a top three spot in the B1G. What has developed, however, is that
Tim Miles
' bunch can't really score. They're just over an adjusted .98 ppp, struggling with turnovers (21.5%), offensive rebounding (28%), and three point shooting (30.7%). Add to that and embarrassing loss to
something called 'Incarnate Word' in Lincoln
, and the pre-season luster has quickly faded.
Tim Miles is the main reason for optimism in Lincoln.
Sharing the bottom half of the bracket with WSU, the potential Day 2 matchup between the Huskers and the Shockers seemed like a doozy when the bracket was first announced. It should still be pretty good, as Nebraska defends enough to stay in games, and swing forward
Terran Pettaway
is legit, but I don't expect the fireworks I once did.
On the other side of the bracket, the second tier includes our own Buffaloes and George Washington. As we all well know, Colorado is a schizophrenic bunch with the talent to compete, but they've yet to put it together on the court. About the only surprise from them this week would be an 0-3 record, or a win over Wichita State in the final. Just as I could see them beating the other two in the second tier, given a good performance, a loss to DePaul and/or Ohio isn't necessarily out of the realm of possibility, either. Really, anything is conceivable.
I like GW more than either CU or Nebraska, but I still see them as a solid step below the Shockers. Lead by coach
Mike Lonergan
, the Colonials project to be one of the stronger sides in the A-10 this season, and have a good shot to get back into the Tournament for a second-consecutive season.
Kethan Savage
is a really nice, athletic guard,
Patricio Garino
is a good scorer off the wing, and
Kevin Larsen
is a double-double threat up front (assuming both win today, Larsen/Scott should be a treat tomorrow). Still, they don't have a lot of depth (only about 6.5 deep), and can tend to be a little one-dimensional.
Savage is a solid lead guard for the Colonials.
Their Achilles heel is outside shooting, as not one of their main starters has hit more than four treys this season. Looking ahead, this may be CU's best out against them, as teams routinely get at the Buffs from beyond the arc. Colorado has made even average three-point shooting teams look great this fall, however, so maybe this is GW's opportunity to stretch their legs a bit
Any of these three teams
could
wind up winning the Classic, but I just don't see how they hold a candle to the national power from Kansas.
The also-rans -
What remains: DePaul, Ohio, LMU, and Hawai'i. There seems to be a definitive gap in talent between the other four and this grouping. That doesn't mean their can't be a 1st day upset, but the closest prediction of the opening round is Nebraska/Hawai'i (64% NU win probability, per KenPom), which is really only because the Rainbow Warriors are playing at home. I'll pass on the lot; expect them all to lose day one.
Of passing interest would be the Blue Demons from DePaul, but moreso because CU drew them for the opener. DePaul, once a regional power, suffered greatly over the last decade between the decline of their relationship with the Chicago Public League and the transition to the Big East. Talent just isn't winding up in the Allstate Arena as it used to, and they haven't had the firepower to play the teams they've been scheduled against.
GAH! What the hell is that?!?
Coach
Oliver Purnell
brought in a decent recruiting class last fall, but Blue Demons haven't had a winning record since 2007, and I don't expect that fact to change in 2014-15. Into the future, however, things may be different. With the re-configuring of the Big East, the idea idea is that they may have a chance to get back into the race - leading to a
new, dedicated $173 facility
for the downtown Chicago program.
Their best player is probably Illinois transfer
Myke Henry
. Averaging 16/6, the junior stretch forward takes a lot of shots, and is very active defensively. He works well with sophomore guard
Billy Garrett
, who is more of your typical, slashing wing. Up front is big 6-11, 255 lbs center
Tommy Hamilton
. Garrett and Hamilton each draw a lot of contact, helping the Blue Demons get a lot of points with the clock stopped. Along with another wing,
Jamee Crockett
, all can shoot from outside (*gulp*), and make the defense uncomfortable.
Henry can ball, and needs to be canceled out.
Losers of their last three, including an embarrassing
31-point blowout in Corvallis
, but holders of a very nice
win over Stanford
, I look at DePaul as a very inconsistent group. On their best day they can make you pay for lethargy, but those best days are few and far between. They love to play fast (15th fastest adjusted tempo), but don't rebound well (in the 290s both offensively and defensively). That tells me that, barring a hot run from outside (certainly possible, as this team loves to bomb), one of their best days won't be today, as CU should have plenty of opportunities to counter-punch (27.5% of opponent's attempts come in transition).
The Buffs
shouldn't
lose today, but you never know with this bunch. My breath will be held all the way up to tip, but I'm expecting a 'W.'
--
Day 1 - All games on ESPNU
Ohio University vs George Washington - 12:30 MT
Colorado vs DePaul - 2:30 MT
Loyola Marymount vs Wichita State - 9 pm MT
Nebraska vs Hawai'i - 11 pm MT
GO BUFFS! BEAT THE BLUE DEMONS!