If you haven't seen it yet, the latest from
@CU_Video
- "Forever" - is fantastic, and worth your time. Give it a look:
FOREVER
from
CU Football Video
on
Vimeo
.
Lawrence Vickers
is the best
!
--
Today in the Bag, I'm talking another disappointing road trip for the basketball team, the volleyball team making us all proud in Ft Collins, and the college football playoff.
Click below for the bag...
Buffs out-muscled in Georgia -
It wasn't as bad as the Laramie debacle, but CU's trip south on Sunday came up just as empty and disconcerting. The Buffs collapsed in the final few minutes of the first half, getting out-muscled and out-worked in the paint while the Bulldogs went on a 12-0 run. That hole proved to be too deep to crawl out of, and Colorado returned home with a
64-57 loss
that wasn't nearly as close as the margin would suggest.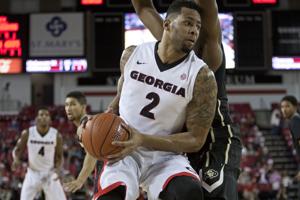 Behind Thornton, the Bulldogs ran past the Buffs.
Just nothing really went right. CU was -10 on the glass with only two assists at halftime. It was almost too easy for the 'Dawgs to pounce, given those numbers. In total, CU was 2-17 from beyond the arc, had a 6 : 13 Assist-to-turnover ratio, and allowed a poor-shooting team to hit 44% of their threes. Where was the passing? Where was the interior strength of this team when they needed it? A really unfortunate time to revert to the basketball of last February.
As ugly as that was, l do have to give the team credit on one point. Unlike in Wyoming, CU didn't give up after the end of half debacle. They continued to push deep into the second half, looking for any grip-point to regain a foothold. While they never managed to really get back into the game, at least they remembered to shut the barn door after the horse had gotten out.
A couple of players had good games. Josh Scott put up an 18/11 double-double to go with three blocks, and Askia Booker chipped in 20/3/3. But Scott couldn't turn the tide in the paint at the close of the first half, and Ski needed 19 shots to get those 20 points (0-5 from deep); not to mention the fact that those two had 2/3rds of the team's points. For Georgia, Marcus Thornton was a grown-ass man, and lead a domination of the first-half glass that knifed the Buffs. Almost every post-player in Black struggled with the big Bulldog, especially freshman Tory Miller.
Jelly had a good game, but the team still isn't utilizing his ability enough.
I try not to overreact, but it's hard, after seven games, to not see that this team is failing to live up to their potential. The commitment to defense and rebounding, which had served this program so well over the last three years, just isn't there, and they don't have the transformative pieces on offense to make up for it. A veteran, deep basketball team should not be playing like this, even on the road. The days of extended scoreless droughts were supposed to be over. Georgia is a good team, but they're nothing that CU won't see on a nightly basis in conference play, and their home environment is nothing special. Not a knock against the Bulldogs, but coming out and getting out-worked, out-hustled, and out-played (for the second straight road trip) is worrying.
In that light, I can't help but look at this week's game with
little brother
, and not see it as a 'must win.' The Buffs have now blown their first two opportunities at a meaningful out-of-conference win, and the remaining opportunities to beef up the resume are few and far between. If CU can't beat the Rams on Wednesday - who are 8-0, btw - I just don't see enough strength left on the non-conference schedule to get their resume into Tournament shape. Sure, Colorado could run the table in Hawai'i, or roll through Pac-12 play, but, after what I've seen this season, that isn't likely; it's CSU or bust. I'll have a full preview up Wednesday morning, but, to be very honest, I'm nervous.
Volleyball fights to the end -
Up north, facing
little sister
(who actually boast one of the nation's best volleyball programs), the CU Volleyball Team was up against it on Saturday. On the road, in the most hostile territory imaginable, they had dropped the first two sets in their Round of 32 match with the Rams, and looked to be on their way to a quiet exit from the NCAA Tournament. But that was not their final statement on the matter. Showing about as much fight as any team in Black and Gold had shown in 2014, they fought back, scratching and clawing their way to a fifth set. In the decisive action, they even managed to get to match point, but couldn't convert, falling
16-14
; one painful point short of a trip to the Sweet Sixteen.
When the brackets were announced last week, I figured a trip up 287 was a death sentence for the Buffs. As much as I roll my eyes at the rest of CSU Athletics, their volleyball program is a jewel. To have to go up there on short notice - in a do-or-die situation, no less - seemed like a task too daunting for Colorado. It was cool that the committee set up a mini winner-take-all Front Range Invitational (Denver and UNC - who CU
beat
on Friday - were the other teams playing over the weekend), but
dayum
, what a difficult assignment.
Heartbreak in the Fort.
But, the Buffs looked the dragon in the eye (a forgotten Hawk-ism), and took the challenge head on. After dropping the first two sets in close fashion, they regrouped, and started to chip away at the veneer of their more heralded in-state rivals. Racing out to a 14-6 lead in set three, you could immediately tell that the match had turned on its head. Behind a record setting performance from senior Taylor Simpson (personal high 32 kills, her 10th game of 20 or more this year - a new school record), the Buffs were back in it.
The fourth was nip and tuck, all the way down to 24-24. CU would pull away with two straight kills to force the final set. In that one, a CSU service error had the Buffs on match point, 14-13. Three straight points, however, in a seamless rush that left my head spinning, killed the comeback effort.
I can't say enough about the fight displayed by the team on Saturday. With most of the 6,011 in attendance cheering lustfully against them, it would've been easy to pack up the tents after the second set, but the ladies are obviously made of sterner stuff. The 2014 Buffs are a strong team, and it's a shame that they ended one point away from a joyous trip to Minnesota and the Sweet Sixteen, but there's a lot to be proud of - 20 wins, another clutch of conference upsets, and a solid showing in the Dance. Congrats to all, and I look forward to what the program has in store for BuffNation next fall.
College Football Playoff -
By now I'm sure you're well aware that college football's Final Four includes Alabama, Oregon, Ohio State, and Florida State, but
not
either of TCU or Baylor. The outsider status sent everyone from the Texas 10 into a tizzy, but I'm comfortable with it. I think the committee got it dead on, and it's only a butt-hurt group from the Lone Star State and the national media, wrapped up in the expectations created by an absurd series of made-for-TV events, that are fueling this fire. Ohio State steamrolled Wisconsin, and deserves to be in the playoff.
The idea that a championship game cost the Big XII an enterant is a fallacy. Certainly, Ohio State had a leg up on TCU going into the final week, simply because the Horned Frogs were playing the damn Cyclones, but Wisconsin/K-State is a wash (although, the Bears were playing at home). It doesn't come down to
regionality
, or anything like that, either. The decision to jump tOSU over the Big XII pretenders came down to one thing: strength of schedule. The Buckeyes manned up - playing @Navy, vs Virginia Tech, and vs Cincinnati - while the two Texas teams simply played a dogshit non-conference schedule. The Pansy XII are now being punished for their cupcake-heavy diet. I'm comfortable with that.
At least for the Bears, their reliance on sweets in non-conference play doesn't
look to change
. In that light - and this isn't just because they've Baylor - I have no sympathy. They know who they're scheduling, so they have no one to blame but themselves. Everyone else around the country seemed to have gotten the memo; the Texans just decided to wait until December, when it bit them in the ass, to whine about it. Seems like business as usual from the 28th state. Next time, maybe less money on a
PR firm
, and more on payouts to visiting teams worth a damn, idiots.
Happy Monday!