Take a deep breath. Have a seat. Relax. I just want you calmed before presenting the possibility that Xavier Johnson and Josh Scott, two critical legs of CU's big three, might be out of the action tonight.
*wince*
Of course, as I talked about on Tuesday, XJ is dealing with a high ankle sprain suffered in game against the Utes. I didn't expect him back tonight, but, at the dawn of the annual march to Tucson, it's a little daunting to realize Colorado's bubbly leader, the straw that stirred the rivalry stew last year, will be MIA.
Scott's story is a little more complicated. His return to action in Utah after missing two games with back spasms seems to have been a little premature, as he struggled to fight through the pain, only attempting three shots (all missed) in the game. Apparently, in the wake of that effort, Josh has been left out of practices, leaving his availability for tonight up in the air. As the Daily Camera
reported
, he's been fighting his back since before Honolulu (the plane flights couldn't have helped), so more time away from the court could be needed.
Colorado is already facing an uphill battle entering the valley of the beast. If the Buffs have to play tonight without either Big X or Jelly, it's going to get rough in a hurry. I just have a hard time picturing where the scoring will come from in their absence. I've been wrong before, but, pending a surprise roster announcement this afternoon, I'm pretty pessimistic headed into this one.
--
Tip off from the newly
renovated
McKale Center is set for 7pm this evening. Proving that broadcast schedules shouldn't be chosen in August, television coverage can be found on ESPN: the Mothership. On the call are Walton, Pasch and Jay Bilas... well, if it's going to be a blowout, at least it'll be a well-covered one. If, however, you hate the World of Walton (most likely because you hate freedom), Mark Johnson will have the impassioned descriptions on 850 KOA.
Click below for the preview...
When last we met -
2014 was not a good year for the once budding Colorado/Arizona rivalry. While the Wildcats were soaring into the upper echelons of the top-25, the Buffs were falling well behind their Pac-12 South brethren, and it showed in each of the regular season meetings between the two teams. Both in Tucson and back in Boulder, CU proved incapable of making the 'Cats sweat, let alone challenging for a win, losing the pair of games by a combined 39 points. In each, Arizona had roared out to massive early leads, leading by 20 at one point in the first half at McKale, and by 17 in the same at the CEC. (I guess you could make the argument that the Buffs were two bad halves from playing even with them, but then you'd be a fool)
Looking for a different tack, CU slipped into a Pac-12 Tournament semifinal match with the UofA with a different mindset. In this one, they actually played their best basketball in the first half, even forcing a tie last in the frame. Behind 3-5 shooting from the three-point line, CU was in with a shout, only down 27-24 into the break. The second half, however, was more along the lines of what the thousands of 'Zona fans in attendance were expecting. The Giant Death Robot came alive, holding the Buffs to 22% shooting over the final 20 minutes, while playing +17 ball overall. After a first half of promise, the game fell into a rut, and Colorado into a
63-43 defeat
.
CU had nowhere to go against the dominating 'Cats D. From: the BDC
The peripherals were a white-wash. CU only shot 29% from the field for the game, and were killed on the boards 41-25. Over a stretch of almost 11 minutes from a Josh Scott layup early in the second half to a made jumper from Askia Booker with seven and a half minutes to go, Colorado would make only one other field goal. It's not unusual for this program to go extended stretches without scoring, but, against that defense, it's hard to blame them. Arizona was a special, special team last year, a group that rarely, if ever, allowed an easy basket. Eventually, despite a solid effort in the opening minutes, the Buffs just succumbed to reality.
Individually, the Buffs were lead by the duo of Booker and Xavier Johnson. Ski closed his strong performance in Vegas by providing 12/6 to lead the team in both scoring and rebounding. All told, he put up 50/16/9 that week on 44% shooting and against only four turnovers, which, deservingly, got him on the all-tournament team. XJ had a strong first half, coincidentally helping CU to that strong first half, but let his emotions get the better of him after the break. A few quick fouls and a devastating block from Aaron Gordon all but erased the fiery Californian from the rest of the action. Beset by quick double teams from the Wildcats that left him no room to operate, Josh Scott was largely absent.
Booker did the best he could to attack the stifling defense. From: the BDC
There's no shame in saying this, but Arizona was just a better team last year. Frighteningly better. Even with Spencer Dinwiddie in the fold, there'd have been little chance of CU evening any of the three scorelines in 2014. I don't have all that much hope for a dramatic change in 2015, but you never know. Arizona isn't
quite
the traumatizing defensive juggernaut they were a year ago, so maybe things can be different? I certainly hope so, cause I really missed that feeling of rivalry last season, and would like to see it renewed.
The Wildcats in 2014-15 -
After a largely successful '13-'14 campaign that saw the GDR stall out in the Elite Eight against Frank 'the Tank' Kaminsky and Wisconsin, Arizona was forced to part ways with ultra-stars Nick Johnson and Aaron Gordon. The loss of Johnson, a consensus First Team All-American, and Gordon, the most dynamic defensive basketball player I've even seen at the collegiate level, would've stunted most programs, but this is Sean Miller's 'Zona, and he has this beast rolling. They've re-tooled around a core of returning talent, a freshly healthy vet, and the typical infusion of high-profile freshmen. The result: about what you'd expect. 14-2 and in the top-10.
This isn't the Giant Death Robot of legend, however. They've lost a little bit of that defensive efficiency - 'fallen' all the way to 7th nationally, averaging an adjusted .887 ppp allowed - and aren't completely breaking teams the way they did through through much of last season. Defensive eFG is up (44%), as is opponent shooting inside the arc (43%), and their foul rate (39% FTA/FGA ratio). That's a little like complaining that $999,957 isn't quite $1 million, but in a year that defensive numbers are better across the board, the Wildcats just aren't shining as much as they did a season ago. Case in point, Saturday's
defensive wheeze
in Corvallis against the mighty Oregon State Beavers. Allowing them to shoot 51% from the floor? What the what? Very unlike them.
Not the look of a defending league champion.
The problem is replacing the dynamic duo of Johnson and Gordon. The pair were fantastic defenders, as quick and pure in recovery and positioning as any, and they were great at herding into negative space without getting whistles. Their replacements are unquestionably talented, but maybe not as naturally attuned to defensive excellence as the originals. I just get the feeling that you can actually find
some
points inside against Arizona now, or at least get a call or two when you try.
On offense, it's an explosive show. They play fast (16 seconds per possession), are comfortable taking extended jumpers, and, above all else, get to the line. 3rd nationally with a 52% free throw rate, they get whistles like it was a birthright. With length and athleticism all over the place, they get the benefit of the doubt on dribble-drive, and excel at getting opponents out of position. The Buffs have a counter here, as they are relatively good at clogging the lane, avoiding opportunities to foul on cheap drives, but expect the home whistle to play a large role in the proceedings.
Length everywhere, this team comes at you in waves.
The key, however, will be the glass, and how it pertains to transition attempts. Yes, the old transition chestnut; the UofA limits (under 16% of all shots allowed) what CU covets. The Buffs turn the ball over way too damn much to have a hope and prayer of breaking down Arizona without anything in transition, so they need to try and take advantage of 'Zona's weakness on the offensive glass. CU
can
be a good rebounding team, and Arizona is only 188th nationally in offensive rebounding rate. If Colorado can turn missed looks into quick outlets, keeping fast-break players like Jaron Hopkins viable offensive options, they may just have a shot of keeping this interesting. Without anything in transition, we could see something Wyoming-esque in terms of offensive futility.
Star Players -
The most interesting player on the roster, at least for me, is
Rondae Hollis-Jefferson
. The 6-7, 220 lbs sophomore swallowed a lot of pride to
come off the bench
early in the season, but is back in the starting fold now that conference play in upon us. He's a whirling dervish of personality; constantly slashing, constantly making a nuisance of himself. A major presence on the boards ('Zona's best on either end), and a terror in penetration (12th-best free throw rate in the country), Rondae is the difference maker that keeps this team in the upper echelon on the collegiate game.
Hollis-Jefferson is a fantastic athlete who can take over games.
You'll immediately hate him for the
shimmy
he does the line. His frequent trips to the charity stripe give the young Pennsylvanian a lot of air-time, and he loves to soak it up with a little shake of the shoulders right before release. Coach Miller tried to get him to stop, but misses followed, so back came the shake. I don't necessarily mind it, however, as it grooves with his effervescent demeanor. Much like CU's own Xavier Johnson, Hollis-Jefferson seems to really enjoy himself, and and I can't really blame him.
Playing off H-J, the replacement for the freakish Aaron Gordon is freshman
Stanley Johnson
- a 6-6 wing with seemingly limitless potential. One High School All-American out, another in, I guess. While not the defensive monster that Gordon was, Johnson has stepped in with more than enough length and athleticism to fill the dynamism quotient. He can generally do it all. Versatile enough to play multiple positions, he can shoot (43% from deep), pass, defend, and rebound (second best rates on the team). Overall, he's averaging 14/7; numbers which can only project to improve as he drives towards the NBA.
Johnson is just the latest high-profile freshman to run through Tucson.
Of course, that means that one of the keys to the game tonight is neutralizing him. Oregon State did (only seven points on four shots), and it lead to a major upset. Just looking at his mix of skills on both sides of the ball, it looks like this would be a case for fellow Mater Dei product Xavier Johnson. With XJ's status up in the air, however, it's anyone's guess if replacements like Dustin Thomas are up to the challenge. Regardless, whoever is matched up with the superlative frosh, the primary focus should be getting him into foul trouble. Johnson has finished with four fouls in each of his first three Pac-12 games, and is averaging a full four per 40 minutes played. Getting a few cheap calls on the kid may be the best defense available.
Moving past the wing, I don't think nearly enough is made of what last season's addition of point guard
T.J. McConnell
meant to the program. For years, the Wildcats had been sorely lacking a true point guard to meter out the ball, and generate offensive rhythm. McConnell, a battle-tested transfer from the Pittsburgh area, is a premier distributor, boasting a top-20 assist rate. He fills the required role perfectly, taking Arizona to an entirely different level than they were before. With him at the helm, everything makes a little more sense, and the slashers get better opportunities to wreak havoc. Throw in a gritty mindset that gets him into passing lanes with a 4.6% steal rate, and the senior's a pest on either end. Without him, they don't make the Elite Eight last year, and would be a step behind this season.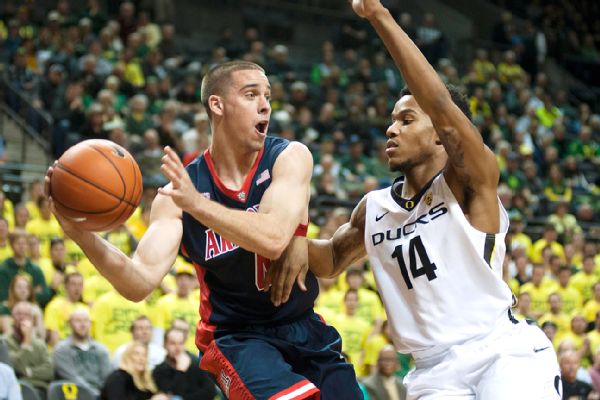 McConnell is a transformative piece at point guard.
Rounding out the starting five are the front court duo of
Brandon Ashley
and
Kaleb Tarczewski
. By all rights, Ashley would've joined Nick Johnson and Aaron Gordon in the professional ranks this season, had it not been for a
foot injury
last season that cut short a sterling campaign. That injury did more than just delay his matriculation to the NBA, however, it also probably kept his team from running the table in '13-'14, with Arizona only starting to lose games after he got sidelined. He can take a back seat, at times to Hollis-Jefferson and Stanley Johnson, but will be a tough matchup for Wes Gordon and/or Dustin Thomas. Tarczewski, the true seven-foot junior, is a familiar face at this point, and one that has always struck me as an underachiever.
Off the Bench, the big threat is junior
Gabe York
, the team's best perimeter shooter. I could see him coming off the bench mid-way through the first half, sinking a few threes, and really putting the Buffs in a bind. After him and sophomore
Elliott Pitts
, however, there's not much bench left to speak of.
Coaching -
That just leaves, of course, head coach
Sean Miller
. An elite recruiter and program manager, he has rebuilt the Arizona juggernaut, and has the desert stocked with talent for years to come. It's hard to remember that, when CU first arrived on the Pac-12 scene, the Wildcats were making an awkward appearance in the NIT, and searching for direction during a re-tooling phase. Now they're a defending Elite Eight participant, and clearly in the West's upper crust. Wave after wave of incoming talent will help that.
Miller gives great coach-face. Unparalleled.
Miller makes for a convenient foil during the action. He's dramatic, active, and effusive with his use of the timeout. He seems to constantly want direct, hands on control of the game at all times, which stands in stark contrast with the style of Coach Boyle, who generally just wants to let the players be. I prefer the hands-off approach, at least from a 'flow' perspective, but you can't really argue with Miller's success. 143-50 in 10+ seasons (the first five with Xavier), to go along with three Elite Eights and five total league titles, he's easily one of the best young (46) coaches in America. Barring a random desire to coach in the NBA, there's no getting rid of him now. He's entrenched.
Prediction -
(My record on the season: 3-2. Against the spread: 4-1. Optimistic/pessimistic: CU -1.2 pts/gm)
Lines as of Wednesday @ 8pm - NO LINES POSTED
With or without Josh Scott and Xavier Johnson, it's going to be another butt-whuppin'. But what else would you expect? The Buffs have a lot of growing to do, and trips to Salt Lake City or Tucson are not the places for introspective development. I expect it to get ugly quickly, with foul trouble and turnovers being primary culprits. It'll be up to the team to circle the wagons for the quick turnaround to Tempe on Saturday.
UofA 78 - CU 40
GO BUFFS! PROVE ME WRONG, AND BEAT THE 'CATS!