Well, not nearly as bad as I was expecting. Without either Josh Scott or Xavier Johnson, the Buffs came out and hung with the #10 Arizona Wildcats on their home floor, keeping the game within reach into the second half before finally succumbing to the pressure down the stretch. The final:
68-54
, and a backdoor cover.
Losing by 14 is never a comfortable feeling, but I thought the team played well... and by team I really mean Askia Booker. Down two of their best scoring threats, it was up to Booker to lead the way, and,
DAYUM
, did he answer the call. The little spark plug scored 30 of the team's 54 points, showing the brazen disregard for circumstance that has endeared him so to fans of #SKIBALL. He finished 11-17 from the field, 6-9 from three point range, and was CU's only scoring threat. If you were worrying earlier in the year where the senior's head and heart were at as he struggled through some off-court issues, I hope you've long since stopped, as he's been averaging 20 per game since November 30th.
Ski was magnificent, but he was largely on an island. From: CUBuffs.com
For Arizona, it was all about super frosh Stanley Johnson. Playing tenaciously on the baseline, he gashed CU's softened underbelly for 22/8/3/2. It certainly helped his cause that he didn't have to go against Xavier Johnson and help-defense from Josh Scott, but the kid's for real. His efforts were the difference on Thursday, countering the great work that Booker was putting in.
The trick then will be how the team rebounds from defeat, and carries the respectable effort with them to Tempe. Today's game is a winnable prize, one that the Buffs would behoove themselves to claim. If there's any faint Tournament hopes remaining, it's a must, but it's also important for conference positioning. If Colorado can emerge from the desert at 3-2 in Pac-12 play, having already put road tilts against the league's best in the rear view, they have a leg-up on their competition for a top-six slot. It may not seem like all that much now, but this result is will loom large on the plane ride to Las Vegas in two months.
--
Tip-off from Wells Fargo Arena is set for 2:30pm this afternoon. A slight change from Thursday night, when Colorado was featured on ESPN in primetime, CU is back on Pac-12 Network. What hasn't changed, however, is that Mark Johnson and the radio call will be on 850 KOA.
Click below for the preview...
When last we met -
Games with Arizona State have a common theme. They're usually grind-it-out, physical affairs, heavily reminiscent of the old wars against Frank Martin's Kansas State squads. As Coach Boyle said last winter, "They're a physical team and you'd better buck up and be physical back, otherwise they'll punk you." Back in February, with postseason hopes on the line, Colorado came prepared for this style of ball, and brought a warrior mindset to bear against the visitors. It worked, as CU out-muscled a team that had previously had their way with the Buffs, earning a vital
61-52 win
in the process.
A huge win for Ski and the boys. From: the BDC
This was a program win, both in execution and result. It meant something to the team, from Coach Boyle on down. You could see as much from the intensity Colorado brought to the court, and the reaction from everyone
after
the
game
. The Buffs wanted this win, bad, and would not accept defeat. A month after a game with ASU had marked the low-point of the season, the reverse was true in Boulder, as Colorado played with passion, flare, and physicality. It was a beautiful effort.
Play was defined by the battle down low between heavyweight post-men Josh Scott and Jordan Bachynski. Those two shared a
brutal history
through two years of fights in the paint, and you could tell from the opening possession that Scott was out for revenge in the final rematch. The Young Fundamental gave no quarter to the ASU center, routinely going toe-to-toe under the rim with the hulking brute. For all but a handful of instances in the first half, Scott got the better of the fight, controlling the game with a 13/13/2/1 line that towers over Bachynski's 4/4/1. Further, while Josh played 35 minutes without a foul, his counterpart battled foul trouble for most of the second half before leaving the arena with a bum ankle and a
black eye
. All things considered, the judges scored it 12 rounds to 0: utter domination. While Josh can't remember the first time these two met in Boulder, his farewell answer to the departing senior is hard to forget.
Scott dominated Lurch. Wasn't even close. From: the BDC
If Scott's dismantling of Bachynski wasn't enough, CU controlled all other phases of the interior game. They finished +21 on the boards (+20 in the second half alone), shut out the Sun Devils 12-0 in second chance points, and finished +8 in paint scoring. The play from the line on in was decisive.
In victory, CU leapt over the Sun Devils into 3rd place in the Pac-12, and took a major step forward in the chase for their third-consecutive NCAA Tournament appearance. It also marked their 20th win on the season, making the fourth 20-win campaign in as many tries for the great Tad Boyle. While the high was short-lived, with Arizona thrashing the Buffs a few days later in Boulder, last year's home win over ASU made for great late-season value.
The Sun Devils in 2014-15 -
It's been a struggle in Tempe this winter. With the great Jahii Carson currently
averaging
15/3/3 for the mighty Wollongong Hawks of the Australian NBL (3-17 right now, btw), rather than tearing up Pac-12 defenses, scoring has taken a major dip, and wins have been scattered. I'm not one for questioning the professional aspirations of talented young men, but it's hard not to raise an eyebrow when you see Carson toiling on the far side of the world, while his former team plays on in desperate need of his talents.
Carson's playing Aussieball, and the Sun Devil's are worse off for it.
Not just Carson is gone, however. The Sun Devils are also having to make due without Jordan 'Lurch' Bachynski and Jermaine Marshall this season - two massive cogs from their NCAA Tournament berth from last March. The answer to that roster turnover seems to have been a dip into the JuCo bucket. Coach Sendek brought in four with his most recent recruiting class, giving his roster a very unfamiliar flavor. Still, as is tradition, the Sun Devils will go deep into their roster. A full 11 players have seen at least 20% of available minutes this season, so expect to hear a lot of numbers called.
It hasn't lead to a lot of wins, though. ASU comes in at 8-9, losers of seven of their last 10, including all four of their Pac-12 games to date. They've been getting bruised in conference play, posting the worst offense in the league at just over an adjusted .8 points per possession. A theme all season, they just struggle to score the ball (not one player averages over 11 points per game). Case-in-point, they've yet to crack 60 points in a conference game, including Thursday's
76-59 home loss
to Utah. That said, they do get to the line well (top-25 FTA/FGA ratio), so Colorado's fundamental defense will still be tested.
The Sun Devils have been getting beat up in Pac-12 play. From: ESPN
It's a little better on defense, where the fresh bodies keep them a step ahead of the competition. ASU will still throw some zone at you, but it's a much more comfortable man-to-man for the majority of possessions. As a result, they generally rebound the ball well (top 20 nationally in defensive board rate), while still collecting a lot of turnovers (near 24% in Pac-12 play). As decent as the defense has been, however, I can't really see it being enough to escape the Pac-12's basement slots when it's all said and done. In the end, this stands as one of the few 'winnable' road dates for the Buffs this year.
Coaching -
Well, Vizzini (aka ASU head coach
Herb Sendek
) finally got the Sun Devils back to the NCAA Tournament last spring. A great accomplishment, that, but I can't help but think that his '13-'14 run was more of an opportunity missed than a joyous ascension back into national prominence. That was a highly talented squad, but one that collapsed down the stretch after stunning arch-rival Arizona in Tempe. They'd go on to lose six of their last eight, including one-and-done exits in both the Pac-12 Tournament and the real Dance.
Not a very strong statement.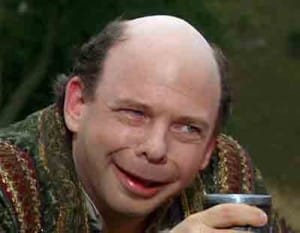 Truly you have a dizzying intellect.
I hope Sendek enjoyed the trip, such as it was, because it could be a while before he's able to work a return. The sudden departure of Jahii Carson has left the cupboard bare, and the team in desperate search of an identity. I honestly think they're one of the league's worst this year. There's some upside, and I wouldn't be surprised by a decent February, but even the NIT will probably end up out of reach.
The offensive change makes ASU respectable and entertaining.
At least Herb hasn't completely reverted to his pedestrian ways with Jahii now playing ball in Australia. I was impressed last season by his willingness to open up his traditional Princeton attack to embrace his roster, and speed up his pace of play. Sendek
took
the change
seriously
, instituting a 24-second shot clock in practice, asking the team to cross mid court in three seconds, and work to take a shot within 12 seconds. This, from a team which played slower than chilled molasses for most of the last decade. They's slowed a bit this winter, but not as dramatically as I might've suspected, with the Sun Devils still playing just over 18 seconds per possession. That sort of philosophy change, 20 years into his head coaching career, wasn't easy or common, and it may be hard, now, to revert back to form.
Star Players -
A pair of veteran holdovers form what can be considered the backbone of the rotation. Seniors
Shaquielle McKissic
and
Jonathan Gilling
are back, and do their best to bring whatever scoring they can to the table.
McKissic is only still in Tempe this season thanks to the NCAA awarding him an extra year of eligibility. It frightens me to think of where they'd be now without that gift. Colorado did a nice job guarding McKissic last season, only allowing 13 points over 65 minutes from the 6-5 wing, but he's easily their best option this winter, and should find the scoresheet today. He's more of a daunting challenge on the defensive end, however, where his activity on the perimeter can cause even the best to start massaging their temples in frustration.
Where'd they be without Shaq?
A 6-8 wing from Denmark, Gilling's an interesting matchup problem in the Blair Wilson mode. He's a lights-out shooter (when he feels the need to pull the trigger) with great size, hitting on 50% of his takes this season, but can fall into lulls of unnecessary passivity. All but 15% of all of his shots are from the outside, so guarding him inside the arc is more of a suggestion than a requirement.
Of the new JuCos, the most insistent on getting his name called is
Gerry Blakes
. A 6-4 200 lb product of San Bernardino Valley College, Blakes has,
at times
, proven to be ASU's most reliable offensive threat. Consistency against premiere competition has yet to show itself, however, as he only just cracked the double-digit scoring barrier against a Pac-12 opponent for the first time on Thursday. I like his skill set, though. Active hands, a quick step, and a good motor.
Blakes tries to keep tempo up. From: USA Today
The lone player on the roster to earn more than 30 minutes per game is junior forward
Eric Jacobson
. He's extremely adept at getting to the line (top-20 nationally in free throw rate), and takes good shots (66% eFG). That said, I'm not a huge fan of the Chandler, AZ native - I just don't see a large upside - but his 10-7 averages are serviceable. Jacobson really feeds off his teammates getting good movement to the paint, as 77% of all his attempts are assisted.
The rest of the heavy rotation features
Bo Barnes
,
Savon Goodman
, and
Tra Holder
. The senior Barnes is a good glue guy, a solid defender, and a nice veteran presence. Goodman, from the JuCo corps, was considered a mid-year transfer, and only
recently
started seeing the court; good size at 6-6, 215. Holder, a freshman point guard, has a nice handle, and looks like he could develop into a strong dribble-drive threat in the future. Much like Jacobson, though, I just see 'serviceable,' when I look at this bank. Dynamism is on short supply.
Prediction -
(My record on the season: 4-2. Against the spread: 4-2. Optimistic/pessimistic: CU -5 pts/gm)
Lines as of Thursday @ 8pm - NO LINES POSTED
The Buffs haven't shown a lot of grit away from Boulder. Outside of Ski's effort on Thursday, Colorado has struggled to bring the right mindset to the floor away from home, which informs the play over the final two games in Hawai'i, as well as the non-conference debacles in Laramie and Athens. Today offers a prime opportunity, however, to turn around that narrative. The Sun Devils have recently been a gritty, grimy bunch, but who have yet to really embrace that identity this season. They look, for lack of a better word, 'punkable,' and a forceful performance from the Buffs should be able to get the job done.
Booker was a little hobbled by an ankle injury at the end of the Arizona game, but I hear he's fine. Add to his fire at least one of the other injured stars, and it should be enough to scrape out a win. It's one the team must have, and one that I think they will earn. Ugly but sweet, give me the Buffs by five.
CU 58 - ASU 53
GO BUFFS! PROVE ME RIGHT, AND BEAT THE SUN DEVILS!