Straight to the action today. I have thoughts on the national championship decided last night, baseball's opening day, and the lacrosse team.
Click below for the bag...
Duke catches Wisconsin at the post -
The basketball season ended with a slobberknocker, as Duke and Wisconsin met in Indianapolis (In the Annapolis?). Tied at halftime, and tight till the end, both teams put on a show with the nets on the line. Unfortunately, since happy Dookies make me uncomfortable, those damn Blue Devils made the plays down the stretch, turning a persistent second half deficit on its head. They hit their free throws, got some timely calls from the refs, and emerged victorious in a
68-63
thriller that earned Coach Mike Krzyzewski his 5th national title.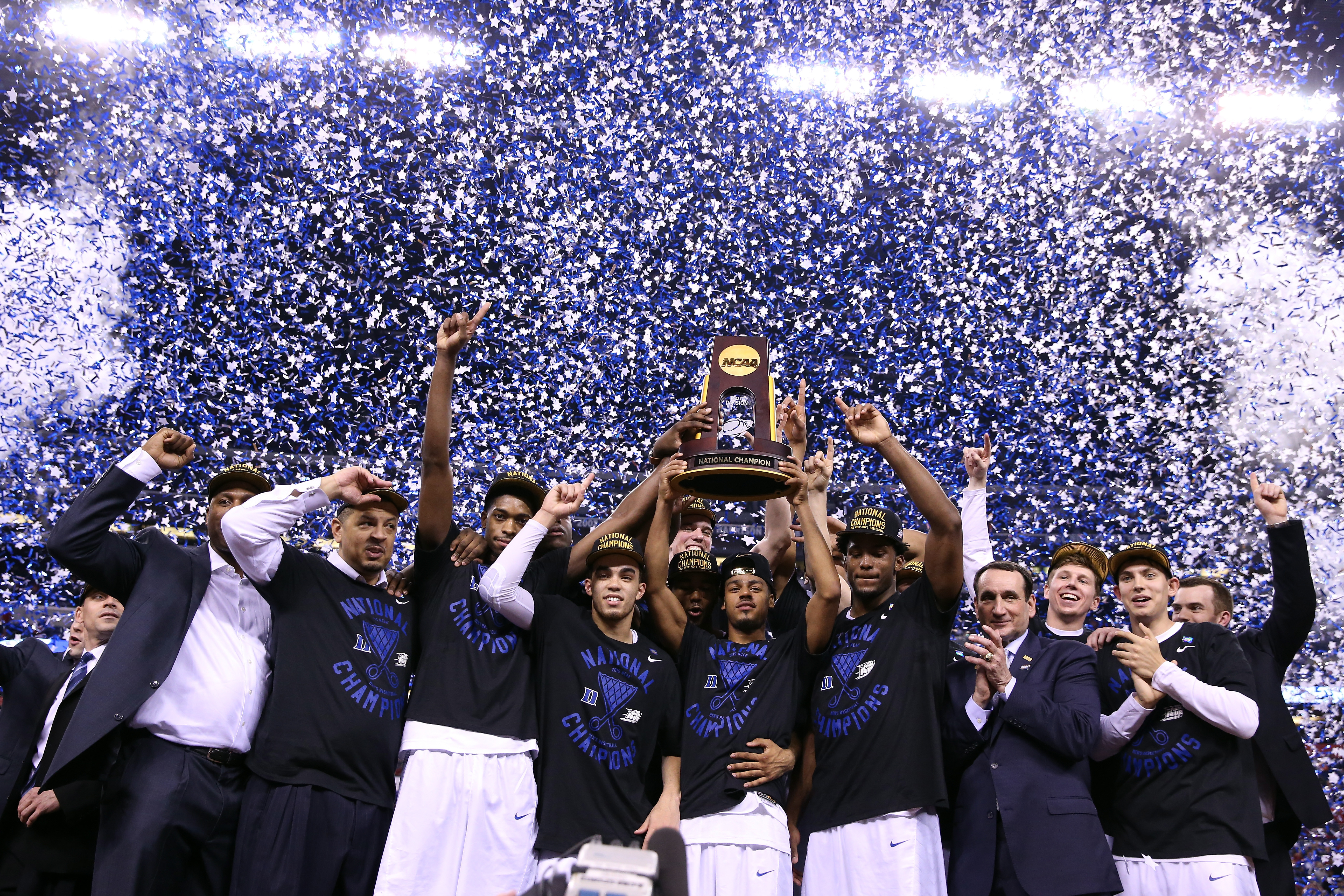 That's a lot of confetti. From: the Huffington Post
Duke guard Tyus Jones stole the show, scoring 23 points on 13 shots in the win. He hit two of his three attempts from deep, and iced all seven of his shots from the line. Combined with 16 points off the bench from Grayson Allen, the Blue Devils got enough from their backcourt to overcome all-world Wisconsin forward Frank Kaminsky, who chipped in 21 points against continuous double teams in his final collegiate game.
But, oh, the officiating! I never buy into the fact that teams win or lose by the actions of those in stripes, but I couldn't help but raise an eyebrow in that direction Monday night. There were a few flat out blown possession calls down the stretch, and the Blue Devils were allowed to shoot double the free throw attempts of the Badgers (even had a foul to give in the waning seconds). Nothing outstandingly spurious, but there's just something about Duke where they always seem to get the whistle when it matters, and they know how to leverage as good as anyone around.
Sure looks like a touch to me. From: Deadspin.
In the soccer world, we call it Fergie Time - venerable retired Manchester United manager Sir Alex Ferguson seemingly always found an extra minute of stoppage or a phantom penalty when his team needed it most. That's what struck me last night; Krzyzewski Time. I kept thinking of Coach K - known, among many other things, for the way he leans on the officials - as the refs missed a Duke player stepping out of bounds, and stood 'unable to see' a slight touch of the ball as is tumbled to the baseline (
HE TOUCHED THE BALL!
). The Badgers certainly choked a bit in the final minutes, but some weird officiating kept the Heimlich from being applied.
When you strip that caveat away, however, it's hard not to marvel at the way Duke put the hammer down over the final four minutes. They smelled blood in the water, and pounced. In a decisive moment of glory, the Blue Devils went on a 10-0 run from just before the four minute mark to under 1:30 to play. Officiating be damned, that's how you earn championships.
Jones was tabbed the Final Four's Most Outstanding Player. From: Bleacher Report
After Kentucky, it's hard to argue that Duke wasn't the second best team this year, and make for deserving champions. I would've loved to see the UK/Duke matchup, but this is the final we got. It was a great one, and a high note to end 2015 on. Thank you basketball! Till November, keep it real.
Opening Day -
If you didn't notice, baseball is back. Opening Day is always a special occasion, and yesterday was no exception. Games starting all around the country made for a wonderful treat in the middle of my work day. Happy frickin' spring, everyone!
Unfortunately, that treat turned sour for yours truly pretty quickly. My Sox were on the road in Kansas City, you see, and much worse for the wear, as a result. Stymied and frustrated from the first pitch, The Boys took an ugly
10-1 decision
on the chin to kick off 2015; the lone run courtesy of a
mammoth blast
from Jose Abreu. Nothing worked - new acquisition Jeff Samardzija was wild and ineffective, the defense was shambolic, and the back end of the bullpen was very flammable. Not the way to start a season supposedly built to promise.
Not the start I had hoped for. From: the Trib
Not that this is surprising, as the Royals have owned the Southsiders in recent years, having won 47 of the last 75 meetings. Contact, speed, defense, and a good bullpen is the perfect recipe to whup My Sox, and they've done just that. Repeatedly. Luckily, we only have to play those fuckers 17 more times this season... *sigh* Now comes the time where I try and remind myself that there's still 161 to go.
No such worries for the Rockies (who, friend of the blog
@RyanKoenigsberg
assures,
won't lose 100 games
this year), as they smacked around the Milwaukee Brewers for nine innings in a
10-0 final
. Tacos were assured by the 4th inning, and all but one starter had at least one hit. Nolan Arenado was a monster, collecting 4 RBIs on three hits. For at least one day, the Rox looked like a contending club, and may prove to be
pretty fun
to watch this year. Now, if only that same 161 games remaining caveat didn't apply...
Lacrosse update -
In only their second season of existence, the CU women's lacrosse team continues to enjoy some decent success. Coming in off a strong inaugural campaign, they've played above-.500 ball this year, scoring some nice wins - including a
double-overtime scalp
of Michigan in Ann Arbor - and a few inspiring efforts - like Sunday's
close loss
to conference power Stanford. Generally, they've proven to be competitive.
The Lacrosse team continues to carry the CU banner into Spring. From: CUBuffs.com
The season's about to turn serious, however. Stuck down in 6th place of the MPSF (Tomorrow's Olympians... today!) standings at 1-2, the ladies will be looking to solidify post-season aspirations as they embark on their
toughest road trip of the season
. With a brutal four-pack of games set to take place in California over the next two weeks, their eventual fate will probably be decided immediately. The key will be staying in the top-six, as only those above that cut-line will make the conference tournament, to once again be held in Denver next month. To get there, they'll have to get at least something out of this western swing.
Starting with Friday's visit to USC, CU will be facing the toughest test in their short existence. Head Coach Anne Elliot isn't scared, however. "This is the best part of our season. It's all about competing in your conference and giving yourself an opportunity for a conference championship, and then hopefully an opportunity to get into the NCAA Tournament." Actually making the Dance would be a hell of an accomplishment for the second-year head coach. The road to that hope starts this weekend in Los Angeles. Good luck, ladies!
Happy Tuesday!