What's that? The NFL schedule just got released? I ain't got no time for that garbage; I'm late with this week's bag!
Today I'm talking Derrick White and a whole load of early playoff action from both the hardwood and ice.
Click below for the bag...
Derrick White: officially a Buff -
Coach Boyle, fresh off of having his contract
extended
through 2020, went ahead and confirmed the speculation by announcing that former UCCS All-American guard Derrick White is
transferring
into the CU basketball program. From Mountain Lion to Buffalo, White quickly takes the scholarship vacated by the departing Jaron Hopkins, getting CU back up to the full 13. While he will be joining the program right away, he'll have to sit out a full year before finally enjoying his senior campaign in 2016-17 due to the NCAA's nonsensical rules.
The newest Buff is official!
Boyle spoke very highly of Derrick when the announcement was made:
"Derrick's a versatile Division II All-American. He was a kid overlooked by virtually everybody, obviously except the University of Colorado-Colorado Springs, coming out of high school. He's got great size, great athleticism, and he has great skill. When you see a guy that's an All-American, and has proven everything that he can prove at the Division II level, it's exciting to bring a player like that who can score, rebound, and pass into your program." - CUBuffs.com
Certainly, White's is a great story. It being baseball season, and all, I keep catching my mind considering this like calling a kid up from the minors (like, say,
Carlos Rodon
! *squee*). Even though that's not the case at all, notice that the Buffs stayed within the four-campus system to find some backcourt help, bringing a talent up from the Division II arm of the flagship. And, of course, all the Rox fans out there will find some justice in the fact that callups from the Springs didn't die with the end of their partnership with the Sky Sox...
His numbers certainly warrant the move north. The 6-5 senior-to-be set all kinds of records for the Mountain Lions, becoming the first All-American in school history. This past season alone he put up 26/7/5 a night, which hurts the mind. He can shoot (34% from deep), attack the rim (attempted 327 free throws this winter - no Buff had more than 157 attempts), distribute (as many assists as CU's top four returners combined), and contribute in a number of areas defensively. In a
recent article
on BSN Denver, his athleticism was compared to none other than Andre Roberson. Lots to like here.
With 'All-America' stamped on his resume, CU's newest talent certainly has earned a shot.
I have some reservations, however. How those numbers translate once faced with Division I competition is a mystery, and I won't be convinced otherwise until he sees the court. Also, White is nominally taking the place of a player, Hopkins, who was a guaranteed on-court contributor to the 2015-16 club. With the required redshirt year (which, since he didn't leave the University of Colorado system, makes no sense to me), the guard corps is still down a man at a critical juncture. I'm not saying Derrick
can't
or
won't
help CU in the future, I'm just more focused on how the team improves on a disappointing 2014-15, and I find this solution wanting.
Regardless, I'm intrigued by his arrival, I'm impressed by his career in the Springs, and I'm looking forward to seeing what he can do in Boulder. Welcome aboard, Derrick!
Around the NBA Playoffs -
Los Angeles 107 - San Antonio 92 -
The defending champs did themselves little favor by losing their season finale to New Orleans. The loss dropped them out of the top-four in the Western Conference, forcing them out onto the road to start the playoffs. They paid the price in game one, as the Clippers' Chris Paul and Blake Griffin combined for 58 points to blow them away. The key to this series, however, is game two. If San Antonio can steal that one, things become a lot more interesting headed into Texas.
The Clips took it to the champs in game one.
Cleveland 113 - Boston 100 -
The East's presumptive favorite are off and rolling with their game one rout of the Celtics. Kyrie Irving took the headlines with his 30-point performance for the Cavs, who rarely looked back after a dominating second quarter. I don't see much hope for the C's in this series, as they're woefully over-matched. Weirder things have happened, but Lebron James has been in the last four NBA Finals, and I don't expect him to trip in the first round.
Chicago 91 - Milwaukee 82 -
My Bulls - now with more Derrick Rose! - held serve in the Windy City, beating the Bucks twice at home to claim the necessary 2-0 lead. I still don't know what to think of the team, having been burned before by their star's consistent fragility, but a healthy Rose certainly makes them a threat to the Cavs in the East. To that end, DR put up 38/16 over his first two full playoff games in three years. So far, so good.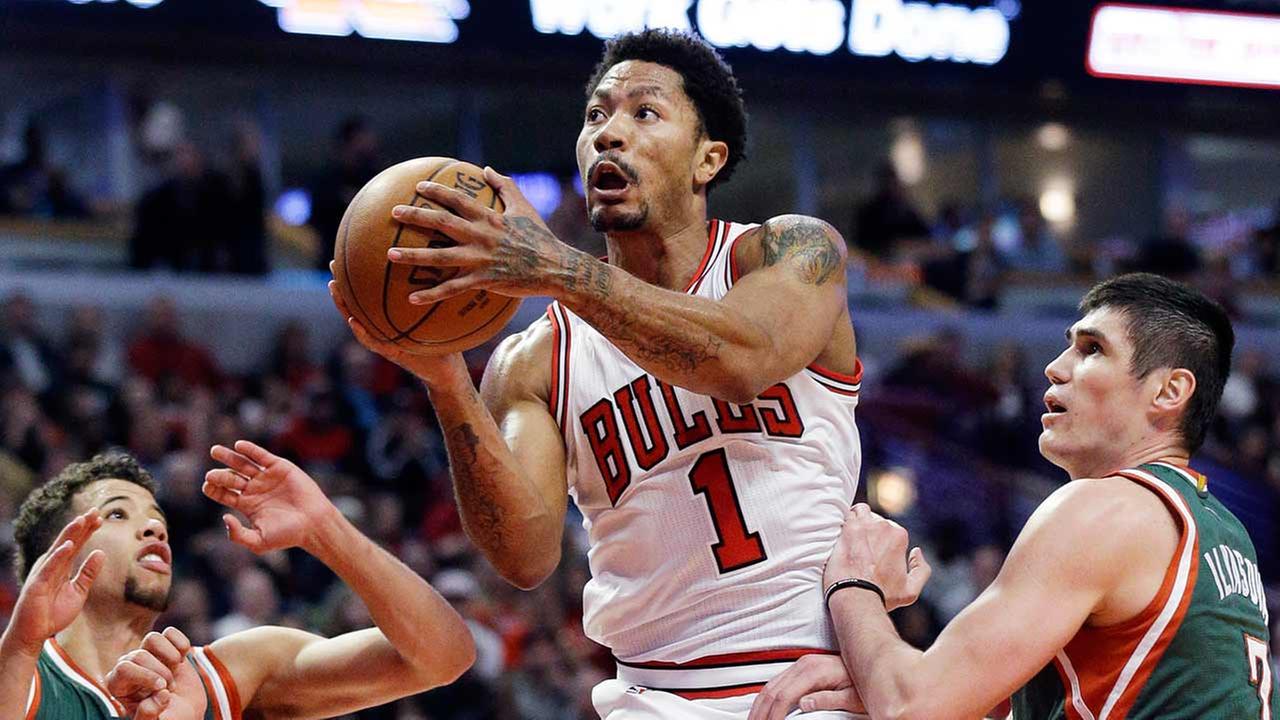 DRose is back, and the Bulls are rolling.
Golden State 97 - New Orleans 87 -
No one really expects the Warriors to sweat out a matchup with the Pelicans, do they? Certainly not in the Bay Area, right? Well, in game two, Nawlins gave conventional wisdom some pause as they opened up a double-digit first quarter lead. That run was short-lived, however, as the dynamic duo of Steph Curry and Klay Thompson combined for 48 points to lead the comeback. The longer Golden State stays alive, the better for me, because I just like watching them play. A 2-0 start at home is just what's ordered.
Around the NHL Playoffs -
Calgary 4 - Vancouver 2 -
The action has been heated up north, where bitter rivals Vancouver and Calgary have been
getting after it
. Game two was eye-opening, with 132 penalty minutes and a brawl - highly unorthodox in the pursuit of the Cup. Hell, even the practices have been rough, as Vancouver's Alex Burrows (no relation)
ended
up in the hospital after a morning skate. Calgary claimed a 2-1 series lead with their effort in another physical battle on Sunday, but this one looks to be just getting started.
Is that a haymaker being thrown? Why yes, yes it is...
New York 2 - Pittsburgh 1 -
In an Eastern classic, the Rangers put their foot forward with a nip/tuck game three win over the rival Penguins in Western Pennsylvania. It was grind-it-out hockey from the drop, but New York eventually proved victorious by holding onto their one goal lead over a furious final 13 minutes. A similar effort tomorrow will all but end this series.
Chicago 4 - Nashville 2 -
My Blackhawks seem to have backed their way into a goalie controversy. With normative starter Corey Crawford benched for leaking like a sieve in the first two games of the series, backup Scott Darling got the nod in net on Sunday. He did not disappoint, turning away 35 Predator shots in his first career postseason start. Thanks to a three-goal output from his teammates in the second period, that proved to be more than enough to give the 'Hawks a 2-1 series lead. *shrugs*, let's see where this rabbit hole leads.
It looks like it's up to Darling at the colder end of the United Center.
Montreal 2 - Ottawa 1 -
Similarly struggling with the results between the pipes, Ottawa has been less fortunate than Chicago in the win column. Craig Anderson got the game three start over regular Andrew Hammond, but didn't fare much better despite collecting 47 saves. As a result, the Senators fell behind the Habs 3-0. It's all but over here, which is probably for the best as the
P.K. Subban-fueled
fire has been getting unruly.
Happy Tuesday!