Huh, so something called 'Nicholls State' or just 'Nicholls' has appeared on the schedule. Never seen that before.
Here comes a new challenger
, if you will. I guess they sound vaguely familiar, but my guess is that, under close inspection, they'll wind up being just another pseudo-anonymous FCS program. I mean, they can't have anything special about them... OH MY GOD, WHAT THE HELL IS THAT:
Regular old mascot, or
M.Bison
? YOU DECIDE! (Personally, I think
Raul Julia
wore it better). All I know is that Chip better be brushing up on his counters and hadukens, or he's going to be in trouble.
Anyways
, on with our regularly scheduled programming...
--
Hype music for the week: "Mack the Knife" by Louis Armstrong
Nicholls State is located in tiny Thibodaux, Louisiana, which is just down the road from New Orleans. 'Nawlins, being one of the truly great cultural centers this country has to offer, provides the opportunity to pull from their vast storehouse of musicians and performers. I chose Louis Armstrong because it's fucking Louis Armstrong, and I chose "Mack the Knife" because it's a bonafide classic. You're welcome.
--
Kickoff from Folsom Field is set for 11:30 am on Saturday. The weather is supposed to be sunny and gorgeous, of course, so be sure to head to Boulder to enjoy yet another day in Front Range paradise. Coverage for those poor souls stuck elsewhere will be on Pac-12 Networks and 850 KOA.
Click below for the preview...
When last we met -
As far as I can tell, Colorado Athletics has never faced Nicholls in a team sport before (although the men's basketball team will be playing them as part of the Las Vegas Classic in few months). So, for this section, I'm going to go back to the last time the Buffs faced a FCS opponent - the October 19th, 2013 meeting with Charleston Southern.
If not for the
damn
Boulder flood
, we'd be going back to the
Central Arkansas game
from that same season, but the rain-out of Fresno State and an emergency rejiggering of the schedule brought the Buccaneers to town. It worked out well enough for the Buffs, at least, who recorded the second-largest margin of victory in the MacIntyre era (Hi, UMass!) via a
43-10
throttling.
Adkins was far too explosive for the Buccaneers. From: the BDC
From the opening possession, it was easy to see that the Buffs were miles ahead of
the other CSU
athletically. The top-25 FCS team just didn't have the horses to compete, and all that would be required for a CU win was a simple application of athleticism. That application came in the form of running back Michael Adkins II, who set a freshman school record with four touchdown dashes. In total, the speedy change-of-pace back played off of bruising runs from Christian Powell for 137 yards on only 13 carries. This helped propel CU to notch 232 total rushing yards on an average of seven yards per carry; more than enough to fuel a blow-out victory.
If you remember, this fixture also marked then-freshman Sefo Liufau's first collegiate start. The strong rushing attack gave him an easy time of it, keeping the pass rush at bay, and providing more than enough time to complete an efficient 14-20 passes for 198 yards and a touchdown. Nothing too exciting, but efficiency is all that was warranted against a sub-standard opponent. Behind Liufau, the Colorado offense never turned the ball over, and ChaSo never had a chance to leverage their time of possession advantage (36:47 to 23:13) past the breaking point.
The defense stiffened in the second half, and any hint of an upset was washed away. From: the BDC
While the offense was humming along behind a big day from the running game, the defense
struggled
throughout the first half. They were so bad that coach Mike MacIntyre openly said their performance 'sucks' during the halftime interview on KOA. The problem was poor technique and execution on the speed option attack of Charleston Southern, which had provided the Buccaneers with 128 rushing yards in the first half; this kept the clock moving, and the ball out of the hands of the efficient CU offense. Luckily, halftime adjustments put those concerns to rest, and the Bucs were held to only 25 rushing yards and no points in the second half.
Hey, nothing really revelatory here. Charleston Southern was so woefully undermanned that it's impossible not to take the results with a large grain of salt. Just look at the rest of the 2013 campaign - 1-5 after this game - and let the point underscore itself. But still, the sun was shining, the points came rolling in, and smiles abounded. Not much more you can ask for from a blind date scheduled at the last moment.
The Colonels in 2015 -
Charleston Southern turned out to be a poor challenge for Colorado two years ago, but these Nicholls State Colonels look to be, if it even seems possible, even poorer. The NSU program has lost their last 20 games, dating back nearly two years to a
33-21
win over Northwestern State (which, coincidentally, took place
the week before
Colorado's game with the Buccaneers). Hell, they haven't even been within 10 points of a win the last season-plus. Everything from snakebit to woefully out-matched, they can't even claim to be close to a return to winning ways; doubly so against FBS opponents. Since beating the Western Michigan Broncos 27-23 in '13, Nicholls has lost five-straight to upper-division foes, including three by 63 points or more. The word dumpster-fire comes to mind.
Nicholls State has made of habit of being pushed around on the football field.
For our purposes here, look at their season opener against in-state FBS foe Louisiana-Monroe. The Colonels were blanked in a
47-0 loss
, allowing 30 points in the second half alone. They only managed to get into Warhawks' territory four times, and only once into the redzone. ULM was allowed free-rein with the ball, and scored on six of their first seven drives. In total, Monroe was +333 yards and barely broke a sweat after halftime. All that against a Sun Belt team!
Overall, as you can imagine, it's a statistical nightmare on both sides of the ball. On offense, the Colonels have yet to score a rushing touchdown, and have thrown more interceptions (four) than touchdown passes (one). They're only averaging a total of 263 yards per game, and, resultingly, are an abysmal 4 of 26 on 3rd down. On defense, they're allowing over 440 yards per game at an average of about six per play. Opponents are completing about 63% of all passing attempts, and have only been sacked once. That said, the Colonels only recorded two sacks all of last season, so at least the trend is up?
Even teams like Incarnate Word have had their way with the Colonels.
Looking for a bright side? Well, as bad as the Colonels have been, they can at least claim the excuse of being a young team. They've played 17 freshmen so far this season, including nine as starters. Maybe, three years from now, when those youngsters are polished veterans, these rough score lines will be seen as the foundation laid for a resurgence to FCS relevancy. As it is, they're only 10 years removed from a conference title, and were off to a decent start to the 2013 season before the wheels fell off. Maybe their canyon of crap will be deep, but easy to escape from? I'll say this, it would surprise me if they go winless for a second consecutive season... OK, that's not too encouraging. Give me partial credit for trying?
Star players -
Under center, the Colonels are lead by dual-threat redshirt junior
Tuskani Figaro
. The normative starter in 2013, Figaro was benched and redshirted a year ago as the old coaching staff preferred a more conventional QB leading their attack. In retrospect for the now deposed head coaching staff, this
may have been a mistake
. Figaro, while certainly not capable of single-handedly turning around the 0-12 ship in 2014, would at least have made them more competitive; he was, even on the bench, the best QB in the program last year.
Now back under center, the athletic Figaro at least gives Nicholls a chance offensively.
Figaro, while a below average passer, can run the daylights out of the ball. He was a 1,000/1,000 performer in 2013, and holds the program record for rushing yards in a single game with 281 against Arkansas Tech that same year. He's yet to really take off this year, having only gained 50 yards through two games, but should still, none-the-less, be considered 'dangerous.'
Figaro is operating behind a line anchored by three-year starter
Brandon Holmes
. The burly 6-3, 305 lbs Texas product has played in over 30 games in his career, and strikes a solid, veteran pose at center. At his flank, he even gets to work off of a former LSU Tiger (and three-star recruit, at that), as 6-6 graduate transfer
Jonah Austin
guards the blind side. It's a line that's flawed, but not completely devoid of talent.
Lead by the center Holmes, the Colonels have the foundation of a useful FCS line.
Should the line give him enough time, Figaro will be looking to exploit a pair of FBS transfer receivers in the form of
CJ Bates
and
Jarrell Rogers
. Both formerly of Louisiana-Lafayette, Bates is the more dangerous of the two, and scored the Colonels only touchdown of the year last week against Incarnate Word. Senior
Terry Lucas
, however, will probably hear his name called more than either, and he comes in as the team leader in catches.
On defense, look to the backfield, and you might spy a familiar name.
Jeff Hall
, formerly of Colorado's own secondary, transferred to Nicholls after his
2014 arrest on assault charges
, and is an occasional starter for the Colonels. He'll work alongside former NSU baseball standout
Darius Knight
, who picked off a key pass last week and has also recorded two tackles for loss.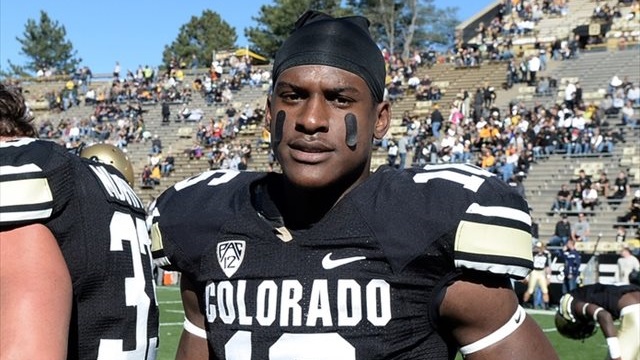 Hall returns to Boulder.
In the front seven, they're very young, and vulnerable to being pushed around. The single best talent, however, is probably linebacker
Hezekiah White
. The undersized (6-0, 200 lbs) sophomore was out most of last year with a knee injury, but has rebounded by posting 18 tackles through two games this fall. Up front, keep an eye on redshirt freshmen
Tyler 'Tank' Johnson
and
Devin Simoneaux
, who start on the edge.
Coaching -
As you can probably suspect, going winless through an entire campaign does not bode well for a coaching staff, and you'd be right. Former head coach Charlie Stubbs resigned three games into 2014, and his entire staff was wiped at the end of the season. Enter:
Tim Rebowe
and a whole new cadre of assistants.
Rebowe has a steep climb in front of him.
Rebowe is a Louisiana native with ties to the Nicholls program. He is defensive minded, having coached various positions on that side of the ball over his 27-year career, which only makes sense as Nicholls has employed three different defensive coordinators in as many seasons. He's obviously got a big challenge ahead of him, the first of which will be to simply win a game in Thibodaux. That milestone won't come this week, however, as his Colonels will mostly just be looking to remain competitive at sun-splashed Folsom Field.
Prediction -
My 2015 record: 2-1. Against the spread: 2-1. Optimistic/pessimistic: CU +2.67 pts/gm
Line as of Tuesday @ 7pm - NO LINE
I'll say it plain: there's no excuse for CU to struggle here. The Colonels are simply not a good football team, and should pose no real threat to a P-5 squad in mid-season rhythm. Colorado should blow Nicholls out of the water early, allowing the starters to rest up in the second half. Anything else would surprise and frustrate.
Coming from the tumult in Denver, Saturday will come as a massive drop-off in caliber of opponent and situational intensity. So, how can we, as fans, stay into this one on Saturday? Why not start by noting the Adidas uniforms in red and white (and gray). Note the stripes and the simplicity in the uniform design. Note the
big fucking red 'N'
on the helmet. I bet, if you squint your eyes and tilt your head (and sample some of
Colorado's finest
), you might just be able to convince yourself that it's the Huskers come back to Boulder...
urge to kill rising...
Ah, yes, I'm pumped up now. Death and destruction to the red horde! Buffs in a landslide.
CU 62 - pseudo-Huskers 36
GO BUFFS! STAY FOCUSED, AND BEAT THE COLONELS!