Before I get going today, I want to give a special shout out to Ryan Koenigsberg who's leaving his post as the editor of BSN Buffs for bigger, brighter things on that site's Broncos landing. Since I give not two shits about the Donkeys, that pretty much means that RK is gone from my sporting life, which is a true shame. He did some great things on the Buffs beat, and the entirety of Buff Nation will miss his voice this coming season. Good luck, dude, and kick ass covering that stuff that everyone but me cares about!
In his stead, we all get to benefit from the return of William Whelan, which is a lot like going from DiMaggio to Mantle... or going back from Mantle to DiMaggio? Not sure, but, regardless, Will is an Elite commentator on all things Colorado Athletics, and is just about the most knowledgeable source on Centennial State hoops around. If you can't have RK dropping knowledge on the Black and Gold, you might as well get
tha man
himself to pick up the baton. Welcome back, Will! Can't wait for that weekly podcast drop!
--
Today in the bag, I'm talking renewed pratfalls on the basketball recruiting trail, the NBA Playoffs, and the basebrawl between the Blue Jays and Rangers.
Click below for the bag...
Buffs running out of options for 13th scholarship -
The news broke last week: priority transfer target
Dominik Olejniczak
is headed for Ole Miss, spurning entreaties from CU, Cal, and others. The 7-0 center from Drake had been the Buffs biggest and best opportunity to cap off the 2016 recruiting class in style, especially after Jimmy Whitt, Dayon Griffin, and others also chose to ply their trade elsewhere, making his just the latest in a run of high profile recruiting misses for the Buffs. Running out of options, the team now faces the very real prospect of heading into next season a player short on their scholarship roster. All I can say: well, at least he didn't end up at Cal.
Sooooo... what's next for the Buffaloes?
Who's
next? Realistically, I don't know. At this point, the smart money should probably go on Coach Boyle banking the scholarship for next year (and potentially rewarding a walk-on for a semester or two -- Josh Repine, Mitch Lombard, step up!). I just haven't heard of a publicly advanced option still on the transfer wire that makes sense, and, being honest, maybe shutting down the cycle right now would be for the best. I feel the staff has made some mistakes in the past looking to force a final scholarship, and the roster is already as set as it's going to get for next season. As Boyle said in the
Daily Camera yesterday
, "This was not about next year's team." Any additions at this point would be for the future, so punting until the next cycle isn't a disaster, by any means.
Speaking of, the 2017-18 roster will need a lot of new talent, and the pressure will be on to restock without the benefit of a transfer already on the roster. As currently projects, there will be a minimum of five open spots to fill by next summer, giving the staff plenty of opportunity to leverage what projects to be a strong year at the Foot of the Flatirons. While the current class, highlighted by Lucas Siewert and Bryce Peters, projects to be ultimately impactful, the 2017 class will need to be something more akin to what we saw in 2012 if the BasketBuffs are going to remain at the top of their game. I typically dismiss recruiting news, but this will be a major story to follow between now and November 9th, when the early signing period opens.
Around the world of the NBA Playoffs -
Oklahoma City 108 - Golden State 102 -
Surprise, surprise; the Warriors, even with Steph Curry back,
are
vulnerable. I wouldn't have guessed it, but the Thunder were able to walk into Oracle Arena in game 1 of the Western Conference Finals, and steal away with homecourt advantage and a six-point win. They simply pulled away from GSW in the fourth quarter, leveraging a monster second half from Russell Westbrook (24 of his 27 points in the final 24 minutes) and some key buckets from
Trevor PhillipsSteven Adams
. While the Warriors may still be heavy favorites to not only still advance, but ultimately claim their second-consecutive NBA title, this result at least serves notice that they'll have to really work for it.
Thunder secure massive Game 1 upset. From: the NY Times
For the record, I'm backing the Thunder. Normally, I'd be 100% against the carpet-bagging former Seattle SuperSonics, but the emergence of #ForeverBuff Andre Roberson as a key starter on their roster has me rooting hard for OKC. I love what they do with 'Dre, having him stand in the corner on offense, conserving his energy to release in a torrent of activity on the defensive end. It's paying off too, by allowing the defensive dynamo to do what he does best on the basketball court: wreck yo' shit defensively. Go 'Dre! Go Thunder!
Cleveland vs Toronto -
Almost forgotten against the backdrop of the flashy show out West, the Cavs have been ripping through the Eastern Conference Playoffs. They've yet to take a loss - hell they've only been kept within a single possession twice in their eight victories - and seem to be poised to stroll into the NBA Finals. The Fightin' LeBrons have been so good, in fact, so clearly better than anybody else in the top-heavy East, that I'm left even wondering why they should be forced to play the Eastern Finals at all.
LeBron is just getting started. From: the Times Bulletin
In their way: an intriguing, if flawed Toronto squad. It took the Raptors seven games to dispatch the Miami Heat, a series that lost a lot of its pep in the later games (all blowouts), and they could be a bit tired from the slog. Accordingly, while Air Canada Center will be a tough nut to crack, and I have little difficulty in predicting at least one win for the league's lone international squad, it won't be nearly enough to stunt the Cavs on a mission to get back to the Finals. Give me Cleveland in five.
Rougned Odor, Jose Bautista, and something about unwritten rules -
In case you missed it, the Texas Rangers and Toronto Blue Jays got into a
vicious
dust-up this weekend over a late Jose Bautista slide at second. Seriously, check out the footage, 'cause it's legit. The fight was highlighted by an overhand right thrown by Texas second baseman Rougned Odor that would make any professional boxer jealous. I'll admit to being tickled by the raw footage, as just about everyone else was. Odor threw a righteously awesome punch, even if the act itself was anything but
righteous
.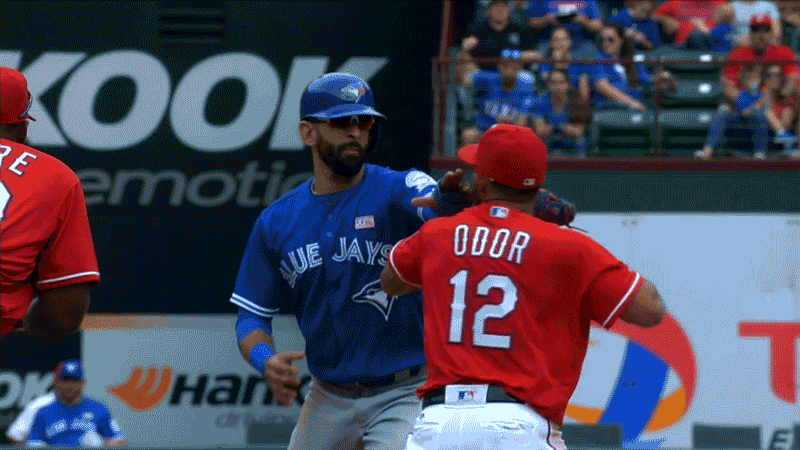 BAH GAWD! From: Deadspin
While we can get caught up in the awesomeness of the punch itself, it needs to be noted how much of a
little shit
Odor is. This is a guy, after all, who is just
throwing stones
in the glass house that is hard slides into second, and who probably deserves a good asskicking himself. Really, the only shame of the incident is that Rougned's fellow Rangers jumped on Bautista so quickly that the slugger never got a chance to respond. With a height and weight advantage, he would have knocked the cold-cocking little bastard into next week.
I get it, this is the result of a heated rivalry that extends back to last season's playoffs, when Joey Bats
launched
a mammoth, series clinching home run (along with his bat) against Texas, and Bautista absolutely deserved the beanball that proceeded the incident at second. But Odor has no legs to stand on, and deserves every second of his
eight game suspension
for the fight. Hell, it probably should've been more.
Good punch, though...
Happy Tuesday!