Cleaning out their inbox, the Pac-12 went ahead and
announced
a few minor end-of-year tidbits this morning. Of primary note was the reduction of night football starts (by as many as four dates), and the institution of a fines schedule for court/field storming.
The reduction in night football kickoffs makes sense. Nearly everyone in the conference complained last year as, weekly, the Pac-12 would be the last conference ticking on any given Saturday night. Fines for court-storming, however, strikes me as a solid defeat for Fun in its everlong struggle against the forces of the aged and the entitled. This, no doubt, stems from Arizona's Sean Miller
going on the whinge
after getting beat and rushed in Boulder last February (and I assume your reaction to said incident almost comes down to whether you wear red and navy on a regular basis). I get that the conference is under
some
obligation to kowtow to the league bigwigs -- they generate the most revenue, afterall -- but to just roll over on this issue for one or two schools seems two-faced.
The Pac-12 now hates Fun, because Sean Miller told them to. From: the BDC
'But, what about player safety,' you say? Please; I will assert this until the day I die, Miller's concern trolling over the scene in Boulder has much more to do with him being butt-hurt over a loss than any real concern for the safety of his players. Were he really that concerned, he would've,
you know
, actually tried to help usher his charges off the floor, rather than stare (quite dumbly) at the students jumping for joy in front of him...
but I digress
.
The long and short of it is that college conferences leverage court- and field-rushing for quality promotional material, and their television partners glorify the scenes by conducting on-court, post-game shots. For them to turn around and say, 'shame on the schools' for letting these beautiful moments of student exuberance go down is hypocritical.
Also, Sean Miller can blow it out his ass.
--
Today in the bag, I'm talking the Webb thing, looking at the NBA playoffs, and chortling at the notion of
little brother
to the BigXII.
Click below for the bag...
Webb, and rejection -
Hey, remember Davis Webb, that big-time QB transfer from Texas Tech who had committed to CU
back in January
? You know, that dude who was supposed to lead the program to its first bowl game in nearly a decade, as regular starter Sefo Liufau recovered from Lisfranc surgery? Well, I hate to be the bearer of bad news, but...
he ain't coming
. In fact, after assuring CU coaches
up to the night before his reversal
that he was coming to Boulder, he instead chose a Pac-12 Rival, Cal, to ply his trade (of note: CU is not scheduled to play the Golden Bears this year...).
HE GONE! From: Buffzone
My reaction? A combination of the ol' football *sigh* and a nonplussed *shrug*. Really. The definitive news barely registered for me last week. Why? I had given the kid up as a lost cause weeks ago when he started publicly waffling on his choice. I've seen too many recruiting wars to not know the signs of a talent with one foot out the door, and Webb had that look painted all over him. I don't blame the staff for sticking with him throughout the process, but, for those of you in BuffNation watching from the sidelines, for you to still have had hope over the last few weeks... well, in the words of @TZiskBuff, "that's a
you
problem."
I will say, however, that it sucks for the program not to be able to count on a talent of his caliber this fall (especially considering the uncertainty of the Sefo situation), and that this hurts Mike MacIntyre's chances of earning that bowl bid, and thus saving his job. While I don't think CU's bowl chances were a shoe-in with him under a center (or a definitive 'no' without him, for that matter), you always want to maximize the talent you can bring to bear on a situation. Especially so here, with a QB that knows the system that Co-Offensive Coordinator Darrin Chiaverini in bringing with him from Texas Tech.
Chiaverini comes out of this looking pretty good. From: Buffzone.
That said, however - and this is with all honesty possible - as a fan, I have absolutely no right to rage on a guy who makes a college choice that I don't like. Different strokes for different folks, after all, and Webb's only accountability is to himself and his family. If he really thinks Cal is a better place for him this fall, then God bless, and good luck. I disagree, certainly, but I'm not going to wish him harm for something that petty.
Luckily, Chiaverini gets it, and put forth a very conciliatory face under the light of a very public embarrassment. Saying he is '
proud
' of Webb, Darrin laid out a message of understanding and professionalism on twitter, in
stark contrast
to some of his colleagues who had recently failed the humanity test. Good for Chiaverini, good for Webb, and let's hope the Buffs can re-circle the wagons in time for August.
Around the NBA Playoffs -
Oklahoma City 133 - Golden State 105 -
Uhhhhh... what the hell? OKC hasn't just been hanging with the vaunted, 73-win Warriors in the Western Conference Finals, they've been, in many ways,
thriving.
The Thunder even put a statement result down on paper in Game 3, rolling over GSW by 28 in a game that was over well before the final buzzer. They were paced by a combined 63 points from Kevin Durant and Russell Westbrook, and barely had to break a sweat in the fourth. For our own Andre Roberson, he answered critics with a solid 13/6 line that included 3-5 shooting from beyond the arc.
This is getting serious. From: thecrowdsline.com
The patient side of me is insistent that the Warriors are far from out of it, and, in fact, should still be looked at as the favorites to advance. The eye test, however, is sewing some doubts. This is not the Warriors team of a few months ago, who could flip the switch at will, and these are not the Thunder of the regular season, who looked largely distracted and disinterested over 82 games. No, this is a series being played on a whole new dynamic. Sure, GSW will respond this evening, probably claiming their own statement win in hostile territory to momentarily quiet their critics, but this series has all the looks of a seven game see-saw affair. And, if that's the case, remember that OKC drew first blood...
Toronto 105 - Cleveland 99 -
I told you that the Air Canada Centre wouldn't be a comfortable environment for LeBron and crew to work. Accordingly, as Toronto nobly defended their home court, they evened up the series at two games a piece, headed back to Cleveland. Kyle Lowry and DeMar DeRozan were the stars in Game 4, combining for 67 as the Raptors pulled away late to seal it.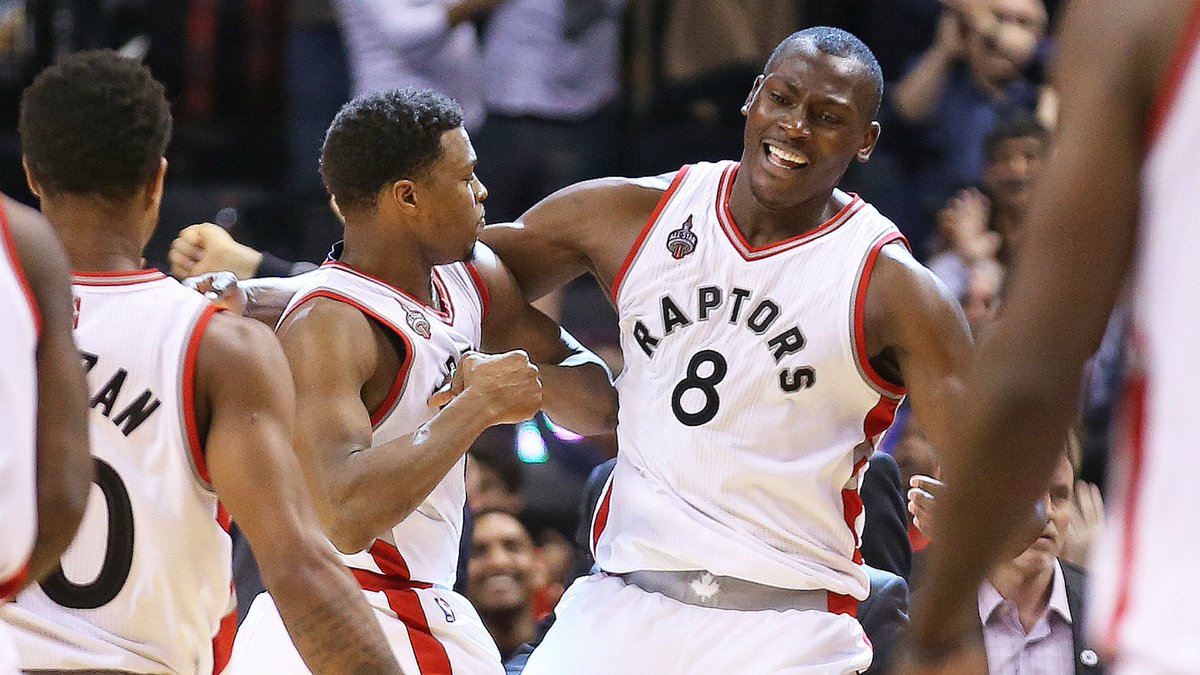 Happy Raptors are happy. From: Twitter.
Much like the series out West, the supposedly staid Eastern Conference Finals have been upturned by a far more credible threat than was originally anticipated. Even though Toronto can't defend the paint (like, at all), they can still assert their will from top, with their pair of lead guards scoring enough to drive the offense. I don't think they have a chance in hell of stealing one back across the border, but they've at least made the Cavs sweat, which is more than anyone could've asked from them.
Little Brother to the Big XII? -
Hey! Could CSU get an invite to the Big XII?
Well, that settles that... unless you don't believe
His Tadness
. Fine, I'll go into detail.
This meth-addled theory has been floating around on the sub-strata of the interwebs for a few years now - since the breakup of the old BigXII, in fact - but only really took off recently as the BigXII has made a semi-public push for potential expansion. The Rammies seem to think they have the inside track; afterall, this state was fertile BigXII territory as recently as 2011. In that vein, they sent out
this
little brochure, which is *cute*, and contains things like exultation over Garrett Grayson being a 'Heisman Trophy
aspirant
,' and tired, out-dated quotes like 'Rams own the state,' from the local rag.
It's easy to see why the Centennial State's aggie school would want into the Power 5, with the cash and competitive gap projecting to quickly spiral between the haves and the have-nots in the coming decades. I don't blame them for trying, and I'm sure their little 12-page pamphlet will make a big impression in Austin and Norman (*chortle*).
While some aspire, Buffs do. Remember that. From: CUBuffs.com
Unfortunately for the Lambs, the biggest issue is, and will continue to be, money. CSU simply doesn't have the horses to keep up in that kind of race, especially with presumed competitors like Memphis, BYU, UConn, Houston, Cincinnati, and Central Florida. That's why, when it comes to discussing the chase for the presumptive two open spots in the old league, articles like
this
don't even mention CSU. It's plain and simple arthritic. Going further, the Denver media market, which the Rams barely encroach on to begin with, isn't as enticing as some of the ones touched by Houston, UConn, or BYU (with their international religious following). They are a solid step behind their competitors on the open market, which is why they are now, and will continue to be, second class citizens in the world of top-flight collegiate athletics.
That said, it is interesting from one perspective. In a conference, the BigXII,
dedicated
to the glorification of the truckstop, Ft Collins fits in rather well with Manhattan, KS, Morgantown, WV, Ames, IA, and Waco, TX. Slowly, but surely, the BigXII is becoming an updated version of the old C-USA, and the inclusion of CSU would only accelerate that dive. However, should
little brother
make the jump, look for Texas and Oklahoma to follow suit, bailing like crazy from a league quickly starting to look like an AAC equivalent. Where will they go? The Pac-12, because that's where the cool kids west of the Mississippi end up. *ahem*
All things being equal, however, I would pay good money to see KU beat
little brother
by 40 in Moby. So, there, add my $35 to the pot.
Happy Tuesday!