Ladies and gentlemen, we've entered new territory. I am, for the first time this year, going to see Colorado play a game live and in person. For various reasons - personal, business, and otherwise - I was unable to attend any of the home or road affairs in September. I missed the Oregon game entirely, in fact, thanks to a wedding ceremony.
The whole scheduling thing has left me hungry to get into Folsom and get my first real good look at what's going on this year. Sure, I've seen the broadcasts, but a live, in-person look is always preferable.
But, that also means I'm changing up what had been a winning pattern; me not going to games. So, should the Buffs stumble on Saturday, you'll all know the reason -- I jinxed them with my presence. I apologize in advance.
--
Hype Music for the Week: "Your Time is Gonna Come" by Led Zeppelin
Led Zeppelin, one of the monoliths of music history, penned this ditty of emotional revenge, which I find fitting. With the Buffs on the Rise, it's time to pay back some of our conference brethren for the shames of recent history. Their time has come.
--
Kickoff from resplendent Folsom Field is set for 12:30 MT on Saturday. The Buffs will be going for something wholly unprecedented in the Pac-12 era: a two-game in-conference winning streak. Remember to
wear white
! There's a slight chance of rain in the forecast, but nothing to be too worried about. Coverage for those unable to attend is on Pac-12 Networks, with the radio call on 850 KOA.
Click below for the teaser...
Just a year ago, these two teams were playing for the right to
not
be the worst team in the Pac-12; Colorado, in fact, was simply trying to win
anything
against a conference foe, carrying a 14-game in-conference losing streak into Corvallis. Of course, the Buffs would go on to snap that streak with a gritty, ugly
17-13 win
over State, capped by a Chidobe Awuzie interception on a desperation 4th down play. It was endemic of a performance where the defense had all but eliminated the Beaver offense in the 4th quarter, holding them to 5-16 passing for 36 yards, a sack, and an interception over their final four offensive drives. On a night where the Colorado offense was taking a siesta, the defensive performance was exclamatory and necessary.
The Buffs got defensive last year in Corvallis. From: CUBuffs.com
In retrospect, however, it's weird to pair the upcoming game against Oregon State to the last effort between these two sides. While the Beavers have stayed in that basement position, appearing to be well on their way to similar footing this fall, CU has turned their old reputation for futility on its head, riding a quartet of strong performances into the middle-third of the 2016 schedule. Even just mentioning that old in-conference winless streak seems out of place now, compared to the team's current position. It's looking back to this fixture from a year ago that you really get hit with how far the team has Risen in just 12 months, like I'm talking about
some other
program, some alternate reality doppelganger with a fake goatee and a weird accent. Simply remarkable.
So, I won't dwell too long on the recent past here, instead looking forward to this weekend in earnest. The Beavers come to Boulder with a 1-2 record, having lost to each of their two FBS opponents on the year. Their one win, over FCS Idaho State (incidentally, one that broke a 10-game losing streak across two seasons), makes for an interesting study, though, as it's against a common opponent with CU (the Bengals headed out to Corvallis the week after visiting the Buffs). Whereas Colorado stomped ISU into the ground with little to report from the Pocatello boys, Oregon State showed some signs of struggle in what appears on the surface to be a breezy
37-7 win
. The Bengals were able to get 5.1 yards per play against the Beavs, and held them to just 4 of 16 on third down. As you see a lot with OSU, what explosiveness there was appears in the margins -- forcing five turnovers (four interceptions), scoring on a 92-yard run when the game was already in hand, and filling a pick-six in a similar situation. Elsewhere, it all looks very pedestrian, particularly on offense. In fact, if you take away that 92-yard run, they probably should've ended up with fewer than 350 yards of offense; remember, CU had to put in their 3rd string defense to avoid a 600-plus yard day. Meanwhile, on defense, the Beavers allowed a decent performance, sans turnovers, from a team Colorado held to under 100 total yards. Believe me, even though the gap on the scoreboard looks big, this wasn't a complete whitewash.
State's performance against ISU looks better on the scoreboard than it does in the box score. From: GazetteTimes.com
It's with that in mind, an oversold performance against a team the Buffs have already seen, that I look at their numbers against the other two opponents played so far:
Boise State
and
Minnesota
. Both games appear close on the surface - OSU even had a 4th quarter lead against the Golden Gophers - but, late in the contest in Minneapolis and throughout the affair against BSU, Oregon State was just getting carved up. If you isolate the 45 minutes of play from the 4th quarter against Minnesota through the first half against Boise, they were out-gained 613-126 and out-scored 45-7. These were not good showings, by any measure.
It's all a nod in the direction of a very ugly overall picture from Oregon State. 110th in total offense (340 yards per game) and 63rd in total defense (385 yards allowed per game), they struggle on both sides of the ball. The offense is particularly worrying, coming near last nationally with just 52 first downs earned (though they have played one fewer game than many other schools). It's all about quarterback play, where the Beavers really come short of generating anything of note. Hell, there are option teams out there who can still average over 200 passing yards per game, something the Beavs are just shy of this year. Head coach
Gary Andersen
left Wisconsin for this?
Gary Andersen has really struggled in his tenure at Oregon State. From: Youtube
I know it's a rebuild, but, as Colorado understands well, you have to start with a foundation under center, and Oregon State simply doesn't have it. Just two years ago they lost Sean Mannion to the NFL Draft, but have, as of yet, proven incapable of replacing him. Incumbent starter
Darrell Garretson
, a 6-0, 200 lbs junior transfer from Utah State, just does not look like a Pac-12 option to me, though I should note that he is flailing behind a
hard-hit
offensive line (allowing a national-worst 4.33 sacks per game). His injury in the Boise State game actually opened the door for walk-on freshman
Conor Blount
to
strut his stuff
across a number of effective drives, but Andersen has
stubbornly stuck
with Garretson, assuming he's healthy.
The shame of it is that the Beavers have a number of interesting offensive pieces elsewhere if they could just figure out the quarterback spot. Senior WR
Victor Bolden
, for example, is a unique, explosive talent, and should be giving the Colorado defense plenty of worries in film session. The diminutive 5-9, 183 lbs speedster can play multiple positions, and
will feature heavily in special teams
, where he already has a kick return for touchdown on the year. He's got nearly double the yards of any other Beaver after three games, and essentially
is
their offense. Elsewhere, running back
Ryan Nall
could be a very good all-down option if he just had something to change-up off of. He had to
fight for the right
to remain in the position, and has play-breaking ability. Finally, big wideout
Seth Collins
is a guy, if he had a big arm tossing to him, that could really push the frightening CU secondary. He's an
elite talent
- last year's starting QB as a freshman, in fact - and can do so many electric things with the football. But, out wide, how do you get it to him enough times to make it count? The entire equation is missing a very important variable.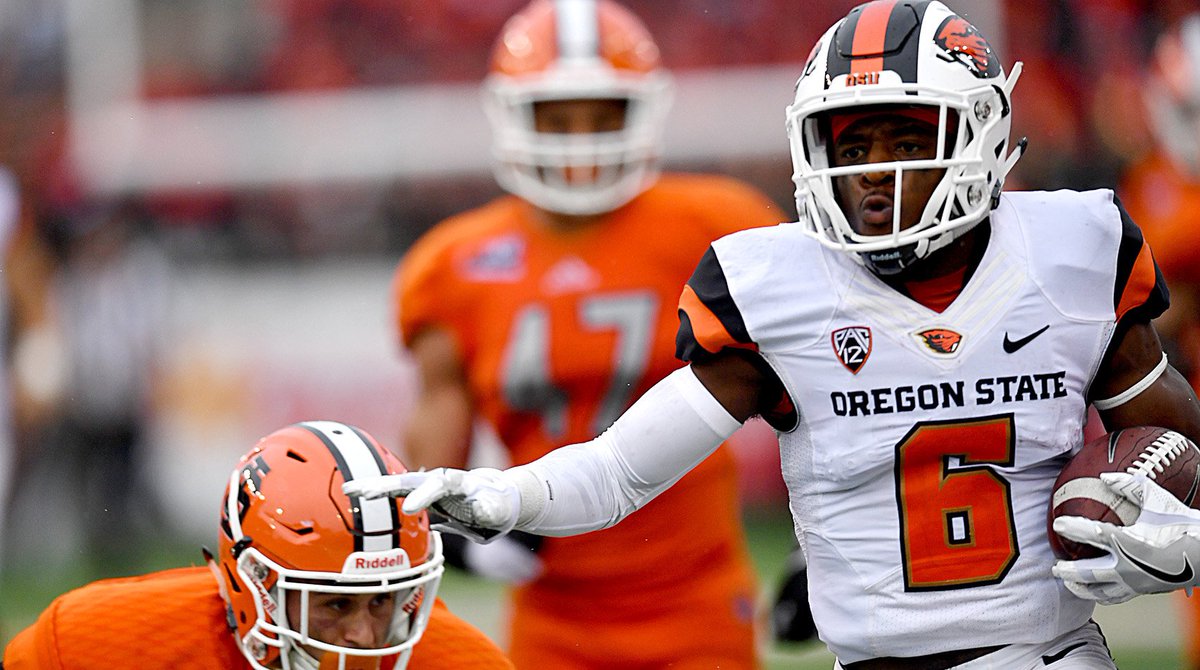 Bolden is a legit talent. From: @BeaverFootball
There is some fight in this team, though, and they could leverage a strong special teams unit and ball-hawking defense into a few scores, if CU is not careful. That special teams unit, particularly, is very scary, especially in light of the punting disaster in Michigan two weeks ago. Poor focus on a kick could lead to a field-turning lightning strike from Bolden real fast. It's one of the few areas that I can legitimately make the case that Oregon State has an advantage coming into the weekend, and one that, I'm sure, the CU coaching staff was focusing on in practice.
Defensively, OSU has some nice numbers, particularly in the passing game, but much of that success is pumped up by the effort against Idaho State. All four of their interceptions and one of their four fumbles came in that game, taking a lot of shine off of what could, otherwise, be considered a solid unit. I re-watched the Boise State game, and the first half was a horror show of linemen getting pushed around and linebackers getting beat of cut-backs and reversals of field. On some level we should expect improvement from that awful showing this week, but it's still a unit that I feel the surging Colorado offense should be able to move the ball well against, regardless of who ends up taking the snaps.
Decoud is a star in the defensive backfield. From: his twitter profile
Overall, their defense is lead by senior corner
Treston Decoud
, who has great size (6-3, 208 lbs) and a lot of football under his belt. Sophomore linebacker
Bright Ugwoegbu
is also a nice piece, and is the Beavs' biggest threat to penetrate into the backfield. He pairs well with junior
Titus Failauga
, who also attacks from the outside.
Now, with all that in mind, let's look at the lines...
My 2016 record: 3-1. Against the spread: 1-2. Optimistic/pessimistic: CU -1.5 pts/gm.
Line as of Tuesday @ 8pm - CU -18, O/U 60.5
I took the bait last week, and fell into the backup QB trap, so I'm out of pocket, as a result. I'm more than happy to take the loss, however. In fact, the Buffs are 4-0 ATS this year, so props to them for surpassing expectations in Vegas, as well.
Looking to this game, for the life of me, I'm struggling to envision a scenario where Oregon State wins. I know, I know. I'm tempting fate; this isn't the way a CU fan should look at any game. I'm sorry, it just wouldn't make any sense, based on what we've seen to date from both teams, to see the Buffs take a loss. Really, the only nightmare scenario I can think up is a special teams implosion that even surpasses the Michigan effort, but that seems unlikely to be repeated in such dramatic fashion so soon after the Ann Arbor immolation. Even so, in that scenario, I think all that happens is that the Buffs get a scare.
Yes, I think the Beavers are more capable then they were last year, if barely, but they're still a solid series of steps behind the surging Buffs. As long as Colorado 'shows up' on Saturday with anything resembling focus and preparation, they should win handily.
CU 41 - OSU 17
GO BUFFS! PROVE ME RIGHT, AND POUND THE BEAVERS