You'll note that this is not titled as a 'preview.' I'm trying to attune my football coverage to my style in basketball season, reserving full 'previews' for the games that matter. While still counting full value in the the win/loss column, a game against a middling FCS program certainly falls short of that metric. Accordingly, this 'teaser' will be more narrative and less formulaic than my typical pre-game fare... shorter, too. So, without further adieu, on with the teaser...
--
Hype Music for the Week: 'Walk Like an Egyptian' by the Bangles
I'll admit that it's a rather lame homophonic stretch to go from the Idaho State
Bengals
to the 80s pop group 'The
Bangles
.' The other option, however, was 'Eye of the Tiger' from Survivor, which I thought was even lamer. So, here you go; some of the worst pop rock to come out a decade known for terrible pop rock.
The Bangles, you might be interested to know, are still together. They've put new music out as recently as 2011 (
Sweetheart of the Sun
), are are currently touring the East Coast (or so a quick Google search would reveal). They was never my cup of tea, musically, but, then again, my most recent music purchase was a slew of prog-metal instrumental tracks, so what do I know? Enjoy!
--
Is there anything better than a late-summer afternoon in Boulder? Kickoff from beautiful, sun-splashed Folsom Field is set for 3:30p on Saturday. If for the setting alone, you won't want to miss this one. For those poor souls unable to attend, coverage will be on Pac-12 Networks, with the radio call on AM 760.
Click below for the teaser...
Colorado's history with FCS née 1-AA teams is not as happy as it should be. The designation of a separate sub-division atop the college football landscape came about in 1978, but it wasn't until 2006 that CU dipped into their ranks to fill out a slate, tabbing Montana State for the 'honor.' While FBS teams scheduling FCS teams on their schedules are supposed to be inking their calendar with a guaranteed win (the FBS vs FCS all-time record was
2028-423-18
[.824] entering 2014), Colorado has famously lost twice to lower sub-division opponents over the succeeding decade. This includes that first meeting with
Montana State
and the damned drunken walkabout against
Sacramento State
in 2012, both sandwiched around a near miss against
Eastern Washington
in 2008; Big Sky Conference foes, all. For a time, you could make a significant argument that the Buffs were playing with fire when they punched below their weight, and many in BuffNation advocated staying away from FCS teams in their entirety.
Over the last decade, CU has struggled in games against teams from the Big Sky. From: the BDC
However, the logistics and reality of putting together a three-game non-conference schedule, while still accommodating the RMS and a guarantee of at least six games in Folsom each year, has forced the AD's hand. As a result, Colorado has continued to 'take the FCS pledge,' contracting Central Arkansas and Nichols State to come to Boulder in recent years (a third recent FCS opponent, Charleston Southern, was a late add due to the Great Flood of 2013). Thankfully, those ventures outside of the Big Sky have been more prosperous, with the Buffs winning their last three against the sub-division by a total score of 129-34. And so, Mike MacIntyre hits this weekend with the distinction of being the only coach in CU history to have beaten every FCS opponent he's faced... *knocks on wood*
Enter: the
Idaho State Bengals
.
Hailing from Pocatello in the state's southeastern corner, they're members of that feisty Big Sky Conference, but have been, at least recently, not very good. With just one winning season since 2003, they've been a consistent cellar dweller this millenium. Of note, however, they do boast a national championship (1981), and have a number of graduates in NFL record books (Jared Allen, Marvin Lewis, among others). So, to recap: national championship past, historically talented, but with more than a decade spent falling on their face... they're essentially the FCS version of the Buffs. *sigh*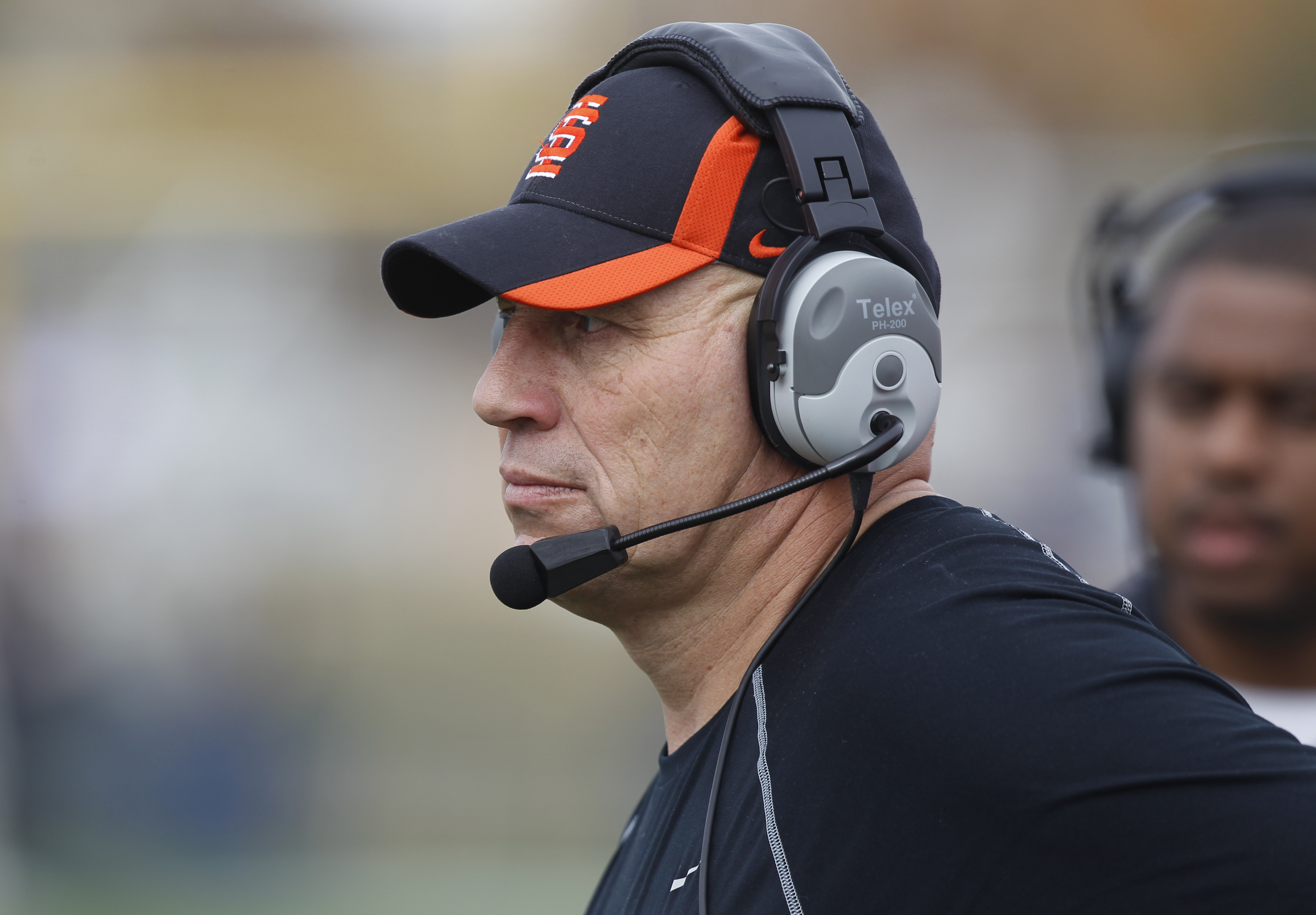 Kramer has had a lot of success in the Big Sky as a whole, but not much in Pocatello. From: Spokesman.com
Head coach
Mike Kramer
is taking the helm for his sixth season with the Bengals. Kramer, of course, was the man who dealt Dan Hawkins that infamous loss while the head coach at Montana State, and his MSU squads of the early 2000s were pretty darn good. Winners of three conference titles, they helped secure his status as a Big Sky coaching legend, a legacy that now includes four conference Coach of the Year awards. His time with the Bobcats, however, didn't end well. A string of arrests among his charges in Bozeman for involvement in a drug ring, including everything ranging from standard drug use to
fucking murder
, cast a pall over his leadership, and he was
ousted
in 2007 (a result he eventually
sued the school over
). His reappearance at Idaho State, then, can be seen as a career re-set, thanks to a struggling school willing to take a chance. While the Bengals have continued to under-perform during his tenure, 17-41 overall, they have been getting better, as evidenced by an 8-4 2014 campaign and improving APR scores. A step-back in 2015 aside (2-9), it's a program with growing potential in the rough and tumble Big Sky.
So far, the 2016 vintage of the team is off to a solid start, though it comes with a big caveat. Their opening win, of the
47-3 variety
, came over Division II Simon Fraser (interestingly, the first Canadian school to enter the NCAA), and is, decidedly, not impressive. If a Power 5 program playing down to FCS is a solid step down, the FCS drop-off to D-II is even steeper. Still, a win is a win, and the numbers (543 yards of offense, just 233 allowed) are not dissimilar from what the Buffs put up against
little brother
last weekend. Hooray for season-opening body-bag games! (Yes, I did just compare the Rams to a D-II school from Canada, what of it?)
The Bengals swarmed Simon Fraser in the opener. From: ISUVoice.com
The Bengals will leverage a familiar brand of shotgun spread on offense, a set-up Mike MacIntyre this week
compared
to Hawai'i's from last season. You know the deal: large number of plays, lots of receivers, onus on the QB to make quick decisions at the line and post-snap without making mistakes. They will strive for a 50-50 split in rushes to passes, but the air is where they will lean in a pinch; in fact, ISU was top-20 in the FCS last year in passing offense, and #1 in 2014. Starting QB
Tanner Gueller
, then, will have the weight of the offense on his shoulders. He'll have a lot of weapons at his disposal, too, as the Bengals had nine players record a catch and five different backs record a carry against Simon Fraser. Gueller will need to stay away from the fumble, however, as he had
three on strip-sacks
in Week 1.
Defensively, ISU has really struggled in recent years. Even their successful 2014 season saw them finish 110th among FCS schools in total defense. It wasn't any better last fall, as they averaged giving up 456 yards per contest. The real problem is on the ground, where rushing yards have been plentiful against them (nearly 270/game in '15). In that vein, while the performance against Simon Fraser was statistically cool (held SF to
minus
22 yards rushing), it doesn't dissuade me from the belief that they'll settle into similar numbers this season. Essentially, there should be no room for struggle from Colorado on Saturday. With a veteran QB and a number of explosive, P5 talents in the attack, CU should be able to put up nice numbers on the Bengals. Expect lots of yards on the ground, and big holes for the backs to run through.
Gueller is capable of putting up some nice numbers. From: ISUVoice.com
Long story short, while the head coach may be the same, and the scheme similar, the 2006 Montana State Bobcats they are not. While I think the Bengals are capable offensively, and could very well score more points against the Buffs than the Rams did, their deficiencies defensively set up nicely for CU to take advantage. More to the point, these are not the Buffaloes of '06, '08, or '12, either. Even after just one game, I think we can all tell that the Buffs are at least decent, so, staring the jinx right in the face, I will state,
definitively
, that I am not anticipating a fourth-straight Big Sky scare this weekend.
With that in mind, let's look at the lines:
My 2016 record: 1-0. Against the spread: 0-1. Optimistic/pessimistic: CU -32 pts/gm.
Line as of Wednesday @ 7pm - CU -40.5, O/U 56.5
Now, I rarely put money on FBS vs FCS games, and I usually shy away from
any
four-touchdown-plus spread. What I do like here, however, is the over. If ISU can get anything offensively, that 56.5 should be in danger. Jim Leavitt's defense is impressive, but I have suspicion that we'll see a lot of second and third stringers in the second half of this one. A pass-happy performance from ISU late could be enough to grab a few points, and get to the needed total... which will probably be the direction I go when it comes time to post.
To the larger point, CU should roll. Lots of offense early gets a lot of numbers added to the participation charts. By the end, everyone is looking ahead to Michigan and daring to dream.
CU 50 - ISU 17
GO BUFFS! PROVE ME RIGHT, AND BEAT THE BENGALS!