By now, we've all heard the news: Dom Collier has suffered
multiple breaks
in his foot, and will be out a month. I'm not entirely sure when the injury happened, but rumors had the Denver East product at reduced capacity as far back as opening night, and he was a no-show in the second half on Monday.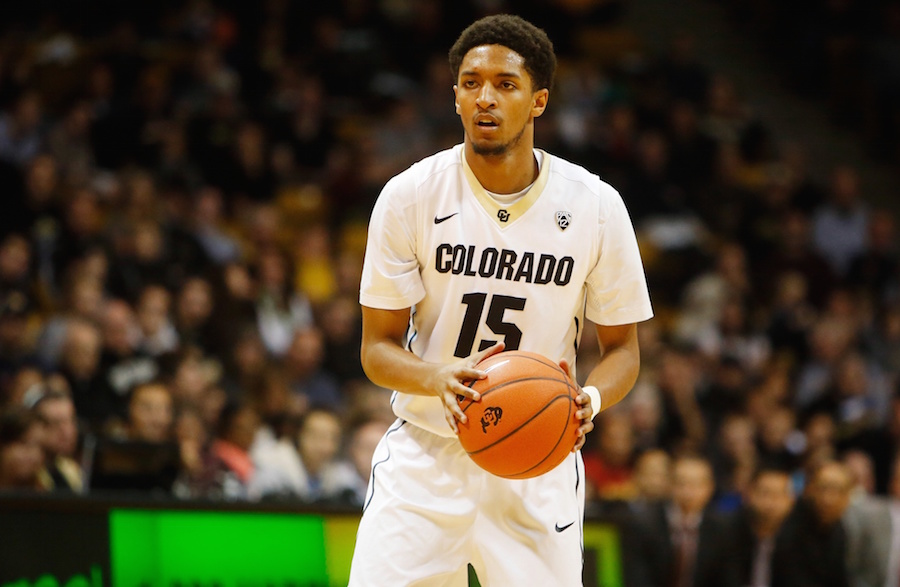 Buffs now need to make due without Collier. From: MileHighSports.com
This is a major blow to the depth in the backcourt rotation, as Collier was either a starting or 6th-man option at the top of the attack, depending on how you view things. While Derrick White has emerged to be the starting point guard in each of the team's first two games, Dom was no less essential to CU's plans, and his 20-ish minutes per night will be hard to replace.
The obvious answer is to give sophomore Thomas Akyazili more time, but Yaz still strikes me as a change of pace/spot player right now, rather than a full time minutes eater. His efficacy will be reduced the longer opposing teams get a look at him. Further, he's not nearly the shooter Collier is, and I don't know how many jump shots I really want to see him taking. That leaves Colorado looking to more from true freshmen Deleon Brown and Bryce Peters. Brown has been getting a surprising share of PT in the early going, about 12 minutes/game, so far, but we've yet to see Peters, who was suspended for the first two games of the season. Expect to see even more of Brown and the first spates of Peters' run Thursday evening, when the Louisiana-Monroe Warhawks come to Boulder.
Speaking of which, we've actually seen ULM in the CEC before, as they visited in late December of 2008. Jeff Bzdelik's young Buffaloes barely escaped with the win that night, scraping by with a
65-62
result. Some familiar names feature on that box score, including then-freshmen starters Nate Tomlinson and Austin Dufault; Austin even finished with 21 points, and Nate drained the clinching free throws. That's all ancient history, though, and the less said of that 2008-09 Colorado team, the better.
ULM was brushed aside by Texas on Monday. From: the Austin American-Statesman
The current version of Monroe is 1-1 on the year, including a loss to Texas Monday night as part of the Legends Classic. The Warhawks stuck with the Longhorns for much of the first half, even holding an early lead, but by halftime they were down nine, and the final stretch of the game was a horror show. Eventually, UT settled into a 21-point rout,
80-59
. A few things to note: ULM grabbed 17 offensive rebounds, only forced five turnovers, and shot just 8-34 from deep. If I'm willing to extrapolate from one game to the next, I'm keeping an eye on those three categories when they take on the Buffs.
The Warhawks are replacing four starters from last season, including all-conference performer Majok Deng. It's a tough challenge for head coach
Keith Richard
(unconfirmed: he may also serve as the lead guitarist for the Rolling Stones), who is looking to maintain the momentum that had them winning 20 games and finishing 2nd in the Sun Belt a year ago. The key to the retention project will be senior point guard
Nick Coppola
, who went for 8/1/5 against the 'Horns on Monday. He's their best shooter, passer, and leader, and the entirety of what they do on the court is keyed by his presence. If the Buffs want to prosper Thursday, they should start at the top, and look to keep Coppola from creating.
Coppola is a really nice small division talent. From: USA Today
Elsewhere, I like the look of sophomore
Travis Munnings
, a 6-6 swing forward from the Bahamas. He's a free shooter and a versatile rebounder on both ends. He'll pair up front with another flexing international wing,
Sam McDaniel
from Australia, who also won't shy away from shooting situations. ULM's best pure scoring threat, however, might be junior '2'
Marvin Jean-Pierre
from Florida. He came off the bench against Texas, but lead the team with 13 points. Took him as many shots to get there, though...
Long story short, even with Collier out and the inconsistency on offense in the back of my mind, I'd be hard pressed to build a case for anything other than a Colorado win in this one. Maybe some more uncomfortable moments, as the team continues to feel for their sea legs, but a 3-0 start to the season is in the cards.
--
Tip-off from the CEC is set for 7pm Thursday night. You know it's basketball season when some *gasp* snow is in the
forecast
. The winter weather is no excuse, however, so get to the gym to catch the Buffs one last time before they head to Brooklyn. Coverage for those unable to attend will be on Pac-12 Networks, with the radio call on 760 AM.
GO BUFFS! PROVE ME RIGHT, AND BEAT THE WARHAWKS!