Well, this is now officially serious. With the release of the first round of rankings by the College Football Playoff Selection Committee, we come to find out that Colorado is 15th in the only poll that counts. 15th. In the country. Teams have made the Playoff from similar positions in each of the last two years -- OU was 15th last fall when the first rankings were cut, Ohio State (the eventual national champion) was 16th the year prior. With that in mind, it is not out of the
realm of possibility that
, with five wins to finish the year, the Buffs could wind their way to 4th overall. I've seen weirder shit happen before, believe me.
Hold my beer... watch this...
But that's just just the stuff of dreams, for now. Reality is the UCLA Bruins, who come to town for a marquee Thursday night affair to kick the month of November off. No time for a letup now, this is a game the Buffs
better win
.
--
Hype Music for the Week: "Tired Bones" by the Mad Caddies
Yooooooo, is this some hot fire. From the SoCal ska punk specialists, 'Tired Bones' is one of my favorite songs. Fast, loud, and with a trombonist that delightfully sounds like he's strangling a cat, I can't help but wonder why this has never made its way to a basketball band track... but I digress. Enjoy!
--
Kick-off from a
Blacked Out
Folsom Field is set for 7pm
this
evening. I hope you remembered to take tomorrow off from work, 'cause it's going to get weird tonight. No worries on the weather front: clear and cool, but otherwise perfectly fine for the first week of November. For those too soft to head up to Boulder, coverage can be found on Fox Sports 1, with the radio call on 850 KOA.
Click below for the teaser...
As bad as things had been for Colorado in the Pac-12 era prior to this season, the one 'good' team they could always seem to hang with, if never beat, was UCLA. After a first year ass-whupping (45-6), the Buffs have routinely gotten closer and closer to their divisional rival. In 2012 it was 42-14, the year after 45-23; getting warmer. Then, a near-breakthrough 40-37 loss in double overtime on 2014's homecoming weekend. CU had caught the well-regarded Bruins napping, and almost clipped them. Finally, last year, in a game they dominated in almost every measurable way, including a 41-19 advantage in time of possession, Colorado dropped a 35-31 decision in regulation. The realities of the losses aside, you can't help but notice the upward trend, and the aesthetic feel of a series that the Buffs have had the better of in recent seasons. And that's all with Sefo Liufau playing
under his capabilities
, and before #TheRise was fully fleshed out. Now, with the Buffs 'for real,' they have to be in a position to finally get over the hump against the Bruins, right?
CU has been close to UCLA in recent years. From: the BDC.
Things certainly seem to be trending in that direction. While Colorado has been rolling against all but the best on their schedule, UCLA has been riding the struggle bus. After a 2-1 start in no-conference play, including an
OT loss at Texas A&M
, they've completely fallen apart against Pac-12 opponents. Ugly losses to the imploding forms of
Stanford
and
Arizona State
bookend a home win over garbage
Arizona
, before more respectable defeats at
Washington St
and against
Utah
. Now sitting at 1-4 in league play, 3-5 overall, the Bruins seem to be rolling to a bowl-less season. It's not a good look, not helped at all by their often
cavalier
attitude towards sportsmanship.
Through it all, though, they've at least been close, with their five losses decided by an average of just 6.4 points. While the record may scream
dumpster-fire
, they aren't nearly as far off as that stark metric would indicate. A few bounces here or there, and they're over .500, possibly pushing USC and Utah behind the Buffs. That's why the
probable loss
of star quarterback Josh Rosen (a pre-season Heisman dark horse) for the remainder of the season is such a crippling blow. In a year of near misses in Westwood, to have that talent on the sideline the rest of the way only amplifies the grit it has taken to keep the team within a shout of victory the last few weeks.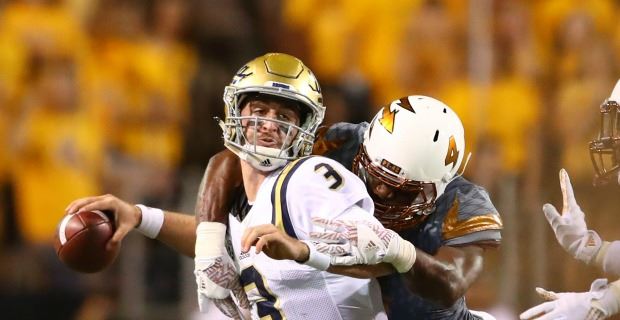 With Rosen knocked out, the Bruins are behind the eight ball to make a bowl. From 247Sports
With Rosen out, head coach
Jim Mora
has turned to 5th-year senior Mike Fafaul (who I will struggle not to call 'falafel' this evening) under center. So far, at least, he's been picking up the slack, throwing for 722 yards and eight touchdowns in his two starts after the Rosen injury. His last effort, against Utah, was a monster, throwing 70 times (a school record) for 464 yards and four scores in carving through the Ute defense. In all, the Bruin passing attack is 11th nationally with over 336 yards per game. While productive, however, it hasn't been all roses. Fafaul has also been throwing picks, eight in all since taking over mid-way through the Arizona State game, so he's not a perfect replacement. Behind those numbers, UCLA has slipped to 108th nationally in turnover margin, something that the Buffs would be wise to note. Suffice it to say, though, the Bruins will not shy away of chucking it downfield with the backup in, so the Colorado defensive backfield better be ready to put in work tonight.
Fafaul's imperative to step in and put up huge passing numbers is rooted in the absolutely anemic UCLA run game. Of the 128 FBS programs this country has to offer, they're
dead last
in rushing, notching just over 85 yards per game. In conference play, it has only gotten worse, as the team has slipped under 60 yards per game against Pac-12 opponents. That is a train wreck of a stat. Hell, against ASU, after sacks were factored in, UCLA's total rushing yardage was
negative
one. Yo. It's to the point that they've stopped calling for runs
altogether
; against Utah, they passed on all but 16 of their 87 offensive snaps. The issue isn't talent - starter
Bolu Olorunfunmi
and backup
Soso Jamabo
are legit players - it's more-or-less scheme and coaching. No team wants to be that unbalanced in their offense, though, so look for them to at least
try
to get something going on the ground this evening. Still, I'd be shocked if they could improve too much on their 2.8 yards per carry against the CU front-seven.
Olorunfunmi and UCLA really struggle to run the ball. From: Scout
Defensively, they're one of the most efficient units against the pass in the country. Top-10 nationally in efficiency rating, they really thrive in situations where the opponent is caught up in trying to keep pace with their pass-happy offense. Guys like safety
Jaleel Wadood
,
Randall Goforth
, and
Fabian Moreau
help
hold
opponents to league-low in passing completion percentage allowed. Hence, probably the biggest concern I have going into the evening is not whether or not Sefo and the Buffs can make passing headway against these guys. If Phil Lindsay can get his numbers on the ground, though, it probably won't make much of a difference.
So, with all that in mind, let's look at the lines...
My 2016 record: 6-2. Against the spread: 4-3. Optimistic/pessimistic: CU -2.8 pts/gm.
Line as of Tuesday @ 8pm - CU -12, O/U 57.5
Colorado continues to dominate the spread, a perfect 8-0 on the year. As I said before the Stanford game, I'm done betting against them, so I don't bat an eye at any numbers Vegas wants to throw out there. It opened -9 for CU, before ballooning northwards once word of Rosen's shutdown leaked. Still, I like the Buffs to cover, once again, even at this inflated price.
The Bruins can't run the ball, and, as CU defensive lineman Jordan Carrell
said
this week, if all they can do is pass, into that fearsome Buffaloes defensive backfield, then they don't have a chance. My first instinct is to say something similar to the ASU result, but I'll give the good pass defense of the Bruins a little credence. Not that much, mind you. Buffs win walking away.
CU 31 - UCLA 17
GO BUFFS! PROVE ME RIGHT, AND BEAT THE BRUINS!