This weekend CU will rightly honor the 2001 Big XII Championship squad. I talked about 62-36
last season
, but this gives me the opportunity to discuss the season as a whole.
The champs are coming back to Boulder. From: CUBuffs.com
I can't help but note the timing, on the day of CU's first "unofficial" game in the Pac-12, Colorado will honor a championship team from the conference it just left behind in a trail of dollar bills. It is what it is, and I'm more than happy to take a look back at this storied team.
I experienced the 2001 Big XII title run from my home in Chicago. As a high school senior, I was finalizing my college decision as CU began to roll through the league. I saw all the fun to be had in Boulder, and decided in late-October that I wanted to be a part of it (that, and I got my rejection letter from Michigan).
Looking back I can't help but feel a little jealous, a little cheated that I wasn't apart of the greatest Buffs season in recent memory. Born one year too late, I'll just have to live with memories created from afar of Chris Brown, Danny Graham, a dominating O-Line, and a battle tested defense.
Click below...
The season started on shaky ground with a shocking home loss at the hands of the David Carr led Fresno State Bulldogs. While it would eventually came to light that this Bulldog team was no pushover, as they would go on to sweep their non-conference schedule, the feeling couldn't have been good in Boulder as the team was trying to rebound after a disappointing 3-8 season in 2000.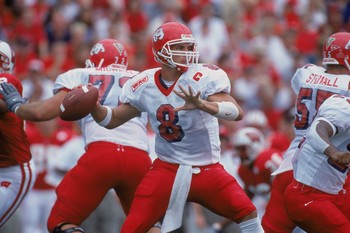 Carr had a magical year in 2001... and a shaky NFL career after.
The Buffs found their footing after the Bulldog embarrassment, reeling off 5 consecutive victories, and vaulting into the top-15, before a late October trip to Austin. With the band in tow, and in front of an attentive national audience, CU proceeded to give the ball up 4 times and fall flat on their face when faced with the daunting Texas home advantage.
Not to be discouraged, the 2001 Buffs dusted themselves off, refocused on the prize, and proceeded to reel off 3 consecutive victories to put themselves back in the top-15 and in a position to take the Big XII north for the first time ever, if only they could beat the vaunted, and hated, #2 Nebraska Cornhuskers. Nebraska had all the makings of a juggernaught that season. They had the consensus front-runner for the Heisman in the form of Eric Crouch, a typically dominating defense, and a penchant for trick-play bullshit that would put games away. Even though the game was played in Boulder, not many outside of Buff nation gave the Buffs much of a shot...
Of course we all remember the outcome of that game:
(Lowly dog, bow your head! I'm about to talk in reverence about the holiest of triumphs!)
Not only was 62-36 arguably the 2nd greatest victory in CU history (behind only the '91 Orange Bowl), it was so momentous that years after the fact you only have to mention the score, and any real Buff fan will instantly know to what you refer. It's not so much a score as a password (in fact, rumor has it, that it was a key-pad password in Dal Ward for a few years).
I wasn't even a CU student at the time, and this still reverberates with me. I only got to watch this game on my small-ass TV, yet I still remember each of Chris Brown's 6 touchdowns as if they happened in front of me. This one game dismantled the once proud Husker program to the point that it took them nearly a decade to recover. Very few programs can boast of a win that caused an 8 year rebuilding project. (Yes, yes, Montana State. Fuck you very much)
Not to be satisfied with the utter destruction of their hated rival, CU ventured back into Texas to seek the schools first league title since Coach Mac prowled the sidelines. Faced with a heavily partisan Texas Stadium crowd in Dallas, CU came out and took advantage of three Chris Simms interceptions to shock the over-confident Longhorns. When it was over, the scoreboard read 39-37 CU, and nearly 60,000 UT fans watched in stunned silence as CU raced off with the title and the trophy.
--
Here's where the fun begins. Despite having dismantled Nebraska and beaten #3 Texas in what was essentially a UT home game for the title, CU was denied entrance into the national title game against Miami by a measly .05 BCS points. Instead the Huskers, who couldn't even manage to win their division, let alone their conference, was awarded the rights to play the all-but-unbeatable Miami Hurricanes.
Victorious in the Big XII, yet denied a spot in the national title game.
As a semi-impartial observer at the time, I was more receptive to the claims of Joey "Heisman" Harrington and the Oregon Ducks, whose 1-loss record I perceived to be better than CU's 2-loss record. However, I certainly thought Nebraska had no reason even being in the conversation. That the Huskers were allowed into the Rose Bowl was a crime against football. That the undeserving Eric Crouch would claim the Heisman Trophy is even more of an injustice. Never has a paper lion been so exposed as the '01 Huskers were, yet they still reaped the benefits of their unsupported "greatness." To this day I feel a National Championship contender out to at least win their damn division.
Honestly, it didn't really matter who played Miami, as they were going to whup whoever stepped onto that field, but Nebraska certainly got their ass handed to them in their 37-14 loss in the 2002 Rose Bowl. For their part, CU also got shellacked in their bowl game, falling to those same Oregon Ducks 38-16 in the '02 Fiesta Bowl. Disappointed, but not broken, CU headed into a promising offseason with a thoroughly earned top-5 national ranking.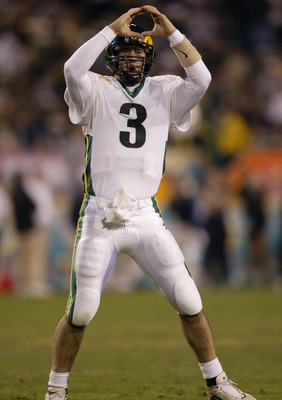 Yet another quality collegiate QB with a terrible NFL record who took CU apart in 2001. Joey "Heisman" was the real deal in '01.
--
Overall, the '01 Buffs boasted some of the most glamorous Buff names in recent memory. Highlighted by Mackey Award winner Danny Graham, Chris Brown, and Andre Gurode the roster also includes the likes of Justin Bannan, Tyler Brayton, Brandon Drumm, Marwan Hage, Cortlen Johnson, Michael Lewis, Wayne Lucier, Vaka Manupuna ("that's a lot of pineapple"), Ray Guy Award winner Mark Mariscal, Clint O'Neal, Bobby Pesavento, Bobby Purify, Donald Strickland, Jayshon Sykes, Quinn Sypniewski, Sean Tufts, and Sam Wilder. Many would go on to play, and even star, in the NFL. This squad was loaded, and it showed on the field. Oh, that O-line....
The group fought through adversity, and never gave up. Painful losses that would have doomed other teams were mere bumps in the road. If there is any one lesson to take from the '01 Buffs, it's that adversity won't keep talent down. If a team is destined for greatness, then they'll find a way. They are rightly remembered as one of the greatest Buff teams ever, and deserve every second of recognition they receive Saturday.
It's also heartwarming to see Coach Gary Barnett included in the festivities. Coach Barnett got a raw deal from much of Buff Nation (myself included) in the weeks leading up to his dismissal in 2005. He had always been a true Buff, loyal to the program, and integral to almost all of the success from the previous 3 decades. Looking back on it, I got caught up in the pain of 100-6 in back-to-back weeks. Hindsight is 20/20, but I wish more time was used to consider his situation, especially considering the extension he almost signed not weeks before the '05 season collapsed. Of everyone due to be on that field Saturday afternoon, Coach Barnett is most deserving of the inevitable cheers, and I'm glad that he is finally welcomed back "home" to Folsom Field.
Go Buffs!