Ah, what a busy weekend! I got some sun, ran a bunch of errands, and saw My Bulls lose any shot at a title... all within a few hours. How fantastic!
Today in the bag I'll be talking up the Buffs headed to the NFL, mourning the loss of the Bulls playoff hopes, and taking a quick swing around the world of baseball.
Click below for the bag...
Buffs going pro -
I breathed a sigh of relief Saturday when Ryan Miller was taken by the
Cleveland Browns
with the 160th pick of the NFL Draft. Of course, most analysts believed it a foregone conclusion that Miller would be taken
at some point
, but I'm always paranoid that something crazy will happen, and that draft-able Buffs will slip by unnoticed. In the end, the big man was taken about when he was projected to be (5th round), and has a decent shot at earning early playing time.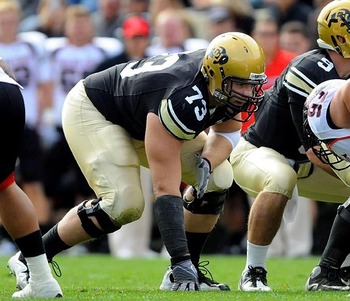 Big Ryan is headed to Cleveland!
As a draft day bonus, Buff Nation also got to see Toney Clemons' name crawl across the bottom of draft coverage, as the wideout was selected by the
Pittsburgh Steelers
in the 7th round. The Pennsylvania native was a Steelers fan growing up, so I'm sure he is especially overjoyed to get a shot at making his hometown team's roster. Congrats to both Ryan and Toney for earning their draft day moment in the sun.
The Great Lakes region was very kind to the Buffs over the weekend.
After the draft, the free agent process yielded further results, as three Buffs received calls from NFL teams. Both Tyler Hansen and Speedy Stewart are
headed to Cincinnati
to join the Bengals. For Hansen, there was momentary
confusion
, as he had originally announced his intention to sign with the Oakland Raiders. A few hectic minutes later he had realized his mistake, and signed with the Bengals just before Speedy did the same. For Speedy, I think this is a great destination. Not only is he headed back to his native state of Ohio, but, after breaking many of Coach Eric Bieniemy's records while at CU, he's following in his footsteps by becoming a Bengal.
Defensive lineman Conrad Obi also received an NFL call, inking with the Arizona Cardinals. All told, five Buffs entered the professional ranks over the weekend. While not all five will make it onto opening day rosters, it's still good to see these kids get a shot to further their football careers. Congrats to all!
Derrick Rose tears his ACL -
Non-contact injuries have smashed plenty of championship hopes throughout the years. It was the Bulls turn to suffer the fate Saturday afternoon, as superstar point guard Derrick Rose came down awkwardly on a jump stop, and fell to the floor in obvious pain. The once raucous United Center crowd was immediately silenced as the oft-injured leader was attended to. Hours later, the worst fears of Bulls fans everywhere were confirmed when it was announced that Rose had
torn the ACL in his left knee
.
*stream of explicatives*
The injury, of course, ends his playoff run, and with it any hope of a Chicago championship this summer.
This is just the latest in a string of injuries for Rose that have left the one-time MVP spending far too much time with the training staff. From groin issues to back spasms, Rose had dealt with more than his fair share of injury woes, and had missed 27 games on the shortened season.
The ACL tear occurred with just over a minute to go in the Bulls game one blowout win over the Philadelphia 76ers. With the Bulls up big, and seemingly coasting to victory since mid-way through the 3rd quarter, I initially questioned why Rose was even on the court for the fateful play. After consideration, however, I understand the reasoning. After missing all that time this season, it was important to give the 3-time All-Star some late game run, so that he could work his way back into peak performance mode.
Still, it's beyond frustrating to see the phenom break down like this in only his 23rd year on the planet. Considering how Derrick's season had progressed, however, I can't help but feel that this type of ending was inevitable.
Notes from the Nation of Baseball -
Nationals at Dodgers -
The big story from this series was the major league debut of Nationals outfielder Bryce Harper. The 19-year old
wunderkind
hit the big leagues in style, showing off his bat, speed, and arm in the Nationals extra innings loss to the Dodgers Saturday night. In a small sample size, I can confirm that he looks like a ball player, but baseball is a fickle bitch, and it'll take some time before we can really know if he's ready for the show or not.
Angels at Indians
-
If you haven't noticed, Albert Pujols is struggling in his new home. The longtime Cardinal left St Louis for the more profitable environs of Los Angeles this past off-season, yet, apparently, forgot to pack his bat for the move. All told, he's hitting a miserable .216/.266/.295 through the early portion of 2012, and has yet to hit a home run. Coincidentally, the rest of the Angels are struggling, and the team sits nine games back in the AL West basement. I'm sure it's a matter of comfort, both with a new city and a new league, but it weird to see a player known as "the Machine" for his epic consistency struggle so mightily.
Happy Monday!