It was over a month ago that the college basketball season ended, but the hardwood is still getting trampled thanks to the NBA playoffs. I've never been a huge NBA fan, but the postseason always comes at just the right time for yours truly. I can't get enough, and the whole process convinces me that
next year
I should dive headlong into the NBA's regular season. Never do, though, 'cause regular season NBA basketball is boring shit.
Today in the bag, I'm talking NBA Playoffs, Floyd Mayweather and his bankroll, and open run at the CEC.
Click below for the bag...
Around the world of the NBA Playoffs -
As the NBA enters the quarterfinals, it's time to check in with the proceedings.
Miami vs Chicago -
Battered, bruised, and broken, My Bulls
squeaked past
an underperforming Brooklyn Nets squad in game 7 of their first round series, mostly through sheer effort and will.
No Derrick Rose? Luol Deng
out
after getting a spinal tap test for meningitis? Kirk Heinrich
missing
with a bruised calf? Nate Robinson
fighting
off the flu with the help of a bucket? No worries, because badass Joakim Noah, who is himself dealing with
plantar fasciitis
, was ready and willing to fight through the pain to drop a dominating 24/14/6 (after
guaranteeing victory
, no less).
Jo was not about to be denied. From: USA Today.
Jo's reward for all that effort and hustle? A second round matchup with the overpowering Miami Heat. You can go ahead and consider the season over right now.
It's a shame that there's no light at the end of the tunnel for Noah and the all-heart Bulls. It's also a shame that Rose doesn't feel the same fire to win in spite of injury that his teammates do. Regardless, they'll have to hope to avoid a sweep at the hands of the defending champs.
Oklahoma City vs Memphis -
Game 1 of this series is in the books as a huge
93-91 Thunder victory
, thanks to the late game heroics of Kevin Durant.
Down one with just under 20 seconds to play after a costly Memphis turnover, Durant brought the ball up the court. His body language screamed "I'm taking this shot RIGHT NOW" but no one on the Grizzlies thought about stopping ball, double-teaming, or even getting a hand in his face. The resulting 18-footer (good, of course), gave the Thunder a lead they would not relinquish.
Durant finished with 35/15/6. It was the kind of performance that Batman needs to have when Robin is
sidelined with a meniscus tear
.
Even without Westbrook, I still like the Thunder to find their way into the Western Finals. Durant is just good like that.
New York vs Indiana -
Apparently, the Pacers beat the Atlanta Hawks in the series-that-no-one-watched. I don't blame ESPN and TNT for ignoring this team, as I certainly couldn't care less.
I can't watch the Pacers play without falling asleep.
Regardless, they're up 1-0 on New York after last night's
102-95 win
. Damn, I wish the Bulls got to play the Knicks.
San Antonio vs Golden State -
This series boils down to "how hot can Steph Curry get?" If the Warriors are going to have a hope of beating the rested Spurs, he'll have to be even better than he was against the poor Nuggets.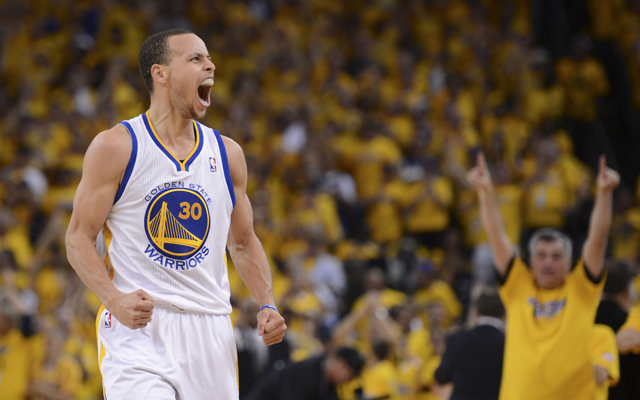 So he's Reggie Miller, but can create off the dribble... that's just unfair.
Unfortunately for Golden State and their awesome fans, I don't think it'll take until game 5 for Greg Popovich and the Spurs to decide to body-up the Davidson product. Once that happens, it'll be a cake-walk for San Antonio.
'Money' gets his money -
In another ho-hum Mayweather fight, he out-boxed his out-classed opponent, easily
earning
a unanimous
117-111 decision
. Like there was ever a doubt; 44-0 for the pound-for-pound champ.
I've already forgotten the other guy. From: the NYTimes
While it's always entertaining to watch the best in the world do what they do, it's frustrating to watch Mayweather dodge punches from fighters who don't have a hope in hell of catching him. What makes fights like the
Alvarado/Rios brawl
so entertaining is that both fighters have to push themselves. I don't think Floyd has been truly challenged since he fought De La Hoya in '07. It's too easy for him, and it hurts the product.
Not that he would care, as the whole process continues to be hyper-lucrative. For his trouble, 'Money' Mayweather
cashed in
for a total of $32 million after the win, tying his own single-fight purse record set last year. He continues to be the highest-paid athlete in the world.
All that cash for a fighter who ducked his only competition, wins fights easily, and doesn't knock people on their ass. Boxing is weird.
Spencer throwing down at the CEC -
Early Friday, a few of the Buffs announced that they'd be holding '
open run
' on the practice courts at the CEC. Because I have a day job, I wasn't able to pop my head in, but
Ryan Koenigsberg
, newly of BuffStampede.com, made an appearance. I'll leave you this Monday with his video of the action, including a wicked
Spencer Dinwiddie
Chris Jenkins dunk.
Happy Monday!