I hope everyone enjoyed their Memorial Day weekend. I was stuck in bed with the flu, which rendered any thoughts of grilled meat, beer, and friends moot. There's nothing more frustrating than having a 5-day holiday weekend spoiled by a 103 degree fever. Oh well, I'll just have to get after the 4th doubly hard to make up for it.
Today in the bag, I'm talking yet another scheduling coup, Dwyane Wade continuing to debase himself, and DU falling in the lacrosse Final Four.
Click below for the bag...
Bring on Baylor -
The big news from the holiday weekend was Coach Boyle continuing to make a mockery of those in BuffNation (
including myself
) who jumped the gun in fretting over the non-conference schedule.
Jason King of ESPN
reported
on Saturday that CU will play Baylor as the marquee finale of an eight team season tip-off event in Dallas on November 8th. This is not the rumored neutral site bombshell that I
alluded to last week
, but I couldn't be happier with the move. It's another scheduling master-stroke that not only keeps the non-con strength of schedule inflated, but rewards the fans with a nationally televised rivalry blood-match with the hated Bears.
Despite leaving the Big XII, CU has seen Baylor in each of the past two seasons.
The underlying theme here is that Coach Boyle has been dominating recent headlines, dropping a seemingly endless series of
coaching tweaks
,
recruiting
coups
, and
scheduling
bombs
as he goes. It has become the Summer of Tad Boyle, with the basketball wizard overshadowing whatever it is that the football program is doing. Until Coach MacIntyre defines himself on Folsom's sea of green, Tad will continue to be the face of CU Athletics in a way that no basketball coach has ever been able to claim in this town. The golden age of CU basketball continues, unabated.
With Baylor now included on the schedule, CU has 10 of 13 possible non-conference slots filled, of which seven are against RPI-150 opponents (Kansas, Oklahoma St, Baylor, CSU, Air Force, Wyoming, Harvard). If a post on
this website
claiming to be from assistant coach Rodney Billups is to be believed, the team is looking to fill the remaining three with guaranteed (cash-money, one-off) games. After three consecutive weeks of scheduling triumphs, I no longer fear these types of games, and would welcome some schedule filler, even if it leaves the true 'home' portion of the schedule - beyond the KU game - a little light.
Face it, Dwyane Wade is dirty
-
I stopped really following the NBA playoffs a few weeks ago when it became obvious what the result was going to be. With San Antonio clearly out-classing the over-matched Memphis Grizzlies, and LeBron doing his LeBron thing to the point that no one can guard him, the Finals are already set, pending the Heat making things official this week.
One thing I have been following is Dwyane Wade's continuing debasement of himself on the court. Wade has become one of, if not
the
, dirtiest players in the NBA today. He blatantly flops, throws cheap shots, and ceaselessly complains when he doesn't get the call. Even Italian soccer players exude more shame and sportsmanship than the two-time NBA champion does these days.
Case-in-point, Wade threw a
WWE-style elbow
to the temple of Indiana's Lance Stephenson in Game 2 of the Eastern Conference Finals...
... only to follow it up with a vintage Wade flop in Game 3.
Both TNT and the NBA have had Wade's back, with TNT's announcing crew laughing off these incidents, and the NBA refusing to punish, but I've had enough. I hate to rag on a fellow
son of Chicago,
but these aren't exactly
isolated
incidents at this point, with Wade having repeatedly run afoul of professional ethics in recent years. It's time to face facts: Wade is a dirty player. Maybe not a 'cheat,'
per se
, but a star who no longer deserves the benefit of the doubt from the adoring public.
Denver loses in lacrosse Final Four
-
With CU looking to get into the lacrosse game in future years, I've been trying to familiarize myself with the sport. That's how I found myself watching DU's appearance in the lacrosse Final Four against overall #1 Syracuse.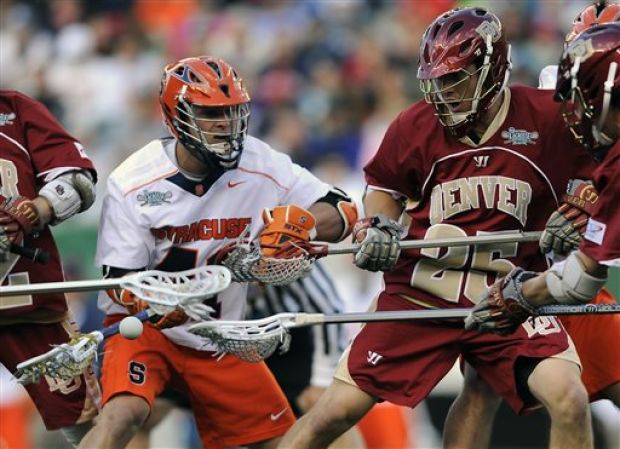 I have no idea what's going on in this picture.
I don't know if it was my unfamiliarity with the sport or my fever, but I had no idea what the hell was going on. What's more, I was bored senseless. Lacrosse? You can have it, Denver.
As for the game, it what was a close finish, but Syracuse scored three goals in the final minutes to
steal
the
9-8 win
over the upset minded Pioneers. Cool story, brah.
Happy MondayTuesday
!