After a solid win over substandard FCS squad Charleston Southern last weekend, the Buffs enter the final weekend of October at a very satisfying 3-3. To be .500 this late in the season has been unheard of in recent years; in fact you have to go all the way back to 2008 to find a season where the Buffs could claim an even record on October 26th or later.
Dilly bars
all around.
Of course, it's a soft .500. The Buffs have beaten two lower division teams and a below average CSU squad, while being blown out by all three Pac-12 teams they've played. But that's actually an improvement! Under the previous regime, even beating the soft underbelly of the schedule was a struggle. Now with some wins in the back pocket, CU just needs to prove that they can beat a team that can fight back. Picking on someone their own size, so to speak.
This week offers one of the few reasonable opportunities to do just that. Arizona, while featuring some national-caliber talent, is not nearly as strong as, say, Oregon St, Oregon, and Arizona St. What's more, Colorado has looked capable against the Wildcats the last two seasons, including last year's competitive effort in Tucson. How many other 2012 games could you say the Buffs looked competitive in? Two? Three? In that light alone, Arizona offers a winnable opportunity - the gap between them and CU is thinner than in most other intra-conference matchups. Add in the leverage of a homecoming crowd under the lights of a night kickoff, and this weekend's game is a
very
seductive pickup opportunitiy.
If there is any hope - faint and fantastic as it was to begin with - that CU can still become bowl eligible, it is centered on a win in this game. It's up to the Buffs to keep that hope alive with a strong performance Saturday night.
--
It's Homecoming Week! Welcome back to all the wayward alums who are returning to their old haunting grounds. Kickoff from
BLACKED OUT
Folsom Field is set for 5:30 PM MT on Saturday. Coverage is back on Pac-12 Networks, with the radio broadcast, as ever, to be found on 850 KOA.
Click below for the preview...
When last we met -
Last season's preview can be found here.
By the time CU and Arizona met on the field last season, the Buffs were well into a fatal tailspin. Over the previous five weeks, Colorado had been blitzed by a combined total score of 261-51, all the while looking like a JV squad being thrown up against the varsity. The run was capped by a particularly humiliating
48-0
loss to Stanford in Folsom Field, the score endemic of the struggles on both sides of the ball. With losses like that the norm, it was hard to believe the Buffs could compete the following week in Tucson.
But, compete they did... at least with the ball in their hands. After weeks of ineptitude and turmoil, CU finally found the gas pedal on offense, rediscovering concepts like 'points' and 'leads' along the way. They wowed by putting up 437 yards of offense (5.8 yards per play), and found the endzone four times. Behind a workhorse effort from freshman running back Christian Powell (32 carries for 139 yards and two touchdowns), the 'O' did a solid job moving the chains (24 first downs) and keeping the ball (41:48 to 18:12 advantage in time of possession). If you squinted and cocked your head to the side, it almost looked like a real football team.
Powell bruised the Wildcats in 2012.
Then... *sigh*... the Wildcats got the ball. Lead by the record-setting performance of running back Ka'Deem Carey, Arizona barely had to break a sweat to crack the CU 'D.' Carey rushed for a Pac-12 record 366 yards on
only
25 carries, scoring five times along the way. Overall, the Wildcats scorched the earth to the tune of
11 fucking yards per play
, putting everyone on the CU defense to shame. Not even Fresno St could match that per-play output in their
famous rout
from earlier that season.
Said
linebacker Brady Daigh: "We didn't play assignment-sound football. People didn't do their job. People tried to start making plays for other people and that opens up big gaps." I'll say.
Feel free to tackle him... anytime now. From: the Tucson Citizen.
Despite two first quarter leads and one of the few bright days the offense would have all season, the unconventional 'sieve' defense the Buffs went with that day allowed Arizona to put up more points than CU could hope to match. The
56-31
final was an improvement over previous weeks, but a familiar result, nonetheless.
The Wildcats in 2013 -
Much like CU, the Wildcats had raced through non-conference play against suspect competition, only to run into difficulties once Pac-12 teams started popping up on the schedule. Road losses to
Washington
and
USC
covered up the veneer of shoulder-shrug blowout wins over
Northern Arizona
,
UNLV
, and
UTSA
.
Unlike
the Buffs, however, Arizona found a signature win to stem the tide of losses
last week against Utah
. The Utes, coming in off of their own signature win over Stanford, fell victim to the Ka'Deem Carey's tidal wave, as the Wildcat rusher sped for 236 yards, including his game-clinching 44-yard touchdown run with 90 seconds to go. It's in the shadow of that victory that the 'Cats head to Boulder this Saturday, desperately looking to avoid a
letdown
.
Who else but Carey?
It's no surprise that Carey
carried
(*ahem*) them to victory last week, as he forms the backbone of one of the strongest rushing attacks in the country. Their read-option has chewed up 1,611 yards in only six games on an average of 5.5 per carry. That's good for second in the conference only because Oregon is, well, Oregon. In wins this year, their averages go up to 329 yards per game, and 6.3 per attempt. In order to win against 'Zona, you at the very least have to
contain
their ground game, if not throw it into neutral entirely. Good luck with that.
One of the deficiencies that plagued the 'Cats last season was a shaky pass defense. That is no longer an issue, as Arizona boasts the 14th best pass efficiency defense in the nation, buoyed by a ball hawking secondary that has bagged four pick-sixes on the season. Should CU fall behind early, look out for the playmakers in the defensive backfield. It's a group that will push CU's true freshman quarterback, Sefo Liufau, in his first Pac-12 start.
Star Players -
If you haven't guessed yet, the big star for Arizona is
Ka'Deem Carey
. The 5-10 Tucson local from Canyon del Oro High School leads the nation with 160 rushing yards per game. While he has only found the endzone six times on the year (a wide margin off his pace of 23 from a season ago), he is 'Zona's primary method of moving the ball from point 'A' to point 'B.'
The dude is superman, essentially.
The true junior is my personal frontrunner for the Doak Walker award, and a home run threat each time he touches the ball. Oh, and he's coming in on a hot streak, having been named the Pac-12's
offensive player of the week
for his game winning antics against Utah. Coach MacIntyre
called him
"the best I've seen in a long, long time," and with good reason.
Should the Wildcats want to go to the air, they'll do it through the arm of
BJ Denker
. The 6-3 senior has had an inconsistent campaign so far, only throwing for 162 yards per game on a 55% completion rate. He seems to be
coming into his own
, however, after a 363 yard, four touchdown performance against USC earlier this month. Really, though, he's not asked to do a whole lot other than read the defensive end on the read-option, and has more rushing touchdowns on the season (eight) than does Carey.
Denker is more of a runner than a thrower.
One reason for Denker's inconsistency and the heavy reliance on the running game could be that the receiving corps is still
a year or two away from developing
. Only 10 of their shockingly low total of 68 catches to date isn't scheduled to return next season. It's no wonder then that they'd rather keep the ball on the ground than risk throwing to true freshman receivers like
Samajie Grant
and
Nate Phillips
who are still learning on the fly. These guys are a long way from the days of Juron Criner and Austin Hill.
Much like on offense, Arizona's defensive strength lies in the backfield. Out on the edge, the staunch 'Cats passing defense is anchored by a familiar name in the form of senior cornerback
Shaquille Richardson
. P-Rich's
cousin
has two picks this year, and the pair could find themselves lined up opposite each other on key downs. The other primary corner, junior
Jonathan McKnight
, is no slouch, and already has five pass breakups on the season.
The Family Richardson is never at a loss for talent.
After a strong start that saw him grab three interceptions right out of the gate, starting safety
Tra'Mayne Bondurant
has
struggled
in conference play. He suffered a
concussion scare
last week, leaving his status for Saturday in doubt. The Wildcats need him to play well, as fellow safety
Jared Tevis
is also listed as doubtful this week.
Arizona's leading tackler is freshman linebacker
Scooby Wright
. The two-star recruit has already put up 40 tackles, four for loss, through the first six games of his still developing career, giving many
high hopes
on his future.
Coaching -
Coach
Rich Rodriguez
is in his second season in Tucson. Having been hired to bring some offensive firepower to the desert, his first go around, which culminated in a thrilling
come-from-behind victory
over Nevada in the New Mexico Bowl, was a success. 'Zona is averaging nearly 500 yards per game over his 19 at the helm, allowing the program to keep pace with the explosive offenses of the Pac-12.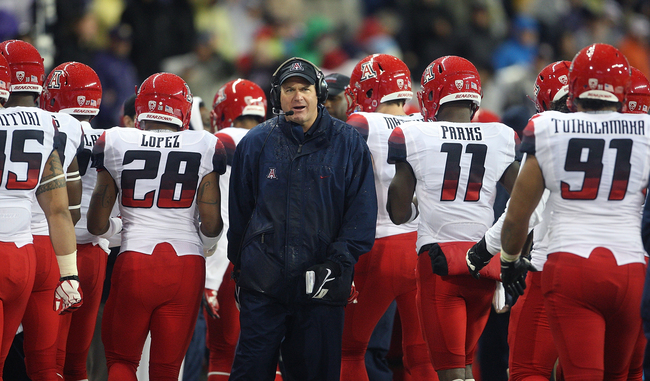 Under Rodriguez, the 'Cats continue to rack up points and yards.
After a season spent, of all things,
throwing the ball
, Rodriguez is back to his preferred run-first methods. Behind Carey, Arizona is keeping it on the ground 63% of the time this season, which is much more in-line with his historical norms. I would expect similar totals in future years.
Prediction -
(My record on the season: 6-0. Against the spread: 3-2. Optimistic/pessimistic: CU +4.5 pts/gm)
Lines as of Wednesday @ 6pm - CU +14.5, M/L + 465, O/U 57.5
While road games continue to trip the Buffs up, home stands are a source of strength. Through four games in the Centennial State, CU is 3-1 this season, both on the scoreboard and against the spread, with the lone loss coming against Oregon (understandable). Considering that, and with a rocking Folsom at their backs again this week, it's easy to envision a scenario that those good vibes continue against Arizona.
Certainly, I would expect an improvement over last season's defensive debacle. A literal paper bag should be able to put up more of a fight on defense than CU did against the 'Cats in 2012, so I expect the Buffs to contain Carey to a merely superhuman effort this week, rather than his immortal performance of last fall.
Still, that should be enough to secure the win against the Buffs, who continue to be lost against Pac-12 competition. Same goes for the spread, as I think 'Zona should score enough to extend past the Buffs, who will be throwing a true freshman quarterback against one of the better pass defenses in the country.
CU 24 - UofA 41
GO BUFFS! PROVE ME WRONG, AND BEAT THE WILDCATS!