For the game this week, Arizona St is offering a
special ticket package
called the 'Buffalo Snack Pack.' For $99, you get two tickets, two half pound buffalo burgers, and two gold 'Fear the Fork' t-shirts. They'll also have concession stands around Sun Devil Stadium grilling up buffalo burgers for the hungry patrons.
Get it!? They're eating
buffalo
burgers while playing
the Buffaloes
. How cute.
I'd eat a Sun Devil in retribution, but I'm STD free, and would rather
stay
that
way
,
thank you very much
.
--
Kickoff from
Sun Devil Stadium
in Tempe, AZ is set for 8pm MT on Saturday. Coverage will be on Pac-12 Networks (where else?) and 850 KOA.
Click below for the preview...
When last we met -
Last year's preview can be found here
.
With Tad Boyle and the defending Pac-12 champion men's basketball team on hand to collect their rings, the Buffs almost looked like a competent football team last season against Arizona State... well, for about 30 minutes, at least.
Bathed in black from head-to-toe, and running out under the cover of darkness in front of a national TV audience, they put in a spirited defense of their home turf. The final result, however, wasn't much different than other Pac-12 results from 2012, as a second half letdown allowed the Sun Devils to blitz past CU for a
51-17 win
.
It started out well enough. Through the opening quarter, the typically porous CU defense bent for 154 yards, but only gave up six points, allowing the offense the time it needed to gain a little traction. Come the second quarter, the Buffs finally found the endzone, twice(!), via quality scoring drives of 68 and 75 yards, the latter culminating in a 20-yard pass from QB Jordan Webb to Nick Kasa with less than a minute to go till the half. Before the Folsom Field crowd could even finish celebrating Kasa's haul, CU capitalized on some disorganized ASU special teams play by pouncing on the fumbled kickoff deep in Sun Devil territory. Will Oliver converted the three-point gift, and CU headed into the locker room only down 20-17. A minor miracle.
OH MY GOD, THERE'S LIFE ON THE COLORADO SIDELINE! From: the BDC
Unfortunately, the halftime break did the Buffs no favors. Sun Devil Rashad Ross returned the half's opening kickoff 100 yards for a backbreaking score, immediately putting a stop to any momentum carried over from that strong second quarter. The Colorado offense then stalled in place, only mustering 84 second half yards against the aggressive Sun Devil 'D.' Given shortened fields and a tired opposing defense, ASU breezed through CU's swiss cheese defense for 320 second half yards, turning them into 24 more unanswered points. Game: blouses.
The final stat sheet was ugly. Despite that outburst of points early in the game, the Sun Devils still put up 338 more offensive yards than CU, averaging a familiar 7.7 yards per play. In fact, the best CU performance on the day was from punter Darragh O'Neill, who netted nearly 400 yards on nine kicks. Beyond him, it was another forgettable night for the struggling 2012 Buffs.
The Sun Devils in 2013 -
For a team that has frequented national television and been in and out of the top-25, I can't shake the feeling that Arizona St just... isn't that good.
Of course, there's the glaring
loss-that-wasn't
against
Wisconsin
, which alone makes their 3-2 record suspect - for the sake of argument, consider them an ugly 2-3, with wins coming against
FCS Sacramento St
and
a USC squad
still mired in Lane Kiffin's malaise (although, congrats on being the team that finally killed off Kiffykins) - but it goes deeper than that. In recent weeks the
coaches
, not just outside observers, have
used
phrases like 'get better fundamentally,' and 'alignment issues.' Even against a tough slate of opponents, that's not good, coming deep into the second year of a coaching regime.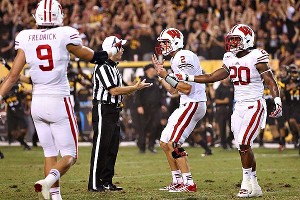 That 'win' over Bucky could be huge going forward. From: ESPN
Offensively, they seem to be just fine. Behind the nation's 9th-best passing offense, ASU boasts nearly 490 yards and 42 points per contest. Even with Greg Henderson
leading the nation
in interceptions, it'd behoove the Buffs to force Arizona St on the ground. Even there, they do a solid job keeping the ball and moving it down the field. Even good defenses, like Stanford and Notre Dame, have trouble slowing them down. Other than a problem giving up sacks (13 on the year, calling CUD), they're legit.
Nope, it's the defense that has been the heart of the issue. Missed tackles, missed assignments... you name it, they've
got problems with it
. Overall, they're 86th in rushing defense, 60th overall, and slipping fast. Discard the shutout of the SacSt Hornets, and they're allowing nearly 450 yards and 37.5 points per. With the linebacking corps in a near-constanst shuffle, there's just not enough consistency, and it's showing in production.
Plenty of points have been going up on the scoreboard, from both sides, when ASU is involved.
If CU could run the ball, I'd call it a major advantage, but the Buffs still struggle on the ground (111th nationally), so the prescription, once again, is hucking it deep, pressuring the QB, and counting on some big plays.
Star players -
That vaunted passing attack is lead by junior QB
Taylor Kelly
. The 6-2 Idaho native has completed over 63% of his passes on the season, allowing him to net nearly 350 passing yards per game. It's a shame we're seeing him in Arizona, as he's a
much better QB at home
, with a completion percentage about 10 points higher than when he's on the road. Kelly chalks it up to routine, including a pregame meal of 'three small chicken breasts, spaghetti and mashed potatoes.' Weird.
Kelly is one of the Pac-12's best under center.
Kelly's primary target is
Jaelen Strong
, who
has
more catches for 20+ yards (13) than even CU's big-play threat, Paul Richardson (12). The 6-4 sophomore averages nearly 115 receiving yards per contest, and can easily stretch the defense.
Interestingly, the next two players on the receiving list are running backs
Marion Grice
and
DJ Foster
. The pair have combined for more receiving yards (548) than rushing (408). Overall, ASU does a good job using the pass out of the backfield in lieu of a more traditional running attack, which should put a lot of pressure on CU's linebacking corps. Grice, especially, has been a key target
on third down
.
On defense, 2012 All-American DT
Will Sutton
surprised many by
returning
for his senior year, but has been largely ineffective in his final collegiate season. Sutton is nearly
40 lbs heavier
than he was last season, and the added
'bad' weight
seems to be slowing him down. To date, he has only recorded 16 tackles and one lonely sack. He's
not frustrated
by the lack of production, however, passing it off as just the product of opponents keying on him. DE
Carl Bradford
seems to be picking up the slack, with five tackles-for-loss, two sacks, and two QB hurries on the season.
Look'n' large, Will.
JuCo transfer safety
Damarious Randall
is coming in off of a
huge game
against Notre Dame in which he recorded a game-high 17 tackles. It was also his first career FBS start. Overall, senior
Chris Young
is the leading tackler, coming from a safety/linebacker hybrid slot to give opposing defenses headaches. He has 21 solo tackles on the season, and needs to be spotted on every play.
Coaching -
Huh, whaddaya know?
Todd Graham
stayed for his second season in Tempe. Do you think he has actually unpacked the moving boxes, or are they just in storage awaiting his next
cowardly chase
of the all-mighty dollar?
'I CAN'T FIND WHERE I PARKED MY CAR! IS IT OVER THERE?!'
I will continue to give Graham crap for that bush-league exit, because it demeans his profession, but he
is
a good coach, and a capable opponent. If he does decide to stay in Tempe long-term, he can make a nice career of it.
To his credit, he's put a cap on the effusive flow of yellow that
typified
the Dennis Erickson era. What was once a program that couldn't help committing buckets of penalties is now 8th in the nation for fewest penalties per game. A sign of good coaching, that.
Prediction -
(My record on the season: 4-0. Against the spread: 3-1. Optimistic/pessimistic: CU +7.5 pts/gm)
Lines as of Wednesday @ 6pm - CU +25, O/U 66
Damn, I really want to take the Buffs against that spread. I think ASU is a paper tiger, Todd Graham is, to steal a British term, a Class-A wanker, and the Buffs are, if anything, a team that can take advantage of defensive chaos and missed assignments.
...
OK, I've talked myself into it. CU covers with a solid performance that pushes the game into shootout territory. The Buffs don't really threaten to
win
, but it's a more complete performance than last week's game vs Oregon that got everyone drinking the kool-aid.
ASU 49 - CU 30
GO BUFFS! PROVE ME WRONG, AND BEAT THE SUN DEVILS!