As far as I can tell, CU has never beaten a team ranked #1 in the AP poll. I've looked through the
record book
, which only goes back through the 1950s, and count 15 attempts and zero victories. The closest, of course, was the
overtime thriller with Kansas in 2010
. Beyond that and a couple of close-ish calls in the 50s, however, CU has rarely been a challenge for the #1 team in the land.
It won't be easy to break that history this evening. Arizona is more than worthy of their '1,' and McKale is one of the best home court advantages in the country. To pull off the upset CU will need to play near-perfect basketball. Stranger things have happened, but the odds are stacked against them...
Tip-off from the McKale Center in Tucson, AZ is set for 7pm this evening. Televised coverage can be found on ESPN2, with the radio call on 850 KOA.
Click below for the preview...
When last we met -
In a matchup more befitting a semi-final or final, CU and Arizona met up in the
quarterfinals
of the 2013 Pac-12 tournament. 'Zona controlled the action from the opening tip, but a late charge from the Buffs cut the UofA lead from 14 to 2 with just over a minute to go. The comeback wasn't to be, however, and CU had their dreams of a Pac-12 repeat dashed by a
79-69 loss.
Arizona survived the Vegas collision with Colorado.
Bench play was the primary separation between the sides. As was often the case in 2012-'13, CU received relatively little from those outside of the starting five against the Wildcats. In total, the bench only contributed 11 points, which is actually more production than it seemed to me watching the action live. Arizona, however, received a big boost from their non-starters, totaling 25/12/3/6. It was the difference in the game, as, otherwise, the starting lineups played to a draw.
For CU, Andre Roberson lead the way, recording his final double-double in a Colorado uniform. His 15/11 performance was vintage 'Dre, which was very much needed as Josh Scott struggled throughout a two point, three rebound effort. If Colorado is going to pull off the upset this evening, they are going to need significantly more from their star forward than he showed last March.
The Wildcats in '13-'14 -
In a word, perfect. One of only three unbeaten teams remaining, they've defeated all comers - home, road, and otherwise. Most impressive have been their victories away from the Grand Canyon State, including wins over
San Diego St
,
Duke
,
Michigan
, and
UCLA
. Sure, there have been some
scares
along the way, but Arizona is more than deserving of their #1 honor.
Their best wins have all come away from home, a strong testament to their character.
The UofA doesn't play particularly fast (256th nationally in pace), but efficiently score the ball (adjusted 1.15 ppp) by attacking the rim with lethal accuracy (77% shooting at the rim, 3rd nationally). If I had to point to any one deficiency, it would have to be their free throw shooting (67% from the line). I don't think its all that concerning, however, as the 'Cats have proved capable of making them when it matters, and their star players (outside of Aaron Gordon) shoot well enough.
While their offense is very strong of its own accord, Arizona's true success is built upon their withering defense. 3rd in adjusted points per possession (a little under .88), they boast the nation's lowest defensive eFG (41.1%), while allowing an absurdly-low 18.4% of all attempts at the rim. Without the luxury of a lot of free throw attempts to make up for the brick wall being put up around the rim (33rd nationally in FTA/FGA ratio), opponents are forced away from the basket and into ugly shots (29% from three). The numbers only get better in Tucson. In home games alone they are allowing less than 53 points per game, and only .81 ppp. Just
ask the poor Washington State Cougars
, trying to score on these guys in McKale is just north of futile.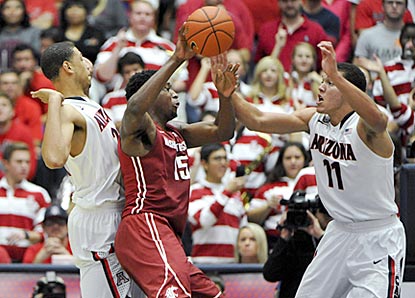 Washington State knows, these guys are an elite defensive team.
As JG at AllBuffs
pointed out today
, this defensive strength makes their efficient offense only that much more dangerous, as opposed to a world-class attack, like Oregon's, that isn't backed up by defense of any kind. If the offense struggles, it's no-harm, no-foul, as the defense will keep them afloat through any rough patches.
Balancing out their offense and defense, they're also one of the best rebounding teams in the country. 9th nationally in offensive rate, 18th in defensive, they crash the boards like no other team that CU has seen this season. Colorado has reformed in the post-Andre Roberson era into a team-rebounding unit, and a good one at that, but it's going to be damn tough to keep the 'Cats off of the glass. The Buffs need to find a way to get something off of misses, because: 1) there are going to be a lot of them, and 2) without them, it severely limits CU's ability to get out in transition. If the Buffs can't attack the rim, can't get good looks from three, and can't get out in transition, any offensive threat from Colorado is essentially nullified.
CU has to find a way to beat them on the glass.
Seriously folks, if the UofA defensive rates weren't so damn other-worldly, people would be acknowledging that this is one of the most balanced crews in the country. They can do it all - score, defend, and crash the boards. If they were in the eastern time zone, ESPN would bore us to tears talking about how good they are. Barring something unforeseen, they'll be my favorite to win the title
when I play for a billion dollars
in two months.
Star Players -
Leading the charge for Arizona is the brilliant
Nick Johnson
. My personal pick for national player of the year (yeah, you heard me), Johnson has a fantastic grasp of how to power this team on both sides of the ball. When they need a big bucket, there he is; when they need a big defensive stop, there he is. He seems to have a preternatural sense of how and when to make the big play, which only strengthens his already fantastic statistical numbers.
Johnson is the true star in the desert.
All told, he
only
averages 16/3/2, but posts an offensive rating over 123, an eFG near 58%, and a 58%/39%/82% triple-slash. The huge shame is that we won't get to see Spencer Dinwiddie guarding him, as the Mayor did a good job muting him in games past. I just don't trust Jaron Hopkins to play Johnson one-on-one yet, and I expect a big game from the 6-3 junior, as a result.
Getting the majority of national headlines is über-freshman swing-forward
Aaron Gordon
. It what is surely his only season with the Wildcats, the 6-9 frosh from San Jose has proven to be an explosive piece on both ends of the court. On offense, he's a premier dunker and strong post presence who can pop out for the occasional three. On defense, he's miles ahead of most freshmen forwards, and
leads
all freshmen in defensive win shares. Oh, and he notches the team's best rebounding rates. A well-rounded package for a well-rounded team.
Gordon is the real deal.
But, there are some holes. He's an abysmal free throw shooter (an ugly 46% from the stripe), so hack-a-Gordon is in play, yet, Coach Miller is not about to take him off the court in key spots just for that - he's too strong in other areas to let free throw shooting dictate his minutes. He also struggles with his jump-shot, shooting under 29% from mid-range despite taking 45% of his shots as two-point jumpers, but that is a common problem across the sport. For these reasons, some have said he
needs another year in college
. Wait, so you're telling me he isn't perfect? Nice try, the dude will do just fine in the NBA starting this fall.
Up front, the strength of the team relies on the sophomore pair of power forward
Brandon Ashley
and center
Kaleb Tarczewski
. The 6-8 Ashley is a solid 'four,' made only the more dangerous because of his strong mid-range game (the opposite of Gordon, 45% shooting on jumpers). Tarczewski is a true 7-footer who is capable of much more than simply clogging the lane. CU was able to limit him to a combined 20/15 over the three games last season, however - continuing to keep a muzzle on him would be a good strategy.
The player who takes Arizona to a different level is point guard
TJ McConnell
. A junior
transfer
from Duquesne, McConnell went the unconventional route of actually sitting out the required year at his new school. (Somewhere, Dana Altman just threw up at the very notion of
abiding by the transfer rules
) Last season, the only thing keeping the Wildcats from being a truly strong team was the absence of a true point guard. Ironically, that missing piece was already in the fold. While converted two-guard Mark Lyons did a more than serviceable job in '12-'13, an engine this primed with athleticism needs an efficient transmission metering out the power, and McConnell adds that dimension. He's chipping in over six assists per contest, and the 'Cats are better off for it.
McConnell was the missing piece of the puzzle.
The somewhat shortened bench is made up of
Rondae Hollis-Jefferson
and
Gabe York
. RHJ, a 6-7 freshman, is a good post presence off the bench, and his offensive rebounding rate features in the top-100, nationally. York, a 6-3 sophomore, is your classic shooter-off-the-bench, hitting 43% of his threes. After that pair, the list of contributing reserves sort of... ends, leaving the comparative bench mismatch of a season ago a distant memory.
Sean Miller -
I keep forgetting, did he touch the ball?
All kidding aside, outside of Tad Boyle, there's no coach in the conference that I have more respect for than
Sean Miller
. It's easy to compare the two, as their styles are so similar - motion half-court, emphasis on transition, and hard man-to-man on defense. Maybe that's why this series has been so fascinating the last two years: the teams are evenly matched, and are stylistic copies of each other in so many ways.
I'm a big fan of Coach Miller.
This is a huge season for Miller. While he's be generally successful in Tucson, he has only been to the Tournament in two out of his first four seasons, a shockingly uneven stretch of play from a very proud program. Given a pass due to the rebuilding he was forced to undertake in the wake of Lute Olson's prolonged retirement process (it's OK, Kevin O'Neill was involved, LOL), he now needs to capitalize on the talent he's recruited, and make it to a Final Four. I'm betting that he'll do just that.
Prediction -
(My record on the season: 6-3. Against the spread: 4-5. Optimistic/pessimistic: CU +2 pts/gm)

Lines as of Thursday @ 12pm - CU +14
Wallowing in the despair of the 40 hours between the UCLA and USC games last week, I feared that CU would struggle to crack 45 against the UofA and their vaunted defense. After the sunshine of the USC game cleared my mind of such depressive thoughts, I've since re-evaluated. Colorado's offense isn't broken, it's just a re-work in progress. Sure, playing the #1 team in the land at their place isn't the best time to further the educational process, but I no longer fear the epically un-watchable.
I still don't see any chance that Colorado can steal away with a win, but I do expect them to push Arizona for stretches. The Buffs are their '
kryptonite
,' after all. In the end, however, CU's struggles in the half-court, the home crowd, and the still-developing rotation take their toll, and Colorado slips in the second half.
UofA 70 - CU 55
GO BUFFS! PROVE ME WRONG, AND BEAT THE WILDCATS!