Well, it could've been worse. Running up against a world-class defense in foreign territory, the Buffs were blitzed by the Arizona Wildcats in the early going of Thursday's game. They kept their heads down, however, and found some traction in the second half, keeping the score from appearing to be a complete blowout. The
69-57
final isn't an ideal, but it's a suitable result for where the team is at this moment.
I'm a little frustrated by the large number of turnovers. CU coughed up the ball 16 times, all from their top-six players. You could really see the absence of Spencer Dinwiddie here. Without the calming influence of the regular point guard, the Buffs struggled to find avenues of attack against the vaunted Arizona defense, and played -15 basketball in the first half. Settled down at halftime, they played much better after the break, but the damage was done.
Arizona corralled CU far too easily in the opening minutes on Thursday. From: the BDC
Of course, the game wasn't the big story yesterday morning. CU losing by 12 at McKale was never going to make waves, one way or the other. I think anyone looking at this objectively knew that CU was going to lose, it was just a matter of degree. What did make some waves were the
post-game comments
uttered by star CU forward Xavier Johnson.
Now, Xavier had a good game. He scored 21 points on 7-12 shooting, leading all scorers on the evening. It's understandable that he'd be individually encouraged by his effort, but he let the moment get the better of him once retired to the media room.
It started off innocently enough.
"They are the No. 1 team and they just beat us, so I can't really talk."
Had Johnson ended it there, everyone, from players to fans to media, would've woken up yesterday focused on ASU. Instead, the press conference continued.
"[...] but everybody has their lapses, you know? We have better players than them, I think, even down a player - two great players."
They're the number one team in the nation, Xavier. I think you're good, too, but you've now lost three of four. Combined with what I saw last night, I think reality contradicts your argument. *sigh* Oh, but he continues...
"We were playing the No. 1 team in the nation, but they're not that good."
*rolls eyes* Sure, why not? It only took the 'Cats a media timeout to wipe the floor with you guys, but sure, 'they're not that good.'
"We didn't come with the right mindset."
At least some humility after a defeat. Anything else for the class?
"The good news is we get another crack at these guys, at our place. That'll be a 20-point blowout."
GAH!
SOMEONE, PLEASE, FOR THE LOVE OF GOD, CUT HIS MIC!
WHELAN
,
HOWELL
, ONE OF YOU MAKE YOURSELVES USEFUL AND CAUSE A DISTURBANCE! I'LL GET SKI TO RUN IN THERE AN YANK 'X' OFF THE STAGE! QUICK! GET ME ONE OF THOSE 'MEN IN BLACK' THINGIES! Now, *cough* everyone just look in here...
Huh? What comments by Xavier? Nope, nothing to see here... *sticks hands in pockets, whistles*

Wow, sure glad no one said anything monumentally stupid after that Arizona game. I think we have a good shot at beating them in a month, and I'd hate for anyone to undermine that opportunity by giving the Wildcats a hearty helping of bulletin board material...
Anyways, today's game with Arizona State is huge. While beating Arizona was too much to ask for, the Sun Devils offer a more reasonable proposition. It won't be easy, however. ASU has proven to have Colorado's number since the conference shift, winning three of the four meetings, including a sweep last season. A win in Tempe would be a well-earned, and much-needed scalp.
Tip-off from the Wells Fargo Arena in Tempe, Arizona is set for 5pm this afternoon. Televised coverage can be found on Pac-12 Network, with the radio call on 850 KOA.
Click below for the preview...
When last we met -
It's time to admit the obvious, Colorado struggles with the Arizona State Sun Devils. Case-in-point, the Boulder leg of last season's home-and-home series with ASU. There was no reason that CU should've lost that game. At-home, against a middling team from the Pac-12, Colorado should win 10 times out of 10. It shouldn't have even been close, especially coming on the heels of a blow-out, emotional win over Arizona. Yet, there the Buffs were, struggling to defend their home court against maybe the 7th-best team in the conference.
The Sun Devils would push the game to overtime, much to the consternation of the whole of BuffNation in attendance. In the extra frame, CU got the game to where Coach Boyle would say he'd want it: up a point on defense. The Buffs have developed into a defense-first program, and I'm sure the team would rather have to defend to win, rather than score to win. It wasn't to be, however, as ASU's Evan Gordon ran right past Sabatino Chen to hit a wide-open, game-winning layup as time expired. The result, a
63-62
final, an ugly reminder that college basketball is a night-to-night proposition.
Coach Boyle's nightmare: an open layup to win the game.
Of course, this game is most remembered for being 'The Bachynski Game.' Then-freshman Josh Scott was
waylaid
by the oafish highwayman, handing the young forward a
concussion
that threw a wrench into his strong first season of college basketball. Seeing Scott take an elbow to the chin on a takeout move straight from the pages of WWE, the refs, of course, called a foul. Not on the galoot, however,
but on Scott
, defying the laws of the game and basic reason.
To say the least, Coach Boyle was not pleased after the game.
"Welcome to college football . . . I thought the season was over in December. It was an unbelievably physical game, the most physical game I've ever been a part of - college, high school, YMCA."
I'm right there with him. It was an inexcusably violent version of basketball on display last February 16th. I don't know if the refs were just out to lunch, or on orders from an obviously corrupt, and now disgraced, former head of officials *cough*. Regardless, everyone involved would be better served if there's not a repeat of that game's physicality this evening... expect when Josh Scott runs onto the floor and stuns Bachynski with a folding chair to the back of the head.
Star Players -
ASU lives and dies with the skill of their talismanic guard,
Jahii Carson
. A threat to go for 40 anytime he hits the hardwood, Carson is a much sought after combination of elite speed, creativity, and finishing ability that you don't see all that often at this level. The Sun Devils had to wait patiently for his arrival, as grades forced him to red-shirt in '11-'12, but, now that he's here, he's tearing up defenses left and right.
Carson is one of the nation's best players.
Necessarily, the 5-10 point guard dominates the team's possession and shot rates, grabbing 31.5% of each when on the court. Yet, don't lazily call him a ball-hog. He does share, featuring in the top-100 nationally in assist rate. Only making him more deadly this year, he has improved his shooting, and is now knocking down 43% of his three pointers. Between the improved jumper, the strong passing skills, and the penetration ability only enhanced by the new hand-check rules, he's is almost unstoppable.
Supporting Carson in the backcourt is the 6-4 senior transfer from Penn State,
Jermaine Marshall
. Marshall was brought in to help share the scoring load, and he has done just that, averaging 15 points each night. With an eFG over 60%, and a three-point average over 44%, he's a deadly shooter who can make teams pay for over emphasizing their play on Jahii.
Marshall has been a welcome addition to the roster.
Up front is enemy #1,
Jordan Bachynski
. The hulking Canadian center, coming in at 7-2, 248, is the nation's premier shot blocker, recording over 4.5 per game. In addition, he's averaging close to a double-double, and also leads ASU in rebounding and free throw rate. This is the senior's final season in Tempe, and he's leaving on a high note, which just pisses me off. Fuck him.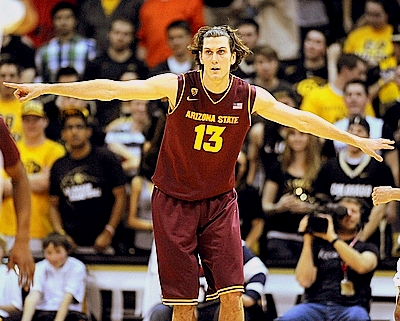 Yeah, I'm not his biggest fan.
The starting lineup is rounded out by international shooter
Jonathan Gilling
and
Shaquille McKissic
. Gilling, a 6-7 junior from Denmark, is mostly a traditional long-range bomber, and joins Carson and Marshall by hitting his threes well over 40% of the time. McKissic, a 6-5 JuCo transfer, leads the team in offensive rating, and is 8th nationally in turnover rate.
The Sun Devils in '13-'14 -
ASU is the most interesting, uninteresting team I've watched this year. They play a fun, open style of offense built around the scintillating talent of Jahii Carson, making them a fun watch at 9pm on a random December night. Now that the season has turned serious, however, I'm just not moved to watch a team doomed to finish the conference portion of their schedule near 9-9. When post-season play comes around, they'll get fun again, but, for now, they're just an annoyance.
Their best win to-date may actually be their come-from-behind effort
over Utah
from Thursday. Of course it was Carson with the defining performance, as the star scored 23, including eight over a high-leverage stretch in the second half. Beyond the win over the Utes, their only other win of note was a
last-second survival
against Marquette from late November. Unsurprisingly, it was again Carson leading the way with a 23/3/5 line.
The win over Utah was an important one.
Offensively, '13-'14 serves as the culmination of a two-year effort to re-work the way ASU plays offense. Formerly, the Sun Devils were reliably one of the slowest teams in all of basketball. Usually around an average of 60 possessions per game, they ran Princeton principles into the ground, boring everyone to tears in the process. Now, however, behind the flashy play of Carson, they're over 70 possessions, and 30th nationally in average offensive possession length. It's night and day from two years ago. Arizona State may finally, *gulp*, be playing watchable basketball.
And, just to show that the Princeton is unnecessary at this level, the Sun Devils have proven to be better off for it. Their points per possession (1.11, adjusted) is the highest in five years, and that team was built around some guy named James Harden. They even rely on transition basketball, taking over 32% of their initial attempts on the break (top-50 nationally). It's funny, as it turns out, you
can
still score efficiently if you break out of a light jog from time to time. Take it to heart: slow-playing the clock is for lesser men.
The ASU offense is actually fun to watch, for once.
Defensively, they're built, unsurprisingly around shot blocking and rim protection. They block nearly 20% of attempts at the rim, 15% block rate overall (15th nationally). Surprisingly, considering their aggressiveness in going after blocks, they're well under the national average in free throw attempts per shot. On the flip side, the Sun Devils are 273rd in steal rate, meaning we're not likely to see a repeat performance of CU's 16 turnover debacle from Thursday night.
Coaching -
You know,
this random WSU fan is right
, ASU coach
Herb Sendek
does look a lot like Vizzini from
Princess
Bride
.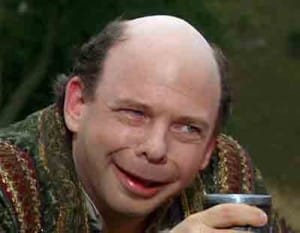 Truly you have a dizzying intellect.
More than just a doppelganger of classic character actor Wallace Shawn, however, Sendek is a long-tenured, well-respected member of the coaching world. I've been impressed by his willingness to embrace his roster and speed up his pace of play. That sort of philosophy change, 20 years into his head coaching career, isn't easy or common. Sendek
took
the change
seriously
, instituting a 24-second shot clock in practice, asking the team to cross mid court in three seconds, and work to take a shot within 12 seconds. This, from a team which played slower than chilled molasses for most of the last decade. Incredible.
The offensive change makes ASU respectable and entertaining.
Coach Sendek has made only one Tournament over his six prior years in Tempe. With the clock ticking on the Jahii Carson era, it'd behoove him to find a way to sneak into the Dance this season. To that end, I think his non-conference resume is borderline sufficient, but he needs to finish with 10 or more conference wins to get across the goal line, probably with a nice RPI win, or two. CU, as wounded as they are right now, are still a RPI prize, and I bet Sendek will pull out all the stops to earn the win this afternoon.
Prediction -
(My record on the season: 7-3. Against the spread: 4-6. Optimistic/pessimistic: CU +1.5 pts/gm)

Lines as of Friday @ 11pm - CU +4.5
Arizona State is a lot better than people give them credit for. That's not to say they're a great team, but they have a solid shot of earning an at-large bid in March. Especially on the road, t's going to be tough for CU to come out of Tempe with a win. Further, I just don't know who guards Jahii, and the Buffs continue to struggle with their perimeter defense. With three ASU shooters over 40% from deep, that should spell disaster.
I'm going to take the Sun Devils and the points. Colorado will have to wait for next Saturday's game against Utah to get back on their feet.
ASU 71 - CU 62
GO BUFFS! PROVE ME WRONG, AND BEAT THE SUN DEVILS!