I've always thought the phrase 'must win' has been grossly misappropriated in sporting culture. Unless a team is facing elimination, no game is a 'must win.' In fact, what we mean is 'better win,' as in '[random team]
better win
, or the consequences will be dire.'
Such is the case tonight as Colorado travels to Spokane, WA to take on the lowly Washington State Cougars. A loss by Colorado does nothing tangibly harmful to the season. The most important games of the season will still be played in March, and CU will still be one of the top-25 teams in the country. There is no 'must' involved.
They had
better win
, however, as the consequences are awkward. A top-15 team should not be dropping games to a team as sorry as Washington State, regardless of circumstance. It would take a number of strong road performances to overcome the narrative damage done by a stumble against the Cougs, which is exactly why the game tonight is so important. CU has a nice, winnable contest to ease themselves into conference road-work with. If they can't make this three-foot putt, how are they supposed to battle the tougher greens in Tucson, Los Angeles and San Francisco?
Best to just take care of business, no questions asked, and move on. Leave 'Coug'd it!' to the professionals.
So, just why is the game being played in Spokane? I have no idea. What I do know is that Spokane and the Spokane Veterans Memorial Arena is one of the eight regional sites for the 2014 NCAA Tournament. Funny enough, this may not be the only game Tad Boyle and crew get to play in the Lilac City this season... Tip-off is set for 7pm tonight. Coverage can be found on Pac-12 Network, with the radio call on 850 KOA.
Click below for the preview...
When last we met -
In one of the more forgettable affairs of last season, Colorado and Washington State met in late January with the expressed purpose of curing the nation's insomnia problem. The game was slow (61 possessions), the offense was scarce (barely over 100 points scored), and it was played in front of a dead crowd in the back woods of eastern Washington (5,418 in attendance). I'll excuse anyone who has trouble recalling the action, as I too drew a blank when trying to remember just what the hell happened. According to the book, CU wound up winning
58-49
, so we'll go with that.
The Buffs did whatever it took to salvage a spit in Washington last season.
Jesus, was this thing really 23-19 at half? Did WSU start giving back the cost of the ticket? Combined the teams were 6-33 from beyond the arc, and only one starter for either team, Spencer Dinwiddie managed to shoot over 50% (the Mayor went from 5-8 from the field). That CU managed to win was mostly a product of a sterling performance off the bench from Xavier Johnson. The Cougars had no response for the athletic swing forward, who went for 14/4 in 20 minutes of action. Beyond that, it was mostly ugly, but, as Coach Boyle said after the game, "I'm proud of our team for doing whatever it took."
Indeed, this was actually a big victory for the Buffs. They had started conference play 1-4, and were starting to lose their grip on a spot in the Dance. While the sleepy win over Wazzou impressed exactly no one, it did at least right the ship. In fact, CU would reel off seven victories in their next nine contests, putting them right back into the heart of the muddled Pac-12 race. And for that, CU/WSU 2013, we thank you.
The Cougars in 2013-14 -
I'm very tempted to just post a big picture of former Cougar Brock Motum with a line through it for this section, and leave it at that. Such was the Aussie's importance to his squad the last few years that such a hack concept is even a possibility. Indeed, without Motum - who lead the team in scoring, rebounding, minutes, possession, and everything else last season - WSU is adrift in search of reliable talent capable of playing at this level. To-date, they've yet to find an answer to their life-after-Motum problem, which is a big reason they're 7-7 and sinking quickly.
Where have you gone, Odo?!
To their credit, they've yet to take a truly 'bad' loss, at least in terms of what goes on a resume. Home losses against
TCU
and
UTEP
certainly aren't pretty, but at least those teams project to be in the RPI top-200. In recent years they've dropped odd games to the Pepperdines and UC-Riversides of the world, which does no one any good.
Of course, the biggest turd in the punchbowl is their
60-25 loss
at Arizona last week. That's not a miss-print, they only scored 25 points in Tucson. They only had
seven
at halftime. SEVEN. For the game, WSU was 9-45 from the field, and their leading scorer only managed six points. After the game, Cougar forward D.J. Shelton was quoted as saying, "[t]hey did a good job shutting us down." Yes, in the same way that the Titanic had a little trouble with some ice. Woof.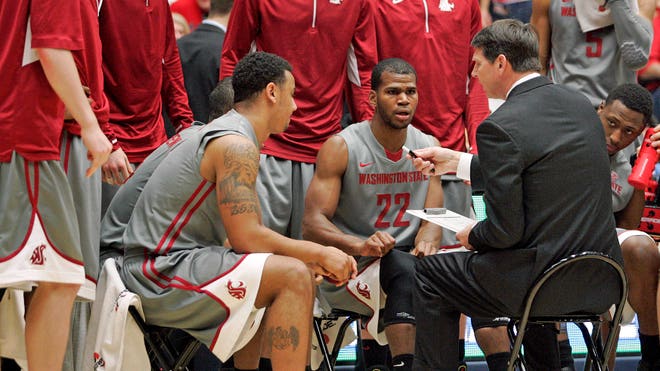 'Alright, guys. New plan: let's try to score.'
Look, every team has bad nights. It certainly didn't help that their best player was out with an injury, and McKale is a damn tough place to play even if the 'Cats weren't the #1 team in the land. That said, 25 points scored in 40 minutes of play is inexcusable, and speaks to the numerous deficiencies, from talent to coaching, that this program is dealing with right now. I joked a few weeks ago that they could finish 13th in the Pac-12. While that's far too harsh - they will win a few games this year - it only speaks further to the degree that CU
better win
tonight.
Statistically speaking, their biggest issue is scoring the ball. Skewed as they are by the Arizona implosion, their offensive rates are simply ugly for a top-conference side. They barely crack an adjusted one point per possession (1.008) despite playing some of the slowest ball in the country (318th in tempo). They also don't get to the line (not as though they'd know what to do once they got there, shooting 61%), and have to rely on a barrage of three-pointers (16th nationally in 3PA/FGA ratio), which is doubly bad since they're toeing the 300s in shooting percentage from deep.
The downside to that is that CU has a nasty little habit of allowing teams to score at will from the perimeter. It might behoove the Buffs to expand their pack-line and guard the three tonight, if only because that's all WSU has. Add in the slow pace, and the Buffs could be made uncomfortable in Spokane. Still, CU should be able to control the paint on both sides of the ball, allowing them to dictate terms.
Star Players -
Continuing the tradition of individual heavy lineups in Pullman,
DaVonte Lacy
rules the roost. The 6-4 junior guard has been, by far, the team leader in scoring (17.7 ppg), shooting (60% eFG), possessions (25%), and offensive rating (122). If WSU is able to do anything offensively, it's usually built around the Tacoma native... The entire Cougar offense is built around Lacy.
... which is why it's a devastating blow to the Cougar cause that's he has been wracked by injuries over the past month. It started with an
appendectomy
that cost him two games (including the Arizona disaster), and has continued into a
rib injury
that will keep him out for at least a week. This is not a very deep roster, and, without Lacy, this team is significantly easier to guard.
In Lacy's stead, the primary scoring threat will probably come from redshirt freshman
Que Johnson
. An intriguing top-100 prospect from the class of 2012, his arrival in Pullman was
delayed a year
as he was a
partial qualifier
out of high school. Now in good standing with the NCAA, he's been close to averaging 10 points per game this season, while showing off a really nice turnover rate for a freshman guard (8.9%). At 6-5, 205, he's also got some good size.
With Lacy out, Que will be expected to pick up the slack.
Royce Woolridge
runs the point. A 6-3 junior out of Arizona, he does a passable job, but has some terrible efficiency rates, particularly from the floor. Even worse, Woolridge only shoots 63% from the line, which is painful since he actually does a nice job of getting there (70% free throw rate). The more WSU has to rely on him to score, the better for Colorado, in my opinion.
The final player of interest is big man
D.J. Shelton
. A 6-10 senior from Bakersfield, he takes far too many shots away from the rim (65%) for a power forward. D.J., bless his heart, trying to take those outside jumpers, but his three-point percentage (17%) and eFG (43%) should tell him to move his ass back inside.
Coaching -
Good grief,
Ken Bone
is still there... but probably not for much longer. The writing is finally on the wall for Bone. The general consensus was that this was a do-or-die season for fifth year head coach, and, to date, the vibe of the season has been particularly morbid.
It seems to be dead man walking in Pullman.
Legitimate excuses abound
. He certainly was handed a decked stacked against him. Though there was
some talent
in the system, it's impossible to get a pipleline of future stars to keep signing up for Pullman when every other team in the region has been built up over the past decade. However, the simple truth is that the program is noticeably slipping behind the rest of the conference, and someone is going to have to pay for a 24-48 in-conference record over the past five seasons. Barring a miraculous run over the next two months, Bone will probably be that fall guy.
Prediction -
(My record on the season: 3-2. Against the spread: 3-2. Optimistic/pessimistic: CU +1.8 pts/gm)

Line as of Tuesday night @ 10:30pm: CU -7
I'm not going to pretend there isn't a danger. If the thees fall (a possibility), and the slow pace gets to the antsy Buffs (a possibility), things could get weird. That said, there's just too large of a talent gap, especially without Devonte Lacy, for me to bet (HYPOTHETICALLY) on that.
Still nervous? Consider that the way CU gets to the line is the ultimate firewall against disaster. It'll probably take the return of TadBall, but the Buffs will pull away late and earn the win.
CU 69 - WSU 59
GO BUFFS! PROVE ME RIGHT, AND TAME THE COUGARS!