Well, this is awkward. At 15-17 (8-12) on the year, the Buffs should, by all rights, be done with the season. Were they still in the Big XII (or if Oregon State and Cal hadn't
turned down
their own invites) they would be. But, Colorado's nightmare 2014-15 basketball season rolls on, with Coach Boyle accepting a bid to play in the College Basketball Invitational. And so here we are.
This is not 2011. Back in the final year of the Cory Higgins era, the Buffs shook off an NCAA snub to roar into the NIT. That run meant something. It was the first time in five years that the program had made the post season, and they deserved to be there. Not so in 2015. Colorado does not
deserve
to still be playing basketball right now. I honestly believe this. If you can't even manage to go .500 or better, you go home. End of story. By pure virtue of their willingness to participate (and their willingness to write a check), the Buffs survive.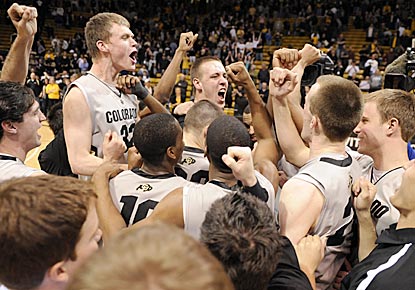 This visit to the invitational side of the post season is not as glamorous as it was in 2011.
How else can you look at this but as a glorified set of scrimmages? While Coach Boyle says the primary goal is winning (and the Buffs are the prohibitive favorite to win the tournament), he's also said that the reason CU accepted the bid (bought the bid?) was to try some new things out with the roster, and focus on next season. That's why Askia Booker and Dustin Thomas aren't playing, after all. These, then, are the first practices of '15-'16, only without Fortune, King, Guzonjic, or Akyazili. That's a quarter of next year's roster unavailable, so this is more like a Spring Game than anything else. By now I think everyone reading this blog knows my feelings about those...
I guess, at this point, all that's left is to accept, and move on. Fair enough. Tonight brings us game #33 on the year against the Gardner-Webb Runnin' Bulldogs from Boiling Springs, NC. The 6th-place finisher in the Big South (really?), comes to Boulder for the first time since December of 2004 (the only previous meeting).
The Buffs catch a break in not having to worry about Jerome Hill.
Almost as if to offset the absences of Booker and Thomas, the Bulldogs will also be without one of their big guns.
Jerome Hill
, an all-conference selection at forward, didn't make the trip, and
won't be playing tonight
. A real good one, the Buffs catch a break without him in the fold. Beyond just his 19/10 averages, Hill's absence also means that the Bulldogs will only have two players listed as taller than 6-7 available. This is an exploitable physical advantage for the Buffs, one that could keep the game from being close.
Outside of Hill, the key players to watch out for are
Tyrell Nelson
and
Tyler Strange
. Nelson is what remains of the front line, as the 6-7 sophomore center is the closest to what you would call a post threat. He averaged 14/7 this season, including near 60% shooting from the field. Strange is one of the nation's best pure point guards, dishing out over seven assists per game, and posting an assist rate over 38%. He a good shooter, too, hitting 37% of his 143 attempts from deep. Beyond Strange, there are four other shooters who took over 95 three point attempts in the year -
Jarvis Davis
,
Harold McBride
,
Adonis Burbage
, and
Dylan Potson
.
Strange can sling it and shoot it.
Overall, GWU is a pretty good offensive club. They like to share the ball, handing out about 16 assists per game, mostly around the perimeter. The 'Dawgs also love to shoot the three ball (33.7% of all scoring), making about eight each night. Currently 30th nationally in points per game (74.7), it's more about pumping out possessions than anything else. They grab about 68 per game (38th in the country), at a clip of under 17 seconds per on offense. Under the tutelage of head coach
Tim Craft
, the Bulldogs play fast, desperate to score enough to cover up their most glaring weakness: defense.
The Bulldogs leak like crazy against even soft competition. They coughed up an adjusted 1.08 ppp this winter, and allowed all opponents to shoot near 47% from the floor. Combine with some middling rebounding numbers, and it's not a recipe for success against better competition. Considering that, it's easy to understand their season - streaky runs, splashed around games where the shooting let them down.
Don't take them too lightly, as the bulldogs can sneak up on good teams, like Purdue.
At the end of the day, these things are all about who wants to be there. In both cases - Colorado and Gardner-Webb - I have no idea. While much of the coaching staff and roster may
like
the idea of the CBI, I really don't know what will happen when the ball tips this evening. I
think
the Buffs will take to this (and even if they don't, they still should beat GWU), but you never know. There are scenarios bouncing around inside my brain where lackadaisical perimeter defense leads to a downpour of points. Just look at GWU's best win from the year -
89-84
against Purdue in West Lafayette, IN. The Boilermakers, now in the NCAA Tournament, were swarmed by 14-25 shooting from deep, and were never able to assert their authority. That, too, can happen to Colorado this evening if they are not careful.
Rebounding and paint touches are the firewall, though. Assuming the Buffs aren't completely asleep at the wheel, I see them winning by 10+.
Tip-off from the CEC is set for 7pm this evening. Tickets are still very much available, are all GA, and can be had for $15 a pop. There is no TV coverage (although a stream will be available), and I'm not even 100% sure about the radio broadcast on 850 KOA, so actually being there will be your best bet to keep up with the action.
GO BUFFS! PROVE ME RIGHT, AND BEAT THE RUNNIN' BULLDOGS!