This weekend was just too busy. From travels to and from the Pac-12 Tournament to news breaking across the basketball landscape, I'v never had so much to throw in one grab bag. It's so stuffy in here that I even had to leave a couple of important items on the cutting board.
For example, did you know CU is
scheduled
to play a non-conference basketball game with Iowa State in South Dakota this November? They are! In a tiny-ass gym, no less. That's pretty cool and newsworthy. Arielle Roberson
isn't returning
for her senior year. Also newsworthy, but far more sucky. Or, what about the Spring Game? Didn't watch, didn't care, but I know a lot of people do. There was so much breaking news this weekend that I don't even have time to halfheartedly struggle through three paragraphs on that!
The point is, there's a lot of stuff after the jump, each item worthy of its own, dedicated column. Please, bear with me as I dive through everything from an insane weekend. I'm talking the Pac-12 finale, bracket snubs, the CBI, a pair of new basketball recruits, and the Frozen Banana Stand winning number 20. *whew*, let's get started.
Click below for the bag...
Arizona finally breaks their conference tournament jinx -
I return from Las Vegas, Bill Walton's peaceful, relaxing meadows at the heart of the Mojave Desert, feeling shafted. No, it's not because I had a bad run at the sports book (although my wallet is quite light), and it isn't because my stomach was upset the whole time (even though it was). I'm feeling salty because the 2015 Pac-12 Tournament, which had started out so promisingly with upsets and close games throughout days 1-3, crashed and burned in the finale.
It was a complete white-wash, as Arizona won
80-52
. Brandon Ashley continued his host streak with 20 points on eight shots, TJ McConnell contributed six assists against no turnovers, and no Ducks other than Joe Young (19 points) seemed to belong on the same floor. Into the second media time out it was still close, but Arizona was in the middle of a 14-0 run, and building momentum. By halftime it was long over. The problem was the paint, which the Wildcats owned, uncontested. They would win the rebounding battle by 17 (12-3 on the offensive glass) and lead in post scoring 36-18.
Arizona rolled to the title, facing little opposition in the final.
Let's get serious: it was a lame championship game. With only about eight minutes of the 40 played in a truly competitive manner, 'Zona's win over the hapless Oregon Ducks landed like a wet fart in the non-partisan portions of the MGM Grand Garden Arena. Even the 'Zona Zoo, often a dominating force in the City of Sin, was left less than boisterous until the final moments, reacting to the action, rather than dictating it. Color me
unimpressed
.
Please do not take that review of the final as me saying that Arizona is not a worthy champion. They most certainly are, but the way they claimed their crown - over a weak, helpless opponent - was not deserving of the Conference of Champions. At least the Pac-12 was saved the embarrassment of having Oregon, a harbor for rapists and thieves, ascend to the top of the mountain once again.
My All-Tournament Team
Joe Young - G - Oregon
TJ McConnell - G Arizona
Delon Wright - G - Utah
Brandon Ashley - F - Arizona - MOP
Josh Scott - F - Colorado
Band of the Tournament - Oregon
Madness erupts; CSU 'snubbed' -
For the first time in four years, Colorado Basketball will not be represented in the NCAA Tournament. I had got kind of used to the rhythm of receiving a Dance ticket, to the point that this was one of the least anticipated Selection Sundays of my entire life. I didn't even blink as the brackets were announced, even slipping into a much-needed nap about the time they got to the South region.
That doesn't mean, now fully recovery from my travels, that I'm not excited for the Madness. This is Christmas for hoops junkies, and I want my damn presents as much as anyone. Maryland/Valpo! VCU/Ohio State! Oregon/Oklahoma State! Northern Iowa/Wyoming! SMU/UCLA! Nom-nom, give me more!
Of course, not everyone in the state is as quick to get over a March spent on the outside looking in. Colorado State claimed the paper crown this weekend for being the team everyone says was 'snubbed' by the Selection Committee, and
boy
are the Rammies pissed about it. Kind of reminds me, in fact, or BuffNation's general frustration at getting left out in 2011. Welcome to the club,
little brother
.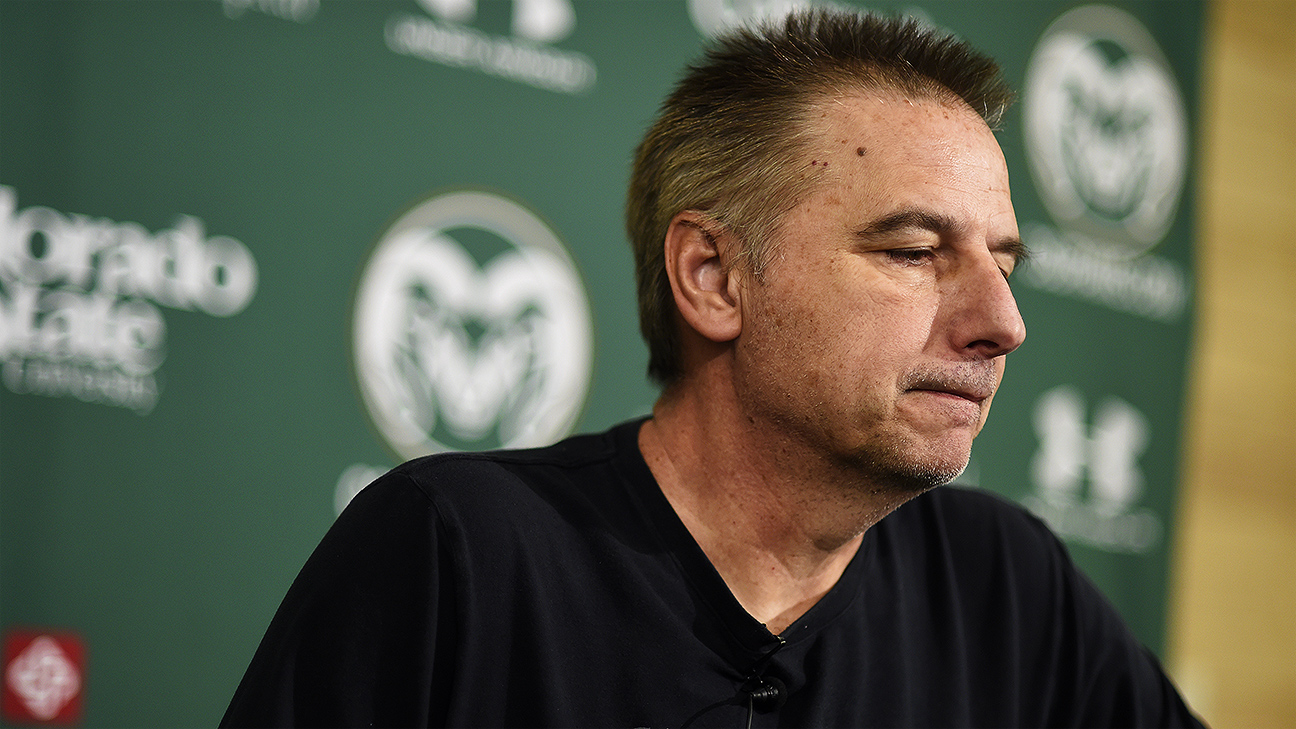 Awww, poor Larry. From: ESPN
The current outrage is that CSU becomes the team with the highest RPI (currently top-30) to earn a Selection Sunday snub since the field expanded to 68 teams. But, as CBS's Gary Parrish
pointed out
, such rejections, while maybe not as noteworthy, are made every year. The top-two RPI denials in each of the last 11 brackets have come at the expense of non-power schools, proving yet again that
who
you beat (or even just played) is far more important than the top-line number. The Rams played (and beat) only one Power 5 school this season (who had a shit year), and all the RPI lipstick in the world won't gussy up that pig. The UCLA Bruins (a popular team to take a poke at), however, played four P5 schools and mid-major behemoth Gonzaga in their non-conference schedule alone, before embarking on a grueling Pac-12 campaign. I'm not saying it's right, I'm just saying it shouldn't be all that surprising.
Not going to lie, I'm taking a certain amount of joy knowing that CU's downward spiral spiked the Rams' best looking road win, potentially
holding them back
in the committee room. See, instead of claiming a valuable road win over a top-50 or even top-100 RPI team, their win in Boulder was essentially for naught, as the Buffs dove into the 115 range. I thought CU's plummet would cost UCLA, adding a bad looking loss to their resume, but in the end, it was a
win
over the Buffs that dealt the bracket blow. Harumph.
So it's come to this: considering the CBI, and Ski's decision to stay away from it -
Of course, while the Rams are dealing with their NIT consolation prize, the Buffs are dealing with something else entirely. Enter: the College Basketball Invitational. Yes, even further down the rung than the NIT, CU has
accepted
a bid to play in the CBI to keep the season rolling, costing them $
35,000
in the process. Hooray?
You may be asking yourself, "what the hell is the
CBI
, anyways?" Well, it's a 16-team tournament played since 2008 amongst the willing. You don't have to be a winning basketball club, you don't even have to be all that good. If you have the cash, and nowhere else to be, they generally have a spot for you. The rationale for joining this tournament of the damned is apparently to provide a reformational springboard into next year for a team down on its luck. A '
sneak peak
,' so to speak, at what we will see next winter.
CU has never even had the option to participate in the CBI before, as it was explained to me, because the Big XII didn't allow their teams to join. Not so in the Pac-12. Oregon has won it before, as has Oregon State. Those programs made great hay out of runs, which does bode well for Colorado. The Buffs, as the only P5 team in the damn thing, will be the prohibitive favorite in a field filled with small conference fodder. Other teams of note are UC Santa Barbara, Pepperdine, Vermont, and... well, that's it, really. CU will start with Gardner-Webb at 7pm tomorrow night at the CEC. I'll have a teaser up at some point before tipoff.
Josh Scott will be licking his chops for this one. From: CUBuffs.com
I know Coach Boyle wants this, and he promises the team is up for it, but I'm just not sold. Much like
coffee
, post-season basketball is for closers, only, and the Buffs just weren't up to snuff this winter. Add to it the fact that BuffNation
won't even get a few more games of #SkiSeason
, and I'm even more dubious. For a program that had been on the rise, to be accepting a sub-.500 invitation to a 3rd rate tournament seems like a humbling step backwards. Better to just cut the losses and move on to next season, I say. But, since they're here, might as well win the fuckin' thing.
Speaking of Ski, he took a lot of heat in the social media ranks for his
decision
to skip the tournament entirely. I'm decidedly
not
a member of that reactionary club. If Ski, one of the best players in program history, would
rather
just ride off into the sunset on his own terms, then God bless him. He's earned that right. Banged up and disappointed after a 32-game season, he doesn't need to prove anything else to anyone, certainly not in a half-hearted series of glorified scrimmages. Lay off the kid.
Tad nabs two, Dustin Thomas leaves program -
It's been rough for Coach Boyle and crew on the recruiting trail this year. Despite shooting for the moon in a couple of instances, and at far more terrestrial game in others, they've come up empty in their quest to fill their one and only scholarship on offer. Desperate to entice someone,
anyone
to take that scholarship, His Tadness reached into the ol' bag of tricks over the weekend, earning the commitment of two European-born talents for the 2015 recruiting class.
Guzonjic was the first to commit. From: AllBuffs.com
First up is
Kenan Guzonjic
from Bosnia and Herzegovina. Originally a
commit
to Albany out of high school, he's been heading down the JuCo route in recent years,
playing
at
Midland College
in Texas. He decided to
sit out
the past season, however, recovering from a knee injury and preserving D1 eligibility. With three years to play three, Keenan will join the Collier/King/Miller class as some extra size and scoring in the paint. At 6-8 with some stretch ability, he fits the traditional Coach Boyle mold - tall, rangy,
diverse skill set
, left-handed. In the end, he
chose
Colorado over reported offers from a number of smaller schools like Stephen F. Austin and St. Bonaventure.
Akyazili provides much needed support in the backcourt.
Following
quickly on his heels was Belgian point guard
Thomas Akyazili
. A true freshman, Akyazili was a sought-after mid major prospect for much of the last year, with St John's and St Mary's pursuing him at times. Ultimately, he
reports
his decision came down to a pro stint in Antwerp or joining the Black and Gold; turning down the cash, he'll take a tour in Boulder, instead. Whereas Guzonjic has been in this country for a while, and there's a decent amount of tape on him, Akyazili only appears on a
few
films
from
international tournaments
. Another lefty with speed, we'll have to see how he develops in Boulder.
Welcome aboard, Yaz and Guzo!
Of course, the more astute of you may have noticed I listed two commitments above for only one scholarship. The implication, of course, was that someone was about to bolt from Bolder. That someone, unfortunately, is
Dustin Thomas
. The sophomore forward, who had continued to display hustle and growth when on the court this season, announced his decision to transfer out of the Colorado program, clearing up the roster confusion. While this may not be the end of the coming attrition phase, it's probably the most shocking of the potential dominoes to fall. I'll have more thoughts up later this week, but, for now, know that I feel that the Buffs are worse off without the Texarkana forward at their disposal.
Number 20 for the winter version of the Banana Stand -
There's always championships in the (Frozen) Banana Stand! The Buffs helped the Conference of Champions up their cherished trophy total over the weekend, as the Ski team took home their 20th combined national title in the 2015 NCAA Skiing Championship. It's Colorado's 28th team title in any sport (seven in cross country, one in football), slotting them in 5th in the Pac-12, giving the conference 472 overall.
It was a balanced attack from the Buffs, as they cruised home with 505 total points. They took a lead after the first day, and, while they would relinquish it on Day 2, a strong performance in Day 3's nordic events put them ahead for good. CU only lead one overall category (nordic), but finished top-four everywhere else to clip second-place finisher Denver by 27 points.
Glory, Colorado! From: CUBuffs.com
As the great Neill Woelk
pointed out
before the event, we shouldn't take Skiing's dominance for granted. Comparatively, the legacy and weight they carry in their own sport dwarfs what football can claim - and it's not even close. Head Coach Richard Rokos, through eight national titles, has helped Colorado's influence and on the national and international stages stay strong. In reality, we're not a football school, we're not even a basketball school. The University of Colorado is a
SKIING SCHOOL,
in big-ass capital letters.
This begs the question, why aren't reminders of the Ski Team's greatness more prevalent on campus? Certainly, they train and compete far from Boulder proper, but that doesn't mean that Rokos or Bill Marlot (an athlete, coach and AD at CU) or Billy Kidd don't deserve recognition alongside McCartney, Salaam, Walseth and Billups. Why isn't there some place, probably in the CEC, where all 20 fucking banners hang, ready to intimidate? This is a problem across the board, but none more prevalent here. We have to get better at honoring the best athletic accomplishments we have to offer, regardless of sport.
Happy Tuesday!