It's finally time. Time for Colorado's 2015-16 basketball season to get serious. This afternoon, with the tip-off the Orleans Arena-based portion of the Las Vegas Classic, the Buffaloes will begin a stretch of games against good, quality opponents that will carry them through the rest of the season. The cupcakes and small division also-rans are in the rear-view, and none too soon, either. While it was nice to see a team with a lot of incoming questions find themselves and build confidence over the first month and a half, I'm ready to watch some truly competitive basketball. To find an answer to the question of 'just how good are these Buffs, really?'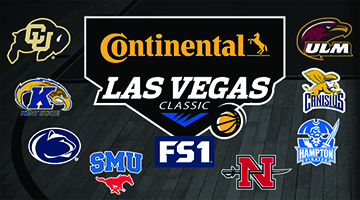 Let's get it on!
The early hints of the answer to that query will be revealed this week, first with this afternoon's game against Penn State, and then with tomorrow's game against an as-of-yet to be determined opponent. Regardless of how it shakes out, CU is destined to be tested for the first time since at least the trip to Ft Collins, and probably in a way they haven't been since the season's opening week.
Up first: the Penn State Nittany Lions. As you probably already know, PSU is not a basketball power, typically featuring in the lower ranks of the B1G each and every year despite geographic access to some rich recruiting grounds. Since randomly winning the NIT in 2009, they've made the postseason just once - a suspect berth in the 2011 Tournament - and previous history would not suggest an upswing is imminent. They've been improving on the recruiting trail, however, and are off to a decent 8-3 start to this season, something that looks to belie the reality of a young, developing team trying to deal with the graduation of a program legend (last season's B1G scoring champ, D.J. Newbill). If head coach
Patrick Chambers
can get them to win a few conference games, something that can be a brutal task in that league, he will have earned the
extension
granted him last spring.
Garner rules the roost in State College. From: USA Today
While not a juggernaut, these guys do pose an interesting challenge for Colorado. Namely, for the first time all season, the Buffs will be playing a team that
really
likes to slow it down, clog the middle, and throw some zone at you. Compared to the free-flowing ball the Buffs have willingly gotten themselves into this season, this game could strike as a painfully awkward knuckleball, and one that could really stretch everyone's patience (fans included). The Lions rarely get out in transition (15.8% of all shots on the break), usually play their games in the middle 60s of possessions, and limit opportunities inside (only 43% of all points scored against them are inside the arc). It's simply not a style these revamped Buffs are used to playing against.
Most of their offense flows through sophomore point guard
Shep Garner
. The Philly product is very efficient in metering out the rock, and is the best shooter in State College. It helps that he gets to work off of a pair of swing forwards with good size in
Payton Banks
and
Brandon Taylor
. The senior Taylor is the larger concern here, as he leads the team in scoring and can be a devastating slasher, but don't overlook Banks, who, while undersized (6-6, 220), can hold his own in the paint. More interesting, at least to me, than all of them is big man
Jordan Dickerson
. The 7-1, 245 center struggles with foul trouble (6.6 called per 40 minutes played), but is a key to PSU's ability to limit good looks at the rim. He's a premier shot blocker (4th in the country in rejection rate), and, while not a scorer, lurks on the offensive glass. It'd be nice to see Josh Scott be able to get a quick whistle or two called on the hulking senior, because the Buffs will need him out of there to open up the post. Regardless their matchup when CU has the ball will be telling.
Dickerson is a shot blocking machine. From: CentreDaily.com
The prescription here is ball movement. Colorado has been much better this season at offensive rotation than they were in previous runs, and they'll need to lean on that ability against Penn State. Quick rotations, inside-out passing, and finding open shooters; that's how they'll crack this nut open. We can now trust the Black and Gold to hit those open looks, so trust the offense to create them. After that, if there's anything that can be done to open up the taps a bit, and force some extra possessions into the proceedings, will benefit CU greatly. On defense, PSU rarely shares the ball (334th nationally in A/FGM ratio), so I like the look of the bog standard man-to-man. This will really come down to scoring points, and if the Buffs can crack 70 - the Nittany Lions have only done that three times this fall, and have yet to lose a game when holding their opponent under that level - then I'll say Colorado will eek out the ugly victory.
Looking forward to Wednesday night, the Buffs could either see Kent State or Southern Methodist. The real trick of this trip to Sin City will be matching up with SMU. It doesn't really matter how it happens, but if CU somehow misses a date with the Mustangs, it will be a wasted opportunity. The reason: RPI. SMU, while still sitting on a post-season ban, is currently #16 overall in the rankings, and seemingly destined to hang around there through to March. At the very least, they should be top-50 when all is said and done, which is a hefty prize, win or lose. The Golden Flashes, meanwhile, are a respectable team currently in that RPI top-50, but their level is soft, and a typically weak MAC seems destined to drag it down to the top-100 line by season's end. Playing the likes of Nicholls State and Hampton dropped the Buffs 16 spots in those same rankings over the weekend, and they need a game against the Mustangs to balance out that dead weight. By all appearances, that means CU will have to win in the opener against Penn State to secure the SoS boost. KenPom gives the Mustangs a 80% change of winning, and the oddsmakers on the strip have installed them as a 14.5-point favorite (FWIW, CU is a seven-point favorite against PSU).
Let's not brusquely overlook KSU, however. The Flashes are a conference power, frequent entrants in post season play, and a tough out.
Rob Senderoff's
club is 7-2 this season with two understandable road losses, and boast a very efficient offense (1.08 ppp). Key to their abilities, they are loathe to turn the basketball over, and rebound extremely well (top-30 offensively, top-50 defensively). Those two factors alone make me think they'll give the high-flying Mustangs a better game that most expect.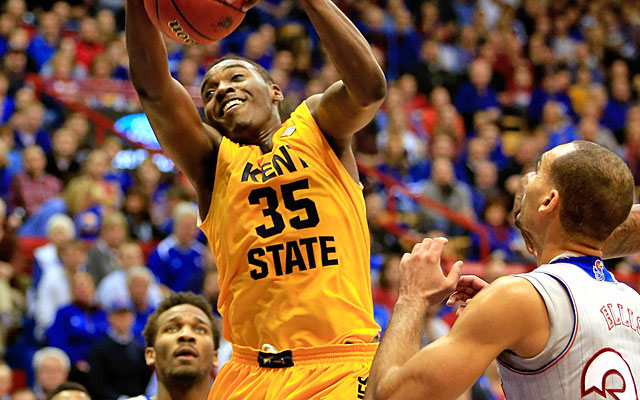 Jimmy Hall: the happy warrior. From: CBS Sports
They're built around the veteran Brooklyn-based front court of
Jimmy Hall
and
Chris Ortiz
. Combined the pair averages 23/13, and should have a fantastic year in the MAC. Hall is an especially versatile athlete, who is exceedingly unselfish (leads the team in assists) and can help make up for a makeshift backcourt. Fifth-year senior
Xavier Pollard
, a transfer from Maine, is probably the most interesting back there, and is the teams most reliable performer after Hall.
In the end, however, I don't think any of the Flashes will be enough to stem the tide of SMU athleticism that's about to head their way. Head coaching legend (and Tad Boyle mentor)
Larry Brown
,
fresh off his
nine-game suspension for
doing Larry Brown things
, has built a power-house in short order. Five-star talent that used to turn their noses at the Dallas-based school suddenly seem interested (gosh, I wonder why?), and Southern Methodist, who has a long and storied history of *ahem*
magically getting good in a hurry
, turned the trick again, only this time on the hardwood. They've won 63 games over the last two-plus seasons - unprecedented in their basketball history - and seem destined to finish with a sizable total this season, even if it
won't get them anything
.
Larry Brown, a true living legend, turned SMU into a winner overnight. From: CBSLocal.com
While I can scoff at they way their acquired their talent, there is no denying that
it is there now
. The Mustangs boast one of the nation's deepest strings of athletic pieces, and they've used it to stunning effect on the offensive end. KenPom currently has them as the 8th-best offense in the nation, scoring an adjusted 1.16 ppp, and a staggering total of eight players come into the week with an Ortg over 116. They're deep, fast, and explosive (70% of all field goal attempts are at the rim), particularly in the backcourt. How else do you account for a team that plays slow (300th in adjusted pace), but is 23rd in points scored (84.9 per game)?
The best player on the roster, and one of the best in the country, may be undersized, but 5-9 senior point guard
Nic Moore
holds an oversized importance in the SMU backcourt. The reigning AAC Player of the year, and one time transfer from Illinois State, is their best shooter, passer and leader, and enters the week averaging a robust 14 points and five assists per game. It must be easy for him to accumulate those assist numbers, what with talent like
Keith Frazier
(now coming off of a knee injury),
Sterling Brown
(an incredibly efficient player with a TS% over 82) and
Jordan Tolbert
(one of the best rebounders around right now) running at his flank. All are versatile wing archetypes who can do a number of things on the court. If they ever get center
Markus Kennedy
back, currently sidelined with a bad ankle, these guy will be
really
dangerous.
Moore is the real deal in Dallas. From: USA Today
I'm interested to see what the result would be, should the Buffs get SMU in the final round of the LVC, but I'm afraid I already know the answer. CU has been a good, but not great, defensive team this season, and don't really have an answer for the kind of ruthless offensive efficiency the Mustangs are capable of. Oh sure, the Buffs would get their points, but would slowly fall behind the eight ball. Southern Methodist simply shares the ball too well (65.7 A/FGM ratio), plays too balanced (seven players average in double-figure scoring), and rebounds essentially everything (#1 with a bullet on the offensive glass) for the Buffs to give them too deep of a scare. Should we get this one, Colorado would lose by double-digits, I'm sorry to tell you. It's a weird situation, wanting to see the matchup, yet dreading the result, but such is life when you're trying to game the RPI system.
Essentially, I see a split in CU's Las Vegas future, with a win in the opener before a steady drumbeat of efficiency from SMU guts them in the championship game. Nothing to be ashamed of there, however, as SMU is an elite club lead by one of the masters of coaching. If, however, Colorado could somehow pull it off, winning the pair and claiming the crown, that would finally be enough to convince me that, not only is this a good, fun group of BasketBuffs, but that they are Pac-12 title-contenders. A tall order, sure, but certainly a possibility, however unlikely, from a quirky set of two games played over two days in the capital of excess.
--
Tip-off from the just-off-the-Strip Orleans Arena for Penn State vs Colorado is set for 8:30pm this evening. Unfortunately, due to some typical FOX
broadcast blackout bullshit
(only CBS is worse at embracing to intersection of modern technology and sports viewing), this game is not available on either television or internet stream. I'm dead serious, in the year 2015, where I can get some stupid darts championship or the latest cricket match on my phone, a game between two Power 5 basketball teams will be played in the dark. Instead, Fox Sports One will be showing North Texas vs Creighton... make sure you lose the remote for that one! Thankfully, Mark Johnson has you covered with the radio call on AM 760. This... this and traffic jams are why radio will never die off completely.
Tomorrow, modern day service resumes, with Fox Sports One finding time in their busy Big East schedule (*cough*) to fit in both games of the classic. So, regardless of what time the Buffs play, you'll be able to catch them on the tube. Should they lose to Penn State, CU plays at 6pm. If they win, catch the action at 8:30pm.
GO BUFFS! PROVE ME WRONG, AND WIN THE DAMN THING!