What else can you say? The Buffs got the result they were looking for Wednesday night against the Fort Lewis Skyhawks. They may have allowed 55% shooting in the first half, 40% from beyond the arc overall, and only found themselves up two at the break, but they clamped down defensively in the second half, and cruised the rest of the way to a
95-71 win
. In a game that doesn't count against the RPI, and comes immediately ahead of the two biggest games on the pre-Vegas non-conference slate, it's all that was needed: a win.
The Buffs toed a fine line on Wednesday, but none-the-less got the victory against Ft Lewis. From: USA Today
Other than
Kody Salcido's mustache
, what I was most impressed with was the play of Josh Scott. He didn't have much competition down low, but it's fun to see anyone in any circumstance put up 24/15 in only 27 minutes. He was 11-15 from the field, and effortlessly dictated everything that happened inside the arc -- both offensively and defensively. Josh Fortune also had a fantastically smooth game (17 points, six assists, no turnovers), but it was all about J-40, and he played a fantastic game. Luckily, he was at his best, because FLC is a pretty darn decent squad (for a D-II), and, at least in my estimation, better than some of the other flotsam populating the schedule over the last few weeks (looking at you, UNC).
But, this post is not really about what Colorado did this week against a D-II school, as feisty as they may be. This is about looking ahead to Sunday's war in FoCo, the biennial trip north to face the most openly hostile crowd left on the schedule. It still chaps my ass that
CU lost last year
, coming up short at home despite a combined 38 points from Ski Booker and Xavier Johnson. You never want to lose to the Rams, but to lose at home, with everyone else in a CU uniform playing soft and timid, was... well, embarrassing, to be honest. The Rams came into Boulder and pushed the Buffs around in their own gym.
They
were the big brother that night, something I never want to see happen again.
So, tomorrow afternoon, Colorado is looking for revenge. For all the good momentum they've engendered over the last few weeks, all the good basketball they've been putting on film, they need a win up north. They need to prove that last year is not how this series operates. With a new found offensive energy and a dominating set of forwards, the Buffs need to command the floor, quiet the crowd, and strangle the life out of the Rams in Moby.
Eustachy and the Rams have done a great job in recent years of negating Josh Scott. From: ABC 7
First and foremost, that means a positive answer to this question: does Josh Scott make the trip? No, I'm not saying that the Young Fundamental is quietly injured, and potentially out for Sunday's action. I'm just wondering if, for the first time since arriving on campus,
Josh Frickin' Scott
manages to show up against the Rams. In case you haven't noticed, and it would've been easy to miss his presence on the court the last three times these teams have met, Scott has been all but silent in his career against Colorado State. Larry Eustachy has been putting on a master class of interior defense against Jelly; fronting and denying the big man the ball, battering him physically, knocking him off the glass, bringing the double-team at every opportunity, and generally making Josh's life a living hell. Don't believe me? Here are Josh's game lines by year:
2014 - 2 pts, 0-7 from the floor, Ortg 63, 8 rebounds, 0 blocks, 1 steal, 2 assists, 2 fouls - 35 minutes
2013 - 6 pts, 2-4 from the floor, Ortg 102, 7 rebounds, 3 blocks, 2 steals, 0 assists, 4 fouls - 32 minutes
2012 - 4 pts, 2-8 from the floor, Ortg 63, 3 rebounds, 1 block, 1 steal, 0 assists, 4 fouls - 27 minutes
*Averages over three games - 4 points, 6 rebounds, 21% from the floor, 1.3 blocks, 4.3 fouls/40 min
Woof. That's not All-Pac-12 caliber. That's barely even registering a pulse. If Josh is '
not a fan
' of the Rammies, as he proclaimed this week, he needs to show it by putting
little brother
in the corner. This is a brutal, physical rivalry. The attention, offensively, for both sides may be on the perimeter this year, but the final result will still be earned in the trenches. For CU, that
has
to start with Scott playing to his capabilities, and having a positive, practical impact on the game from a statistical perspective.
Back-to-back losses have CSU desperate for a win. From: their stupid website.
A tiny, incremental amount of the juice for this game was lost to CSU's back-to-back losses to
UTEP
and
Long Beach State
. Those two defeats were endemic of a Rams team that has not lived up to expectations this fall, and that, so far, does not look like a typical
Larry Eustachy
squad. They have not been playing tough basketball, relying almost entirely on outside shooting, and have really struggled after a
season-opening road win
over a very strong Northern Iowa squad. Oh, sure, they'll still rebound and scrap, and Larry will always try to put his
unique
stamp on things, but they have absolutely no inside presence, and are susceptible to some surprising turns on the scoreboard if their shots stop falling.
For the Rams, it all starts on the perimeter. 43% of their shots taken are from outside the arc, and they rarely even try to get anything from two-point range on in (337th nationally in two-point jumpers). They're a
good
three-point shooting team (37%, four players over 40%), but nothing special -- more a collection of volume shooters than anything. Wings
Gian Clavell
,
John Gillon
, and
Antwan Scott
do most of the damage here, accounting for 126 of their 194 total attempts for the year. If that trio starts drawing iron from deep, the Rams have no other viable options to turn to offensively. Just look at that UTEP box score, a game they lost in double-overtime. CSU was up by 17 at halftime, bouncing along behind 9-23 shooting from deep. After the break, however, they went cold, only hitting 3-18 over the final 30 minutes (second half plus two overtimes). All the Miners (how ya doin, Dominic Artis?) had to do was chip away, which they did.
I'm surprised Larry has allowed his team to become so perimeter-focused. From: BSNDenver
This, then, will be a major test for CU's perimeter defense. The Buffs are currently 250th nationally in allowed three-point percentage, but there's a devil in that detail -- Colorado is only allowing about 27% of all opponent attempts from deep, 10th nationally and 16 points lower than CSU's rate. Tad Boyle's crew has actually been running-off shooters well, forcing teams off the dribble and into the paint. That has been it's own issue, with the Buffs allowing too many layups over the last few games against marginal competition, but, importantly, they
have not
been getting overwhelmed from three. That could loom large tomorrow. The Rams are going to chuck up their bombs; but are they going to be open looks, or will CU stay in their face throughout the action on the perimeter?
Ultimately, I think CU could live with their average volume at the arc, so long as the shots are contested. And, if those shots don't fall, and the Rams have to venture outside of their comfort zone, they will do so into the waiting arms of Josh Scott and Wes Gordon, who are swatting shots at a high clip without committing fouls. This wold negate CSU's lone saving grace -- the home whistle and getting to the free throw line. 25% of their total attempts have come from the charity stripe, which is surprisingly high, considering how little offensive activity they get off the edge. If they don't get those calls - it would help if Collier and Talton aren't in foul trouble here - then the Rams have nothing left but to take contested jumpers, something the Buffs would welcome.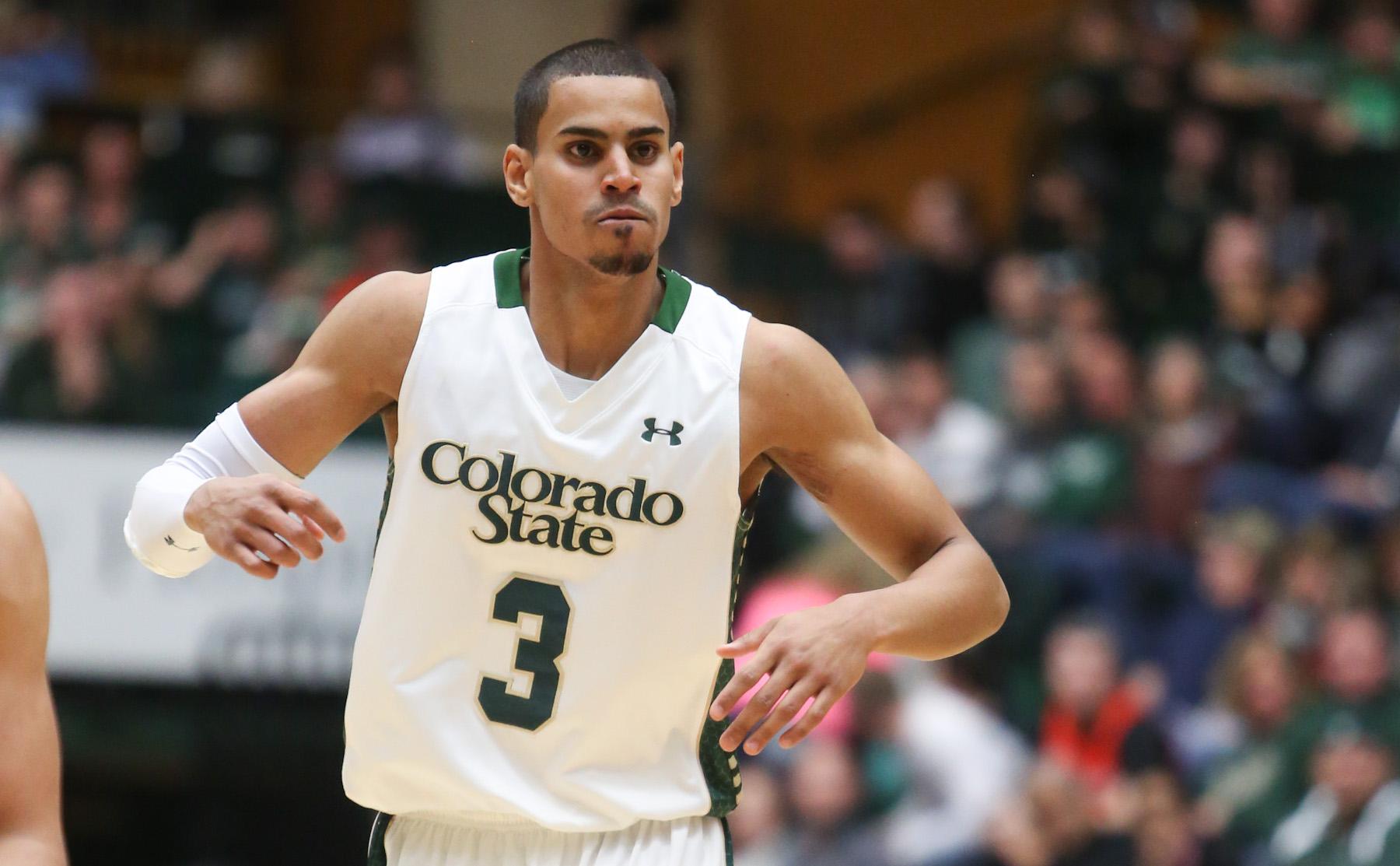 Clavell is legit, and the Buffs will struggle to keep him in check. From: the Collegian.
On the flip side, when Colorado has the ball, the story is about how weak the Rams have been defensively. They're 273rd in adjusted efficiency, allowing opponents to be just as prolific from the perimeter as they are themselves. That plays right into the Buffs hands, as they've proven to be a strong three point shooting team, without having to put up the volume of shots that CSU has. A combination of Josh Scott playing to form, and the three scoring wings of George King, Josh Fortune, and Tre'Shaun Fletcher hitting their jumpers could make it very hard for Colorado State to keep up.
Personnel wise, my biggest concern is Clavell. The 6-4 senior is a very smooth player, and an elite Mountain West performer. He's both the team's best scorer (21.3 points per) and a fantastic rebounder (8.6 per game from the wing). Colorado will struggle to keep Clavell in check, and a big game from the Puerto Rican could keep the Ft Collins crowd into it throughout. Elsewhere, Gillon is a really good point guard, and could be very difficult to guard without fouling (and hits 96% from the line), while
Joe De Ciman
, adds versatility and depth on the wing. Inside, I'm most concerned about 6-7 senior forward
Tiel Daniels
, who was, defensively, the driving force behind Josh Scott's poor performance in the CEC last December. The Buffs need to find a way to counter his defensive activity in the paint.
Gotta keep Gillon off the line. From: the Coloradoan
Essentially, I see this game as a boat-race. With both teams offensively focused, and the homestanding Rams a question defensively, the first team to 80 probably wins. I have every reason to believe that team will be the Colorado Buffaloes, and, if Josh Scott can provide even a little more than he has in the past in this series, I will guarantee it. In the end, give me the Buffs, 85-79. Let their
insufferable
fans choke on that.
--
Tip-off from Moby Arena in Fort Collins is set for high noon tomorrow. I expect a large number of black-and-gold faithful to be in attendance, and an incredible atmosphere overall. If you haven't yet committed to making the drive (or bus ride) up to the Fort, let me assure you that a solid number of tickets are still available, and that the Buffs need you! For those not headed north, televised coverage can be found on ROOT Sports (hey, that's still a thing!), with the radio call on AM 760.
GO BUFFS! PROVE ME RIGHT, AND BEAT THE RAMS!