Welcome to the end of the road. The season finale, 2016. To-date, the Colorado Buffaloes have defied any number of preseason expectations by putting themselves in position for a fourth NCAA Tournament bid in five seasons, something entirely unprecedented in the history of this program. It's been a semi-miraculous ride, one that's only a final brushstroke away from perfection. With a win in Salt Lake City this evening the Buffs would claim their 22nd victory in the regular season, and set a new program record for excellence. A blissful
denouement
on what is shaping up to be Coach Boyle's best work in Boulder.
Of course, all of us in BuffNation have been in this situation before. Back in 2014, the Buffs headed into their season finale with Cal stuck on 21 wins. A win in Haas would not only have set that program record for wins, but also clinch an elusive first round bye in the conference tournament. Colorado
lost that day
, falling in overtime in a game they played well enough to win; opportunity lost in a particularly painful fashion.
CU faces an even tougher threat this time around. The Utah Utes, last seen in Boulder trying to find their sea legs, have captured lightning in a bottle since, rocketing up the league table over the last month. The challenge before the Buffs is, therefore, extremely daunting: walk into the belly of the beast, and beat one of the hottest teams in the entire country on their own floor. It certainly won't be easy. If, come this time tomorrow we're all still celebrating the culmination of the winningest regular season run in the life of the program, it will because Colorado earned it under the most difficult of conditions.
--
Hype Music for the Evening: "The Horse" by Cliff Nobles & Co.
I'm closing the season with one of my all-time favorite tracks from the CU Basketball Band book. This bygone instrumental hit - one that, weirdly, doesn't feature the headliner Nobles at all - was all the rage in the late 60s. It reached it's peak, however, when it was transcribed into a pep chart, forever to be played with passion and pride by band geeks around the country. Featuring more brass than you can handle, I'd rather play this beast than just about any song around. Enjoy!
--
Tip-off from the Huntsman Center is set for 7:30pm this evening (subject, of course, to the vagaries of Senior Day celebrations in SLC). The final regular season action of the season can be seen on ESPNU, with the radio call on 850 KOA.
For reference, my preview from the first game can be found here.
Click below for the preview...
When last we met -
*Bounce-bounce*... *bounce*... *bounce*... *falls in*
The Colorado Buffaloes had been playing the Utah Utes near-perfectly in their first meeting. In front of a really nice crowd, they had all but eliminated positive contributions from the Utes' superstar center, Jakob Poeltl, were enjoying a strong scoring performance from George King, and had leveraged #TadBall (+6 on the boards, Utah shot barely over 40%) into a seven point lead with five minutes to play. But, down the stretch, just as we had seen against SMU and Stanford in previous weeks, the Buffs just stopped scoring, committed too many turnovers, and simply ran out of gas. When a broken kickout from Josh Fortune handed Utah the final possession hammer in a tie game, I think everyone knew what was coming. The follow-up floater from Utah's Lorezo Bonam lived on the rim, but eventually fell to seal Colorado's
56-54 loss
. It was CU's fourth straight loss to their regional rival; the haunting stuff of nightmares.
*Stream of unintelligible swearing* From: the Deseret News
Bonam owned the final minutes of this one. He scored or assisted on each of Utah's final four baskets, and collected the miss-fired pass from Fortune that doomed the Buffs. We may not have known much about the JuCo transfer from tiny Gillette College prior to this early-season action, but he's a true nemesis now. His final drive to the basket reminded me a lot of the
2013 home loss to Arizona State
, which saw the Buffs lose on a last-second layup in overtime. It left me just as devastated, just as numb. I only wish CU had taken the opportunity offered them, and trapped the Ute at the timeline at the start of the final possession.
Bonam's heroics wasted a hell of an effort by Josh Scott and Tory Miller to all but erase future NBA lottery pick Jakob Poeltl down low. Poeltl, who had come in shooting damn near 70% from the field on the year, only made two of eight attempts on the day, and went into the halftime locker room without a point scored. Scott and Miller pushed the Austrian import around, making him work for even the easy looks, and it paid off. It helped that Poeltl missed a few bunnies, and that the refs lost their whistles for most of the evening (other than the odd moment when Verne Harris felt he needed the spotlight on a clean Wes Gordon block), but all credit to the pair for doing the dirty work inside; Jakob looked exhausted and frustrated for most of the evening. Scott would finish with a solid 10/10 double-double for his troubles.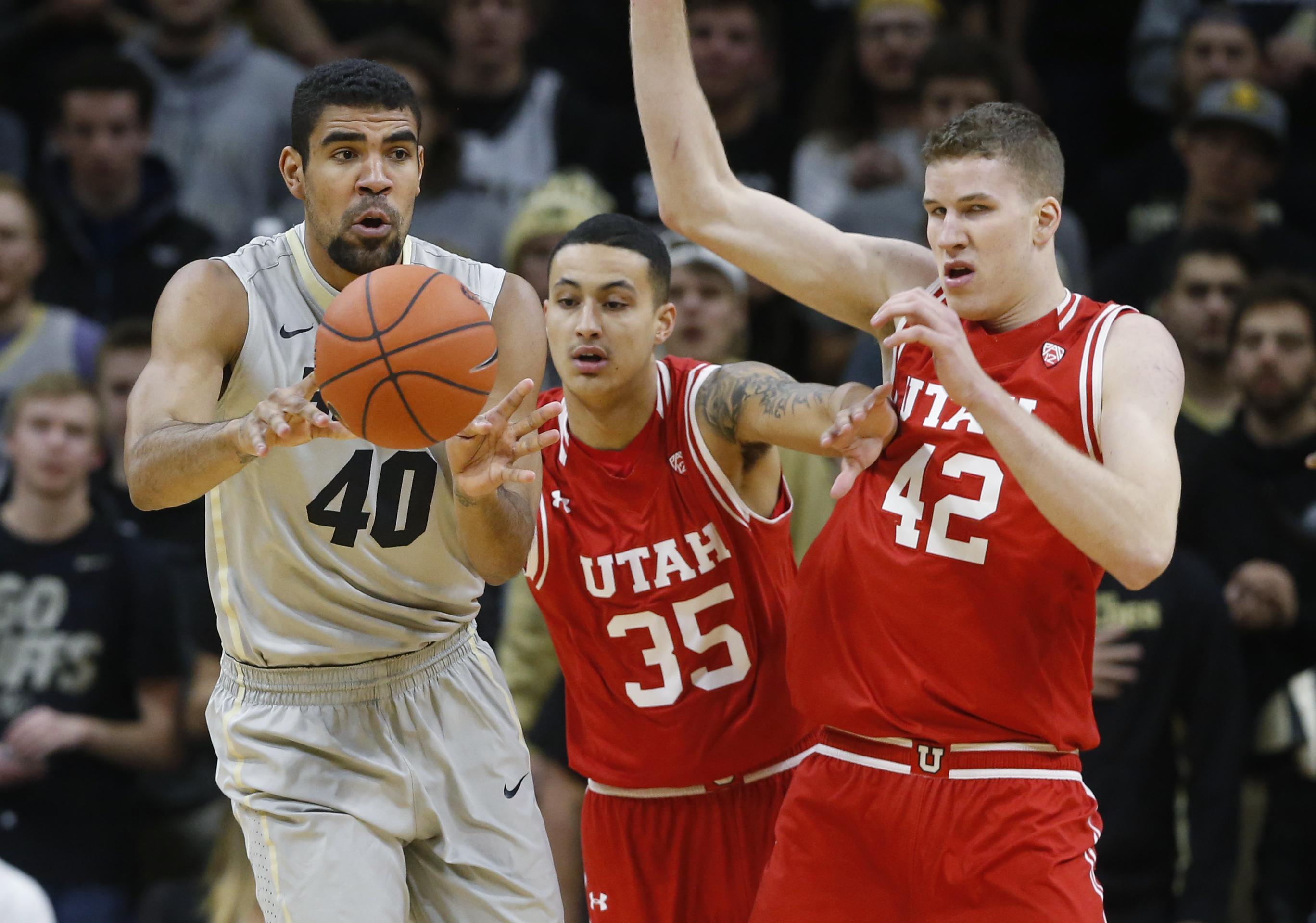 J40 had made Poeltl's life a living hell in the paint. From: the Washington Post
Elsewhere, George King went off, scoring 21 points on 10 attempts. Four turnovers aside, it was easily his best performance since mid-November. My only question: why wasn't he the one making the drive towards the basket on CU's final possession? Josh Fortune had silently struggled offensively all night (2-6 from the floor), continuing a lengthened slump that had seen his importance in the wing hierarchy plummet, and I wasn't exactly 'shocked' when he threw the ball into the waiting hands of Bonam. Colorado needed to live or die with King and/or Scott there, and, while King was waiting for the errant pass, should've been the one in position to dictate the play.
And so, with some late-game mistakes from Colorado fueling their charge, Utah put up the only blemish on an otherwise perfect home schedule for the Buffaloes. From that standpoint, CU owes them a little spot of revenge. That they can also set a program record for regular season wins in the process only adds some spice. So, can the Buffs turn the tables on their 'rival?'
The Utes since then -
The problem for CU is that the Utes have only gotten better since they last played in early January. At that moment, Utah was reeling, and in danger of completely slipping out of control. Colorado let them off the hook in Boulder, and they've done nothing but soar since. Outside of a
pair
of
losses
to the league leaders, Oregon, the Utes have been almost perfect in the intervening weeks. They've gone 11-3 since leaving the Front Range, their lone non-Duck loss to OSU in Gill under
very unfortunate circumstances
. Simply, they've been playing great basketball, and come into tonight's action riding a six-game win streak, including major wins
at USC
and
over Arizona
.
The Utes have been rolling, as of late. From: the Deseret News.
The overall statistical profile, then, is seductive. 3rd in the league in offensive efficiency, 2nd in defensive, they are kind of a complete package. Key highlights include Pac-12-best marks in offensive eFG%, defensive free throw ratio, two-point shooting percentage, and assist ratio. Essentially, they excel at pounding you inside and keeping you off the line; typical marks of a strong basketball team.
This is a measured bunch; pedantic in pace, and deliberate in their intentions. They want a good shot, not necessarily a fast shot, and have been clomping along at a leisurely 66 possessions per game this year; something more appropriate to the pace of play from recent years. Most possessions will include some form of paint touch from either Poeltl or his front court running mate Kyle Kuzma, generally putting a lot of stress on opposing forwards. You will see things like the pick-and-roll, a good entry pass, and use of the high post. You know, good basketball things. Coach Krystkowiak ain't kidding around, he knows what tools he has at his disposal and how to use them.
That front court, yo. One of the best in the country. From: FOX Sports.
Elsewhere, Utah have shown some problems from the point guard slot this year, struggling with turnovers and getting their guards to the free throw stripe. As we'll see, however, most of those issues have been cleared up by a senior lead guard who is playing out of his mind in recent weeks.
One big piece of consolation when looking at their stat page, however, is Utah's relative weakness on the glass. They're seventh in the league in both offensive and defensive rebounding rate. As we all know, Colorado can be an elite-level wrecking ball on the boards, particularly on the offensive end. You want a path to victory for the Buffs tonight, then look no further than second chances and 50-50 rebound opportunities. CU will need to leverage their advantage on missed shots, like they did in Corvallis and Los Angeles, while combining it with a reduction in heedless turnovers. We know Colorado can do the former, and they showed great strides in exhibiting the latter last week against the Arizonas; the trick will be combining it in hostile territory, something they have not been able to accomplish all season.
Why things could be different -
The biggest difference for the Utes in the interim has been the play of Brandon Taylor. The pseudo point guard has been on fire in his final weeks of college basketball, putting aside many of the struggles that had been plaguing him since first tip-off in November. As Adam Butler
pointed out
this past week, over that six-game win streak, Taylor has seen massive increases in points scored, shooting percentage (especially behind the arc), and assists, while cutting his turnover numbers by a fifth. If the only real question the last time CU and Utah played was 'how is Utah going about replacing Delon Wright,' then Taylor's recent string of performances means the Utes have nothing left to answer for. He may have struggled in the first game, going for just seven points on 3-9 shooting, but, on his senior day, is there any doubt that the diminutive dynamo is going to continue his run of good play, and drop big numbers on Colorado's slower backcourt?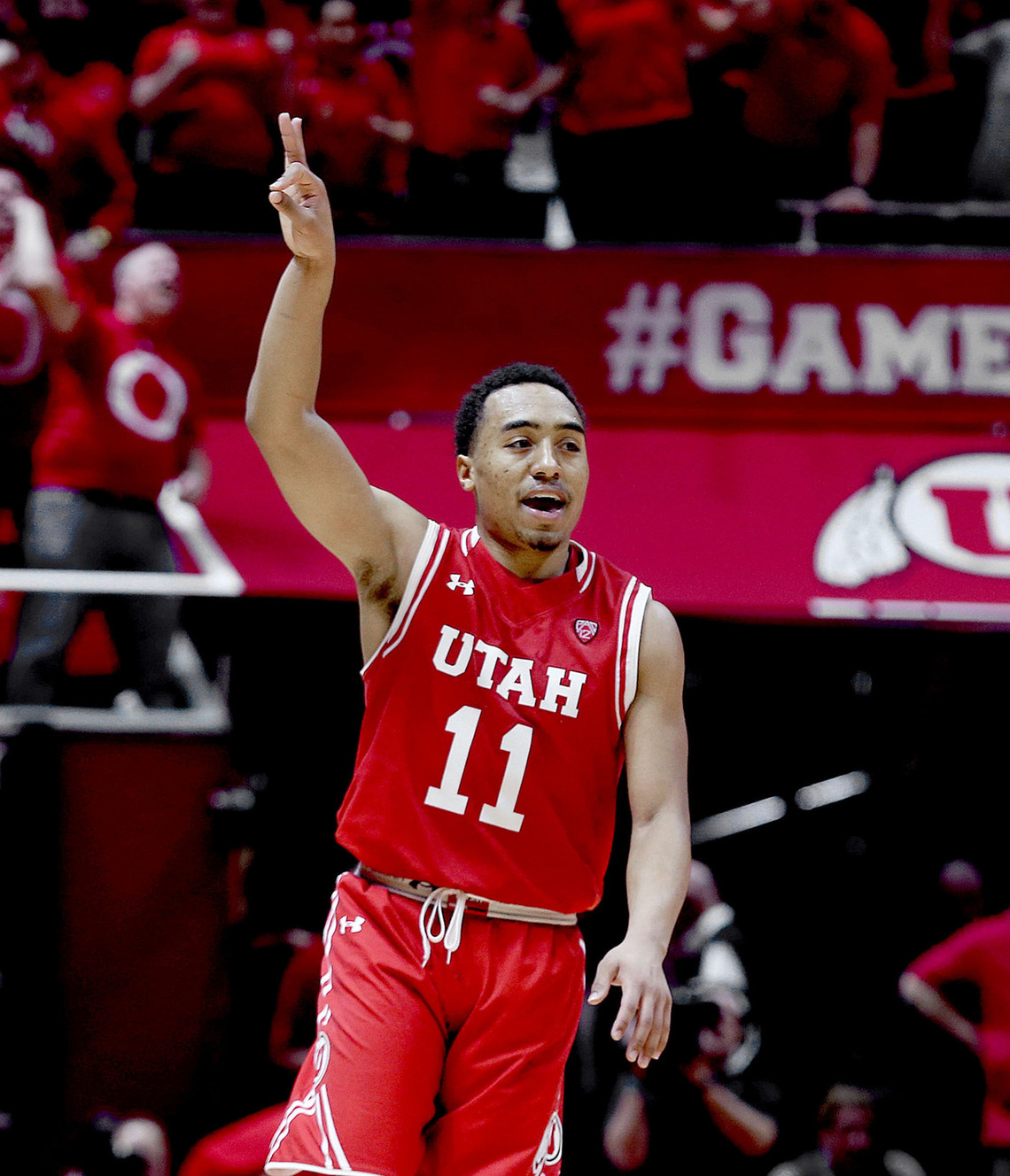 Taylor may not have ever been as good as he is right now. From: KSL
Similarly, Jakob Poeltl will not be held as silent as he was in Boulder. Believe me, this is not a knock on the abilities of Josh Scott, one of the best post defenders ever to wear a Colorado uniform, and I do not expect that Jelly will the the fault for the improved production from the big Austrian. It's just simple mean reversion -- Poeltl missed a number of bunnies in Boulder, albeit while harried, and I would fully expect those to fall in friendlier confines. Plus, just like Taylor, he's been on fire as of late. Over his last 11 ballgames, Jakob has been averaging 20/10 and just ripping teams. He will get a few calls tonight that he shouldn't, given the home whistle, and will generally show much better in this, his projected final game in the Huntsman Center. Two quick whistles against Scott is really all it would take to turn this game into a rout.
Poeltl will be better than he was in Boulder. From: BlockU
For the Buffs, I think they would love to have that end-of-game situation from the first game back. It was poorly coached and poorly executed from the Colorado perspective, with so much of what went down in the final seconds deserving of a mulligan. Given a re-do, I think the ball will be in Josh Scott's hands, either from the top of the key or through an entry pass, on the final possession. If the Utes deny (which they would be fools not to), then the dribble-drive would be done by George King, not Josh Fortune. King is much more likely to get a foul call, and much less likely to jump and huck a pass without a plan. Further, I would hope for something different defensively, either a trap on the in-bounds (not necessarily Tad's style) or at least a switch on the screens; just generally a sign that the team learned from their mistakes. Of course, to have this opportunity, CU would need to stick with Utah into the final minute, something that is far from guaranteed.
Prediction -
My record on the year: 13-4. Against the spread: 9-7-1. Optimistic/pessimistic: CU -1.06 pt/gm)

Lines as of Friday @ 8pm - CU +11, O/U 140
Overall, I think it's going to be very difficult for Colorado to stay in this one. I don't think turnovers will be the issue,
per se
, but Utah will take advantage of the ones that pop up. What will be the issue, however, is guard play. Taylor and Bonham are capable of a lot of things that CU will have trouble checking on the defensive end. With Bonham getting in the lane and Taylor hitting his jumpers now, there's not a lot of room for error in the backcourt. Add in Poeltl playing like a MOP candidate, and it's a rough situation for Colorado.
As I said, what could be the team's saving grace is another dominating effort on the glass, particularly the offensive end, to turn empty possessions into positive ones. Given a 'normal' amount of turnovers (around 12), that could be enough to keep the Buffs in the game into the final minutes. From there, someone would have to get hot. However, I'm just not seeing it. The Huntsman Center is one of the most difficult venues to venture into in the entire country. The Utes may not have a lot to play for, especially if Oregon wins their game at 2pm today, but they won't need that artificial juice in front of what is sure to be a very vibrant home crowd. Give me Utah in a semi-blowout.
UU 71 - CU 59
GO BUFFS! PROVE ME WRONG, AND BEAT THE UTES!