With college basketball season winding down, I'm straight to the action this afternoon.
Today in the bag, I'm talking the end of the road for the Colorado Buffaloes, the wild and wacky happenings of a weekend of insane basketball action, and the weirdness that is the Adam LaRoche v. White Sox scandal.
Click below for the bag...
Buffs bow out of NCAA Tournament -
Belief can be such an asshole. There I was, sitting at halftime of Colorado's first round NCAA Tournament game with UConn, enjoying the nine point lead that the Buffaloes had built over the opening 20 minutes. "This was it," I thought, "the opportunity to put the ghosts of lost leads past to bed." CU had dominated the opening frame, using tenacious activity in the defensive and rebounding phases to stunt the more heralded Connecticut crew, and I had begun to
believe
that the achievement was replicable in the second half.
Unfortunately, you are who you are, and the Buffs reverted to mid-season form when faced with a desperate pack of Huskies in the final frame. UConn started forcing turnovers, the Buffs stopped making shots, and the rebound edge began to flip. As a result, that precious lead melted, rather than increase, as CU allowed their opponent to go on a massive run that changed the timbre of the game. Over the first 12 minutes of the final half, the Huskies went on a 30-10 run, creating a 11-point lead for themselves. It was the kind of history repeating bullshit that you'd think I'd be accustomed to by now, but it stung all the more on the grand stage of the NCAA Tournament.
The Huskies slipped away with the win, ending Colorado's season. From: USA Today
But, with their backs to the wall, the Buffs refused to quit. They went into desperation mode in the waning minutes, pressing and attacking like never before. They began to chip away at the big UConn lead, just as they had in Las Vegas against Arizona, and started to build a comeback case. What was a 13 point Husky lead with three minutes to play was answered with a 10-0 run from Colorado; it was suddenly a one-possession ballgame! Then, a harried, wayward Connecticut inbounds pass fell into the arms of Josh Fortune; could this really be happening? This was the moment! The veteran of hundreds of Tournament games before, I knew that this is where the struggling shooter steps up to the plate and knocks down the big shot to send the audience at home into a tizzy; get ready for the madness! But, it was not to be. Fortune immediately turned the ball back over at mid court, and the Huskies went on to hit all eight of their free throws down the stretch (22 of 23 for the game). Game over, season over:
74-67
.
It's a really hard result to digest. This was not the case of two years ago, where the Buffs had no reason sharing the court with Pitt, or three years ago where a punchless Colorado squad was incapable of scoring any meaningful baskets against Illinois. No, CU was in this game, and had a reasonable claim to victory. Yes, there was a lot of talent on that UConn sideline, but the Buffs were by no means overmatched. They belonged, and they, in many ways, deserved to advance. The problem was, as so often this season, turnovers (12 leading to 18 Connecticut points) and an inability to sidestep opponent counter-punches. CU also failed to lean on their two great advantages this season: three point shooting and rebounding. As a team, the Buffs only shot 2-10 from deep, and lost the rebound battle 36-33. Those two measuring posts are why Colorado was in the Tournament in the first place, and they didn't manage to make them shine over 40 minutes in Des Moines. Kudos, then, to the Huskies, for closing out the arc like madmen, and standing toe-to-toe with CU in the paint.
Josh Scott had a final game to be proud of, but it ultimately wasn't enough. From: USA Today
In defeat, the great Josh Scott finished his college career with a dominating 23/11 against zero turnovers. Much of that scoring came from the free throw line, making it a vintage Jelly performance. His fellow senior, Xavier Talton, provided 7/5, and also did not commit a turnover. The graduates can hold their heads high, knowing they left it all out on the court; this loss was not about them. In support, Wes Gordon chipped in 9/9, and was very active early. He kind of disappeared during the second half Husky runs, but still showed a lot of tenacity in helping to build the early Colorado lead. For the underclassmen guards, Dom Collier was decent when on the court, but continued to run into dumb, lazy fouls, and eventually was disqualified in the final minute. George King never really got going, scoring only five points on six shots and missing a pair of big free throws. Josh Fortune, in addition to that brief flirtation with glory, committed a total of five turnovers to counteract his 7/3/2 line. Not a good day from the guard corps, overall.
And so it was that the 2015-16 season for the Colorado Buffaloes came to a close. They surprised a great many, myself included, by being competitive and, ultimately, Tournament-worthy this winter, but I fear they will go down in history as a team that missed their chances to be truly program-defining. This was a damn fun bunch to watch game-in, game-out, but frustrating at times, as well. As we saw in this game against UConn, too many times they'd produce a big lead, but prove incapable of supporting it against capable opponents; the flaws overcoming the production. Still, few are the opportunities in the life of Colorado Basketball that have seen the program in the Dance. Simply making the first round of the NCAA Tournament this season, after the doldrums of the previous year, was a remarkable accomplishment, one that should not be overlooked. It arrested the momentary decline of a year lost of sour humors, and sling-shot the Buffs back into the regional conversation. With a very promising year on the horizon (more on that as spring develops into the full offseason), Colorado can truly be said to be back on track. The trick, then, will be turning their next visit to the Dance into an extended appearance...
The weekend that was in March Madness -
I feel like I ask this every year, but wasn't this past weekend of the first and second rounds of the NCAA Tournament the most bizarre, interesting, fantastical sporting action you've ever seen? Game after game of insane comebacks, dramatic triumphs, and iconic moments fluttered across my TV screen, each more enjoyable than the last. Sure, in the end, most of the weekend's survivors were blue-bloods who we should've expected to advance, but the devil, as is always the case, was in the details.
This weekend was intense, I'm not going to lie. From: LarryBrownSports.com
First, in the hours immediately after the Buffs' loss, there was Baylor, both imploding
on the court
, and
in the media room
; love me some Bear shadenfredue. Then, later that evening, Arizona coach Sean Miller (who's
not leaving for Pitt
, btw)
lost his battle
with the forces of moisture. Sean,
nobody wants to be moist,
bruh. Oh, and USC decided the second round was for losers, and
gave away
their game with Providence in the most
gut-wrenching way possible
. On Friday, the games started out with a terrifying
Gary Payton II dunk
, continued through '5th #1-seed' Michigan State
losing
to something called Middle Tennessee State, and finished with
one of the best buzzer-beating finishes of all time
. Through the course of the day, a 10, 11, 12, 13, 14, and 15-seed all won games, yo. Into the weekend, we were treated to a loss
by Kentucky
, saw one of the holistically
better games of the weekend
end in a near-upset of Stephen F Austin over Notre Dame, before Sunday night got all crazy. A
heroic buzzer-beater
from Wisconsin's Bronson Koening lead to
sad Bill Murray
, and Texas A&M completed the
most impossible comeback
in the history of college basketball, going on a 14-2 run in the final 44 seconds of regulation to steal a win over Northern Iowa in double-overtime. Pure, unadulterated insanity. And I didn't even get to everything of note; there was that much shit going down.
The weekend's big loser, of course, was the Pac-12. Along with CU, the league saw six of their seven entrants fail out of the Dance in quick succession. Only Oregon made it to the Sweet Sixteen, and just barely at that. The remainder found some stunning ways to crash and burn in front of a national audience, headlined by Arizona and Sean Miller, who sweated their way to a blowout loss at the hands of a vastly under-seeded Wichita State team. Elsewhere, Cal lost their game with Hawai'i before it even began, thanks to a Murphy's Law tidal wave of scandal, injury, and illness; Utah, though they won their first round game, were smacked around in the second round by Gonzaga; USC, as mentioned above, had their game with Providence all but sewn up, only to seemingly will themselves to a loss in the final seconds; and last, but not least, Oregon State predictably fell behind VCU in the end. Really, in retrospect, CU came out looking better than most of their brethren. Regardless, the whole league took a black eye this weekend, one that may take a while to heal in the national eye.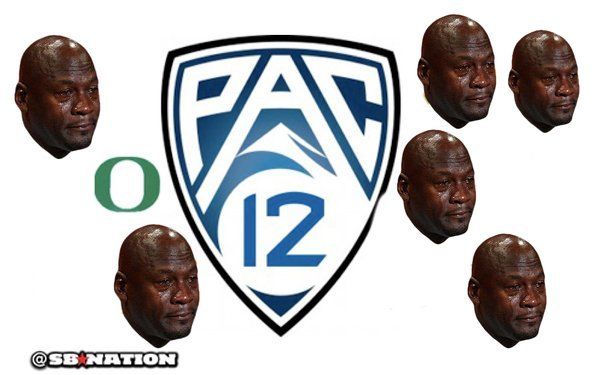 A rough weekend for the Pac-12, to be sure. From: SBNation
All-in-all, one of the best weekends of basketball I've every enjoyed in my entire life. I feel like that much fun packed into one four-day stretch should be illegal. Thankfully, it isn't, although we will have to wait a full year for the opening round Madness to return. The Sweet Sixteen and Elite Eight will have to suffice for now.
My Sox and their 'leadership' problem -
With the end of college basketball season quickly approaching, and the Buffs already into their offseason routine, my mind has begun to wander to my other sporting passion: baseball. Specifically, my life-long dedication to that city-state of a baseball fiefdom known the world 'round as the Chicago White Sox. And, wouldn't you know it, My Sox decided to go and make national headlines just in time for me to come running back to the herd. Oh, joy!
Out of the blue last week, it was
announced
that walking waste of money Adam LaRoche was retiring. Just like that, *poof*, gone midway through spring training with $13 million in guaranteed money left on the table. Since the 36 year old was one of the worst regularly-started position players in all of baseball last summer (-0.8 WAR!), his first spent in Sox pinstripes, to say I was pleased to see him go was a massive understatement. LaRoche is out of the picture, the Sox get his rotting garbage of a contract off their books without paying him a dime, and someone else gets his at bats, just like that? "It's almost too good to be true," I thought.
Well, of course it was too good to be true, and Adam would not go quietly into the night. LaRoche,
the story was quickly leaked
, quit the game entirely because the White Sox front office, VP Kenny Williams in particular, asked him to reduce the total amount of time his 14 year old son, Drake LaRoche, was spending in the clubhouse. He was quitting because he was putting #FamilyFirst, you see, and the big bad White Sox were just getting in the way of some good father-son time. *cue to the stirring music and emotional soft-focus camera shots* Pay it no mind that "
several players and staff members
" had been quietly complaining about Drake's presence in the clubhouse for an estimated 120 games last season, or that the Sox were asking him to reduce, not eliminate, Drake's presence, this was Adam's
private daycare facility
, damnit.
Finding a wellspring of drama in an otherwise dull spring training, the media latched onto the story, along with any current player dumb/angry enough to put themselves in front of a microphone. See, while many behind the scenes may have resented the presence of Drake in their place of business, a number of high profile Sox stars liked having the rapscallion along last season to take their minds off of 86 losses and a 4th-place finish in the AL Central, and were eager to talk about it. First, there was Chris Sale, SouthSide pitching ace, and really one of two reasons to watch a game during an average week, who
held court
about his perceptions of the organization's side of the story. "Lying, plain and simple. We got bald-faced lied to by someone (Williams) we're supposed to be able to trust.'' Then there was team spark plug Adam Eaton who went on a local Chicago radio station and absurdly proclaimed Drake to have been a team '
leader
.' (A grown-ass man calling a 14-year old a team leader... no wonder they finished in 4th last year). And here is precisely where this turkey grew some legs.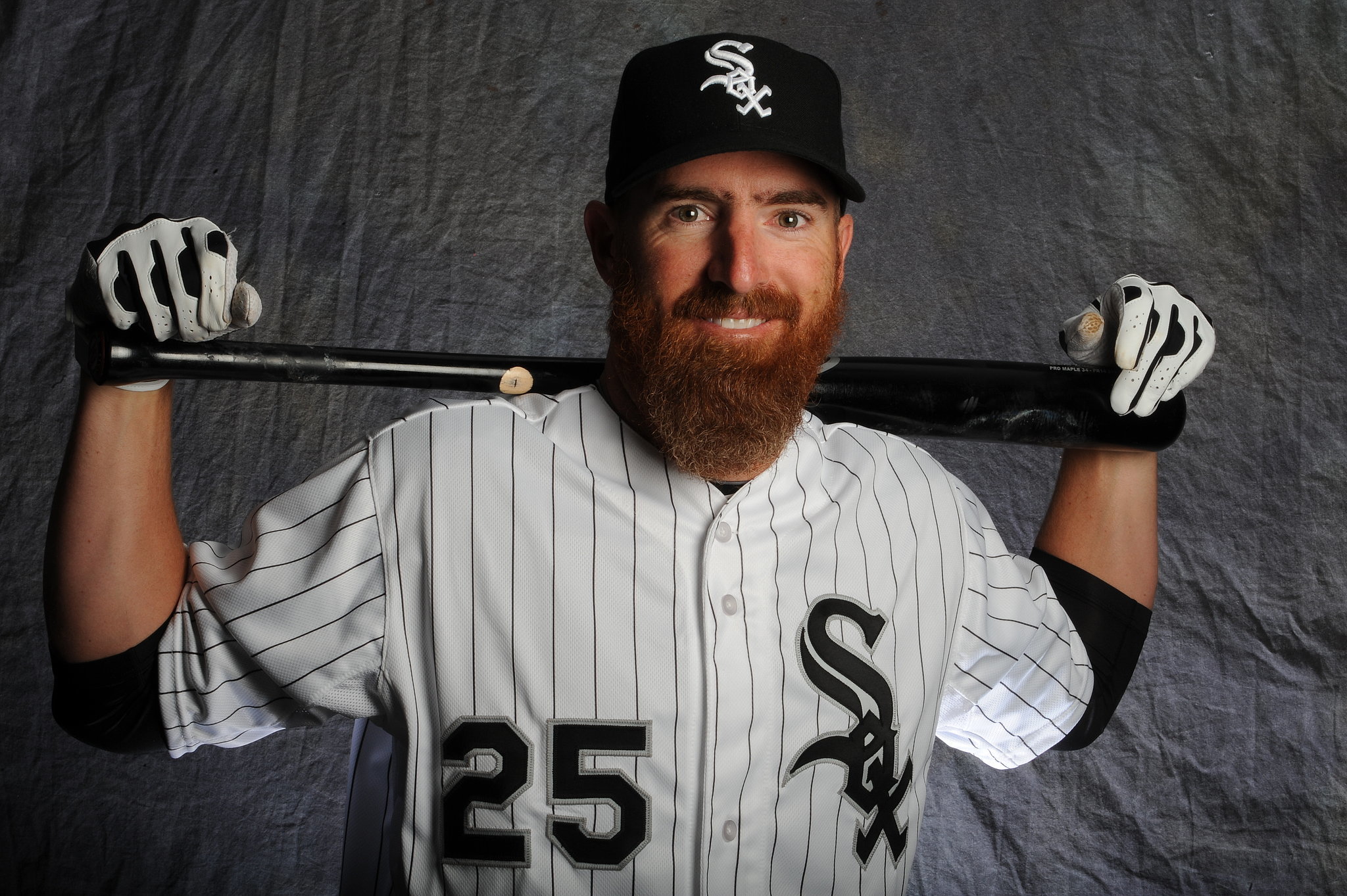 You got crazy eyes, dude. From: popsugar.com
Suddenly, this was no longer just a weird story about a retiring vet on the decline. This had become a story about how bat-shit insane LaRoche, Sale, and Eaton had become over something that was otherwise benign. The White Sox, their employer, had simply made a constructive request of an under-performing employee for the sake of others. It was those three who turned it into a hysterical aria on the oblivious nature of the modern over-coddled athlete. Believe me, there's
not a single Sox fan
on LaRoche's side here. It has nothing to do with #FamilyFirst or any other such nonsense, though it was cute of his camp to play up that angle in n attempt to garner some sympathy. This is about a professional athlete not getting his way,
exactly his way
, and openly pouting about the consequences. The mostly light-blue collar Sox fanbase has no time for that hot garbage.
Never in my life had I seen this much inside baseball from my beloved Sox been laid bare for the world to see. A traditionally insular franchise, the phrase 'stay out of White Sox business' has been uttered more than a few times over the years, and press battles like this have been few and far between (at least since Ozzie Guillen left). What it boils down to is this: a complete and utter lack of leadership by all parties. First there was Kenny Williams who was taking the fall for unnamed clubhouse entities. Why was he, a high ranking VP, making these sort of in-clubhouse pronouncements, rather than manager Robin Ventura? My guess is that he was playing bad cop to preserve Ventura's player-friendly vibe, but still, if a manager isn't going to handle these kind of issues in his clubhouse, what's he there for in the first place? Second, Sale and Eaton running to the press was hilariously childish and unprofessional. They're supposed to be the real leaders on this team, not some teenager, yet went crying to the open camera, rather like a pair of... well, children. Finally, LaRoche making his kid the story; regardless of his feelings towards Williams and the Sox, leaking the reason he bolted like that, thereby making Drake the focal point of the controversy, is the absolute antithesis of #FamilyFirst. Shame enough to go around.
Rarely, if ever, have I been moved to apologize for my beloved SouthSide heroes, but I feel it necessary here. Please, forgive this moronic intrusion into your sporting landscape. Please, ignore these idiots as they slowly realize the precarious ledge they're standing on. They'll go back to losing at or about 90 games this year, and we can all, hopefully, forget this whole matter as quickly as possible.
Happy Tuesday!