OK, so this is a pretty damn big game. Beyond just being Homecoming, when the Buffs and Sun Devils face off Saturday, they'll be playing for control of the Pac-12 South, as well. The winner, pending the Utah result against Oregon State, could have sole possession of first place and a tiebreaker in-hand over one of the other teams with a realistic shot of gaining the crown. It's legitimately the biggest conference tilt featuring Colorado since the Barnett era.
So, with that in mind, can we all just agree to show up on time this weekend? As BSN Denver's Ted Chalfen so eloquently
wrote
this week, BuffNation's Southern California-esque attitude of arriving to games well after kickoff is no longer acceptable. If we're going to have a good team on the field, then we need to have a good fanbase in the stands, as well. Make a point of it, and get to the stadium early. Please.
--
Hype Music for the Week: "Ridin'" by Chamillionaire
As is tradition, Homecoming Week comes replete with throwbacks to my collegiate career. Released at the start of the winter semester of my senior year, 'Ridin'' from Chammillionaire was all over the place the entirety of 2006. I am not ashamed to say it even found its way into my iPod... which, for you youngsters, was a kind of music playback device us old types used to use before our phones could just stream music for free. Enjoy!
--
Happy Homecoming Week! Since CU hasn't won a homecoming affair since 2007 (against #3 Oklahoma, no less), it's high time #TheRise gives the returning alums a thrill. Speaking of old people, if you're going to the game Saturday, look over behind the band, and you'll see yours truly plugging away on my tuba as part of the alumni festivities. I apologize for my general ineptitude in advance.
Kickoff from beautiful Folsom Field is set for 6pm Saturday night. Is there anything better than a night game in Folsom? Oh, so much fun. I expect the student section to be roiling with electricity. The forecast is clear and cool, so bring a jacket. Coverage for those unable to attend will be on Pac-12 Network, because the nation still can't handle #TheRise. The radio call will be on 850 KOA.
Click below for the teaser...
Colorado has never beaten Arizona State in football, 0-for-7. It's one of only two series played more than three times that CU is winless in; the other being with USC, now 0-for-11. Unlike the futility with the Southern Cal series, however, which dates back to before World War II, ours is an entirely modern frustration with the Sun Devils. It wasn't until the start of
the Troubles
in 2006 that Colorado and ASU first met on the field, and it's been downhill ever since. Hell, CU hasn't even been within two scores in any of the seven games played so far. In fact, if you're superstitious (which I totally am), you could be convinced to say that starting to put the Devils on the schedule was the black cat walking across the program's path all those years ago.
Last year's meeting was typical of Colorado's loosing ways in this divisional rivalry. ASU's first score was entirely flukish, completely out of left field, and devastatingly back-breaking. On their opening possession, after a long-pass-and-penalty combo had them in Colorado territory, Sun Devil running back Demario Richard took a hand-off off the left side for the second straight play. CU swarmed to the ball well, and knocked him around for a short gain, seemingly on their way to setting up a 3rd-and-long situation. Instead, Richard fumbled (normally a good thing) into the waiting hands of ASU TE Kody Kohl. With the Buffs busy gang-tackling Richard, there was no one left in front of the junior, who simply waltzed into the endzone untouched. 7-0 Sun Devils, and the floodgates began to open.
Last season's affair was situation: normal for this series. From: the BDC
From there, it was simple arithmetic for the Devils. The Buffs would cut it to two scores right before half, show some life in the 4th, and put up 401 yards of passing on the day (albeit with the cost of eight sacks on QB Sefo Liufau), but they were never really all that close after that fluke first touchdown. Sails slacked against the onrushing tide, as CU simply failed to do the things that make them successful -- protect the quarterback, run the football, win the turnover battle, and otherwise limit mistakes. Eventually, they just fell
48-23
under the heel of the ASU Sun Devils.
There's a lot of hope, however, that this is the year, finally, that the losing streak to those from Tempe ends. Even though Arizona State will come in 5-1 overall, ranked in the top-25, and co-leaders of the Pac-12 South (with CU and Utah), they've been winning with a lot of smoke and mirrors, and are possibly down to their
4th-string QB
. If you're Jim Leavitt, that last little bit ought to fire you up a bit...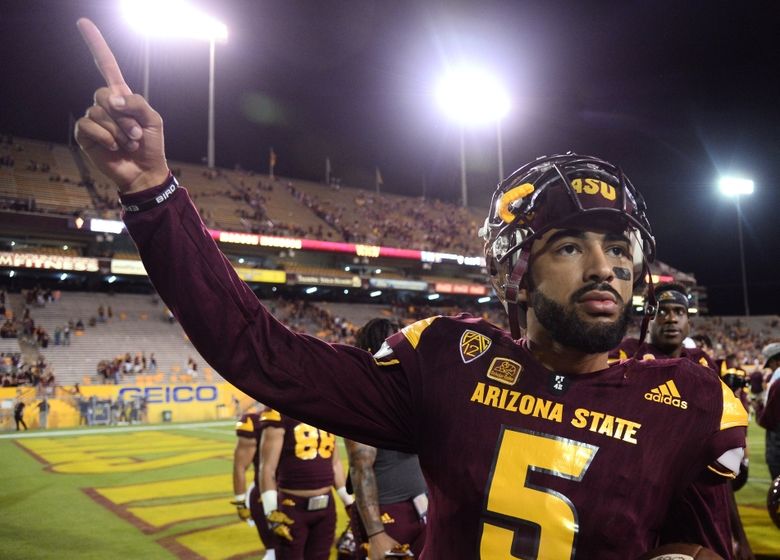 If Wilkins is still out, the Sun Devils could be in trouble. From: GoJoeBruin.com
Of a three-way battle in fall camp to replace the graduated Mike Bercovici under center,
Bryce Perkins
suffered a
neck injury
, sophomore season starter
Manny Wilkins
came up hobbled with a
high ankle sprain
during their game with USC, and backup
Brady White
was declared
out-for-the-season
with a foot injury after last weekend's affair with UCLA. If the high ankle sprain of Wilkins is still an issue this weekend (and those things suck and linger), that just leaves true freshman
Dillon Sterling-Cole
to take the snaps against the Buffs. For what it's worth, head coach (and boiling pustule of a man)
Todd Graham
said after Tuesday's practice
that he expects Manny will recover in time to start in Folsom, but that could be coaching shenanigans. Regardless, a hobbled Wilkins or a neophyte Sterling-Cole will be looked at as having a disadvantage against the aggressive Colorado defense.
Those aren't the extent of the injury issues for the Sun Devils, either. There are five other players
listed
as out indefinitely, with four more, including defensive stars
Christian Sam
and
Kareem Orr
, named as questionable by media reports. A further defensive back,
Armand Perry
, has also been limited in practice this week. Orr and Perry, at least, are expected to play, but the walking wounded situation in the desert has become a persistent concern.
Todd Graham has been dealing with a number of injuries this season. From: Alchetron.com
In many ways it's a miracle that the Devils have been as successful as they are this season. Beyond just the injuries, they're also hampered by a swiss cheese defense. Though pretty good on the ground (5th nationally, under 90 yards allowed per game), they've been spilling yards out of a bucket through the air. They average surrendering over 400 passing yards per game, leading to a defense ranked 120th nationally. Part of the issue is that they're very aggressive. Top-25 nationally in tackles for loss, the Devils send wave after wave of extra attackers from a number of angles. While sometimes leading to big plays in the opposing backfield, it just as often leaves them vulnerable to any QB that can eek out some time in the pocket. Accordingly, one of the keys Saturday will be keeping the jersey of either Sefo Liufau or Steven Montez clean. Last year in this fixture, Sefo was swarmed under by eight sacks, and last week the Colorado offensive line struggled against their counterparts from USC. Keep the QB upright long enough, and they should have time to shred the Sun Devil defense.
As ugly as that defense has been, though, you won't hear too many complaints from the desert, where ASU has been solid in the only stat that counts: wins vs losses. Thrilling, high-scoring wins over
Texas Tech
and
Cal
shine brightly against just the lone loss to
USC
, but even that one comes with the caveat of a QB injury. The key has been an offense that can score in bunches to overtake the sputtering defensive efforts. It's a balanced unit, but I'm mostly worried about what they can do on the ground to sustain drives and cash in past the redzone. Look out here for the dual-threat QB Wilkins (if healthy), and the running back tandem of
Demario Richard
and
Kalen Ballage
. The trio play well off each other, and average a total of 183 yards per game. Overall, they're tallying 40 points per game, converting almost every redzone chance (96% conversion rate), and don't shoot themselves in the foot with excessive flags (18th nationally in fewest penalties per game). Even with the QB issues, that is a winning formula.
An aggressive, blitzing defense has saved them while the QB situation shakes out. From: LA Times.
Their last effort, a
23-20 win
over UCLA in Tempe, may show, however, how vulnerable they are without Wilkins under center. Just 275 yards of offense (under four per play), nine punts, and a paltry 4-17 on third down was only able to carry them thanks to a nasty defensive effort that forced four turnovers, two missed field goals, and held the Bruins to
negative
one yard rushing on 23 attempts (includes five sacks). They also knocked out opposing QB Josh Rosen, helping to stall a passing attack which otherwise gained over 440 yards against them. If UCLA had gotten
anything
on the ground, this may have been a different result, and Rosen may have survived the effort unscathed. Instead, the Sun Devils kept blitzing, and kept the Bruins out of the endzone long enough to scrape together the winning points. I don't think they'd have the same defensive success against the Buffs, though, who have commanded tempo and protected the QB well at altitude. Any hiccups on offense from ASU would be definitive.
So, with all that said, let's look at the lines...
My 2016 record: 4-2. Against the spread: 3-2. Optimistic/pessimistic: CU -2.5 pts/gm.
Line as of Tuesday @ 8pm - CU -13.5, O/U 66
The line opened at eight points for CU before ballooning even farther in the direction of Boulder. Seems like a lot of the sharps are wary of the ASU QB situation. Regardless, I'm not so sure that this is the blowout you were looking for. Sure, there's the possibility that Todd Graham is bullshitting, and that Wilkins has no chance of playing, but I'm expecting to see him under center Saturday. If he is, he won't be looking to pass through CU's strong secondary; no, he'll be doing the dual-threat dance with Richard and Ballage, looking to chew up Colorado on the ground. More to the point, I think CU is susceptible to a determined spread rushing attack and a scrambling QB. The Sun Devils will take advantage here, keeping the Buffs on off balance on defense.
Lucky, then, that the offense is back on familiar ground. Arizona state is more akin, quality wise, with Oregon and Oregon State than Michigan and USC, leaving the Buffs to get back to their high-flying ways. Regardless of the QB, Liufau or Montez, Colorado should be just fine with the ball Saturday night, enough to overcome the pesky ASU scoring machine.
Give me the Buffs, but in a closer one than Vegas expects.
CU 45 - ASU 37
GO BUFFS! PROVE ME RIGHT, AND BEAT THE SUN DEVILS!