This is where things start to get difficult. Colorado Football has checked off all the boxes through five starts, but their success has elevated themselves into a position where only more is demanded. Games like this one, against a strong division foe seemingly down on their luck, are where division titles are born, and stand as the litmus test between good teams and great. Time for #TheRise to step up, and make some real noise beyond just sliding into the national rankings.
--
Hype music for the week: "Ain't No Grave" by Johnny Cash
Four years ago I
penned
an article called "The game that killed the football program." It was about
the last
game CU entered with a national ranking, back in 2005 against Iowa State, and stated, emphatically, that the result in Ames that year 'was the beginning of the end.'
Well, of course, #TheRise has proven that the grave dug by the Cyclones was not deep enough. It took 11 years, but the Buffs have clawed their way back into the national spotlight; through hell and back, so to speak. How better than to celebrate that resurrection than with this revival of a traditional gospel song by the Man in Black himself? "When I hear that trumpet sound / I'm gonna rise right out of the ground / Ain't no grave / Can hold my body down." Enjoy!
--
Kickoff from historic Memorial Coliseum in Los Angeles is set for 2pm on Saturday. Should be warm and clear for those in attendance; bring some sun screen. Those not making the trek out west can catch the action on Pac-12 Networks, with the radio call on 850 KOA.
Click below for the teaser...
Much of the Colorado-centric discussion of this game has surrounded the health of Sefo Liufau. The senior quarterback, who has been out of action since sustaining an ankle injury in the third quarter of the Michigan game, is obviously itching to get back into the fray, just as right-thinking Buff fans everywhere are eagerly anticipating his return. The consensus has been that the USC game would be the logical re-entry point, and Liufau was direct on Tuesday in saying that
he's 100%
, ready to go. While Mike MacIntyre was quick to
pump the brakes
and temper expectations, my assumption is that it'll be Sefo under center on CU's first offensive drive on Saturday.
Sefo will be looking for a little redemption against the Trojans. From: Bleacher Report
It's interesting, then, to note that the USC fixture last year was where Sefo's 2015 season ended. That game turned at the end of the first quarter with the Buffs holding a 7-3 lead and looking to add to it at the USC 27-yard line. A 2nd-and-8 play ended with a sack, and BuffNation was forced to watch on in horror as Liufau came up lame. He would limp off to the locker room, later to be diagnosed with a
Lisfranc fracture
to his left foot. Suddenly, and without warning, freshman QB Cade Apsay was forced into the action. Through some fault of Apsay's (five sacks), the Buffs would go on to lose, surrendering 24-straight, unanswered points to the Trojans en route to a
27-24
final.
My abiding thought following the game was simple: if Liufau had stayed in, Colorado would've won. That would've been no small feat, as CU has never beaten the Trojans in a series that dates back to the Calvin Coolidge administration. Regardless, I think there's a simple poetry to the scenario here. Last year, USC knocked Liufau out. This year, Sefo looks to restart his 2016 effort against the Trojans, and claim the scalp that was rightfully his prior to the injury.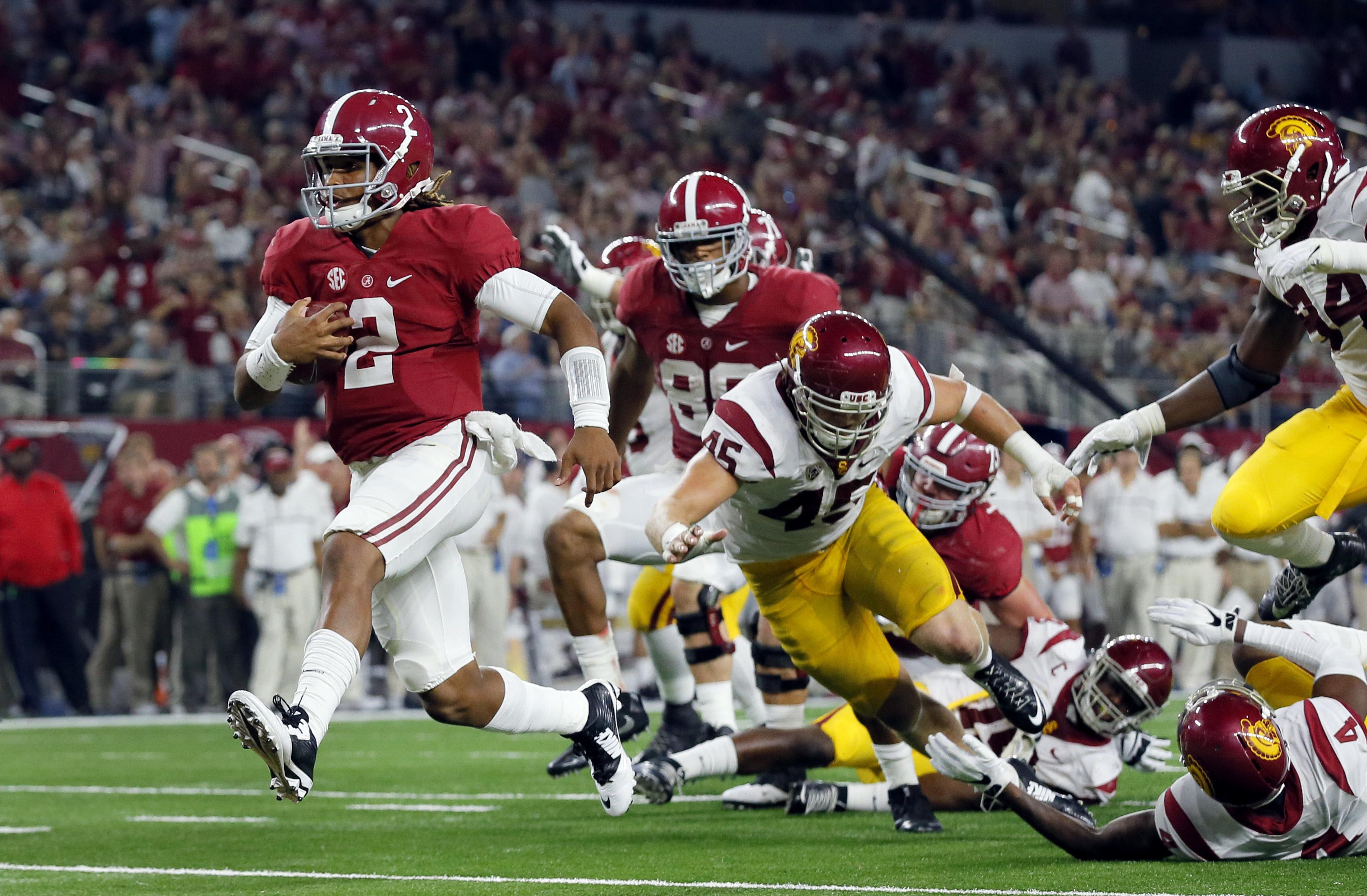 Early losses from USC were ugly. From: the WashingtonTimes
Of course, it won't be easy. The Trojans, in spite of their uninspiring 2-3 record through five contests, are still one of the most talent-rich teams in the nation, boasting oodles of skill that would make most other programs drool in envy. More to the point, as ugly as the record is for the haughty program, and as close as they looked to going 1-4 headed into their game last week against ASU, all three of their losses are 'understandable.' There's nothing shameful in losing to Alabama, Stanford, or Utah away from home, in isolation. This is still a strong team, more than dangerous enough to make me sit up and worry about having to walk into the Coliseum and take them on.
The story, really, is how they took those three losses. Week one, against Alabama, USC simply came out
flat
against the nation's best, falling under the wheel of a
52-6 loss
in Dallas. It was the program's worst loss in 50 years. Two weeks later, there they were again, losing ugly; this time to Stanford by a
27-10
margin.
Silly mistakes
were continuing to cost the Trojans dearly. The very next week, they looked a lot more like 'themselves,' but still lost a close one to Utah,
31-27
. If not for a gut-check
93-yard drive
on their final possession, however, the Utes would've lost.
Coach Clay Helton could be in some trouble if the team doesn't start winning. From: FoxSportsRadio
As ugly and discombobulated as much of that 180 minutes of losing football were, however, I can chart a course upwards for USC. The mistakes have been fewer and fewer as the games have passed, and the talent has been allowed to shine more and more, as it was last week in a redeeming
41-20
effort over Arizona State. In that game, the Trojans took advantage of a truly horrific Sun Devil defense to put up 523 yards at a 7.6/play clip. I will discount some of that, due to ASU
dumbfuckery
, but it's a result that continues the general upward trend for the team as a whole.
The trick with USC has always been applying that famous talent with efficiency, which was a large part of the issue early this year. For head coach
Clay Helton
- who, rather bizarrely, had the interim tag
ripped off him
last fall - that issue manifested itself in a quarterback controversy between opening day starter
Max Browne
(who had been the QB in waiting for a number of years) and his backup,
Sam Darnold
. Simply, Browne wasn't getting it done out of the gate, and the team was really suffering for it. A switch to Darnold ahead of the Utah game bore immediate fruit, and the Trojans have looked better ever since; after two starts, Darnold has 50 points of efficiency over Browne. Hence, I don't take a lot of their early offensive struggles seriously, giving the QB switch the benefit of the doubt. While they aren't as good as they showed last week against ASU, they aren't as bad as they were against Alabama or Stanford, either.
The emergence of Darnold has been huge for USC. From: the LA Times.
Their young defense is a different story, however. I take it as gospel, for instance, that they are a middle-of-the-road squad that is susceptible to gashes, particularly on the ground (even with their 5-2 front). So far, they're averaging over 170 rushing yards per game against, even after a solid effort against the Sun Devils. It really hurts them on third downs and in the red zone, where opponents are converting at 40% and 94% rates, respectively. In the passing game they're better, overall, but still nothing special, falling into 77th place nationally in passing efficiency defense. Bottom line: this is a group that Colorado should be able to move the ball against, regardless of who really starts at QB.
Special teams, once again, could loom as an area of separation between Colorado and their opponent. Hearkening back to the Michigan game, the Trojans are a nightmare returning punts, standing as #1 in the nation per kick. Over seven returns, they're averaging over 25 yards per opportunity. The key here is returner
Adoree' Jackson
. The junior three-way player is even more electric than Jabrill Peppers, and can change the game in a heartbeat. He's just as good returning kickoffs, and kicking to him should generally be avoided at all costs. Jackson will also feature on defense as a corner; a pretty decent one, too.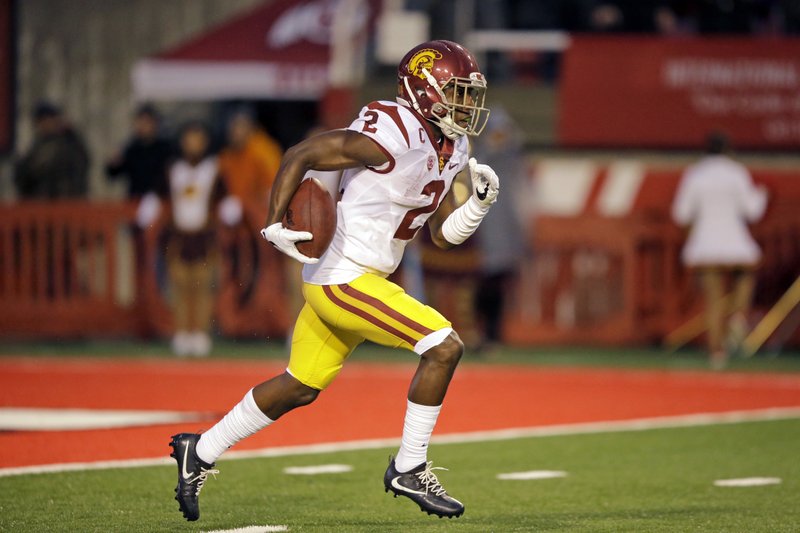 Jackson is one of the most dangerous returners in America. From: apnews.com
Other stars on defense are
Cameron Smith
,
Porter Gustin
, and
Stevie Tu'ikolovatu
. Smith, like Liufau, is looking for a healthy redemption in this game, having torn his ACL against the Buffs last year. The sophomore is the team's leading tackler entering Week 6. Porter is a big 6-5, 260 lbs sophomore hybrid end, capable of giving a number of looks. Tu'ikolovatu, a senior DT transfer from Utah, is a massive load at the center of the line, and will be hard to push around.
On offense, look out for
Juju Smith-Schuster
. The 6-2, 220 lbs wideout is one of the premier threats in the nation, and already has five receiving touchdowns on the year. Smith-Schuster will be #1 target for Darnold on every drop back. He has also reportedly settled down after
getting into a fight
with teammates at a post-Alabama practice. Senior tailback
Justin Davis
is getting 6.3 yards per touch, and is a proven producer with more than 2,000 rushing yards to his name over four seasons.
So, with all that in mind, let's look at the lines...
My 2016 record: 4-1. Against the spread: 2-2. Optimistic/pessimistic: CU -4.6 pts/gm.
Line as of Monday @ 8pm - CU +5, O/U 60
At this point, I feel that the Buffs have earned some befit of the doubt. I certainly get that USC is better than their record would indicate, and I would also stipulate that they are the second-most talented team that CU will have faced, to-date. I do not, however, buy their two-week resurgence completely. Darnold was the beneficiary of surprise against Utah and ASU's shitty defense against the Sun Devils -- the elite Colorado secondary will be a big test for him. Further, CU will continue to prove capable of moving the football, with Sefo retaking his rightful spot under center. In general, this should be the most comfortable the Buffs have ever looked entering the Coliseum.
A big key for the Buffs will be getting out to another fast start. They've been averaging a
33-10 lead
at half this season, and another nod in that direction would be much appreciated. Even with a fast start, though, the Trojans with all their talent will respond and keep it close. So, in the end, I think it'll come down to the 4th quarter. That's where CU's defense will shine, making the winning plays to separate the sides, even after a few system-shock scores allowed give the home team some juice. Nerve-wracking, but Buffs by a nose.
CU 34 - USC 31
GO BUFFS! PROVE ME RIGHT, AND BEAT THE TROJANS!