One to go. One more win and, regardless of what happens the rest of the year, the Buffs will finish the season at a bowl game. Sure, the carrot of bigger things beyond this milepost is enticing, but for a program nearly a decade on the outside of the cool kids club, the pedantic steps must be observed.
That's why the game this week is so important. I don't want the specter of bowl eligibility to linger; just get it done, and move on to the cooler stuff at the end of the rainbow. It's all in CU's hands, they just have to execute.
--
Hype Music for the Week: "Olive Tree" by Scale the Summit
So, let's talk about progressive metal. It can mean a lot of things to a lot of people, but is generally characterized by three things: the extended run time of its songs, 'aggressive' guitar, and extreme musicianship. Regardless of how you define it, however, prog-metal is not for the feint of heart. You have to be a special breed of geek to like this stuff, as I do, just as you have to be a special breed of geek to get into Stanford.
This track, by Texas group Scale the Summit, always strikes me as hopeful and inspiring; the kind of thing you should be listening to on the precipice of bowl eligibility. It's also great fuel for putting words to paper, should you need a backbeat to come up with a 25,000 word basketball preview...
Anyways, enjoy!
--
Kickoff from venerable Stanford Stadium in Palo Alto is set for 1pm on Saturday. For those going, the weather looks a little cool and cloudy, but otherwise fine. For those stuck in Colorado watching, coverage can be found on *sigh* Pac-12 Networks, with the radio call on 850 KOA.
Click below for the bag...
Playing Stanford has usually been a painful proposition for the Colorado Buffaloes. The efficient, pragmatic killing machines of the
Coach David Shaw
era have routinely ground CU to paste in the Pac-12 era, leaving no doubt as to where the Buffs have stood among the league's hierarchy. Horror show losses of 48-0, 48-7, and 42-10 have tolled the last three times these programs have met, and I would argue none were even as close as those ugly scorelines would suggest. The Cardinal out-gained CU 1,461-571 across the trio, and 642-122 on the ground. Sobering shit, that.
The Cardinal had habitually mocked Colorado with their brutal efficiency in the Pac-12 era. From: USA Today
But this is the dawn of a new day, of course. #TheRise bears little resemblance to the teams which took those sopping defeats, so looking back is hardly instructive. More to the point, the 2016 Stanford Cardinal is similarly removed from those juggernauts of years past. What once was a given - a dominant, physically imposing Stanford squad - is somewhat lesser this fall.
The formula had been simple. Take two doses of elite linemen, add a between-the-tackles running back and a set of linebackers who don't mind getting dirty, toss in a QB who knows what he's doing, and limit possessions to the point your opponent gets dragged into the muck. Hat-on-hat, arithmetic football centered on owning the battle in the trenches, particularly on the offensive line. The kind that would be familiar to anyone of any era. There was a brutal beauty to it -- in the days of the spread offense and scores of possessions, the Cardinal focused on the little things. They were the Trees, and their product was organic and wholesome.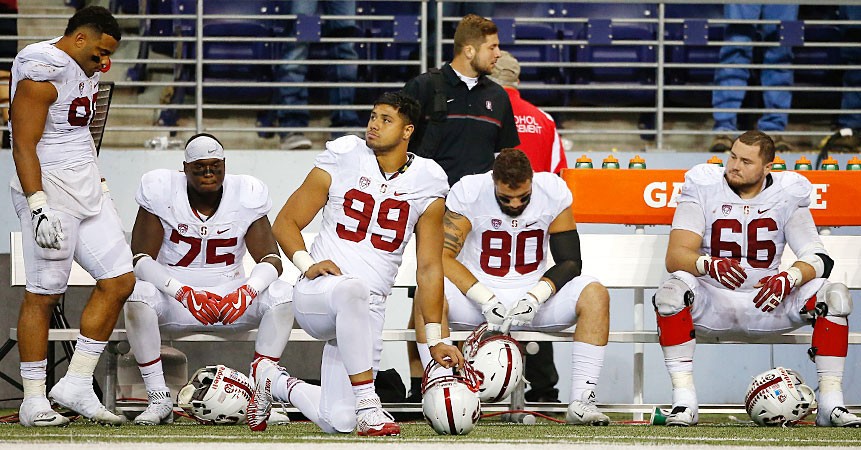 What happened to that Stanford O-Line? From: SI
It's what makes this season's struggles so vexing. They're centered around that old source of strength, a breakdown in the one position I just always assumed Stanford would own: their offensive line is
betraying
them. Suddenly, almost out of nowhere, they're leaking like a sieve, failing to open up holes and allowing gratuitous hits on the QB (110th nationally in sacks allowed). It's the root cause of an offense that is one of the worst in the country, only generating 305 yards per game (125th nationally) and, more worrying for a team that relies on efficiency, a league-worst
1.48 points per drive
.
Said
Shaw, "[it] drives me nuts."
I don't want to paint a picture too dire for the moment. Stanford is still winning games this season, four of them to date, and remains a decent football team. That
early season win
over USC, especially, looks good right now, although it comes with the caveat of having occurred before the Trojans figured out their quarterback situation. It's their last three performances, though, that have everyone in Palo Alto worried: back-to-back blowout losses to
Washington
(understandable, if cringe-worthy) and
Washington State
(eye-openingly bad) followed by a train-wreck win over a bad
Notre Dame
team. Probably the most distressing performance, if I had to point to just one, was the home loss to the Cougars. That night the Cardinal were repeatedly pushed off the ball by a Mike Leach team, which woke everyone to the idea that something was rotten in the state of Stanford.
The Cardinal barely survived Notre Dame last week. From: Stanford Daily
Compounding the issues, their lone dynamic offensive piece, the ethereal tailback
Christian McCaffrey
, is injured, having missed the Notre Dame game last week. Shaw is '
hopeful
' that the one-time Heisman candidate will be ready to go Saturday, with a final decision to be made closer to game time, and his return would go a long way in helping Stanford crack the staunch Colorado defense. Beyond just his tackle-breaking ways on designed runs, he's also an explosive piece in the kick return game, along with being their best pass-catcher out of the backfield (both things that CU has had trouble stopping this season). Just having McCaffrey back on Saturday, however,
won't cure what ails the Cardinal
, and I struggle envisioning a scenario where they enjoy much success offensively against the Buffs. Backup runner
Bryce Love
, it should be noted, did show well against ND last weekend, should he need to be called upon.
It's a more convoluted story on defense. Their overall numbers are good - 45th nationally in total yardage, 22nd in rushing - but there's something... off in the margins. Stanford struggles mightily on 3rd down, something they used to thrive on. They're allowing a 46% conversion rate and a league-worst
7.63 yards per play
when trying to get off the field. That's not just leaking in obvious passing situations, either; the numbers are
essentially the same
with under three yards to gain. The Cardinal still gets to the QB well (top-20 in sacks) and finds way to pick some balls off (top-30 in interceptions), they're just squishy when it counts.
Does McCaffrey play? From: the Post
That's all to say that I think Colorado should do well here. Life is always hard on the road, even if Stanford Stadium is more mausoleum than rock concert, but I like both the individual matchups and the trend lines of each team headed in.
So, with all that said, let's look at the spread...
My 2016 record: 5-2. Against the spread: 3-3. Optimistic/pessimistic: CU -4.4 pts/gm.
Line as of Wednesday @ 8pm - CU +2, O/U 49
I'm sick and tired of betting against the Buffs and looking the fool. Colorado stands alone, still undefeated at 7-0 against the spread, yet here I am mired at .500. Fair enough, I'll stick with CU ATS until something changes.
For those worried, this should not be a replay of the USC game. While the Stanford defense is of a better quality than ASU or Oregon, they are not on par with the Trojans or Michigan. Plus, Sefo is back, and the veteran will keep the tempo up away from home. The Buffs will move the ball, at least enough to score some points and feel comfortable. From there, it's all about the defense taking advantage of an offense in turmoil. To that end, I think McCaffrey plays, which could keep it close, especially if he breaks a kick return or two to give the Cardinal field position or points. He won't, however, be enough to flip the scoreboard, and the Buffs should escape NorCal with a win. Bowl eligibility, here they come!
CU 34 - Stan 17
GO BUFFS! PROVE ME RIGHT, AND BEAT THE CARDINAL!