Growing up, I used to play a lot of
RBI Baseball
on the OG NES. It was a simple baseball simulation, yet still completely engrossing. To that end, I'll be very honest and say that it ate up far too much of my youthful summertime hours, at least those not otherwise spent at the sandlot or at the pool.
Probably the most empowering aspect of the game, and one which I am at pains to admit, was the reset button. Sure, the system itself boasted the feature, and it was far from exclusive to RBI, but I distinctly remember leaning on it as a crutch when playing this game. If I chucked a fat one over the plate, and the computer crushed it to the endless void beyond the fence, I could always mash that button, and start over. Nowadays, we'd call that 'rage quitting,' and it's a massive gamer
faux paux
, but, when I was seven, it was the easiest path I knew to controlling my own destiny.
Oh, for those days of the reset button. The last few months, particularly this loathsome January, have not gone according to plan, and a fresh start would be a welcome sight. But, of course, life doesn't come with any easy outs. The Buffs are just going to have to grit their teeth and gut out the final 11 games of the regular season.
While a real-life reset button is a fantasy, the practical application of a terrible opponent could be just what the doctor ordered here. And, believe me, more than Washington, Washington State, or Arizona State before them, these Oregon State Beavers are a
terrible
basketball team. Tonight, then, offers Colorado, a talented if fatally flawed bunch, the opportunity to
reset
from their past shortfalls, focus on beating a vulnerable opponent at home, and halt the losing streak at seven. No excuses, earn that 'W.'
--
Hype Music for the Day: "All I Do Is Win" by DJ Khaled feat. Ludacris, Rick Ross, T-Pain and Snoop Dogg
What other song could I pick for a pair of teams who enter the evening a combined 0-14 in league play? Well, really
anything
else, but there's nothing I like more than gallows humor, and this is just about the perfect tongue-in-cheek pick for the situation. Khaled, you really are the best, man. If you can't bust out in a smile at the start of this song, there's something wrong with you. Enjoy!
--
Tip-off from the CEC is set for 6:30pm MT on Thursday. Televised coverage can be found on FS1 national (how'd they get the short pull on that one?), with the radio call on 760 AM.
Click below for the preview...
When last we met -
Last winter, following a rough showing earlier in the week against the Oregon Ducks, the Colorado Buffaloes were looking for a bounce-back game in Corvallis. It was certainly a winnable proposition, they just needed to play within themselves, and handle a reeling and inconsistent Oregon State Beavers squad in hostile territory. Instead, they turned the basketball over a season-high 24 times, squandering a +18 advantage on the boards to fall into a
60-56 loss
. As a result, they slid out of the lead pack in the Pac-12 and into a 5th-place tie with Utah, eventually to miss out on a top-four seed altogether. Throw in an ankle tweak suffered by Josh Scott, costing him the entirety of the second half, and it was about as forgettable a performance as could be imagined.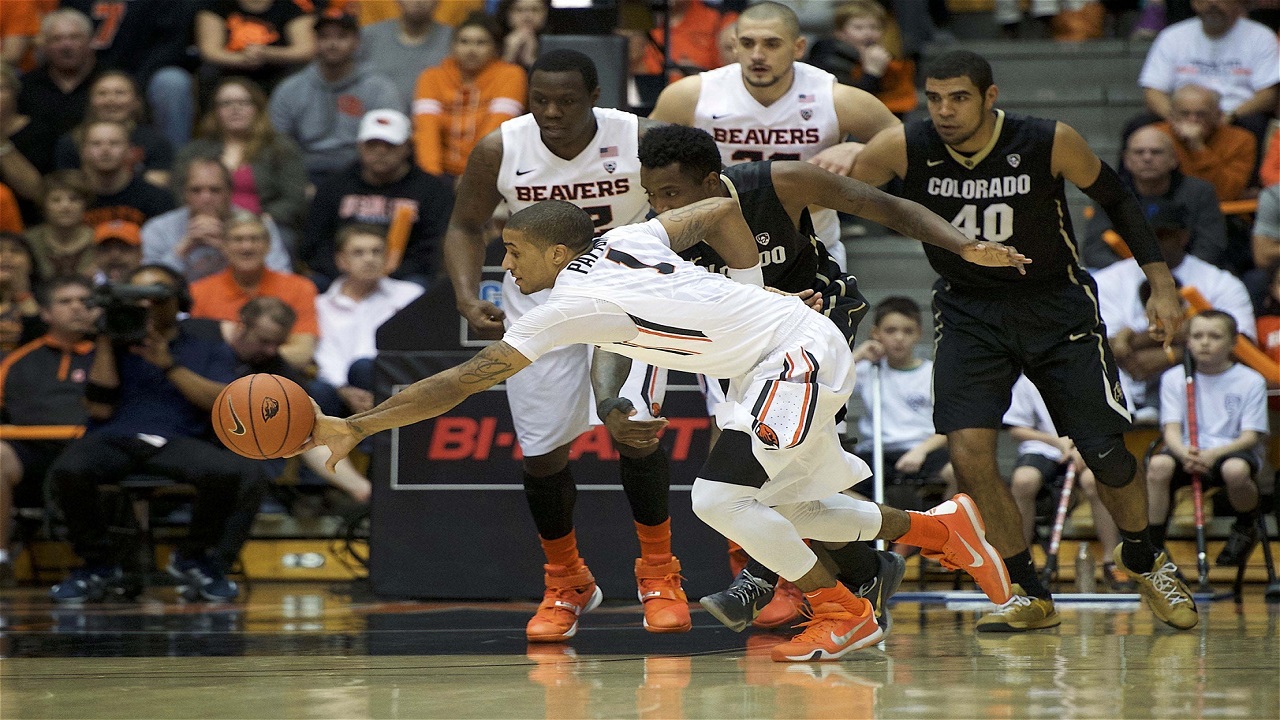 Too. Many. Turnovers. From: KGW.com
24 turnovers. Let that sink in. Twenty-four-fucking-turnovers. One for every hour in the day. One for every point the Broncos would score in last year's Super Bowl. One for every win in that magical run of 2011-12. It was an incredible display of ineptitude, with many of those TOs seemingly springing out some dark comedy's script. Of the nine Buffs who saw the court that Saturday, only two of them - Thomas Akyazili and Tory Miller - got out unscathed. Six had at least two. Dom Collier, who had been posting solid numbers in conference play up to that point, took eight home with him. On a day that called for their best basketball, most of those in Black and Gold were playing their sloppiest.
In the light of those damning numbers, I found it hard to grab at the few scapegoats available. I could've blamed the zebras, who were at their #Pac12Refs worst, but the Buffs were, once again, their own worst enemy. I could've blamed the injury to Josh Scott, but CU actually played better without him on the court (an aberration). I could've even blamed that first half, as ugly as it was, but, while they slumped into that halftime scoreline, Colorado still turned it over 11 times in the second. No, at it's core, this was just another example of the bad Buffs owning the narrative. CU, through their play, did not deserve the win. Oregon State may not have deserved it, either, but someone had to claim the 'W,' and it might as well not be the team that turned it over four more times than they hit a shot.
OSU may not have deserved it, but they were all smiles Saturday. From: the Statesman-Journal
But, while I'm stomping up and down on the turnover numbers, let's not let the second half performance slide by unnoticed. Down 11 at the break, and looking disheveled going in, CU stormed out of the locker room, cutting the lead to a single possession almost instantly, and playing with the Beavers the rest of the way. Behind brilliant work from Tre'Shawn Fletcher, who scored all 15 of his points and secured five of his six rebounds after the break, CU put themselves, in spite of all the first half garbage, in position to steal the win on the road. Fletcher teamed up with Wes Gordon (13/11) and Tory Miller (8/5) to control the glass, grabbing 75% of defensive stops and near 50% of offensive misses. Without those rebounds, there's no way that Colorado is even marginally competitive at the end. It showed a lot of character for the team, playing far from their best basketball, to mount a comeback bid like that -- if only it had ended in victory.
The Beavers in 2016-17 -
This year's iteration of Oregon State possesses one of the worst overall KenPom profiles I've seen since the Buffs moved to the Pac-12. While they are not as qualitatively bad as some of those Utah and USC teams from the opening years of the decade, at 4-16 (0-7), they are a nightly train wreck. But, much like with Colorado themselves, it was not supposed to be this way. Remember, OSU was in the NCAA Tournament last March, too, the first such appearance in 26 years. With a core of returning talent, this was supposed to be a campaign of growth -- maybe not Tournament-caliber, but not the
massive
step backwards it has turned out to be.
Instead, a series of injuries, roster calamity, and an otherwise extended series of unfortunate events have conspired to lay a 4-16 log at the feat of the Beaver faithful in Corvallis. It started over the offseason, when sophomore guard-to-be Derrick Bruce decided to
transfer
to something called Nortwest Florida State. He had shown flashes of brilliance in last year's Pac-12 Tournament, and seemed to be poised for a breakout season. Then, senior guard-to-be Malcolm Duvivier
decided
not to return to the program. This cost the Beavs a key veteran guard when they were already going to be dealing with life after Gary Payton II. The biggest cog in this wheel of suck, however, was lined up well after those two decided to look elsewhere. It's been the loss to injury of the coach's son,
Tres Tinkle
, that has hurt the most. The rangy wing was a standout star as a freshman, but has been almost completely absent this year, dealing with a
broken bone
in his non-shooting wrist since late-November. Without him, the team has been missing a lot of its offensive engine, and a large chunk of its on-court leadership; at the time of his injury, he was getting 31% usage. Considering all of that, the fact that their basketball band doesn't get to boast the best director in the conference any more doesn't even make the list of crippling misfortunes.
Losing Tinkle has been devastating. From: Oregon Live
I talk about the loss of Tres Tinkle, but the Beavers were also without their other star,
Stephen Thompson, Jr
. earlier this year. The sophomore guard essentially started the season on the bench with a left foot injury, missing six games after the year's opener against Prairie View A&M. That's the real shame of this season in Corvallis -- their pair of stars, the kind of 1-2 punch you can build around with almost anything, have appeared in the same game just once this season. Even beyond that, this team has been shuffling the deck since opening night. Just five players on the roster have been able to feature in each one of their 20 games this year, a stunning note when you compare to Colorado's relative consistency in rotation and availability.
Since Tinkle's injury, the Beavers have gone 2-12, only boasting wins over D-II
Southern Oregon
and MAC also-ran
Kent State
. It's with that in mind that Tres' absence cannot be understated, and it has lead to some truly inept offensive play since early December. The numbers are stunning -- 324th nationally in offensive efficiency (dead-last in Pac-12 play), some of the slowest, sloppiest possessions in all of D-I (19 seconds per, a turnover rate near 24%), and shooting rates that would make even Tad Boyle blush. Accounting past the D-II win, OSU is averaging just barely over 60 points per game since the injury, and just 56 per against Pac-12 opponents. The simple fact is: right now, Oregon State is not a competitive basketball team, at least on the offensive end.
Opponents have been punking the wounded Beavers all season. From: the AP
Defensively, the picture is slightly rosier. Even with the offense giving up all those quick-change possessions (near 25% of all opposing shots are taken in transition), efficiency is in the middle of the pack nationally (~1.05 ppp) with good marks for shot-percentage defense and shot-blocking rates. Still, even here, there are major faults in the details. They're an abysmal rebounding team (only about 67% on defensive rebound opps), meaning opponents are getting second looks far too often. Overall, it's a profile that should scream "CU WIN," even with the Buffs struggling as they are.
Star Players -
In Tinkle's absence, the ship in Corvallis has been steered by Stephen Thompson, Jr. An electric combo guard out of LA, he's the primary offensive threat left in Orange and Black, leading the active roster with 16 points and about 14 shots per game. I'm not kidding, they really lean on him, with Thompson getting near 94% of available minutes these days. It makes sense, though. The sophomore certainly has a sense for the dramatic, and was known last year as a guy eager to take high pressure shots. You don't want this guy with the ball in his hands late in a close ballgame, that's for sure.
Thompson is having to be almost everything for this team with Tinkle out. From: OSU Athletics
This year, however, Stephen's been forced to carry a lion's share of the burden, and his numbers are suffering a bit, as a result. Offensive efficiency has dropped a full tenth of a point, his three-point shooting had been down precipitously (though he's hitting 49% in conference play), and his turnover rate is up to 16%. Yes, it's absolutely a factor of defenses getting to focus almost entirely on stopping him in game prep, but the numbers ain't lying. Even with those caveats, though, he's still a dangerous, deadly player, one the Buffs better find a way to neutralize if they hope to climb out of the cellar this evening.
With Thompson and Tinkle missing minutes this season, the stalwart figure at the heart of what the Beavs have been able to produce has been forward
Drew Eubanks
. A Troutdale, OR product, the 6-10 Eubanks is an exciting, explosively-athletic prospect, capable of staring in this league before his career is done. As it is, he's averaging 15/9 this season, all without missing a game. Not necessarily an 'efficient' offensive threat, yet, he'll be on a number of All-Conference candidate lists next fall. With some better, healthier, talent installed around him, he should even be able to earn that praise.
Eubanks can attack the rim. From: the Democrat-Herald
Beyond those two, unfortunately, the roster gets murkier and murkier. Freshman point guard
JaQuori McLaughlin
will certainly figure into the proceedings this evening. He has the best outside shooting numbers on the roster, and leads the team in assists. We'll also see
Kendal Manuel
, a freshman guard out of Montana, center
Gilgorjie Rakocevic
from Montenegro, and
Ronnie Stacy
, a JuCo wing from Alabama (who's also a turnover machine -- 44% turnover rate). What production the Beavers actually get from that quartet, though, is anyone's guess. Their performances have been sporadic and inconsistent, and a big component of the atrocious turnover numbers the team possesses. The services of senior forward
Cheikh N'diaye
would help here, but he's been out with a shoulder injury. Really, not much past Thompson and Eubanks that should threaten.
Coaching -
I feel bad for head coach Wayne Tinkle. After leading OSU to the NCAA Tournament for the first time since I was in kindergarten, he's having to put up with an unending turn of bad luck in 2016-17. He didn't, by chance, decide to celebrate last year's success with a trip to Hawai'i, and steal some of Pele's sacred rocks, did he? DID HE?
Wayne Tinkle seems to have a major karma problem, man. From: Pinterest
I certainly hope that the Beaver fanbase doesn't hold this season against him. This year was always going to be difficult without GP2 (who was everything for this program the previous two seasons), and the piling on of injuries, defections, and other mishegas is an exculpatory factor. Give Wayne time, along with an opportunity to mollify whatever ancient god he pissed off, and his young roster will have the Beavs back in Tournament contention in short order. No doubt in my mind.
Prediction -
My record this year: 4-3. Against the spread: 3-4. Optimistic/pessimistic: CU +0.71 pt/gm)
Lines as of Wednesday @ 8pm - CU -16, O/U 131
I said I'd be picking against the Buffs the rest of the way, and I fully intend to. Is it more of a a karmic check against further losing than anything else? Sure, but it's also probably a winning strategy, the way this season is going. In that vein, while I think CU will come away with the win tonight, I'm going to take advantage of the large, comfortable line provided by the nice folks in Vegas, and hit up the Beavs with the points. It'll be ugly, low-scoring, and frustrating affair, but a win is a win, and we fans can't get choosy with 0-7 looming over the team.
CU 65 - OSU 57
GO BUFFS! PROVE ME RIGHT, AND POUND THE BEAVERS!