I don't know what moron in the Pac-12 decided Mountain States teams need to host games tipping at 9pm local, but they need to be fired. More to the point, where is Rick George when some back-room poker needs to be played to forestall such garbage? This game will be over, maybe, by 11:30. Do they not realize some of us have jobs?
I understand the basics of television programming, but the conference has other time slots, you know. This isn't the only time this will happen this year, either. The 2/23 matchup with Utah is also tabbed for a 9pm weeknight start. Such garbage. The crowds, both tonight and in February, will be subdued and sparse. It's unbefitting of this sport and this program that has done so much to carry the banner of Colorado Athletics forward over the last half-decade.
It all ties into something the great Will Whelan
penned
this week on institutional support for the basketball program at CU. While Rick George certainly shows his personal support in the arena, I just don't see the full-throated administrative backing that Mike Bohn used to throw behind the program over his decade in charge. Kudos to all in charge from dragging football back to the realm of the living, but the basketball program seems tossed in the corner like a disused toy. And this was just as prevalent last winter, as the team pushed for their 4th NCAA Tournament bid in five seasons, mind you.
Sure, Colorado, as a state, will never be as passionate for the sport as it is for football, but that's not what I'm talking about here. Basketball is a marketable entity; in fact, the only one this athletic department has once January kicks in. They need to be giving it enough TLC that it can continue to thrive. But when you have a football guy running the show, supported by other football guys and football donors, any other calls for attention are naturally going to drowned out and set aside. The department as a whole doesn't know how to handle what they have off the gridiron, let alone market it properly.
To that end, I got a flatly bizarre phone call the other night from the AD. They asked me my name, thanked me for being a basketball season ticket holder, then said good bye and hung up; 20 seconds total engagement. Huh? Where's the request for donations? Where's the three or four question survey about my customer experience this year? Where's the pitch for extra tickets to bring friends to games, or to fill up the pre-game party room? Where's the reminder about upcoming games, promotions, or an announcement of new perks for being a basketball fan? What the hell are they doing? I know the athletes are amateurs, but does the marketing staff have to act like ones, too?
It all comes down to the bottom line. Football makes the money, so it gets the bell cow treatment. Fair enough. I also get that my perspective is skewed. The name of this blog comes an acknowledgement that only a deranged idiot would care about Colorado Basketball all the way back in 2010, after all. But this program has evolved, and deserves some honest-to-goodness support from the guys managing the message.
--
Hype Music for the evening: "Let her go!" by Something To Do
My guess is you've never heard this one before. From the forgotten wasteland that is Milwaukee, WI comes this tune from independent ska maestros Something To Do. They popped up on my Pandora station a few months back, and I've been down ever since. Good groove, good brass, I think it'd make a great pep band tune, to boot. Enjoy!
--
Tip-off from the CEC is set for *sigh* 9pm on Thursday. Coverage for those not wanting to head up to Boulder can be found on FS1. The radio call will be on AM760.
Click below for the preview...
When last we met -
Coming off of a painful loss to USC last February, the Colorado Buffaloes were looking for a rebound performance in their visit to Pauley Pavilion and the UCLA Bruins. But, with their backs against the wall and hopes for a top-four seed fading fast, the Buffs hit the famous court in Westwood flat, and immediately started to get their asses kicked. Some hot three point shooting kept them within reach of the Bruins for much of the first half, but the inevitable late-half collapse hit like an uppercut from Mike Tyson. Accordingly, CU was laid out on the canvas in the final minute before the break. The second frame contained nothing of note, and Colorado took an ugly
77-53 loss
on the chin.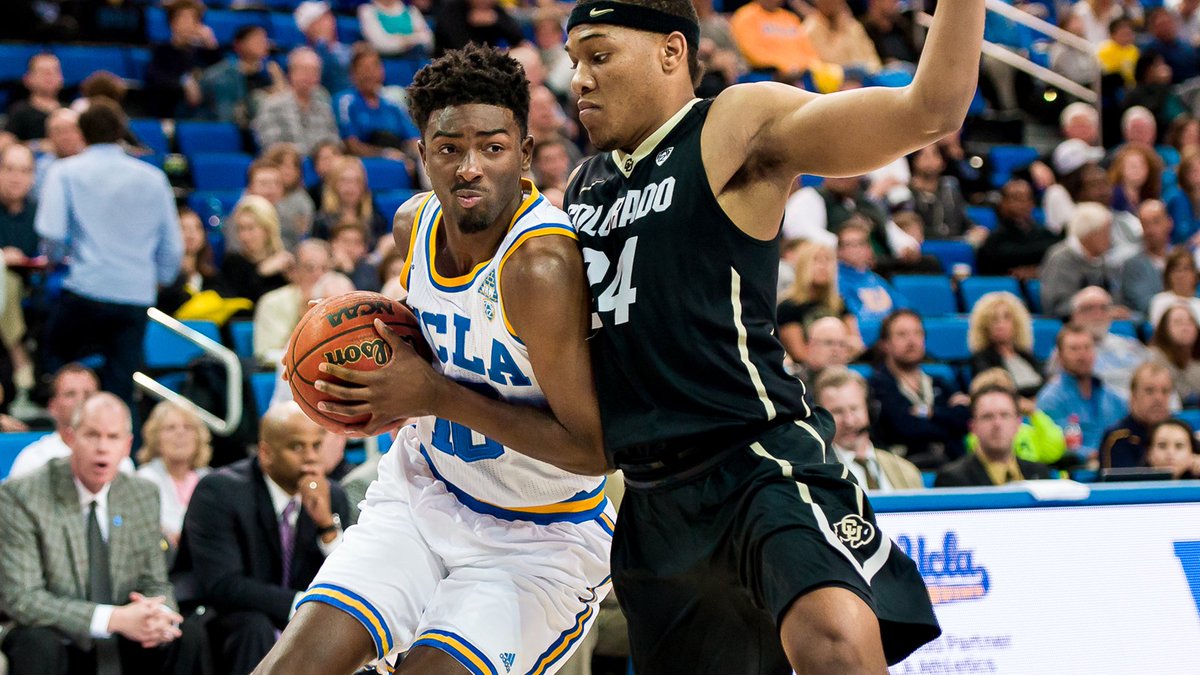 The Bruins blew past the Buffs. From: @UCLAMBB
Nothing went right. Well, I shouldn't say that. CU did hit 47% of their three point attempts in the first half (Xavier Talton doing the best work here), and Josh Scott was used in a pick-and-roll for the first time... ever, as far as I can remember. Outside of those notes, however, it all pretty much sucked. The most efficient defensive team in the Pac-12 (Colorado, if you didn't know) allowed UCLA to shoot 50% from the floor, 78% from three in the first half; a harrowing sermon on the wages of defensive sins on the perimeter. Offensively, while a few three pointers fell, the Buffs got next to nothing inside the arc, making just 28% of all two point attempts. I'm not kidding, this one was ugly throughout.
With a result like that hanging in the air like skunk spray, Coach Boyle had his usual say: "[UCLA] opened up a can of whoop on us and they gave it to us in every way." Yep, pretty much. The thing is, it's pretty typical of this series since the forming of the Pac-12. The Bruins have routinely had their way with Colorado, shredding the Buffs for six wins in seven tries. What's more, only one of those six losses was even competitive (average 15-point margin of defeat) -- the
2013 affair
in the CEC that came down to the final possession. Want to get even deeper into the muck? The Bruins are shooting over 47% against CU across that time period. Playing this program has been a massive problem for Coach Boyle and his system, to the point that I already get into crash position just seeing them pop up on the schedule. Hopefully, the Buffs can find a way to turn around that mojo, and clip UCLA this time around.
The Bruins in 2016-17 -
Back in October of 2013, newly-minted USC coach Andy Enfield
lobbed
a shade bomb at the hallowed Bruins program, "If you want to play slow, go to UCLA." My, how the times have changed. The crew from Westwood are now a ridiculously fast team, averaging 76 possessions per game (an extra seven, or so, over the average D-1 team) and churning out offensive looks in about 14 seconds flat (three seconds faster than the national average). They are a blitzing speedster, roaring down the highway at velocities that should garner some police attention. Vroom-vroom, y'all.
UCLA has been silencing critics this year. From: Inquisitr.com
The resulting offensive play is simply gorgeous to watch. UCLA is, for my money, the most efficient scoring club in America today. Villanova would argue they have slightly better data, but the Bruins do it across more possessions and get more points overall. Whereas the Wildcats gut you with papercuts, UCLA does their damage with lighting strikes, an irrepressible thunderstorm that covers the floor with shooters and options. They're #1 nationally in eFG, buoyed by a D-I-best 43% mark from deep, which the team leverages by finding open shooters early in the shot clock. It's not on the break, though. The Bruins post an insane 61% eFG in non-transition situations, making theirs the best sets around. Get ready for a half-court, quick-hitter clinic.
Out of this Ferrari V-8 of an offense, UCLA gets about 93 points per game. Those points have been good enough to earn the team 16 wins in 17 tries, with the lone setback coming in a high-scoring,
last-possession affair
in Eugene. No shame in that. As a result, the Bruins are a sexy pick to win the league, and run deep into March. Maybe that'll give their drowsy, geriatric fanbase enough of a reason to sit up and pay attention.
Just one shot separates the Bruins from perfection. From: Addicted to Quack
The only problem is, as elite as their 'O' assuredly is, their defense is merely 'good.' 77th nationally in efficiency, they can get the job done, but it's not a unit that strikes me as 'championship-worthy.'
There are some good peripherals, though. They rarely put opponents on the line (top-10 in D-1 in FTA/FGA ratio; opponents getting just 14.6% of all points from the line), while limiting scoring in transition (less than 20% of shots on the run) and inside the arc (top-25 in two-point shot percentage defense). The bugaboo: three point shooting. Possibly a result of opponents needing to play catch-up, their profile is perceptibly three-point heavy as they allow 36% from deep. Still, they'll make you string out possessions and cut-off access to the rim. It's not the worst unit in the world, maybe just weighed down by the raw number of possessions they have to cover.
Overall, this is a scary, scary team coming to the CEC this week. They can light up the scoreboard and play hide-and-seek over 40 minutes. It'll take the best Colorado can muster, on both ends, to hang with them. Maybe something to watch: UCLA is simply pedestrian on the glass, middle of the road both offensively and defensively. If CU can control the boards, limiting the Bruins to just one look, while taking full advantage of their own trips, they might just have a path to victory.
Star Players -
Lonzo Ball
. If you haven't heard the name before, you should do some quick Google searching. The freakish freshman from Chino Hills, CA is a clear All-America candidate, and one of the premier point guards in the country. He will be one of the first few names uttered on draft night, if not first outright, and you will be seeing his highlights for years at the next level.
Ball is beyond talented. From: Bleacher Report
A triple-double threat every time he steps onto the court, comparisons to young Magic Johnson are not completely out-of-place. The 6-6, long-armed frosh is averaging 15/6/8, and can dominate the game at either end. At his most pure, however, Ball is a content creator -- he makes teammates better, stresses the scoreboard and the court, and produces extra possessions. Oh, and he also shoots 43% from beyond the arc, and is willing to take from anywhere past mid-court. Just dripping with danger every time he touches the ball, this kid is. If you care about this sport at all, you will like watching him play.
It's almost unfair, then, to see him paired with deadly shooting specialist
Bryce Alford
and emerging pick-and-pop threat
TJ Leaf
. Alford, the son of the head coach, is back for the final round of 'Daddy Ball,' and is playing just as effective as he ever has. A 45% shooter from deep, he has one of the better jumpers in the league, while also standing as an experienced hand on the ball when Lonzo is needed elsewhere. The freshman Leaf, though, adds a dimension that UCLA hasn't had in recent years. He's a power forward with athleticism, size, and a passion for the ball. TJ will
come out of nowhere
for rebounds, creating havoc under the rim. He's also an outstanding offensive piece, capable of stepping out and hitting a jumper or going over the top for a
monster jam
. Leaf's 17/9 averages are no joke, and you shouldn't expect to see him around the college game much past this March.
Leaf is a new kind of threat from the Bruins' front court. From: Getty
Beyond the big three, the Bruins are still loaded with talent that would be the go-to performer in any other program.
Isaac Hamilton
, now a senior, has all the offensive tools you could want, though his numbers are a little off of last year's pace. Still, as a complimentary wing in this system, there's not much more you could ask for in this former McDonald's All-American.
Thomas Welsh
has always struck me as too soft for a relied-upon forward, but his 11/9 averages show how good he can be. You can usually find the junior on the baseline, taking 10-foot jumpers (almost 83% of his attempts come from mid-range, which is absurd). Finally, rounding out the heavy rotation, reserve guard
Aaron Holiday
brings athleticism and a passion to defense. If there's anyone on this team that can be considered a lock-down kind of player, it's him. Oh, and he's also a near-50% shooter from three-point range.
Overall, this is some of the best front-line talent you will find in the county. Maybe not an incredibly deep roster (reserve forwards
Gyorgy Goloman
and
Ike Anigbogu
are kind of *meh* figures, though they can clog up the paint), but one that plays second-fiddle to exactly no one. They will compete for the league crown, from there it's just a question of how far the freshman duo of Ball and Leaf can take them in the Dance.
Coaching -
No coach in this conference has to put up with as much crap as
Steve Alford
. The fanbase looks at him as undeserving of the post. Alums like frickin'
Kareem Abdul-Jabbar
and Bill Walton have tut-tutted their displeasure at his performance. The fan media
sharpens its knives
at the mere mention of his name. It got so bad after last year's ugly 15-17 campaign (the worst in Westwood since 2010), that Alford went ahead and
apologized
directly to the fanbase, before returning a contract extension he signed in 2014. A symbolic gesture, but one obviously intended to stave off the pitchforks.
Alford is back in the good graces of Westwood... for now. From: Bruins Nation
The quick action after last year was obviously with a goal in mind -- just get to 2016-17, and let the top-five recruiting class speak for itself. It seems, then, that Alford might have just gotten away with it. With Lonzo Ball and TJ Leaf, the Bruins are playing ridiculously fun basketball this season;
winning
basketball. Enough wins are piling up, in fact, that those 'Fire Alford Now!' banners are starting to look a little silly. Credit where it's due, the man is coming through with a clutch season with his job on the line.
The only problem is, what happens if UCLA gets stunned in the second round this March? More importantly, what happens when the freshmen declare for the NBA? While the coach and program have put together another impressive collection of freshman talent for the 2017 class (#2 in the country, according to Scout), can it carry the team after it loses two senior contributors and two all-world frosh? Believe me, one step backwards, and the wolves will be back at the door. If I were Steve, I'd be looking for a lucrative exit as soon as I could.
Prediction -
My record this year: 2-1. Against the spread: 1-2. Optimistic/pessimistic: CU +0 pt/gm)
Lines as of Wednesday @ 8am - CU +7.5, O/U 160.5
I just don't see how CU is going to cope with the UCLA offense. Yes, the team as a whole is on an upward trend, and they've had a few days to prepare, between their trip to Tucson and shootaround this afternoon. But that efficiency. The unique, all-around skills of Ball. This is a challenge I just don't think the Buffs match-up well for. Just too many jumpers falling in.
Give me the Bruins, going away.
UCLA 89 - CU 70
GO BUFFS! PROVE ME WRONG, AND BEAT THE BRUINS!