With first place in the conference stowed precariously in their carry-on baggage, the Buffs head on a true road trip for the first time all season. The previous forays away from the CEC have either been within the State of Colorado, or to the neutral hardwood in Puerto Rico; now the team has to get on a plane and actually go to someplace where people will shout at them. Hell, the last time the Buffs donned the road black uniforms, it was for a home game. (New Orleans couldn't get their road jerseys cleaned in time, and wore their home uniforms instead)
The Buffs haven't faced a true, outside of Colorado, road trip since Iowa State tripped them up in Ames last season.
Since the Buffs haven't left the state since that tournament trip to PR, the entire schedule was beginning to reek of home cooking akin to a Florida football slate. Now, with two tough games in enemy territory, I can finally get a handle on how good this team actually is.
Awaiting the Buffs on their first true road test is the toughest pair of travel partners the league has to offer. Cal and Stanford are the class of the conference, and they are currently ranked interchangeably as the top two teams in the Pac-12 by essentially every media member of note. Up first: Cal, who not only were a popular pick to win the conference, but are also the only Pac-12 squad who can boast of any level of consistent play throughout the season
This two game swing through the Bay Area is vitally important to national perception of this squad. National ears
perked
up
a bit
this
week
, and people are starting to pay attention to the job Coach Boyle and the Boys are doing in Boulder. Even a split would be enough to validate the 3-0 start to conference play, and put the Buffs back into the national basketball conscience.
CU has done a great job hurdling Pac-12 competition so far, now it's time for a real test. From: the BDC
An 0-2 run through San Francisco, however, and all the hard work put into the last six games is washed away, and the assumption will be "oh, good team, but the altitude did all the heavy lifting."
It's now up to the Buffs to prove themselves worthy of the attention, and to tell the doubters to stick it.
--
Tip-off in Haas Pavilion is set for 9pm MT this evening. The game is not technically televised locally, but those of us with satellite packages can pick up the game through Comcast California. With DirecTV you can turn to channel 698; Dish Network subscribers can tune to 409. If you don't have the proper channel lineup, you can always turn to 760, where Mark Johnson and crew will be handling their business.
Click below for the preview...
When last we met -
We only have to go back to last spring to find the last meeting between the Golden Bears and Buffs. The middle game of the Buffs home NIT victory lap
was against Cal
. Cory Higgins and Alec Burks each scored over 20 points, and the Buffs cruised to a 17-point victory on the CEC hardwood.
Besides the victory, that game is best remembered for this highlight from reserve guard Shannon Sharpe:
Needless to say, Cal would like some revenge, both for the humiliation of that dunk, and for the humiliation of losing by 17 to a future conference brother.
Opponents season so far -
Whereas CU lost much of its front-line talent from last year's magical squad, Cal returns almost everyone of importance. Forward Markhuri Sanders-Frison was the only graduating contributor off of last years team, and this storehouse of returning talent makes this Cal team the
de facto
squad to beat in a league devoid of any consistency. So far, despite a few high-profile hiccups, the Golden Bears have lived up to that billing, and sit only a half-game behind the Buffs in the Pac-12 standings.
Cal has played the role of title contender early on in Pac-12 play. From: Bruins Nation
Cal is even unbeaten at home this season (although their only home wins over major conference foes are against Pac-12 opponents), and has been crushing opponents in the Haas Center by more than 21 points per contest. If the Pac-12 can boast of a team capable of playing with the nation's elite, the only real option is this bunch.
Yet, despite their mostly sterling record 13-4 (3-1), I'm not all that impressed with Cal's resume so far. Yes, they've crushed plenty of teams by large amounts, but almost every opponent of note that they have faced has beaten them, often handily. Quality squads like Missouri and UNLV blew past Cal with little effort by 39 and 17 points, respectively. Sure, they may be the "best" team the Pac-12 has to offer, but, as we all know by this point, this is not your Pac-12 of yore.
Old Big XII brother Mizzou had to put little effort into beating Cal.
But that's a small nitpick. Against everyone else, they've been more than good, as the stats prove. Cal ranks in the top 30 for both offensive and defensive efficiency. They're particularly good on offense, where they have a eFG of 54%, and rarely take a dumb shot or turn the ball over. They also rebound the ball very well.
While technically a veteran group, only two of their heavy rotation players are seniors, and they feature three sophomores and a freshmen in their 7-man rotation, which may account for their inconsistency against better competition. If they ever figure out how to play well against quality team, they could go far, possibly even making a surprise run at the Sweet Sixteen come March (I'd take them as a theoretical 7-seed).
Coaching -
(I'm stealing liberally from my NIT preview)
Cal coach mike Montgomery is one of the biggest names in West Coast hoops. During an 18-year stint with Stanford, he built that program into one of the power names in the country. From '99-'04 his Cardinal teams won or shared the conference title four times, and won at least one game in the Tournament in each of his final 10 seasons in Palo Alto. He reached a Final Four, two Elite Eights, and three Sweet Sixteens during those years.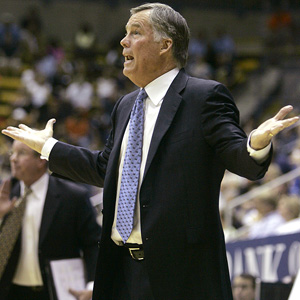 Mike Montgomery is a hell of a coach, and should continue to do well at Cal.
Following his successful time at Stanford, Coach Montgomery bolted for the NBA and the Golden State Warriors. There he only lasted two seasons, and was mostly ineffective. Returning to his Pac-10 roots, he signed on with Cal, and immediately returned to his winning ways. Two years ago, he took the Bears to a Pac-10 title, and a second-round appearance in the Tournament.
The guy knows how to build a strong program, and consistently fields quality teams. A cancer scare
behind him
, he's solely focused on the Golden Bears, and I expect great things from Cal both this season and beyond.
Star Players -
The Golden Bears are unquestionably lead by the 6-3 senior guard
Jorge Gutierrez
. The Lincoln High graduate, who was ignored by CU during his recruiting process, is a capable asset on both sides of the court. He averages 15/5 each game, with over four assists and a steal and a half. Coach Boyle this week
bemoaned
the fact that he's not in Black and Gold, and I'm with him; it's a shame Gutierrez was allowed out of the state. He's also a All-Academic Second-Team member.
Much to Coach Boyle's chagrin, Gutierrez is a Golden Bear. From: Cal Golden Blogs
Joining Gutierrez in the Cal backcourt is super-soph
Allen Crabbe
. The 6-6 wing provides 16.5 points per night while adding a superlative 6.1 rebounds per contest. He shoots over 47% from behind the arc, and is an incredibly efficient player. Paired with Guttierrez, they not only make a great offensive duo, but they rebound better than any other pair of guards in the conference.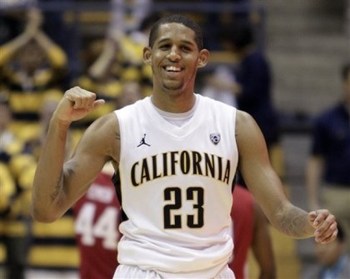 Crabbe is the kind of quality wing you expect to see in the Pac-12.
Holding down the forward corps is 6-8 senior
Harper Camp
. He's a solid player on both ends of the court. 6-10 sophomore
Richard Solomon
provides 6/6 in relatively few minutes. Reserve forward
Bak Bak
has a funny name.
Prediction -
We'll know far more about the makeup of this team after tonight's game. Every other opponent that has rolled through Berkeley this winter has been crushed, and a good showing from the Buffs, be it in victory or defeat, will be very telling.
It'll be an interesting matchup. The Buffs largest statistical strength, their ability to get to the line (as evidenced by their top-10 free throw rate), is countered by Cal's reluctance to put anyone on the line (#6 nationally in defensive free throw rate). If the Buffs can still find a way to draw some fouls in the act, this game could turn to CU's favor.
Much like
these guys
, I think the game could well be decided on the boards. Cal's backcourt rebounds better than any group the Buffs have seen to this point, and guards flying to the glass are a lot harder to box out than a bulky big man who's where he's supposed to be. If 'Dre can grab his typical total, with support from elsewhere on the offensive end, the Buffs will be in good shape.
However, I can't see a Buffs win; the team just isn't ready to go on the road and beat the best team in the conference... yet. Guard-play, especially veteran guard play, is what I look for in a collegiate basketball team, and Cal has it in spades. The Golden Bears will get the calls (or no-calls) in their home gym, and keep the Buffs off the line. While CU keeps it close, the winning streak ends in Berkeley.
Cal 75 - CU 67
GO BUFFS! PROVE ME WRONG AND BEAT CAL!