While I wasn't able to watch the game last night, it sure did sound like a good time. The Buffs cruised to victory, pasting USC by 24, and notched their first road Pac-12 win in the process.
Well, that was easy...
That win leaves the Buffs with an opportunity to sweep in LA, as tomorrow's game with UCLA is, at the very least, "winnable." Teams with serious plans on contending in the Pac-12 will earn the LA sweep this season, so this game will tell us exactly how serious the Buffs championship fantasy is.
A win, and Buff Nation can start seriously talking title contention. A loss, and CU still has work to do to separate themselves from the rest of the contenders.
Tip off is set for 2pm tomorrow, with the action televised through Prime Ticket (channel 694 on DirecTV). Alternatively, if you didn't get enough Mark Johnson action on the radio call last night, you can tune to the expanded 850AM coverage to get your fix.
Click below for the preview...
Opponents season so far -
Sitting at 11-9 (4-4), UCLA is stuck in the middle of this awful version of the Pac-12, barely clinging to the hope of an NIT berth. Earlier this season, they even lost to Middle Tennessee St and
Loyola Marymount
at home! Why is this program, with its traditional hallmark of success, now so...
average
?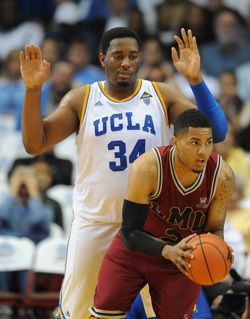 UCLA should never, ever, find a way to lose to the likes of LMU.
There's a few readily available excuses.
The easiest to fall back on is the bucket-full of
transfer losses
. Combined with the loss of some above-average talent to head-scratching
early NBA leaps
, this UCLA roster has been left fragile and shallow.
That fragility came to a head this season when top-returner Reeves Nelson imploded on the bench. He
was booted
from the roster after continually breaking team rules (not the only high-profile Pac-12 player to be set adrift this season), and none too soon.
The man who graced the cover of SI's season preview didn't even make it to Christmas.
Nelson was the very definition of "team cancer," and his departure is best for everyone involved. Case in point, UCLA hasn't lost a game played in Los Angeles since Reves Nelson was given the long walk off a short plank. Still, the situation fractured the early-season psyche and chemistry for a team that had plenty to do to find solid footing. Many UCLA fans
found
Reeves' situation to be symbolic of a larger departure from what it means
to be
UCLA.
Exasperating the situation, UCLA doesn't even have a true home court to play on this season. For 2011-12 they're leading a nomadic existence, having been evicted from iconic Pauley Pavilion as it undergoes a massive re-vitalization. Like a panhandler, the Bruins have had to go begging for a local venue to play in. Tomorrow's game will take place in the
LA Sports Arena
, just across the street from hated rival USC's campus. (For comparison, when Kansas renovated Allan Fieldhouse last decade, they worked around the basketball schedule so KU wasn't kicked out onto the street. That's how you're supposed to handle that scenario)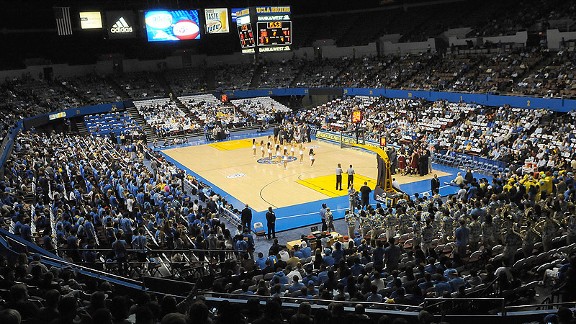 Something's wrong with this picture. From: ESPN
Why all of this this has been allowed to go down is mind-boggling. When I think UCLA basketball, I think championships. I think John Wooden, Kareem Abdul-Jabbar, and the epitome of collegiate basketball excellence. Why the hell, then, is this blue-blood program allowed to struggle so mightily for the second time in three years? Why are they playing "home" games on their rival's campus?
Regardless, they are playing out the string this season. Despite the early struggles, I actually think they have a great chance to go on a late-season surge. I see them landing in the top-half of the conference, with the consolation prize of an NIT bid, as five of their last seven games are played at "home."
On the statistical side, the team isn't all bad. Offensively, they're very efficient (38th in the country, according to Kenpom). They rarely turn the ball over in any great numbers (14th in the nation), and use their strong interior presence to get off good shots. While they can't hit their free throws (a growing trend in the conference), they do what's needed on offense to be a decent team.
On defense, they can tend to struggle, as they let opponents have near free range from outside (near 40% shooting from 3). If you can use that weakness to force UCLA into man-to-man defense, they're
liable to break completely
.
All told, this isn't a bad team, they're just missing something to get them over the hump, and back to being UCLA.

Coaching -
Woof, are UCLA fans
pissed
at
Coach Ben Howland
. Every Bruins site I check has epic levels of butt-hurt directed his way. Not that he hasn't earned some of the scorn directed his way, it's just pretty daunting to see near-unanimous dissent to his leadership.
"Maybe I'm not 'the norm.' ... " Air quotes are fun.
Coach Howland came to UCLA in 2003 from Pittsburgh, where he had established himself as one of the premier coaching names in the country. Once at UCLA, he had the Bruins on track to the expected heights within a recruiting cycle. By '07, the Bruins were in the midst of winning 3-straight conference titles, and on the road to back-to-back Final Four runs. Bruin fans everywhere were happy.
I'd take back-to-back Final Four runs. That seems like it would be a good time.
Then came the down-swing. The transfer issues and NBA departures discussed above cropped up. Since the '08-'09 season, Howland has lead the Bruins to a 47-39 (25-19) record , which, while decent by CU's standards, is beyond awful for a proud program like UCLA. That run of mediocrity has begun to outweigh the Final Four runs, and it's beginning to feel like Coach Howland's time in Westwood is running out.
On the plus-side, he celebrated his 200th win on the UCLA bench last night, as his Bruins throttled the hapless Utah Utes.
Star Players -
It's hard to talk about UCLA without mentioning behemoth center
Joshua Smith
. The 6-10, 305 (listed) sophomore center has plenty of Shaq-like big-man skills, but he's
struggled with conditioning issues
, and can't seem to stay on the court. He averages less than 20 minutes per game. While those minutes are high-impact (averaging 10/5 in low-minutes, with a 17% offensive rebound rate, is high-impact), he needs to be on the court more to make a true difference.
When asked what Smith's biggest issue is, Coach Howland responded "conditioning." I'll buy that.
Still, CU has no real answer to a center of his size and skill set. He alone could turn the tide tomorrow if he stays away from turnover issues.
Supporting Smith in the paint are the Wear twins from Huntington Beach.
Travis
and
David
, both 6-10 sophomores (Travis is better), landed in Westwood after
transferring
from UNC (the
real
UNC, not the pretender in Greeley). They combine to provide 22/11 each night.
Awwwww, that's cute! They're posed the same!
The backcourt is held down by
Lazeric Jones
and
Tyler Lamb
. Jones, a 6-0 senior (from Chicago!) is the Bruins leader in points and assists. Lamb, a 6-5 swing guard, struggles from behind the arc. Once he gets that solved, he'll be a force.
Pay attention to the play of
Anthony Stover
, should he see extended action. The 6-10 sophomore is a reserve forward who makes his name blocking shots at a prodigious rate. He has 24 of them in only 143 minutes of action.
Stover is a defensive force in the paint. From: the LA Times.
Prediction -
If there is any year to beat the Bruins in LA, it's this season. Not only are they an average team, and a lousy one by the program's extremely high standard, but they don't even get the benefit of a true home court advantage, playing this game in the LA Sports arena.
The LA portion of the series against UCLA will never get "easier" than it is in 2012.
That's why it pains me to see this one as a Buffs loss.
Tom Kensler of the Denver Post had an interesting article
up yesterday
where he talked about the importance of defense in all of CU's wins this season. In victory, the Buffs hold opponents to 36% shooting from the field; in defeat, opponents shoot into the upper 40s. So far so good in LA, as the Buffs held USC to 33% shooting last night. However, UCLA has been shooting near 50% in conference games this season. They're a whole different animal because of their talented frontcourt.
With UCLA being able to dump it inside to their seemingly endless string of stellar post-players, I have no doubt that they'll shoot over 40% tonight, and probably dominate the Buffs on the glass to boot. Given that, I expect the Buffs to go down hard.
A second half run gives some hope, but the end result is a double-digit UCLA victory.
UCLA 74 - CU 63
GO BUFFS! PROVE ME WRONG, AND BEAT THE BRUINS!